Taking a Blowtorch to Debate
Steve Bannon and Colin Kaepernick share little in common, but the backlash each faces is rooted in a common rage.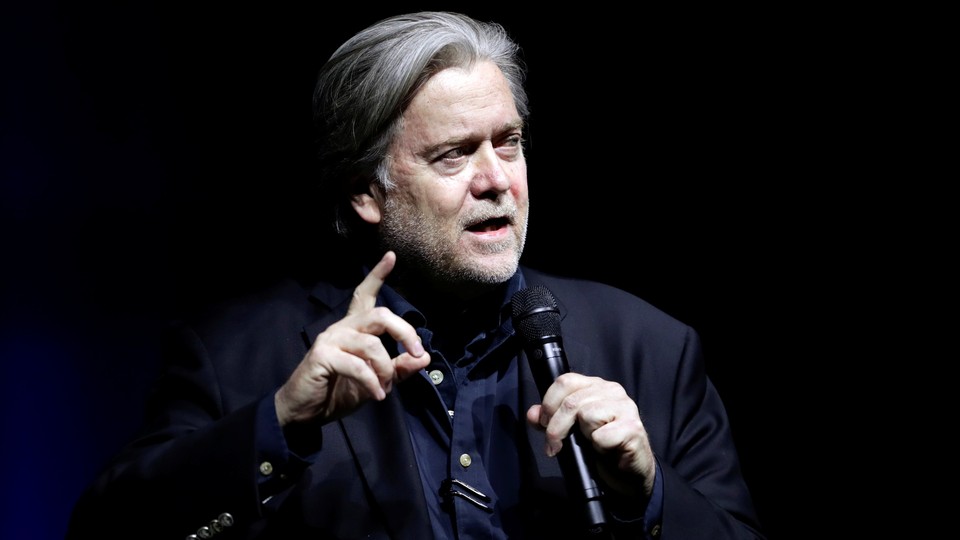 On Tuesday, certain conservative activists spent much of the day enraged on Twitter, hashtagging boycotts, destroying sneakers, and otherwise defacing the Nike swoosh in protest of the company's decision to feature Colin Kaepernick in its reboot of the "Just Do It" campaign. At the same time, certain liberal activists were doing the opposite: tweeting and retweeting support for the very same company, which had chosen to elevate one of the country's most prominent (if strategically silent) voices on social injustice and police brutality.
The fury of the Kaepernick wildfire, which was ignited and burned through social media within 24 hours, was not the same as the relatively contained brush fire that had erupted (virtually) one day prior, when The New Yorker revealed the lineup of its annual festival. On Monday, the magazine's editor, David Remnick, announced that the former White House chief strategist Steve Bannon would be a headliner for the event, featured in a one-on-one onstage interview with Remnick himself. "I have every intention of asking him difficult questions and engaging in a serious and even combative conversation," Remnick told The New York Times.
This assurance was apparently not enough: Other festival speakers, including Jimmy Fallon, Judd Apatow, Jack Antonoff, Jim Carrey, and Patton Oswalt, announced that they would no longer attend if Bannon was appearing. The Donald Trump adviser's presence, according to critics, either "normalized hate" (Apatow) or normalized "white supremacy" (Antonoff). Remnick rescinded his offer:
I've thought this through and talked to colleagues—and I've reconsidered. I've changed my mind. There is a better way to do this. Our writers have interviewed Steve Bannon for The New Yorker before, and if the opportunity presents itself I'll interview him in a more traditionally journalistic setting as we first discussed, and not on stage.
Progressives had not actually taken blowtorches to their sneakers in protest, but the sentiment was the same: Not on my watch.
There are differences, of course. On its face, the Nike campaign aims to be inspirational. "Believe in something," the ad says. "Even if it means sacrificing everything." Kaepernick, who has in effect sacrificed his career to draw attention to social injustice, would seem to be living these values—he is, in many books, a hero. But belief in something—anything—at the risk of all else is a stratagem advised equally on the right and the left, a page torn as much from Bannon's playbook as it is from Kaepernick's. As such, it is an inadvertently dark reminder of the times in which we live. Sacrifice everything for your beliefs—whatever they are.
More to the point, though, the Nike ad is simply that: a piece of promotion for Air Huaraches and Impact sports bras. For the Americans who did not wake up this morning furious at their swoosh-emblazoned ankle socks, the anger may seem confounding: It's just an ad, after all. But Nike is more than a company; it is a touchstone of American culture, on par with the golden arches and Coca-Cola. In choosing Kaepernick as its spokesperson, the institution has placed its bet on liberalism and progressive values; on America's future, not its past.
For the men and women who do not abide these principles, but have found themselves—through their footwear and athleisure—the unwitting supporters of a company that champions these values, the sense of outrage and rejection and displacement is a rude awakening, however overdue. Torching your own Air Maxes seems like a fairly stupid idea, but it is evidence of just how jarring this awakening may be: Their impulse is to destroy. It is futile to point out the illogic of ruining a product upon which a company has already turned a profit—the big loser here is the person who forked over $100 for something that will end up in the garbage—but that's not the point. Rage is the point, and it is blinding.
The New Yorker Festival, meanwhile, is a three-day symposium dedicated to the exploration of the arts and letters, a ticketed convocation that pairs Jeffrey Toobin with Sally Yates (no doubt to discuss executive power and executive lawlessness), Andy Borowitz and Adam Schiff (perhaps to chuckle about collusion and corruption) and Michael Avenatti with Felix Sater (presumably to talk business arrangements gone terribly wrong). Where Nike, a for-profit company that trades in sweat-wicking garments and performance cushioning, is transparently middlebrow, The New Yorker trades in highbrow intellectualism; it is a redoubt of journalistic integrity. Which makes the backlash—and subsequent decision to cancel Bannon's event—the more distressing of the two.
Unlike the Nike ad, which asks nothing of its subject other than a close-up, Remnick proposed to prod the subject of his interview, to provoke him, and, ideally, to get at the truth—in short, to do the work of good journalism, only in front of an audience of several hundred. Bannon himself believed as much: "The reason for my acceptance was simple: I would be facing one of the most fearless journalists of his generation," he told the Times.
Certain detractors of the New Yorker event raised objections to the fact that Bannon was to be paid an honorarium for his event (Bannon said that he gave "no thought" to the honorarium when he accepted the invitation). Many prominent figures are offered honorariums at many festivals without much in the way of outcry, but assume, for the moment, one accepts the premise that integrity is inversely proportional to profit. What, then, to make of Kaepernick taking a presumably much-larger payout from Nike? Surely Kaepernick's struggle, his hard-fought campaign, is not lessened by his choice to appear in an ad campaign.
The assumption that questioning white nationalism and white supremacy—as Remnick surely would have done—is tantamount to "normalizing" white nationalism and white supremacy is similarly troubling. It calls into question whether journalists should do their jobs, lest they normalize all manner of terrible things they must inevitably cover. Bannon is distasteful to many people who read The New Yorker, but he is also a powerful player in the American landscape. He may trade on ignorance, but he is wise to a certain virulent strain of American politics, and this makes understanding him (and his supporters) of critical importance—they are Americans and they vote.
And yet, detractors on Twitter equated this live interview with the editor of The New Yorker to "putting onstage a man who recommends everyone read Mein Kampf & letting him promote his new company." Surely one of the country's best editors had more in mind than promoting Nazi propaganda? Logic, though, did not seem to be the point of this criticism; dismissal and disavowal—a more controlled form of rage—seemed to be the point.
The sheer velocity and fury of Trumpism have done many terrible things to this country, but chief among them is to blind us to one another and ourselves—both our adversaries' strengths and our own hypocrisies. This week shows us the sun-blotting nature of this national anger: Should we come across something enraging, the impulse is to boycott it or pour lighter fluid on it, or to otherwise—through Twitter or Instagram—destroy it.
The day's events might have prompted a useful public debate. But it is a debate that will probably never be had, if only because neither side of this deep divide has any interest in speaking to the other. Pretending that the other does not exist—or at least, willing it not to exist—is one way of coping with a difficult national moment. It is also, given the fact that our states remain united, an impossible solution.