Ahmadinejad's Quarterback Sneak
The former Iranian president's praise for Colin Kaepernick is best understood as an effort to deflect attention from his nation's record on human rights.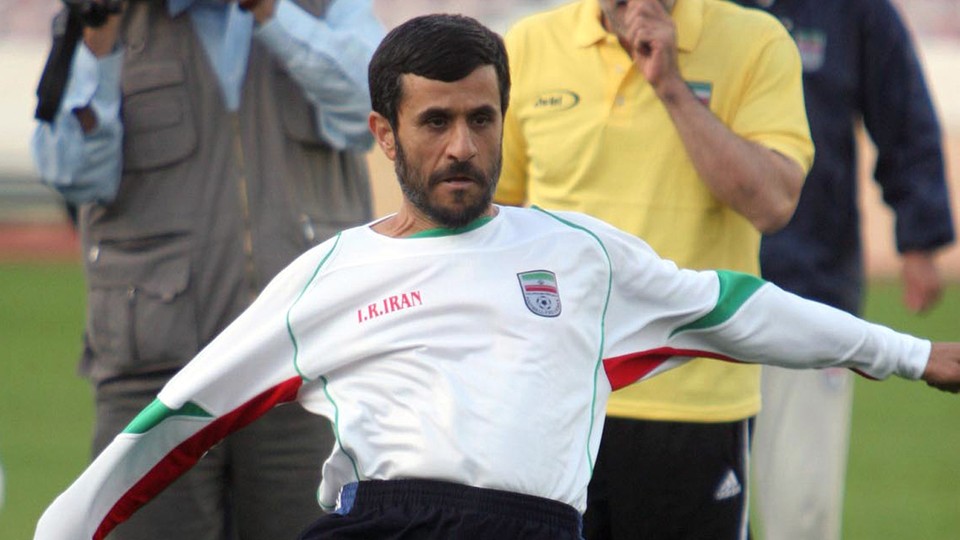 What prompted Mahmoud Ahmadinejad to start talking about the NFL?
Iran's former president marked the coming pro-football season on Monday, writing on Twitter that "unfortunately once again [Colin Kaepernick] is not on an NFL roster. Even though he is one of the best Quarterbacks in the league."
This was a surprise. In a decade of reporting on and visiting Iran, I had missed Ahmadinejad's interest in American football. It never came up during our two interviews while he was in office. Maybe I was asking the wrong questions: We discussed Iran's crushing of dissent after Ahmadinejad's disputed 2009 re-election, as well as his questioning of the Holocaust.
But that was then. Now Ahmadinejad is talking football and American social-protest movements. Kaepernick, of course, has not played since the 2016 season, when he took a knee during the National Anthem to call attention to police killings of African Americans. President Trump numbers among Kaepernick's most prominent critics.
It's conceivable that Ahmadinejad has become an American sports fan. Last week, he defended Serena Williams's choice to wear a catsuit at the French Open. It's also conceivable that he was seeking attention. It may seem odd that a leading politician would demand attention by writing on Twitter about matters that don't seem to concern him, but surprisingly, there are occasional parallels between Iran and the United States.
Ahmadinejad's support of Kaepernick certainly garnered him attention. Ted Cruz took note. The Texas senator is fighting for re-election against Democrat Beto O'Rourke, who said there is "nothing more American" than taking a knee for social justice. Ahmadinejad's tweet provided an occasion for Cruz to attack his opponent: "When a radical anti-Semite, anti-American Iranian dictator emphatically agrees with you," Cruz wrote, "maybe that's a sign that Beto, the NFL, and Nike are all on the wrong side of the American people."
But the words of Iran's ex-president and provocateur shouldn't be taken at face value. What is he really saying?
When I interviewed Ahmadinejad, he—like other Iranian officials—practiced "whataboutism." He responded to criticism by changing the subject. When asked about Iranians imprisoned for protesting, Ahmadinejad replied that the United States imprisons "all sorts of people," and that millions were behind bars. In this way he avoided answering for the acts of his own government.
Americans have come to know whataboutism as a prime rhetorical tool of President Trump, who regularly claims others are guilty of the offenses of which he is accused. ("No puppet," he said in 2016 when Hillary Clinton questioned his ties to Russia. "You're the puppet!")
And whataboutism is the most straightforward way to understand Ahmadinejad's NFL tweet. In effect he is saying, "See? You Americans punish dissent, too."
Ahmadinejad, in that sense, is not really on Kaepernick's side of the argument. Although he speaks up for Kaepernick, the underlying message puts him on Trump's side. Trump favors punishing protesters when he disagrees with them. So does Iran.
To be fair, the punishments are not remotely the same. Trump demanded the firing of NFL players who protest; Kaepernick has been unable to find a team that will sign him. (NFL owners dispute his claim that they are colluding against him.)
Iran routinely arrests people who take part in public protests, as well as others who are suspected of spying and disloyalty. People are tried in secret and disappear for years. American citizens, such as the businessman Siamak Namazi, remain imprisoned without any public accounting of the supposed evidence against them. No Twitter trolling should be allowed to distract from Iran's human-rights record.
But that is exactly the point. Foreign leaders will use American social conflicts to justify their own behavior. During the Cold War, the Soviet Union's propagandists routinely highlighted the segregation of African Americans. It was partly in response that American officials recognized that legal segregation must end.
Should Trump, the NFL, or any American change their attitudes about NFL players taking a knee because Mahmoud Ahmadinejad says so? No. Of course not. But we can all be aware that as we debate racial equality, despots around the world are listening to what we say—and may take advantage of what we do.