Advice for After the Hurricane
A Katrina survivor shares wisdom for those left rebuilding after Florence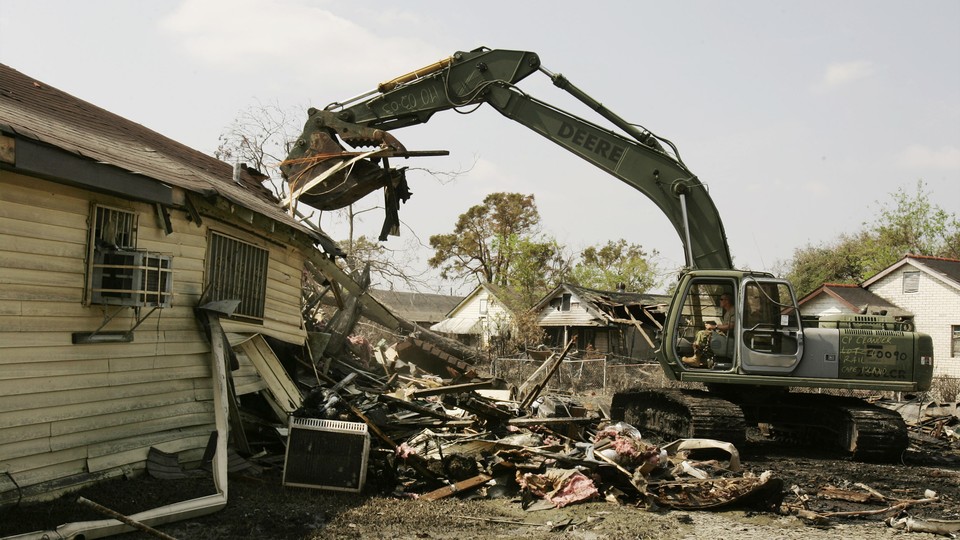 The other night at a neighborhood library event in New Orleans, someone asked me if I was experiencing any PTSD from the media coverage of Florence churning toward the Carolinas. While the images were similar to Katrina in their alarming scope, the answer was actually "no." Thirteen years living in the aftermath of a natural and man-made disaster, you can develop a sort of deep weariness, an almost philosophical detachment in response to new threats. You've seen the destruction, experienced the loss and witnessed how the rebuilding plays out over time—the positive changes and the enduring challenges, the heroic actors and the corrupt.
Florence won't reopen the wound, because the wound never closed. Not really. Katrina simply is our lives, whether we consciously acknowledge it or not. The storm persists on the front page of the paper: Katrina-damaged buildings still undeveloped, Katrina criminal cases still unresolved. Our younger son goes to a school struggling under the wholesale remaking of the public education system. Our older son, after having grown up in the messiness of the reconstruction, recently chose Denver for college, enamored of the intact, healthy and high-functioning city. The storm altered the trajectories of families, neighborhoods, and communities.
The thought of hundreds of thousands of people resetting their lives after Florence, with unknown results, just as with Harvey and Maria last year, can be exhausting when you've experienced something similar firsthand. But part of that calm detachment I feel comes from knowing that, for the most part, for most people, things are eventually going to be okay, will eventually seem "normal." It's just the getting there that can be tough.
Around the fifth anniversary of Katrina I helped write and edit How to Rebuild a City: Field Guide from a Work in Progress, a citizens'-eye view of post-storm New Orleans.
From our collective experience, here's what might prove helpful—right after the storm, and even long after the TV cameras are gone.
Make space for your sanity in the immediate stress of the disaster; don't watch too much television. Some self-medication is permissible. Gutting houses and clearing debris (your former life) is exhausting. Take time out for yourself—nature walks, out-of-town trips, pedicures. Try to keep organized and document everything. This is so much easier now with the ubiquity of smartphones. Stay on top of the insurance adjusters. Also: write things down, not only for the adjusters, but because it helps keep your overloaded brain focused. Set attainable goals. Mourn when you need to.
Don't wait around for the city or country to replace the street signs—make your own. Are the Red Cross trucks scarce in your neighborhood? Organize your own relief effort. Assemble an armada of buddies on lawn mowers and mow the neglected parks. Papers not reporting something important? Become a citizen journalist. If civic resources are taxed, you can marshal your community resources and step in.
Identify the obstacles to your recovery and pool resources and knowledge with other equally fired-up individuals. Get involved in your neighbor organization, or other community groups. After a disaster, you can lose years of your life to meetings, but it's important to physically connect with others, and a community's needs can be amplified if given a collective voice.
The potential loss of culture in the face of mass displacement and devastation is a real danger to a community's being, its identity. Help those restaurants re-open. Encourage the art installations and book projects and free concerts. Poets are the cultural first responders; attend their readings. Filmmakers will be everywhere. Make sure they get your story right.
Be prepared for the long haul. Or decide you can't bear it: A generation of rebuilding isn't for everyone, and that's fine too. The option of taking the insurance money (fingers crossed) and moving to a less threatened environment is a perfectly reasonable option. Though you will be missed, and people might resent you for a while. Or, tragically, as in the case of Katrina, some people just won't be able to return, too many things barring their path home.
At that neighborhood library event the other night, the organizer mentioned that the evening's program was based on one I'd helped put together at another library branch ten years before—a post-Katrina endeavor among family and neighbors to bring some activity and energy back to the battered area. It was so gratifying that the effort had generated and regenerated over the years, from one library to another.
None of this will likely give any comfort to anyone when Florence disintegrates, the water and winds recede, and you're facing an overwhelming wreck. The storm may change your reality forever. But if you're lucky, years down the line, you'll find that generosity, gratitude, and tenacity have outlasted the storm's physical destruction.