The Call to Do Better
An imperfect leader, John McCain reveled in the struggle, and stood beside those who tried to improve the world.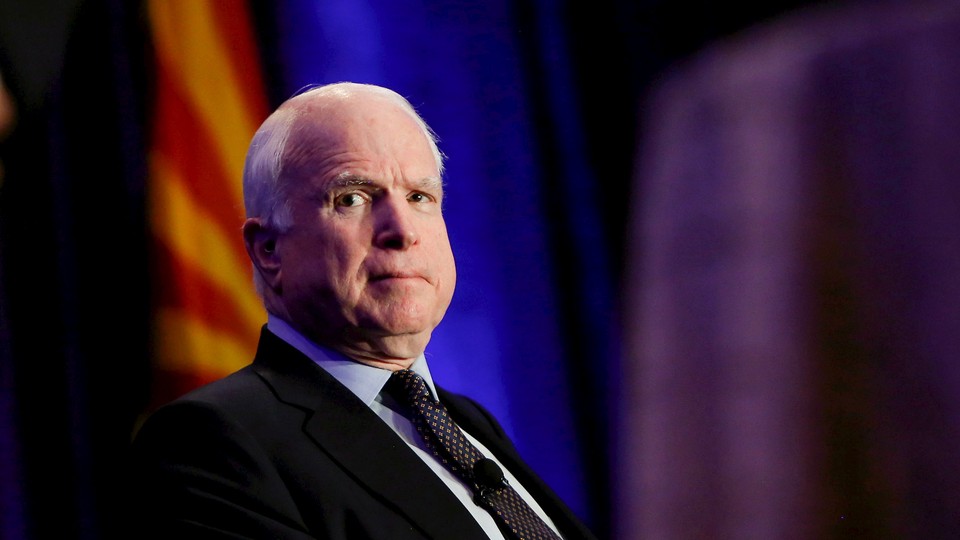 John McCain has passed from this life. Peace be unto him, and those who love him.
I'd never met McCain when I was hired on as senior policy adviser for his 2008 campaign. I knew him only a little when the campaign ended. But I had a front row seat to watch as he navigated one of the most unforgiving public environments, the glare of a presidential campaign he lost. I never saw him miss the opportunity to be kind to unimportant people or give courage to those shouldering the burden of their beliefs, and I never saw him falter in his conviction that all men are created equal and are endowed by their Creator with certain inalienable rights.
People were awed by his courage as a prisoner of war, but he understood from his experience that all people have a breaking point. He had lived the challenge of making brave choices despite painful consequences, and it engendered in him a profound admiration for others who ran those risks—soldiers, missionaries, journalists, human-rights campaigners, political activists.
McCain drew from his captivity the contagious power of obduracy toward evil. He gave his benediction to any who attempted it, championed their causes, recklessly invested himself in their success. He railed against President Barack Obama's threats to abandon Iraq and Afghanistan unless leaders stepped up, because he understood the psychology of people in desperation.
While others would keep their distance from imperfect vessels like Georgian President Mikheil Saakashvili, McCain would stand up next to them, strengthening them with his integrity and determination, because he understood that people rarely make brave choices when they're frightened. He pulled them toward us, rather than hedging his bets against them.
The refrain I keep hearing in my head as we grieve the passing of this great American is a passage from George Eliot's Scenes of Clerical Life: "The blessed work of helping the world forward, happily does not wait to be done by perfect men."
John was not a perfect man, and he didn't want to be. He reveled in mischief, let loose his temper, surrounded himself with some wild characters, and worse. But he wore his mistakes and bore the weight of his failures with nobility. To be in the arc of John's light was to feel oneself called to live bigger, and to be more deserving.
But it's the happily in Eliot's phrasing that most conjures McCain. Because he reveled in the struggle, delighted to be in a brawl for an important purpose, was happy for the opportunity to fight the forces of darkness.
Critics may say lots of people could do better than John McCain did. And they're surely right. You know what McCain would say about that? First he'd agree. Then he'd challenge them to go do it.
Go be a more committed public servant. Go be a braver example. Go model generosity to people you disagree with. Go believe more fully in people's potential. Go give more encouragement to people struggling to change the world.