Talk to Your Kids About Porn
Many teens will be exposed to it anyway—often unintentionally—and they need the guidance of their parents to process what they've seen.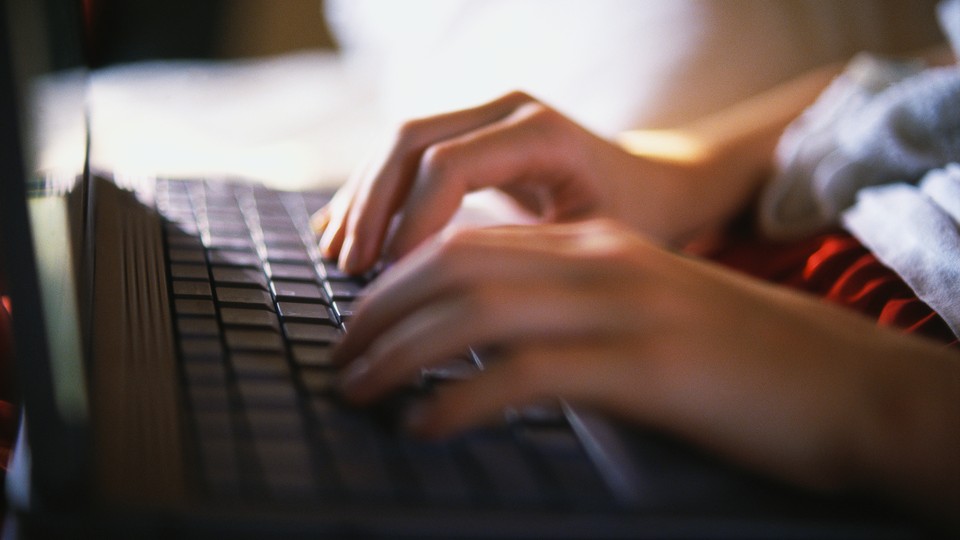 This article was updated on August 29, 2018, at 6:53 pm
When I ask the students in my classes on pornography literacy and healthy relationships whether they'd tell their parents if and when they'd seen porn, they usually offer the same responses: No way! I'd be too scared; I feel ashamed; I'll get in trouble.
These kids are between the ages of 10 and 18. Just how likely is it that they have been exposed to mainstream porn? In a new survey—forthcoming from Bryant Paul, an associate professor at Indiana University's Media School, and Debby Herbenick, a professor at the Indiana University School of Public Health—39 percent of 14-year-olds report having seen porn, with about a third of young people saying they'd seen it for the first time at age 12 or younger. Paul's survey also found that 81 percent of adolescents ages 14 to 18 who had seen pornographic material had been exposed to it unintentionally—either coming across it online or receiving it unsolicited.
Seeing porn without enough context can be confusing and upsetting, and it regularly happens out of parents' sight. From what I've seen as a sexuality educator in the San Francisco Bay Area, parents aren't talking to their kids enough about making sense of the experience. And, in spite of the fact that more schools are having to deal with incidents involving sexting and the production and distribution of sexual imagery by students, many sex-ed classes and schools aren't addressing it either. Without any meaningful guidance, children are being left to their own devices—literally and figuratively—to make sense of the graphic content they intentionally or unintentionally encounter online.
Munisha Mehra, a pediatrician who practiced in Chicago but recently relocated to the Bay Area, says that in the last 10 years, she has seen an uptick in parents expressing concern about their children's porn consumption. Parents—both fathers and mothers—should talk to their kids about porn regardless of their own discomfort or viewing habits, she argues, because "the safety and sexual health of their kids should come first."
Talking to kids about porn, however, requires parents to go beyond setting internet filters or telling kids to abstain from looking at sexually explicit content, strategies that aren't foolproof themselves. More important, they don't open the lines of communication about sex and sexuality between parents and children, which could support children in decision-making and coming forward when they're confused or challenged by sexual content, information, or experiences. If parents begin to have age-appropriate conversations with their children about issues like consent, bodily autonomy, safety, and healthy relationships, these conversations can be the foundation for an ongoing dialogue about issues related to children's sexual health, including porn consumption, that could span years.
According to Jaclyn Friedman, a sex educator and the author of books such as Unscrewed: Women, Sex, Power, and How to Stop Letting the System Screw Us All, parents are too mired in the misperception that talking to children about porn is tantamount to telling kids to seek it out. "There's so much discomfort in our culture with talking about sex … and there's a fear of piercing children's innocence," she said. "[Without having] healthy conversations about communication, affirmative consent, respecting each other's bodies, and [kid's] right to boundaries, it's hard to talk about porn."
In the absence of these conversations—both at home and at school—kids may lack the critical tools to make sense of the messages they're frequently hearing and seeing on screens. In my classes on consent, for instance, I've asked more than 200 middle schoolers to speculate on who they think should make the first move in heterosexual relationships. Most tell me that boys should initiate and that girls should always say "yes" in order to avoid hurting boys' feelings.
Mainstream porn—the sort that can be found most easily with the simplest of online searches—can amplify the harmful messages that middle schoolers are already getting every day about everything from the shape and size of their bodies to the rigidity of gender roles. And a general lack of opportunities to talk openly about sex means that porn—and some of the potential risks of exposure—usually goes unmentioned, too. In one study, researchers found that early exposure to porn correlated with a greater likelihood of earlier oral sex and sexual intercourse, and less progressive ideas about gender roles.
In my experience as a sexuality educator, kids report having a range of responses to porn—from confusion and upset to curiosity and arousal—and responses vary, depending on, among other things, age, gender, and sexual orientation. In one Australian study, researchers found that "younger children (ages 9–12) are more likely to be distressed or upset after being unintentionally exposed to porn." They also found that "boys are more likely to find porn amusing, arousing, and funny while girls were more likely to find it shocking, scary, or upsetting." (Boys are more likely to self-report intentionally seeking it out than girls.)
Some kids, once exposed to porn, can have a hard time disengaging from it. In more than a few accounts parents shared with me, it was their quieter child who had been regularly watching it. "You would never have guessed it, though," one Bay Area mother told me. "My 10-year-old son spends a lot of time in his room reading books or building things. Believe me when I say that he's shown zero sexual interest in anyone. As far as I know, he's never even had a crush on a singer or a movie star." But a few months ago, she discovered his search history on the family computer. Apparently, he had been introduced to porn through a friend at school and had since been watching it compulsively.
What most kids lack, I've found, is media and porn literacy—that is, the ability to contextualize and think critically about representations of gender, sex, and sexuality. Cindy Pierce, a sex educator and the author of Sexploitation: Helping Kids Develop Healthy Sexuality in a Porn Driven World, is concerned that parents who don't talk to their kids about what's online are leaving the porn industry to step in as their children's de facto sex educator. "It's very tricky for middle-school parents [to accept their child might see porn] because most of them just want to believe their child is the exception," Pierce says. "Therefore they'd rather cross their fingers, put their heads in the sand, and hope for the best." This makes it hard to have the sort of "proactive and preemptive" conversations that she recommends.
Being proactive, however, might prove difficult for parents who didn't have such communication modeled for them about sex—let alone porn—when they were kids. Another Bay Area mother, who also asked not to be named due to the sensitivity of the subject matter, says her parents "never, ever, ever" talked to her about sex. The one time her father broached the subject, she recalls, she was in the driveway, about to leave for college. "AIDS is scary," is the message she remembers him passing along to her then. "Protect yourself. You could die." Even when parents say little to nothing about sex, their silences—or what little they do say—reveal a lot about their attitudes towards sex.
The ubiquity of porn means that silences about the subject are now just as conspicuous. At one time, porn meant static images or softcore videos that could only be found in adult-video stores or on premium channels. Now, it can mean a seemingly endless (and readily-accessible) supply of videos depicting disturbing tropes, including the sexualization of coercion, deception, lack of consent, force, unsafe sex, violence against women, incest, rape, and the fetishization of people of color.
These changes concern Jackson Katz, a gender-violence prevention educator and the author of The Macho Paradox: Why Some Men Hurt Women and How All Men Can Help. Katz says that a lot of mainstream porn has become increasingly misogynistic and violent over the years. "Our kids," Katz said, "have become subject to the whims of a profit-seeking industry that has no concern whatsoever for [their] emotional or sexual health."
The mainstream porn site Pornhub does have a link on its main page to a "Sexual Wellness Center"—but one would only stumble upon it after scrolling past a wall of flashing and blinking porn videos. If someone is seeking out articles with titles ranging from "You and Your Penis: What's Normal?" to "Trans 101," they should be prepared for a pop-up like the one I got: a survey asking, "Which race has the sexiest bubble butt?" Below it were 4 pictures from which to choose: "Caucasian," "Ebony," "Asian," or "Latina." (Mindgeek, which owns several mainstream porn websites, including Pornhub, did not respond to questions about the measures it takes to prevent children from viewing explicit content.)
Mainstream porn companies, which offer content that is free (but often pirated) and therefore easily accessible to kids, are much easier to find than so-called "ethical" porn sites. While there is some disagreement about the definition of ethical, companies that pay and treat their performers well, insist on consent and safe-sex practices, and value storylines that don't reduce people to stereotypes remain outliers in the porn landscape. Many also require payment from consumers, which, intentionally or not, can be an effective deterrent for kids. When older teens ask me about where they can find ethical porn, they're disappointed to learn that they may have to pay to watch, which would usually mean asking for a parent's credit card.
Considering the pervasiveness of both porn and sexting, simply telling kids to abstain from porn may be just as ineffective as abstinence-only education. Like sex, it deserves ongoing and age-appropriate conversations. In my experience, kids are very ready to have these conversations. If only parents and schools were, too.