Slightly More Than 100 Fantastic Articles
A list of nonfiction journalism from 2017 that will stand the test of time.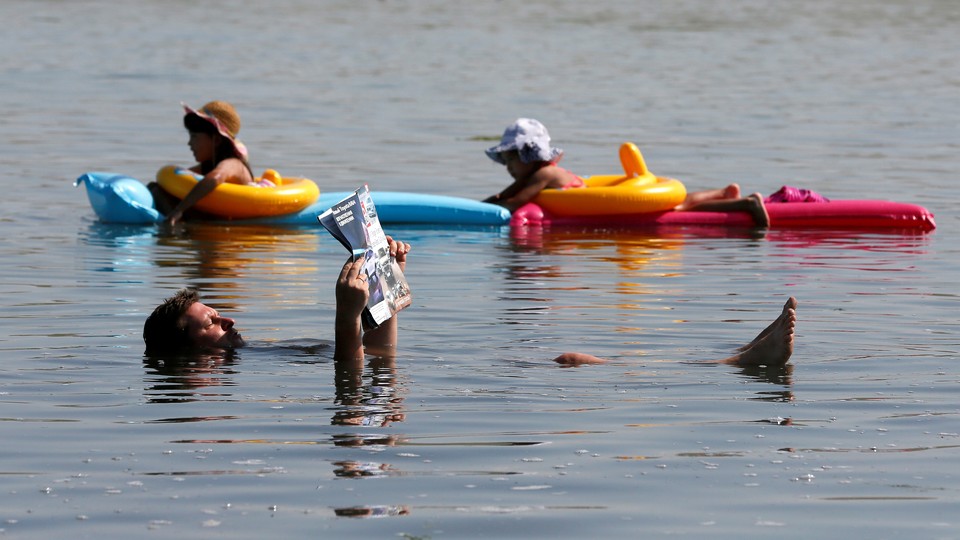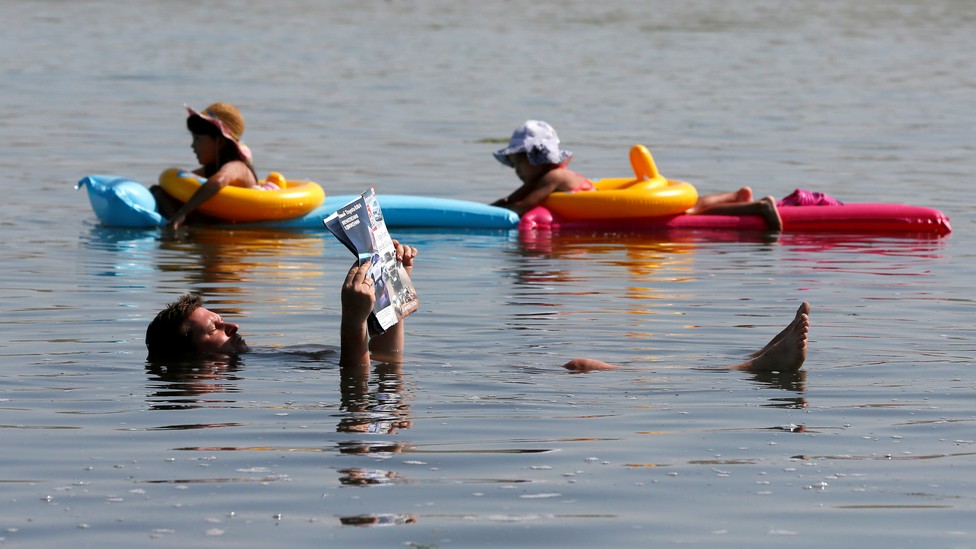 Each year, I keep a running list of nonfiction that I encounter as I publish The Best of Journalism, a weekly email newsletter that I curate. This is my annual attempt to bring roughly 100 of those stories to a wider audience. I could not read or note every worthy article published last year (and I've disqualified paywalled articles and everything published at The Atlantic––though don't miss last year's issues or other bygone gems that await throughout this publication's archives.) But all that follows is worthy of wider attention, reflection, and engagement.
American Tales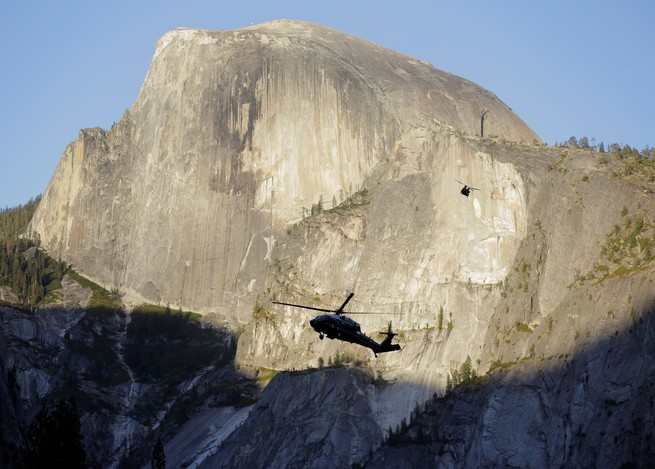 REMAINS OF THE DAY / The Greatest Sports Achievement of My Lifetime by Eugene Wei
"A week ago, Alex Honnold free climbed El Capitan. With no ropes or climbing gear besides his shoes and chalk, Honnold became the first person to free climb what is universally acknowledged, among the climbing world, as the most daunting challenge in what most people consider to be less sport than a perverse game of Russian roulette with fate."
THE HEDGEHOG REVIEW / On Being Midwestern: The Burden of Normality by Phil Christman
"I cannot convince myself that the promise the place still seems to hold, the promise of flatness, of the freedom of anonymity, of being anywhere and nowhere at once, is a lie all the way through. Instead, I find myself daydreaming—there is no sky so conducive to daydreaming—of a Midwest that makes, and keeps, these promises to everybody."
EPIC MAGAZINE / What Goes Up by Jack Hitt
"The daredevil, his helicopter, and the birth of modern news."
AMERICAN AFFAIRS / The Western Elite from a Chinese Perspective by Puzhong Yao
"I don't claim to be a modern-day Alexis de Tocqueville.  He grew up in Paris, a city renowned for its culture and architecture. I grew up in Shijiazhuang, a city renowned for being the headquarters of the company that produced toxic infant formula. He was a child of aristocrats; I am the child of modest workers. Nevertheless, I hope my candid observations can provide some insights into the elite institutions of the West."
THE NEW YORKER / How the Elderly Lose Their Rights by Rachel Aviv
"Guardians can control the lives of senior citizens without their consent—and reap a profit from it."
THE WEEKLY STANDARD / Flowers in Their Hair by Andrew Ferguson
"Maybe the wholesale rejection of time-honored and time-tested values — monogamy, moderation, good manners, self-denial, self-control, the sanctity of private property, personal accountability to higher authorities, both material and spiritual — leads to squalor and misery."
THE LOS ANGELES TIMES / Dirty John by Christopher Goffard
The audio version is recommended.
CALIFORNIA SUNDAY / Mars Madness by Alina Simone
"The custom-built, two-person craft the Sjogrens want to build would be the Kia to the Hummer-sized models proposed by NASA and would cost only a billion dollars, they claim. NASA's space shuttle orbiter costs $1.7 billion. The Pythom Space website lists the Sjogrens' departure date as late April 2018, but the couple admit they are probably looking at 2020, the next time the orbits of Mars and Earth optimally align."
THE TAMPA BAY TIMES / Hot Wheels by Zachary T. Sampson and Lisa Gartner
A strange epidemic of car theft.
THE PARIS REVIEW / High Fade by Bryan Washington
"Apportioned correctly, in moderate doses, a feeling like that could change your whole life."
REFINERY 29 / My Father Spent 30 Years In Prison. Now He's Out. by Ashley C. Ford
"He kept writing: that I was his favorite girl, I was brilliant, and I was the best daughter anyone could ever hope for. For a long time, that was all I needed."
THE NEW YORK TIMES / She Was Convicted of Killing Her Mother. Prosecutors Withheld the Evidence That Would Have Freed Her. by Emily Bazelon
"By the time Noura Jackson's conviction was overturned, she had spent nine years in prison. This type of prosecutorial error is almost never punished."
MOTHERBOARD / The Man Who Broke Ticketmaster by Jason Koebler
"The most infamous scalper of all time."
REASON / How Florida Entraps Pain Patients by Lauren Krisai and C.J. Ciaramella
"Florida's anti-opioid laws were supposed to take high-level traffickers off the streets. Instead, they put low-level users in prison for most of their lives."
SLATE STAR CODEX & THE NEW YORK TIMES / Considerations on Cost Disease by Scott Alexander and  The Most Expensive Mile of Subway Track on Earth by Brian Rosenthal
A phenomenon and an example.
THE NEW YORK TIMES / To Obama With Love, Hate, and Desperation by Jeanne Marie Laskas
"The White House mailroom read the unfiltered story of a nation."
NATIONAL REVIEW / Ten Years Ago Today by David French
"I was praying fervently for peace—and not receiving it. God was preparing the next phase of our family's life, in an Ethiopian village thousands of miles away."
THIS AMERICAN LIFE & SERIAL / S-TOWN by Brian Reed
A podcast series about a singular character.
THE NEW YORK TIMES / A Requiem for Girls,  Speaking Ill of Hugh Hefner and The Muggle Problem by Ross Douthat
Excellence in columns.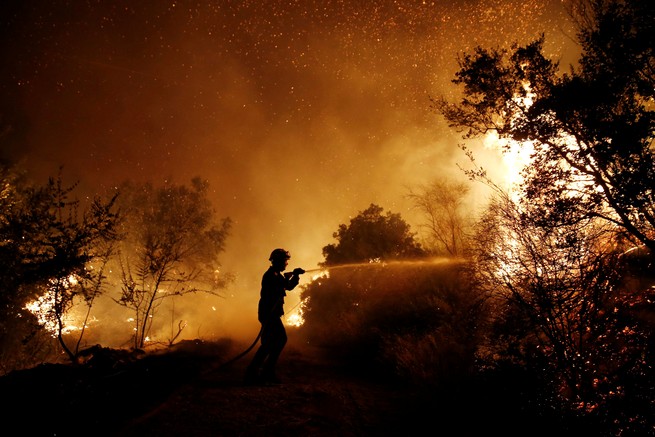 THE NEW YORK TIMES / Love's Road Home by C.J. Chivers
"Ashley Volk waited for Sam Siatta to return from Afghanistan. She couldn't have seen the detours ahead. But she kept on fighting, for him and for them."
THE PLAYER'S TRIBUNE / Letter to Myself by Mike Bossy
A hockey player looks back on his career.
WIRED / End Pain Forever by Erika Hayasaki
"How a single gene could become a volume knob for human suffering."
THE NEW YORK TIMES / What a Fraternity Hazing Death Revealed About the Painful Search for Asian American Identity by Jay Caspian Kang
"When Michael Deng, a college freshman, joined an Asian-American fraternity, he was looking for a sense of belonging and identity. Two months later he was dead."
LIT HUB / The Worst Ever First Day on the Job by Finn Murphy
"As I saw the movers, their green T-shirts soaking wet with sweat or brine-encrusted with dried sweat, pounding beers in the late-summer sun, telling their stories of hard work done well, hard work done poorly, road trips, good moves, horrendous moves, my interest intensified."
DAMN INTERESTING / Ghoulish Acts and Dastardly Deeds by Alan Bellows
An anonymous terrorist in New York City.
OUTSIDE / My Drowning by Tim Cahill
"Thrown from a raft in the Grand Canyon's Lava Falls, he was trapped underwater and out of air. When he finally reached land, his heart stopped for several minutes. Then he came back—and decided to risk Lava again."
SHTETL-OPTIMIZED / The Kolmogorov Option by Scott Arronson
Cowardice or pragmatism?
REPLY ALL / The Prophet by PJ Vogt
"Attacked by a stranger in Mexico City, Andrea just wants to figure out who the guy was. Investigating drops her into one of Mexico's biggest conspiracies."
VICE / The $5 Bump of Cocaine That Destroyed an Olympic Dream by Aaron Gordon
"Eric Thompson was a high-jump prodigy with an Olympic future well within his reach, until one failed drug test locked him in a battle with doping authorities."
BLOOMBERG BUSINESSWEEK / Inside Alabama's Auto Jobs Boom
"The South's manufacturing renaissance comes with a heavy price."
THIS AMERICAN LIFE / Didn't We Solve This One? by Nancy Updike
"We've fought two wars since 9/11. We got help from tens of thousands of Iraqis and Afghans—some targeted or killed because they helped us. We owe these people. We've passed laws that say so. So why has it been so hard for us to get many of them to safety?" For another story in this vein, see Reason's "The Long, Frustrating Fight..." by Joey Coon.
THE VERGE / Diary of a Concussion by Elizabeth Lopatto
"If I thought I was my brain, probably I would have found the injury more upsetting. But I didn't and don't believe that; my self is an interaction between my body and my brain."
CALIFORNIA SUNDAY / The College Try by Ashley Powers
"They worked and scrounged and slept on couches to put themselves through school."
WIRED / I Forgot My Pin by Mark Frauenfelder
An epic tale for the digital age.
Surveying the World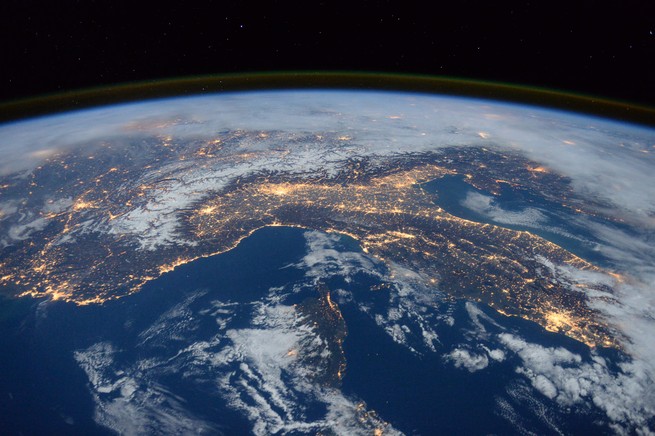 AEON / The Sea Was Never Blue by Maria Michela Sassi
"The Ancient Greek experience of colour does not seem to match our own."
OXFORD AMERICAN / Sweet Bitter Blues by Amanda Petrusich
"I couldn't quite figure out why Japanese listeners had come to appreciate and savor the blues in the way that they seemed to—lavishly, devotedly."
THE NEW YORKER / A Bigger Problem Than ISIS by Dexter Filkins
The Mosul Dam is the most dangerous in the world.
BLOOMBERG/The Hijacking of the Brilliante Virtuoso by Kit Chellel and Matthew Campbell
"... he'd begun to suspect that the supposed Somali pirates were neither Somali nor pirates, but rather rogue elements of the Yemeni coast guard or navy."
THE AMERICAN SCHOLAR / The Cloistered Books of Peru by Helen Hazen
"A convent in the Andes is home to a treasure."
THE GUARDIAN / The Wounds Have Never Healed by Moni Mohsin
"The creation of India and Pakistan in 1947 led to horrific sectarian violence and made millions refugees overnight. Five survivors remember."
BLDG BLOG / The Coming Amnesia by Geoff Manaugh
"As the universe expands over hundreds of billions of years… there will be a point, in the very far future, at which all galaxies will be so far apart that they will no longer be visible from one another. Upon reaching that moment, it will no longer be possible to understand the universe's history—or perhaps even that it had one—as all evidence of a broader cosmos outside of one's own galaxy will have forever disappeared."
THE NEW YORKER / Donald Trump's Worst Deal by Adam Davidson
"The President helped build a hotel in Azerbaijan that appears to be a corrupt operation engineered by oligarchs tied to Iran's Revolutionary Guard."
THE NEW YORKER / The Gay Men Who Fled Chechnya's Purge by Masha Gessen
"Stories of those who survived detention and torture and are now living undercover in Putin's Russia."
THE NEW YORK TIMES MAGAZINE / Aleppo After the Fall by Robert F. Worth
"The Syrian tragedy started in a moment of deceptive simplicity, when the peaceful protesters of the 2011 Arab Spring seemed destined to inherit the future. Chants for freedom turned quickly to insurrection, bullets and war. But it took some time for outsiders to recognize how different Syria was, how its internal schisms — like tightly coiled springs — would provoke the fears and ambitions of all its neighbors."
THE AMERICAN SCHOLAR / My Mongolian Spot by Jennifer Hope Choi
"An ephemeral birthmark is a rare gift, connecting me to generations spanning centuries."
THE NEW YORK TIMES / The Uncounted by Azmat Khan and Anand Gopal
The death toll from air strikes in Iraq.
BUZZFEED / From Russia With Blood by Heidi Blake, Tom Warren, Richard Holmes, Jason Leopold, Jane Bradley, and Alex Campbell
"Lavish London mansions. A hand-painted Rolls-Royce. And eight dead friends. For the British fixer Scot Young, working for Vladimir Putin's most vocal critic meant stunning perks – but also constant danger. His gruesome death is one of 14 that US spy agencies have linked to Russia – but the UK police shut down every last case. A bombshell cache of documents today reveals the full story of a ring of death on British soil."
THE MERCATUS CENTER / Conversations With Tyler by Tyler Cowen
The most insights-per-minute of any interview podcast. Transcripts available, too.
THE NEW YORK REVIEW OF BOOKS / Murderous Manilla by James Fenton
"What we can extract from the president's monotonously droning speeches sounds like scraps of confidential instructions to the police: if the victim doesn't have a gun, give him one; don't waste the effort on torturing him—just kill him. But as soon as the president is taken up on such remarks, there is either an aide on hand to say that he was exaggerating when he said that, that his words are to be taken seriously but not literally, or the president himself is denouncing his critics in another speech, calling them any name that comes into his head."
THE GUARDIAN / London Bridge Is Down by Sam Knight
"She stands for stability and order. But her kingdom is in turmoil, and her subjects are in denial that her reign will ever end. That's why the palace has a plan."
Food and Drink
TASTE / Bread Soup from the Lost Years by Fred Hocker
"Nostalgia can hurtle into the present and, through taste, you see the present and past align. Memory still errs. Reliably so. Sometimes, though, memory can right itself."
MILK STREET / In Pursuit of Perfect Hummus by J.M. Hirsch
"We make it wrong. We serve it wrong. We eat it wrong. In fact, the Israelis get hummus right in ways we hadn't even considered we could mess it up."
REASON / Government Almost Killed the Cocktail by Peter Suderman
"In the space of a single generation, the entire country went from inventing the cocktail as we know it to forgetting how to make a decent drink."
FORTUNE / The Hunt for the Perfect Sugar by Beth Kowitt
"Think of food companies' plight this way: The finest scientists in industry have spent decades trying to find or invent a no-calorie sweetener that tastes and feels as good as the stuff extracted from pure cane. And now, after they largely failed to master that complex, arduous task, the level of difficulty is being raised even higher: This improbable concoction cannot appear to have been engineered by scientists."
EATER / Christ in the Garden of Endless Breadsticks by Helen Rosner
"There are two globally renowned olive gardens: Gethsemane, the grove where Jesus and his disciples prayed the night before his betrayal and crucifixion, its agony painted by Gauguin and by hundreds of other painters, and the fictional Tuscan hillside that lends its name to Olive Garden, a massive restaurant chain with more than 800 locations in North America."
ESPN / The NBA's Secret Addiction by Baxter Holmes
"No matter how you slice it, it's hard to swallow: The NBA is covered in experts, obsessed with peak performance -- and still this pillar of grade-school cafeteria lunches is the staple snack of the league. An exorbitantly wealthy microclique, backed by an army of personal chefs, swears by a sandwich whose standard ingredients boast a street value of roughly 69 cents."
THE GUARDIAN / How the Sandwich Consumed Britain by Sam Knight
"The world-beating British sandwich industry is worth £8bn a year. It transformed the way we eat lunch, then did the same for breakfast – and now it's coming for dinner."
HIGH COUNTRY NEWS / The Teenage Whaler's Tale by Julia O'Malley
"Internet death threats hound a young Alaskan after a successful hunt."
THE AMERICAN SCHOLAR / Interstates by Emily Bernard
"My Italian-American husband ate his way into the good graces of my African-American family."
THE GUARDIAN / 'My Body Is a Cage of My Own Making' by Roxane Gay
"Strangers remove food from her shopping trolley, humiliate her in the gym and refuse to sit next to her on planes. How did size get to be such a big deal?"
GUERNICA / The Trash Heap Has Spoken by Carmen Maria Machado
"The power and danger of women who take up space."
L.A. REVIEW OF BOOKS / On Being Smaller by Collin Gillis
"How do we mourn a version of ourselves that most people assume we never wanted to be, whose existence was unwanted? My grief for this and other losses that I've experienced in losing weight—including, to some extent, my grief for the sheer body mass I once carried—is small compared to my joy and excitement at other changes, but it is real. For those of us whose joy is mixed with grief, what can we do with this sense of loss?"
Populism and Polarization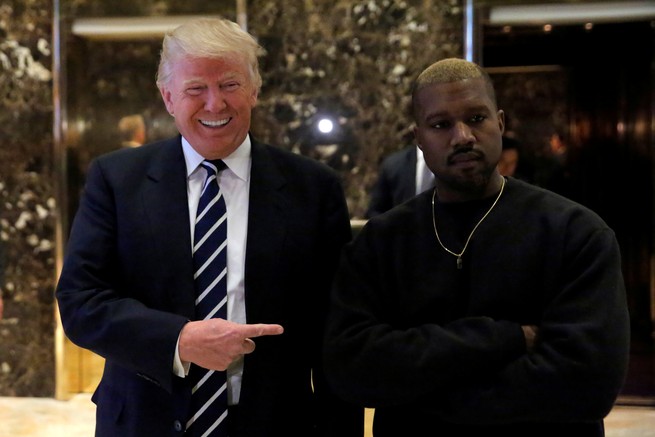 THE BAFFLER / A Tragedy of Manners, An Oasis of Horror in an Internet of Boredom, and  Goodbye, Pepe by Angela Nagle
For a podcast interview with the author see her conversation with Ezra Klein.
VICE NEWS / Charlottesville: Race and Terror
The best overall video footage of a historic event.
THE NEW YORKER / The French Origins of "You Will Not Replace Us" by Thomas Chatterton Williams
The European thinkers behind a white nationalist rallying cry.
THE WEEKLY STANDARD / A Beating in Berkeley by Matt Labash
"...a slap in the head, then someone gashes him with something in his ribs. He keeps his hands up, as though that will save him, while he keeps getting dragged backwards by his shirt, Tiny trying to pull him away from the bloodthirsty ninjas. Someone crashes a flagpole smack on Joey's head, which will leave a welt so big that Tiny later calls him 'the Unicorn.' Not wishing to turn his back on the crowd, a backwards chase ensues, as Joey and Tiny are blasted with shots of bear spray and pepper spray. They hurdle a jersey barrier while antifa continue throwing bottles."
CITY JOURNAL / The French, Coming Apart by Christopher Caldwell
"Never have conditions been more favorable for deluding a class of fortunate people into thinking that they owe their privilege to being nicer, or smarter, or more honest, than everyone else. Why would they think otherwise? They never meet anyone who disagrees with them."
THE WEEKLY STANDARD / The Conversation Google Killed by William Saletan
"I hope we'll take two lessons from the Damore episode. One is that it's dangerous to traffic in stereotypes. The other is that it's dangerous to deliver that anti-stereotype message through caricatures, falsehoods, and purges."
VIRGINIA QUARTERLY REVIEW / The Useful Village by Ben Mauk
"Germany designated Sumte, population 102, as a sanctuary for nearly 800 refugees. What followed was a living experiment in the country's principles."
PACIFIC STANDARD / On the Milo Bus by Laurie Penny
"What happens when a movement of gamers recognizes they're not players, but pawns?"
THE OBSERVER / I Helped Create the Milo Trolling Playbook by Ryan Holiday
"You guys are playing completely into their hands."
NEW YORK REVIEW OF BOOKS / Catalonia on the Brink by Miguel-Anxo Murado
"How to speak of countries and nations? Some people see them as relationships. They use the language of couples and romantic feeling: a breakaway region is no longer in love or loved, seeks divorce, wants its freedom. Secession may be painful, but it's her right. Others prefer the language of the body: a country is an organic whole, its component parts are limbs. What for some is just the right to seek happiness elsewhere, for others feels like mutilation: the pain is physical, unbearable."
BUZZFEED / Alt-White: How Breitbart Laundered the Racist Hate Machine by Joseph Bernstein
"Under Steve Bannon's leadership, Breitbart courted the alt-right — the insurgent, racist right-wing movement that helped sweep Donald Trump to power."
THE AMERICAN SCHOLAR / On Political Correctness by William Deresiewicz
Power, class, and the new campus religion.
MOTHER JONES / Peter's Choice by Rick Perlstein
"I asked my student why he voted for Trump. The answer was thoughtful, smart, and terrifying."
THE WASHINGTON POST / Obama's Secret Struggle to Punish Russia for Putin's Election Assault by Greg Miller, Ellen Nakashima and Adam Entous
"Russia's interference was the crime of the century, an unprecedented and largely successful destabilizing attack on American democracy. It was a case that took almost no time to solve, traced to the Kremlin through cyber-forensics and intelligence on Putin's involvement. And yet, because of the divergent ways Obama and Trump have handled the matter, Moscow appears unlikely to face proportionate consequences."
THE GUARDIAN / An Orgy of Killing by Ghaith Abdul-Ahad
"In the dying days of the battle of Mosul, a new wave of savagery was unleashed."
THE INTERCEPT / The FBI Has Quietly Investigated White Supremacist Infiltration of Law Enforcement by Alice Speri
"Although these right-wing extremists have posed a growing threat for years, federal investigators have been reluctant to publicly address that threat or to point out the movement's longstanding strategy of infiltration."
THE WASHINGTON POST / 'Love Thy Neighbor' by Stephanie McCrummen
"When a Muslim doctor arrived in a rural Midwestern town, 'it felt right.' But that feeling began to change after the election of Donald Trump."
SMITHSONIAN / What Ever Happened to the Russian Revolution by Ian Frazier
"A journey through Vladimir Putin's Russia to measure the aftershocks of the political explosion that rocked the world a century ago."
THE HARVARD LAW REVIEW / The Socratic Method in an Age of Trauma by Jeannie Suk Gersen
"Law school is still, and I hope will continue to be, less a trade school and more an intellectual journey that aims to prepare students for doing law in a way worthy of a society we want to live in. The harder it may be to have reasoned dialogues about matters of importance in our soci- ety, the more crucial it is for professors to practice doing so with their students."
VULTURE / The Toxic Drama of YA Twitter by Kat Rosenfield
"Young-adult books are being targeted in intense social-media callouts, draggings, and pile-ons — sometimes before anybody's even read them."
THIS AMERICAN LIFE / Our Town Parts One and Two by Miki Meek
"We've visited Albertville, Alabama to figure out what happened when the population shifted from 98% white in 1990 to a fourth Latino twenty years later."
NATIONAL REVIEW / Stop Obsessing Over Race and IQ by John McWhorter
"There is no apparent benefit to dwelling on the IQ gap."
Women's Studies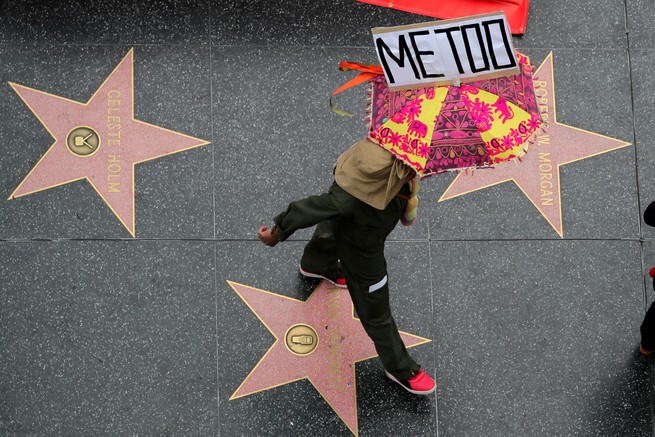 THE AMERICAN SCHOLAR / Against Solidarity by Emily Fox Gordon
"As a writer, with a writer's chronic need for detachment, I have avoided the ideology of gender."
THE NEW YORKER / Harvey Weinstein's Accusers Tell Their Stories by Ronan Farrow
"Multiple women share harrowing accounts of sexual assault and harassment by the film executive."
THE NEW YORK TIMES / Harvey Weinstein's Complicity Machine by Megan Twohey, Jodi Kantor, Susan Dominus, Jim Rutenberg, and Steve Eder
"The producer relied on powerful relationships across industries to provide him with cover as accusations of sexual misconduct piled up for decades."
THE WASHINGTON POST / Eight women say Charlie Rose sexually harassed them by Irin Carmon and Amy Brittain
"The 'Charlie Rose' show prides itself on its highbrow intellectual ambition, but his life is glamorous, full of black-tie galas and famous friends. He can be charming and generous, consulting favored employees for their opinions on what to ask heads of state or whisking them off to exotic locations for interviews. But his wrath was swift and often fiercely personal, according to interviews with multiple former employees."
THE CUT / Why the Harvey Weinstein Sexual-Harassment Allegations Didn't Come Out Until Now, Your Reckoning and Mine, and What Are the Lessons of the Post-Weinstein Moment? by Rebecca Traister
Excellence in columns.
CITY JOURNAL / The Sexual Revolution's Angry Children by Kay Hymowitz
"At its core, #MeToo represents a rejection of the sixties' vision of erotic liberation."
PARIS REVIEW / What Do We Do with the Art of Monstrous Men? by Clare Dederer
"They did or said something awful, and made something great. The awful thing disrupts the great work; we can't watch or read the great work without remembering the awful thing. Flooded with knowledge of the maker's monstrousness, we turn away, overcome by disgust. Or … we don't. We continue watching, separating the artist from the art. Either way: disruption. They are monster geniuses, and I don't know what to do about them."
REASON / American Sex Police by Elizabeth Nolan Brown
"Federal officials insist child sex trafficking is an American epidemic, with domestic victims numbering in the hundreds of thousands. None of the stings have yielded evidence of anything like a problem on that scale."
THE CHRONICLE OF HIGHER EDUCATION / Eyewitness to a Title IX Witch Hunt by Laura Kipnis
"Torch the miscreant, resanctify the community. It was the campus equivalent of a purification ritual, and purifying communities is no small-scale operation these days."
THE GUARDIAN / Slaves of Isis by Cathy Otten
"When Isis rounded up Yazidi women and girls in Iraq to use as slaves, the captives drew on their collective memory of past oppressions – and a powerful will to survive."
Animals and Plants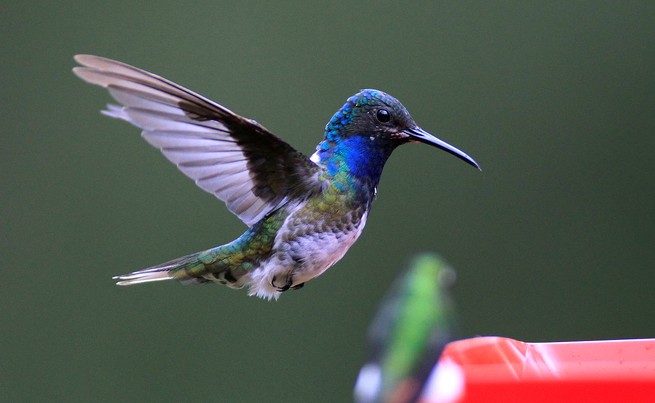 NATIONAL GEOGRAPHIC / Unlocking the Secrets Behind the Hummingbird's Frenzy by Brendan Borrell
"High-speed cameras show us what makes these birds perfect flying machines."
LONDON REVIEW of BOOKS / The Sucker, the Sucker! by Amia Srinivasan
"The octopus threatens boundaries." For more on these unusually fascinating creatures see this Scientific American article by Peter Godfrey Smith.
SEATTLE MET / The Secret Life of Urban Crows by James Ross Gardener
"What if I were to tell you that the crows you spy in your yard are almost always the same individual crows? That those birds—usually two, a male and a female known as a territorial pair—don't live there but fly in every day from 20 miles away? During the day urban crows rummage and build nests in a specific spot, in a specific neighborhood, then decamp for the evening to a massive, crowded roost outside the city—their own crow planet— and report back to the neighborhoods each morning."
ATLAS OBSCURA / The Hidden Memories of Plants by Sarah Laskow
"Inside a quiet revolution in the study of the world's other great kingdom."
SPIEGEL / What Duck Sex Reveals about Human Nature by Johann Grolle
"Richard Prum, an ornithologist and curator at the Peabody Museum of Natural History at Yale University, discusses the violent mechanics of duck sex, the beauty of bird-mating rituals and why human civilization was made possible by love."
ESPN / When Athletes Gotta Go by David Fleming
"The pull of the pee break makes urine perhaps the most disruptive liquid in sports. In fact, the most basic of bodily functions is such a potent force that it causes even the most disciplined, trained bodies in the world to do some wonderfully weird and occasionally revolting things."
Morbidity and Mortality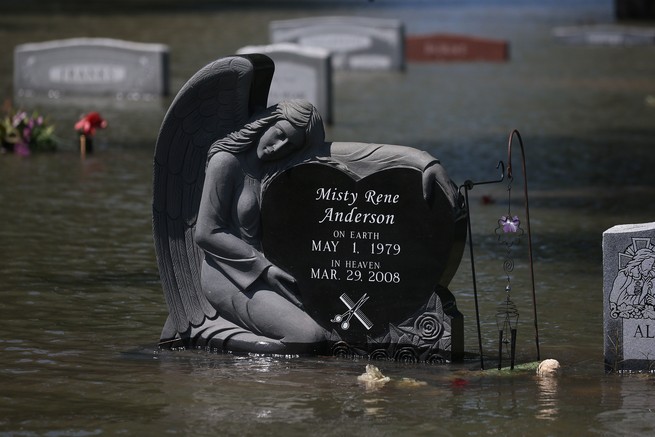 3 QUARKS DAILY / Ten Minutes Difference by Paul Braterman
"If the meteorite had arrived ten minutes earlier, or ten minutes later, it would still no doubt have inflicted devastation, but the dinosaurs would still be here."
THE GUARDIAN / The School Beneath the Wave by Richard Lloyd Parry
A Japanese tragedy.
CITY JOURNAL / The Corruption of Public Health by John Tierney
"The e-cigarette delivers nicotine in vapor without the hundreds of toxins and dozens of carcinogens in cigarettes, eliminating at least 95 percent of the harm of smoking, according to England's national health agency. The Royal College of Physicians warned that it would be 'unjust, irrational and immoral' for public officials to discourage smokers from switching forms of nicotine. In America, that's just what they're doing."
SAM[ ]ZDAT / The Use and Abuse of Witchdoctors for Life by Lou Keep
"The survival of a belief or trait is not the same as it leading to human thriving."
EMERGENCY PHYSICIANS MONTHLY / How One Las Vegas ED Saved Hundreds of Lives After the Worst Mass Shooting in U.S. History by Kevin Menes, Judith Tintinalli, and Logan Plaster
"After Stephen Paddock opened fire on thousands of people at a Las Vegas country music concert, nearby Sunrise Hospital received more than 200 penetrating gunshot wound victims. Dr. Kevin Menes was the attending in charge of the ED that night, and thanks to his experience supporting a local SWAT team, he'd thought ahead about how he might mobilize his department in the event of a mass casualty incident."
THE NEW YORKER / The Heroism of Incremental Care by Atul Gawande
"We devote vast resources to intensive, one-off procedures, while starving the kind of steady, intimate care that often helps people more."
THE CUT / Every Parent Wants to Protect Their Child by Jen Gann
"To fight for my son, I have to argue that he should never have been born."
VOX / Why I Gave My Kidney to a Stranger by Dylan Matthews
"Being an adult is hard. You are consistently faced with choices — about your career, about your friendships, about your romantic life, about your family… and even when you try the best you can, you're going to get a lot of those choices wrong… So I was selfishly, deeply gratified to have made at least one choice in my life that I know beyond a shadow of a doubt was the right one. I went through a week of serious pain and a mild recovery thereafter, and as a result, someone got off dialysis and gets to enjoy another nine, 10, maybe more years of life."
FIRST THINGS / American Carnage by Christopher Caldwell
"If you take too much heroin, your breathing slows until you die. Unfortunately, the drug sets an addictive trap that is sinister and subtle. It provides a euphoria—a feeling of contentment, simplification, and release—which users swear has no equal. Users quickly develop a tolerance, requiring higher and higher amounts to get the same effect. The dosage required to attain the feeling the user originally experienced rises until it is higher than the dosage that will kill him."
NEVADA PUBLIC RADIO / The Meth Lunches by Kim Foster
"He keeps going, his plans, his dreams, how he will rent a house for the three of them, how he will get the other boys back, even though they have long been adopted, how this baby is a gift from God, a sign to him that everything will be okay. He doesn't seem concerned that Tessy is probably five months along, has used meth all of her pregnancy, and has not been to a doctor. I become so angry I stop cooking for him. I stop making the lunches. I cut him off without explaining why."
THE NEW YORK TIMES MAGAZINE / A Small Town Police Officer's War on Drugs by Benjamin Rachlin
"New Hampshire has the second-highest rate of drug overdoses in the country. Eric Adams in Laconia (pop. 16,000) has been assigned one task: to stop them."
THE INTERCEPT / The Crimes of Seal Team 6 by Matthew Cole
"...hidden behind the heroic narratives is a darker, more troubling story of 'revenge ops,' unjustified killings, mutilations, and other atrocities — a pattern of criminal violence that emerged soon after the Afghan war began and was tolerated and covered up by the command's leadership." This podcast with the author is a good appetizer for the piece.
THE HUFFINGTON POST / What Bullets Do to Bodies by Jason Fagone
"The gun debate would change in an instant if Americans witnessed the horrors that trauma surgeons confront every day."
THE LITERARY REVIEW / Infirmary Music by Cameron Dezzon Hammon
"Sometimes, I didn't believe what I was singing—the hymns, the assurances, the promises of a faith I was only lightly tethered to. But sometimes I did believe. I believed athletically, fervently, because what else to do?"
THE AMERICAN SCHOLAR / Good Neighbors by Tamara Dean
"When beavers came between us and a farmer down the road, we knew something more was at stake."
BUZZFEED / Fuck That Gator by Thomas Golianopoulos
"Tommie Woodward yelled, 'Fuck that gator!' just before he was killed by one in Texas, and his death instantly became a national joke. For his family, grieving means having to rescue the person from the punchline."
PORTLAND PRESS HERALD / Death of a Dairyman by Mary Pols
"Butch Clark was the ultimate milkman."
THE NEW YORK TIMES / A Generation in Japan Faces a Lonely Death by Norimitsu Onishi
"It was getting dark. Crickets were singing, the harbingers of autumn in Japan. Deeper into the danchi, toward Mrs. Ito's apartment, the door of the dead 67-year-old man was still taped over, the smell refusing to disappear."
SMITHSONIAN / Europe's Famed Bog Bodies Are Starting to Reveal Their Secrets by Joshua Levine
"High-tech tools divulge new information about the mysterious and violent fates met by these corpses."
THE NEW YORK TIMES / A Pet Tortoise Who Will Outlive Us All by Hanya Yanagihara
"It's humbling to care for an animal that reminds you, each day, of your own imminent death."