Great-Heart Is Gone
Who will have the fortitude to pick up the torch from John McCain's grasp?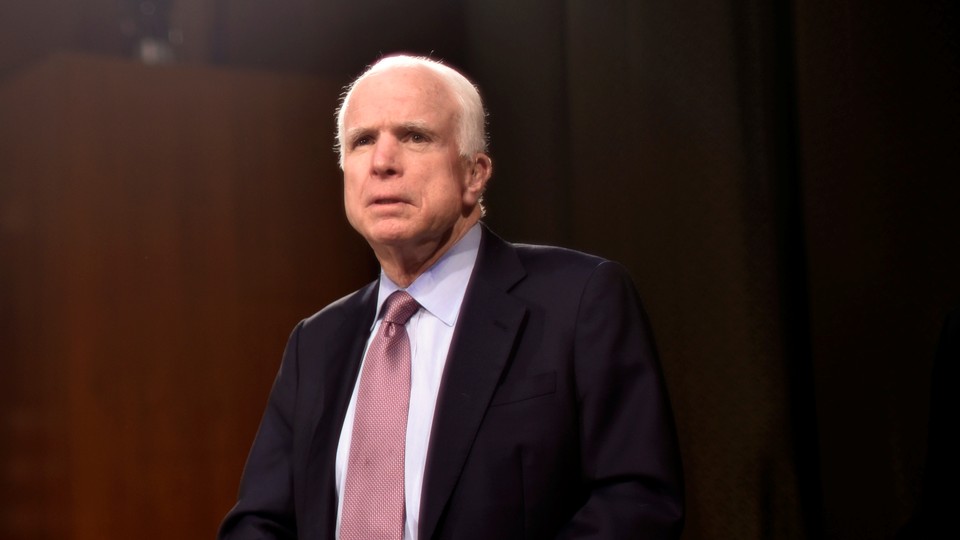 I was not an intimate of John McCain, but I knew him—I testified before his committee, traveled with him to international conferences, and occasionally spoke with him in private. Our last extended conversation took place a couple of weeks after the 2016 election at a conference in Halifax.
"Senator, have you spoken with the president-elect?" I asked. "Yes," he replied, "I called him the week after the election to congratulate him. He kept on saying, 'You didn't support me.' I said, 'That's right.' He kept on asking again and again, and I finally said, 'After what you said about Dr. Khan, a Gold Star father, no way I could ever support you.'"
And I thought to myself that when I had heard that same man mock McCain's captivity and his five years' suffering in prison, I knew he was irredeemable.
John McCain was, as he repeatedly told audiences and readers of his books, a flawed man. His first marriage fell apart; his temper was fierce and he could be vindictive; he acted impulsively; his judgment was occasionally erratic; his love of a cutting wisecrack easily got the better of him; he could be quixotic.
And yet he was, very simply, the greatest political figure of this generation, not because he carried his colleagues with him (though he did more than is realized), and not even because he could stand against them, against presidents, and against his own party. Rather, it was because in that harsh growl of his he sang the song of America like no leader since Ronald Reagan or John F. Kennedy.
In one way, love of country came easily to him, the son and grandson of distinguished naval officers with service and duty in their blood. But given his weaknesses, he might have become merely a playboy aviator or even a swaggering admiral, no more notable than any others. Instead, when he plunged from the skies of Vietnam into the hell of confinement and torture that left him permanently crippled, he found an annealing furnace from which a different kind of steel emerged.
He spent five and a half years in the dark, refusing the early release offered him. Yet he came out of that experience a bigger man than he went in. He hated abuses of power; he loathed tyranny; he abominated torture of body or mind; and he never stinted in fighting against those things.
He moved to Arizona initially because of his wife, Cindy, but there was a deeper connection at work there, a love of sunlight and mountain vistas, of immigrant striving; a western freedom that was part of his soul. Because despite that nightmare in his past and his own demons, his vision of life was optimistic, shaped into proportion rare for his egomaniacal second profession of politics by a humor exercised as bracingly on himself as anyone else.
He liked the word maverick, yet he was anything but a loner. He had a great capacity for friendship, which is why so many of those who worked with and for him, or simply knew him, found tears streaming down their faces during this past year, when his final ordeal came upon him. But if he wept, it was in private, and I doubt that he did so. He had a stoic core, and lived the fullest and happiest of lives: "Glad did I live and gladly die, / And I laid me down with a will" is the line from Robert Louis Stevenson's poem "Requiem" that concludes his last book.
To travel with McCain was to see all that in play. His annual congressional delegation to the Munich Security Conference was packed with senators and representatives of both parties; they were coming to be with McCain more than to listen to speeches and get briefings about NATO. When he spoke there—giving a thuggish regime's foreign minister the rough edge of his tongue, usually—the entire delegation cheered him on. And on the plane ride back he waded into the middle of the plane, occupied by the retired diplomats and generals, the professors and pundits, and we would have a four-hour foreign-policy seminar, clutching plastic cups of cheap Air Force wine. It was enormous fun.
McCain traveled the world, seeing for himself the refugee camps and the battle lines as well as the capitols and the palaces. More than any other senator of his time, he played the role of the legislator statesman, and more effectively than any since one of his heroes, Scoop Jackson. And this wasn't simply the McCain show: He cajoled new legislators of both parties to come along with him, so that they could show the flag together and bring firsthand knowledge back to Washington. He wanted to show them how the work of congressional leadership in foreign policy should be done.
John McCain has died at a dark time in our country's politics, though he believed that would pass. But he also died at a time when America's adversaries are gaining power, when Americans are less certain than they once were of their values, and when the need for American leadership in the world is greater than at any time since 1945.
Soon, the grave senators will stand before his bier, a great many of them grief smitten, some somber with the realization of what the United States has lost, a very small minority merely honoring the conventions of public life. But here is the challenge to them, and in a different way, to any American in national public life. When John McCain died, a blazing torch fell from his lifeless hand. Who of them—who of us—has the fortitude to pick it up? John McCain proclaimed America's love of freedom and tolerance, and he fiercely asserted its commitment to liberty abroad. He celebrated "this big, boisterous brawling, intemperate, striving, daring, beautiful, bountiful, brave, magnificent country … the land of the free, the land where anything is possible, the land of the immigrant's dream, the land with the storied past forgotten in the rush to the imagined future, the land that repairs and reinvents itself." But that voice is forever stilled: Who of them—who of us—will take up that song?
For those who must journey

            Henceforward alone

Have need of stout convoy

            Now Great-Heart is gone.

            —"Great-Heart," by Rudyard Kipling