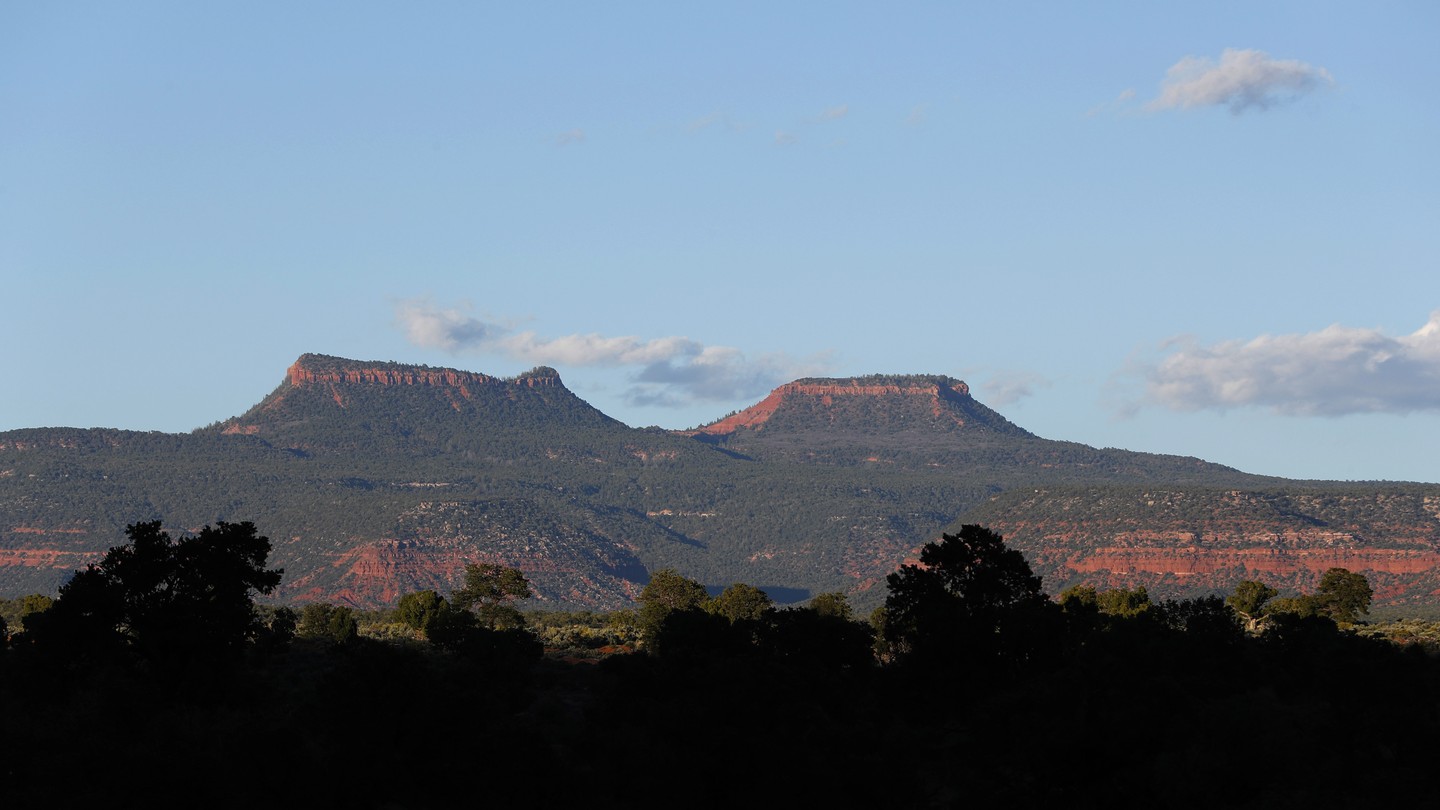 Trump's Nativism Is Transforming the Physical Landscape
From the wilderness of the west to the mountaintops of Appalachia, the president's nationalism is remaking America.
In his late May commencement address at the Naval Academy, President Trump chose to remind the graduating midshipmen and their families of a particular aspect of American history.* "Our ancestors conquered a continent," he said. This point is part of a larger attack on "cynics and critics" who "denigrate America's incredible heritage." Like many of Trump's actions as president, the speech was a reminder that his particular brand of nationalism takes a keen interest in the meaning of the American land.
Even among its other scandals, the Trump administration has drawn attention for its anti-environmental initiatives: withdrawing from the Paris Climate Agreement, ending the Clean Power Plan, and pressing for more drilling offshore and on public land, among many others. These policies cater to the administration's economic constituencies, to be sure. But they are also about how Trumpian nationalism lays claim to American nature.
Nature comes from the Latin root for birth, as in natal, the common origin of everyone. It shares that root with native, as in native land—where a person was born—and so it's also aligned with nativism, the doctrine that ties political identity and membership to someone's land of birth, and with nationalism, the myth that defines a people by their birth from a certain land. For centuries this myth has claimed blood and soil as identity, sovereignty, and passport. Trump's nationalism, too, is bound up in American landscapes, in fights over what makes this place precious and who really belongs here.
Last December, Trump issued two orders that removed more than a million acres of federal land from Bears Ears National Monument and more than 800,000 acres from the Grand Staircase-Escalante National Monument, both in southern Utah. The immediate effect was to open much of the declassified land to mining for coal and uranium and drilling for oil and gas. This was also a dramatic assertion of presidential power, marking the first time national monuments have been shrunk in more than half a century. With suits underway before a federal judge in Washington, D.C.,  it will be the first time the president's power to shrink or eliminate monuments has been tested in court. But it is also a first look at how Trumpian nationalism could shape the American landscape.
These monument lands were in the administration's sights because a network of right-wing Western activists were fixated on them. In their description, the West is a colony of Washington, the federal government is an imperial power, and the public land in their counties should belong to the local public, the people who ride and hunt on it year-round and would like to have work mining and timbering it.
Ammon Bundy, who led the 2016 occupation of the Malheur Wildlife Refuge in southeastern Oregon, recently joined elected officials in San Juan County, Utah, in a local form of protest: riding four-wheelers onto public lands that officials have closed. The protestors sometimes ride armed, and not with small guns. These lawbreakers are aligned with lawmakers. They have allies in the state legislature, who has passed resolutions backing their agenda, and in Congress, where Senator Orrin Hatch has long been seen as a patron of "Sagebrush" Western rebels. It was a county commissioner in San Juan, home to Bears Ears, who warned the Bureau of Land Management in 1979, when all of this was getting started. "We're going to start a revolution. We're going to get back our lands. We're going to sabotage your vehicles. You had better start going out in twos and threes because we're going to take care of you."
These claims assert local power against national power. But they are also bids for power by some local people over others. When President Trump announced the shrinking of Bears Ears, he praised local control by "the communities that know the land best and cherish the land best." That same month, a federal court ruled that San Juan County had unconstitutionally gerrymandered the county's Navajo majority into a permanent political minority—in the same county government that has been lending Ammon Bundy comfort. Meanwhile, most local Native political bodies opposed shrinking the monument.
When Ammon Bundy was asked about the occupiers' goals in the Malheur refuge, he said they would be satisfied "when the people of Harney County can use these lands without fear: once they can use these lands as free men." When his occupiers began marching around public property in Oregon with pistols and rifles, it was less than a week after a police officer escaped indictment for shooting and killing 12-year-old Tamir Rice for brandishing a toy gun. American vigilantism seems to be radicalized, so that certain people can pantomime violence and make a political point, while others can't. All the more so on public lands, where there have always been unequal fights over who, exactly, the American public includes.
The original theory of national parks and monuments was that they would exemplify the spirit of the country. They were the American cathedrals. But instead they attract fights over collective identity. The Malheur occupiers and the opponents of Bears Ears are only the latest iteration of a long fight to free these lands from certain kinds of people. Those who created the parks, monuments, and federal wilderness system preferred certain kinds of residents and visitors: John Muir disliked and made fun of the shepherds and laborers in Yosemite; Teddy Roosevelt and his friends disliked and wanted to escape immigrants in the cities; the creation of Yellowstone and Glacier National Parks involved expulsion of native people.  There has never been enough public space for the contending publics who want it. And so, the land exemplifies the country: It is the site of fights over whose country is being taken away, who is the patriot and who is the usurper or trespasser.
No region went more strongly for Donald Trump in 2016 than the Appalachian coalfields. He won 83.2 percent of the vote in West Virginia's Mingo County, 84.9 percent in Harlan County, Kentucky. These steep, coal-rich mountains, many broken and scattered by mountaintop removal, were fertile ground for the great environmental theme of the Trump campaign: the "War on Coal."
War is close to the surface in the coalfields. Miners go after the mountains with dynamite and machines to crush and remake the region's land. The broken landscape and its waterways become a kind of guerrilla enemy, poisoning miners with acid runoff and choking their lungs with dust that kills.
The idea that environmentalists and regulators were making war on the coalfields was around as early as 2010, as a slogan of the coal industry, but it really took off when Trump's run for the presidency became a movement. When EPA director Scott Pruitt announced the repeal of President Obama's Clean Power Plan, which was the major national initiative on climate change, he did it in Hazard, Kentucky, flanked by miners. "The War on Coal is over," he told them.
War metaphors are common in American life. Usually they serve the questionable and conventional goal of mobilizing social forces against poverty, or drugs, or some other supposedly unifying enemy. The War on Coal was different. Here the image suggested an unjust war, that, in Trump's telling, suspiciously internationalist elites were waging against real Americans. In the coalfields, it was a defensive war, inviting some Americans to see themselves as invaded and occupied by other Americans and their international allies. In this, the miners are like the anti-monument activists, who believe they are colonized by elite Easterners and bureaucrats.
The "mine wars" of the twentieth century, centered in now-Trumpian counties such as Harlan and Mingo, were called wars because that was what they looked like. Armies of miners fought to get and keep their unions, to win a share of the world for themselves. One failed union effort ended in the three-day Battle of Blair Mountain, where miners exchanged hundreds of thousands of rounds of gunfire with management-backed militias and the National Guard. When the creator of the modern United Mine Workers of America, John L. Lewis, died in 1969, the union miners went out on strike for a day because that was how you mourned: by showing class power. Nearly a decade later, in 1978, strikes shut down the coalfields for weeks while miners demanded a public fund to pay for black-lung care for their retirees. Today's "War on Coal" picks up deep resonances in the region. But it replaces the old material stakes of solidarity with symbolic and rhetorical anti-elitism.
The phrase "War on Coal" resonated in 2016 because it named a feeling: being trapped in a fight with existential stakes, with no political way out. By the time the "War on Coal" came along, the miners' union had been broken except as a remnant. Strikes had all but disappeared. When 29 miners died in the Big Branch mine explosion in 2010, there were no mass strikes for safety standards.
Miners lived literally between a rock and the hardest place, and they did not believe that anything the government did after their jobs disappeared would repair or improve their lives. The Waxman-Markey climate bill that failed in 2010 contained many provisions for coalfield transition, but none of them struck a chord in the coalfields. The people who wrote that legislation were not their people—too urban, too educated, too remote from their lives and concerns to be trusted. A strong union might have brokered a different kind of peace, a strong investment in the post-coal coalfields that miners could live with as their own partial victory. It would have been expensive, but so is climate change. The problem was not that the sums were too small, but that the alienation was already too deep.
Rather than a bargain to keep coalfield communities alive and usher in a new economy to slow the disaster of climate change, we get a conflict with existential stakes, and extractivism as a political identity. The "War on Coal" language resonates with a symbolic defense of work and force, which is also to say, of a certain version of manhood. From this perspective, the environmentalists, bureaucrats, and diplomats who design climate policy may be cosmopolitan, but in deeper sense they are unworldly. They can't accept the use of muscles and machines that tear a mountain apart to keep their screens glowing. The violence and force offend or frighten them; they couldn't do the work themselves, yet they depend on it. Celebrating mining in this vein makes the technocrats and meritocrats contemptible, and this numbs the suspicion that they run the world. It puts power and dignity back in the work miners know how to do, and the lives they know. It is a kind of symbolic revenge.
As coal becomes less important as a resource, it becomes more important as a defiant emblem of who we are, the contested and embattled America itself. The blend of pride and violence, belonging and dispossession, is also a main ingredient of the American masculinity that has figured so destructively in the current politics.
These conflicts in Utah and Appalachia are parts of a long American history of fights over landscape and identity. Ideas get entangled in rocks and dirt. The ground that people stand on memorializes what divides them.
A great deal of U.S. history is literal landscape-making. Every farmer's rectangle or developer's trapezoid can be traced back to a sovereign act that made someone its owner. Railroads gobbled up millions of acres. So did wealthy speculators. In some Southern states, a white settler could claim extra acreage under state settlement laws for every enslaved person he promised to bring onto the land. The plantations of the Deep South were built by what historian Sven Beckert calls "war capitalism," the mobilization of the enslaved against the forests and swamps of the region, housed in camps far from any family, with huge death rates.
After the frontier came redlining. Where I live, in Durham, you can map the demographics of the city today across an image of the Federal Housing Authority's loan-segregation maps from 80 years ago. You can even spot the historically favored neighborhoods from the sky, because willow oaks were planted along those streets 80 years ago, creating a green canopy over the white boulevards whose absence alerts you when you have crossed the color line, giving Jim Crow white supremacy an ecological echo.
For the median American household, two-thirds of net worth is home equity. In 2015, the rate of black American home ownership was forty percent, compared to seventy percent for white Americans. The land remembers. But what do we remember of it? Every political contest over claims on the land is, in part, a contest over what will be remembered, and what will be forgotten. Forgetting a history of inequality transforms it into something that just is, as if it had always been, as if it were nature.
When commentators talk about "denialism" in Trump's presidency, they tend to mean denial that climate change is real and human-caused. But Trumpian denialism can stand for something much broader: a refusal to see the facts that tie people together so powerfully and inconveniently. These things include the history of American inequality, the perennial presence in our natural life of migration and undocumented labor, the decline today of relative American power. You could distill it by saying that denialism is the ethos that refuses to see how the world is deeply plural at every scale, how it draws people inexorably into uncertainty and potential conflict, how it puts us at odds.
The denial comes not because the denialist cannot see this, but because he does see it, not because he doesn't believe others are there, but because he feels their presence so acutely, fears they will make claims on him, fears they will get power over him and take what he has. When I was in high school in West Virginia, my classmates told me that Michael Dukakis had a plan to take everyone's guns, that Jesse Jackson had a plan to put all the white people in camps. Today we hear that climate change is an internationalist stalking horse for global economic government. I don't think climate denial is really about doubting science. I think it is about controlling who has moral and political claims on you.
The things that tie people together and the things that divide them tend to be the same things. Environmentally speaking, what rules us is often not a rival political faction, but the mute and heavy material world: roads and buildings, fields and walls and atmospheric carbon levels.
One serious estimate puts the mass of the global "technosphere," the material habitat that humans have created for themselves in the form of roads, cities, rural housing, the active soil in cropland, and so forth, at thirty trillion tons, five orders of magnitude greater than the weight of the human beings that it sustains. That is approximately four thousand tons of transformed world per human being, or 27 tons of technosphere for each pound of a 150-pound person.  The world we make tells us how to live in it. If you want to stay cool in the summer and warm in the winter, communicate with others, work, feel yourself a part of the cultures in which you share, here is what you must do: enter onto these roads and rails and flights routes, tap into these power grids and data networks, use these tools infused with rare earths.
How might land, the base of this weighty and claustrophobic world, be involved in something different, something closer to a creditable political reconciliation. Take Bears Ears. When President Obama created the monument, his proclamation opened with a litany of Native names for the place, from Navajo, Ute, Hopi, and Zuni—all meaning "ears of the bear"—and the history of its meaning in different traditions. The proclamation also gave a council of the tribes a permanent role in governing the monument, and directed the public-land agencies that have the final say to consult closely and meaningfully with the tribes. It isn't really reparation, but it's some redress for a history of expulsion and erasure, most of all because it shared a portion of power over the land, the power to say what will be remembered there in the future.
Now take the coalfields. This March, the public-school teachers of West Virginia settled an eight-day wildcat strike. Twenty thousand of them shut down schools in every county. They marched in red shirts and bandannas that conjured up the mine wars of a hundred years ago. The point was to remember the name of old struggles. Some teachers even said the coal companies should pay more in severance taxes for the minerals they take out of the state, to pay for the teaching and upbringing of people who will be living there when the coal and gas are gone.
A certain type of optimist loves to say that things aren't zero-sum. Some aren't, but the excise tax on coal and the state's budget for teachers' pay—well, those kind of are, and they're connected. The land is the most concrete proof of this. One thing happens to Bears Ears or another, but not both: You cannot have wilderness and mining in the same place.
What doesn't need to be zero-sum is the creation of new kinds of solidarity, new ways to feel that your good life is part of my good life, and an injury to you is an injury to me. The teachers' strike was also about that: The teachers lined up with bus drivers and janitors and coal miners, dropped a little bit of being middle-class—which means a lot in a place with a lot of hard and scary poverty—to join themselves to more people. On American land, conflict is always heritage. So is solidarity, if you can take hold of it.
---
* This article previously used an incorrect military term to refer to students at the U.S. Naval Academy.