The Lost Ones
What will happen to the 463 migrant children whose parents have been deported?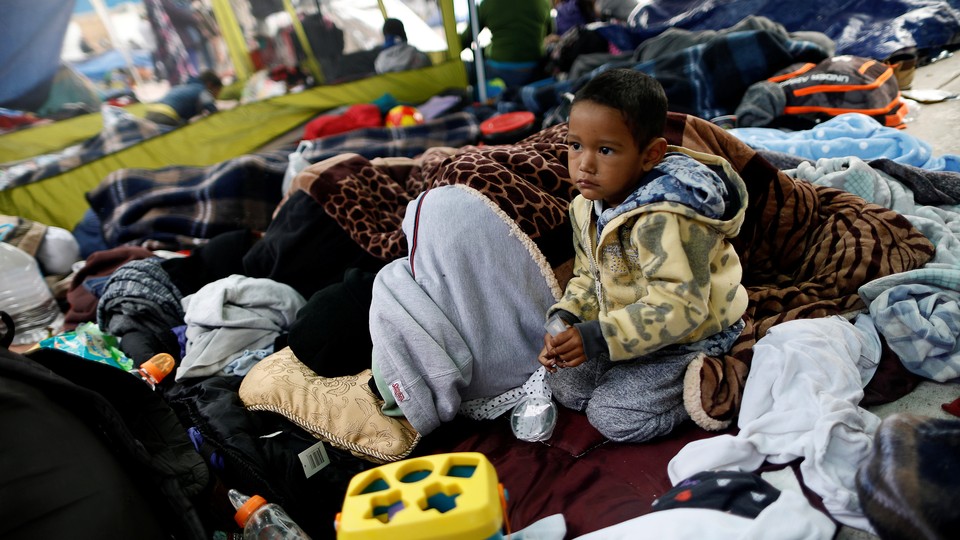 Updated on July 27 at 2:34 p.m. ET
"He lives in a tiny mountain village by the river, on the border between two states in Honduras." This was the scant information given to Clara Long, a researcher with Human Rights Watch, and her partner, a Honduran lawyer affiliated with the Justice in Motion defender network, as they embarked on a mission to correct one of the most serious mistakes of the Trump administration. The man in question was the father of a 4-year-old boy. The two had been separated as a result of the administration's "zero tolerance" policy earlier this year: Miguel, the father, was in Honduras; his toddler son was 1,800 miles away in Chicago.
According to Long, Miguel and his son had come to the United States seeking asylum at an official port of entry. A local narco-trafficker in Honduras had repeatedly threatened to kill Miguel and had already murdered his cousin. (Miguel's lawyers asked that his real name not be used, because of the dangers he continues to face in Honduras.) But when the father and son arrived at the American border, they were put in a detention center—and several days later, federal agents came to Miguel's cell and took his child away. Then they informed Miguel that he would have to go home.
"They told him he was being deported, and he was never given a chance to discuss his credible-fear claim—as would have been required by law," Long told me. This was, she said, Miguel's second time seeking asylum in the U.S., and his second time being denied.
Back home in Honduras, according to Long, Miguel tried for a week to contact his son, who was in a children's detention center somewhere in the United States. He was finally able reach a hotline, the phone number passed to him by another father who had been separated from his child. Miguel eventually connected with his son, but he remained worried—about the delays in getting his 4-year-old out of detention, about who would take care of him once he was released. One was in a bustling American metropolis, the other in a tiny town in remote Honduras—and Miguel had no phone. The U.S. government had not given legal advocates any records for the father or son, according to Long, and attempts to gather the necessary information from Miguel were difficult, if not impossible. (A request to the Department of Homeland Security for comment on the specifics of Miguel's case was not immediately returned.)
Long and the Honduran lawyer, together with a local fixer who was a former criminal-justice reporter, set about trying to physically reach Miguel in order to gather the testimony needed for his son's legal case. To find him, they had little more than a few descriptive lines—ones that sounded more like a nursery rhyme than any sort of geo-data. "And we were given two different names for that particular village," Long said.
Once Long and her associates arrived in an agricultural center near what (they hoped) was Miguel's town, the group began asking around, making what Long called "security inquiries." "Security conditions vary greatly over short distances," she explained. "Some roads are safe, and some are not. You need to do your research and talk to people to find out."
Access roads were too risky to attempt, given the criminal syndicates who ran the area, so the group connected with the local police, one of whom—purely by coincidence—knew the mayor of the tiny town where Miguel lived. He, in turn, knew Miguel. By luck or divine providence, Long and her associates were able to get a message to Miguel, and paid for a motorcycle to bring him on a two-hour ride to their location. "Finally, and sort of miraculously, he arrived," Long said.
But the hour was growing late: Once night fell, the roads would soon become too dangerous for safe passage. So the team quickly took Miguel's testimony, bribed the local internet café to stay open, printed the document, and had Miguel sign it, just as the sun began to set. Then they all went on their way—a happy outcome that required impossible serendipity and unusual tenacity, simply to begin turning the wheels of justice for one father and one son. As Long finished telling me the story, she said, "And now multiply that by 463."
That number—463—is the estimated number of migrant children who remain in federal custody, but whose parents have already been deported, according to the Department of Homeland Security (the department's own figures have been revised multiple times over recent days). This Thursday marked the second deadline, set by a federal judge, to reunite all of the nearly 3,000 children who had been taken from their families, but the U.S. government has so far proven woefully unprepared for the task: It failed to meet its first deadline to reunite the very youngest children by July 10, and it failed to meet this second deadline as well.
As of Thursday evening, the government said it had reunited 1,442 children aged 5 and up, and that it had fulfilled its obligation to reunite "eligible" families—begging the question: What determines eligibility? According to The New York Times:
At least 711 other parents of children older than 5 were not cleared to recover their children this week because they failed criminal background or parental verification checks. The parents of 46 children under 5 years of age were similarly excluded.

The parents of about 431 children appeared to have been deported without them, and the government has yet to find the parents. Their futures, along with those of at least 94 other children whose parents' locations were "under case file review," according to court records, remain uncertain.
(The ACLU, for its part, told me that they are concerned these standards for ineligibility are both questionable and unclear.)
While the 463 children of deported parents (or 431, depending on which statistics the government is using) would seem to represent the toughest challenge for this government—the most troublesome examples of its controversial policy—the administration, it seems, has effectively washed its hands of them: No plan is in place to assist these reunifications, no specific resources allocated. As Clara Long told her story, it struck me that the federal government had played no role in facilitating a solution to an unacceptable situation of its own creation: It had made no outreach, shared no records, and remained completely, apparently willfully, on the sidelines.
"They are leaving it to somebody else," said Michelle Brané, the director of migrant rights and justice at the Women's Refugee Commission. Lisa Frydman, the vice president of regional policy and initiatives at the advocacy group Kids in Need of Defense (KIND), told me, "We have not seen [these cases] be a priority for the government—the focus on creating a plan and a process to reunify children whose parents have been deported." A representative from the Department of Health and Human Services clarified that "the administration will continue to work with the court, plaintiffs, and partner agencies on a plan to reunify parents who are outside of the U.S." Details on (or evidence of) that work remain unclear.
Government lawyers, according to the Times, will not allow parents to return to the U.S. to claim their children, but they have also stipulated that parents must be found and vetted before their children can go back home. And yet they are doing nothing, at present, to ensure that those parents can be found—or vetted. The administration has sought to justify this impossible position by creating false categories of "eligibility," and effectively shifting blame to the parents. Earlier this month, Secretary of Homeland Security Kirstjen Nielsen said that deported parents made a choice to leave their children in the U.S. But advocates handling these cases say that parents may have been falsely coerced into believing an expedited deportation would result in a faster reunion with their children, or may have had incorrect information at the time. Nan Schivone, the legal director of Justice in Motion, explained, "If someone says to a parent, 'It will take a long time to seek asylum and you'll probably lose anyway,' they are not making a decision with all the facts. It's troubling that the government spins it that way."
On Wednesday, according to the Times, "the ACLU filed a motion to protect parents whom the government has claimed have waived their rights to immediately recover their children, citing testimony from some who said they did not know what they had agreed to because documents were not translated into their native languages, or who felt they had been forced to sign documents under duress." But the majority of those cases involve parents still in federal custody, not those who have already been deported.
With the American government content to do nothing, caseworkers are on their own—left to track down parents through intuition and instinct, forced to rely upon internet cafés and local policemen, good Samaritans, and brave local attorneys. Despite the sheer number of children in this predicament, the organizations working on these cases have few resources: Many have directed small local teams of affiliates in Guatemala, Honduras, and El Salvador to work on the issue of separated families—at the expense of their traditional (read: funded) work.
Justice in Motion, for example, has eight attorneys in the region who are working on these cases. "It's really hard on an organizational level," Schivone said."We are a small nonprofit and we happen to be positioned with lawyers who are based in the region, in Honduras, who are already set up to serve this population."
"We aren't currently funded to do this kind of work," she added. "But we are trying hard every day."
In addition to money and resources, there are concerns about safety and security, as well as the unusual challenges of brokering contact between a child caught in the American legal system and a parent in Central America. Emily Kephart, the senior project coordinator of KIND, explained, "To get additional information—beyond where your child is—could take months. That's complicated by the fact that, in places like Guatemala, a child's first language is not Spanish. The Office of Refugee Resettlement uses language line interpreters—which is less than ideal for children who may not even be used to talking on the phone, let alone talking to a parent on the phone through someone else."
And, she added, "there are huge variations in the dialect being spoken. There are more than 70 different variations just in the Mam language.* We put in our request, but the person you get may be speaking a different dialect. I get that a lot. It makes people less likely to offer full information. It's hard."
On Thursday, KIND announced a new initiative that will specifically focus on the children whose parents have been deported to Central America. I asked Frydman what the scope of the program might be, how many families the group aims to target—and she explained that it was still too early for the specifics, that the project was still in its nascent phase. There would be a conference call the next day among the various groups involved in the issue, to try and pool resources and better coordinate activities, and that seemed both necessary and hopeful. Coordination might beget better resources and ease the work of the men and women who—like Clara Long and the unnamed Honduran lawyer—are willing to risk their necks at sunset to gather testimony from fathers who have lost their babies to the American immigration system, selfless servants willing to help lift the shame of a nation.
---
* This article originally misquoted Emily Kephart on the variations in dialect in places like Guatemala. We regret the error.