How Much Damage Will Trump's Trade War Do?
Higher prices, slowing growth, mounting layoffs—and the indirect costs may be even greater.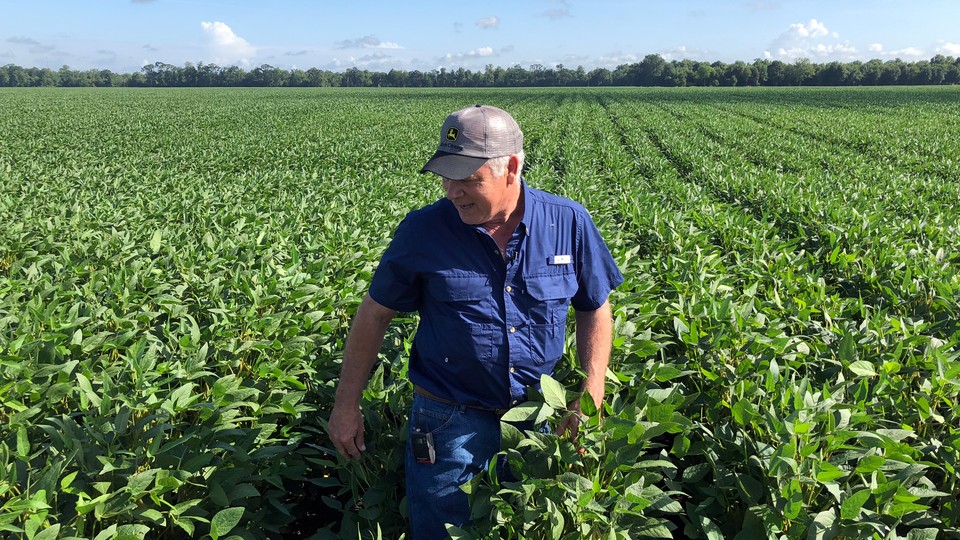 Will Donald Trump's trade war tip the economy into a recession?
It seems a reasonable question to ask. The White House has initiated a rapidly escalating global tit for tat, with thousands of products from the United States, China, Canada, Mexico, and Europe now affected or threatened by tariffs. The price of imported goods is increasing. The demand for exported goods is falling. American businesses are laying workers off, and some are warning that they might end up bankrupt.
In some sense, Trump could not have picked a better time to engage the country in a pointless, destructive round of mercantilism: The country's pace of growth is so strong that the tariffs should have only a muted effect on headline GDP and jobs numbers, economists think. Still, certain industries and certain places stand to suffer considerably—and this growth-chilling trade war might be hard to call off in the event that the economy were to slow down.
The war is being fought on multiple fronts, and with several different justifications. Trump has taken aim at China for engaging in a variety of unfair market practices, including stealing American intellectual property. He has decried the North American Free Trade Agreement, shared with Mexico and Canada, arguing that it rips off American businesses. And he has said that the European Union's trade practices are unfair, too. "They put up barriers so that we can't sell our farm products," Trump said at a Minnesota rally last month. "Yet they sell Mercedes and BMW, and the cars come in by the millions. And we hardly tax them at all."
With the idea of aiding American businesses and punishing overseas trading partners, the White House has threatened or slapped tariffs on more than $200 billion of imported goods, leading to retaliation. Solar panels, jeans, motorcycles, pork, soybeans, steel, aluminum, cars, insect repellent, tilapia, lobsters, cranberries, cheese: The list of items caught in the crossfire is large and growing. That has forced more and more businesses to react. Some companies, like domestic commodity producers, have benefited from the tariffs. Others have said they would shift production overseas to avoid them, alter their supply chains to soften the impact, or start passing price increases onto consumers.
The effect on American growth stands to be small but noticeable, economists said. Paul Ashworth, the chief U.S. economist at Capital Economics, said he estimated the hit at 0.1 or 0.2 percentage points of GDP. Morgan Stanley put the direct impact at 0.3 percentage points, with a variety of other forecasters and economic analysts coming up with similar numbers. "There is no question that the short-run impact of the tariffs is to weaken GDP," said Chris Varvares of Macroeconomic Advisers by IHS Markit, a forecasting firm. That said, he added, "even sizable tariffs are not recession inducing" given the kind of growth the country is seeing right now.
But the trade war is more than just tariffs. Trump's actions might reduce consumer confidence, undercut business investment, and reduce investors' appetite for risk. Companies anticipating more tariffs and export barriers, for instance, might choose not to expand their operations in the United States. "Since workers and firms don't know if they might be impacted by retaliatory tariffs, including losing your job or shutting down your firm, the U.S. imposing tariffs is the economic equivalent of a game of Russian roulette," Varvares said, adding that the economic impact of such decision making was far harder to model and measure.
Plus, there is the risk that the trade war could continue to escalate, doing far more damage to global growth. Economists at UBS have estimated that a leveled-up dispute might slow global growth down by a percentage point—including as much as 2.5 percentage points in the United States and 2.3 percentage points in China. In that scenario, there would be "severe" implications for the stock market, which could fall as much as 21 percent in the United States.
Even if the overall GDP effect remains muted—just a few tenths of a percentage point—some communities and consumers stand to feel it much harder than others. Agricultural businesses, for instance, are bracing for tariffs. "For soybean producers like me this is a direct financial hit," Brent Bible, a soy and corn farmer based in Indiana, said in a statement. "This is money out of my pocket. These tariffs could mean the difference between a profit and a loss for an entire year's worth of work out in the field, and that's only in the near term." The auto industry is also warning that Trump's threatened tariffs might cost thousands of production jobs—losses that would be concentrated in Rust Belt states such as Michigan, among others.
The hit to consumers paying higher prices—estimated at something between 50 and a few hundred dollars a year—will be more diffuse. But lower-income consumers, who tend to buy more goods from countries such as China, might end up feeling squeezed more than their higher-income counterparts. "We know that China is producing goods that are lower quality," said Mary Lovely, an economist at the Maxwell School of Citizenship and Public Affairs at Syracuse University. "Take any consumer product. Snowboards. A tennis racket. Luggage. Rich people buy stuff from Switzerland. They don't go to Target to buy a tennis racket from China."
Were the economy to slow, the sting from higher prices, layoffs, reduced business investment, and falling exports would be much bigger, of course. As Varvares said, "If the economy were already in the process of growth slowing toward trend or slightly below"—as expected, given rising interest rates, among other factors—"any additional negative shock could tip the economy over into recession." There's no need to worry about a trade-triggered recession today, then. But it might be worth worrying about one tomorrow.