All the President's Hush Money
A recording from Donald Trump's longtime attorney and fixer, Michael Cohen, raises further legal questions about payments made during the 2016 campaign.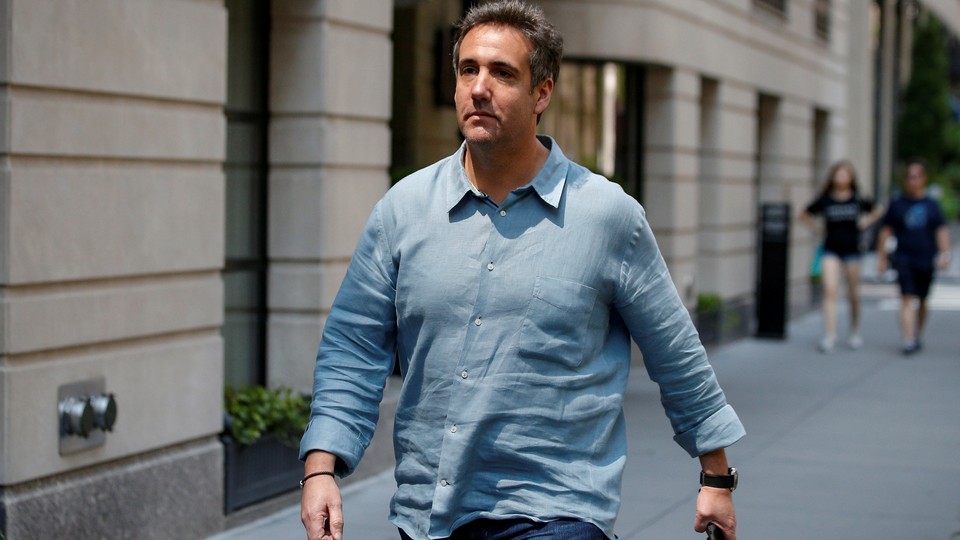 Not since Richard Nixon discussed paying off E. Howard Hunt for the Watergate burglary has a president been caught on tape seeking to muffle the emergence of negative stories with cash. But in a recording released Monday evening, the then-candidate Donald Trump is heard speaking with his former personal attorney Michael Cohen about making a payment to prevent the story of an extramarital affair with the model Karen McDougal from emerging.
"I need to open up a company for the transfer of all of that info regarding our friend David," Cohen says on the recording, apparently referring to David Pecker, a longtime Trump ally and the CEO of American Media (AMI). "We'll have to pay."
"Pay with cash," Trump replies.
The recording was first published by CNN, which obtained it from Cohen's attorney Lanny Davis, but has been in the possession of the FBI since the bureau raided Cohen's offices in April.
The audio on the recording is of poor quality. Trump's personal attorney Rudy Giuliani released his own transcription of the recording. He insisted that the tape is exculpatory, and that the president actually said, "Don't pay with cash." If the president said don't, it's not clearly audible on the tape.
"I've got 4,000 hours of Mafia people on tape. I know how to listen to them, I know how to transcribe them," Giuliani told Fox News's Laura Ingraham on Tuesday night. "I've dealt with much worse tapes than this."
The recording marks a startling new chapter in the mystery surrounding Trump, Cohen, and payoffs made in the closing days of the 2016 campaign. As November approached, Cohen paid $130,000 to the adult film actress Stormy Daniels to keep quiet about an affair she had with Trump. That August, AMI, which owns the National Enquirer, bought the rights to McDougal's story of an affair with Trump for a similar amount, $150,000, but never published any stories on the subject. Federal investigators are reportedly looking into whether these payments constituted campaign-finance violations—cash spent on Trump's behalf to prevent damaging information about him from leaking out, but without being properly disclosed. Trump's spokespeople have denied that he knew about the AMI payment until just before the election, a denial clearly contradicted by the new recording, which is from September 2016. They have continued to deny any legal wrongdoing, and that the president has engaged in extramarital affairs.
The recording also raises the question of whether Trump Organization funds were used to make illegal campaign contributions. During the conversation, Cohen is heard telling Trump that he spoke to "Allen" about the payments, an apparent reference to Allen Weisselberg, the Trump Organization's chief financial officer, who has also handled aspects of the president's personal finances and served as the treasurer of his foundation.
"It would be a reporting violation if Trump used his own funds for such a payment, and both a reporting violation and a prohibited corporate contribution if Trump Organization funds were used," Brendan Fischer with the Campaign Legal Center said in an email. "The evidence suggests there wasn't always a clear distinction between Trump's personal funds and Trump Organization funds (or Trump Foundation funds, for that matter)."
As a media organization, AMI benefits from an exemption in campaign-finance law, which states that an "expenditure" does not include any news story "distributed" through a publication by a press entity acting in its "legitimate press function." If AMI purchased the McDougal story and simply decided not to run it, it would be exercising its judgment as a journalistic organization and there would be nothing untoward about it. If it purchased the story without intending to run it, however, it might not be subject to that exemption.
"AMI would probably not be acting in its 'legitimate press function' if the purpose of the payment was to keep the McDougal story from going public," Fischer said. "Preventing the public from learning about newsworthy information is contrary to the role of the press, and generally should not be protected by the press exemption."
The legal implications for Trump and AMI hinge on their intentions, which can be hard to prove absent direct evidence.
"A lot turns on Trump's motivation for discussing a payment to AMI. Was the purpose to reimburse AMI for purchasing McDougal's story as a favor to Trump? If so, that's unhelpful to AMI and Trump," said Bruce Green, a law professor at Fordham University and a former federal prosecutor. "On the other hand, if Trump did not know that AMI bought the story to help him and his campaign by taking it out of circulation, and he was worried that AMI might publish the story, that may tend to exculpate AMI. And, on that version, Trump is off the hook because he never made the purchase."
In the past, Trump's legal representatives have suggested that the payments made by Cohen were in fact intended to protect Trump's presidential campaign. Trump has previously said that Cohen was paid "a retainer" to "stop the false and extortionist accusations" made by Daniels, and tweeted that "money from the campaign, or campaign contributions, played no roll in this transaction." Giuliani, Trump's attorney, has undercut that explanation in media appearances. "Imagine if that came out on October 15, 2016, in the middle of the last debate with Hillary Clinton," Giuliani said on Fox News in May. "Cohen didn't even ask. He made it go away. He did his job."
Trump appears to have soured on Cohen since. On Tuesday morning, Trump tweeted, "What kind of a lawyer would tape a client? So sad! Is this a first, never heard of it before? Why was the tape so abruptly terminated (cut) while I was presumably saying positive things? I hear there are other clients and many reporters that are taped—can this be so? Too bad!"
While Trump's opponents may find the president's complaint ironic, given his history of threatening critics with surreptitious recordings, he has a point—the recording could constitute a violation of professional ethics under New York's rules of professional conduct. Even if it doesn't, it could undercut Cohen's credibility in front of a jury.
"Unless this was a taping that Trump told Cohen to do and keep, or a surreptitious or accidental taping that Cohen then revealed to Trump and was directed by him to preserve, this might be an incident of attorney disloyalty toward his client, which is perhaps unprofessional conduct and subject to discipline," John Barrett, a law professor at St. John's University and a former associate counsel in the Iran-Contra affair, told me.
One of the lingering questions is why Cohen has now seemingly decided to turn against Trump, and it's one that is more complicated to answer than it might first appear. Davis, Cohen's attorney, told The New York Times that Cohen was "on a new path—it's a reset button to tell the truth and to let the chips fall where they may."
"There's a pretty clear implication in Davis's statement that Cohen was lying before, or at least covering up. Why would Davis so clearly imply that his client was lying until now? And why suggest that Cohen is now forthcoming when he obviously has not come anywhere near to telling the whole truth?" Green said. "If Cohen had a course of dealing with Trump concerning covering up Trump's sexual affairs, the public would be interested to hear, but Cohen hasn't told the story. Can he tell it, given attorney-client privilege and confidentiality? Perhaps not, but then why say he is pressing reset? Is Davis trying to bait Trump into waiving attorney-client privilege and confidentiality?"
"Two white-collar heavyweights are litigating against each other in the court of public opinion," Green added. "Who's the jury?"