Trump May Doom the Medium He Loves
If the Justice Department succeeds in blocking AT&T's acquisition of Time Warner on Tuesday, the president could send the cable-TV industry into a tailspin.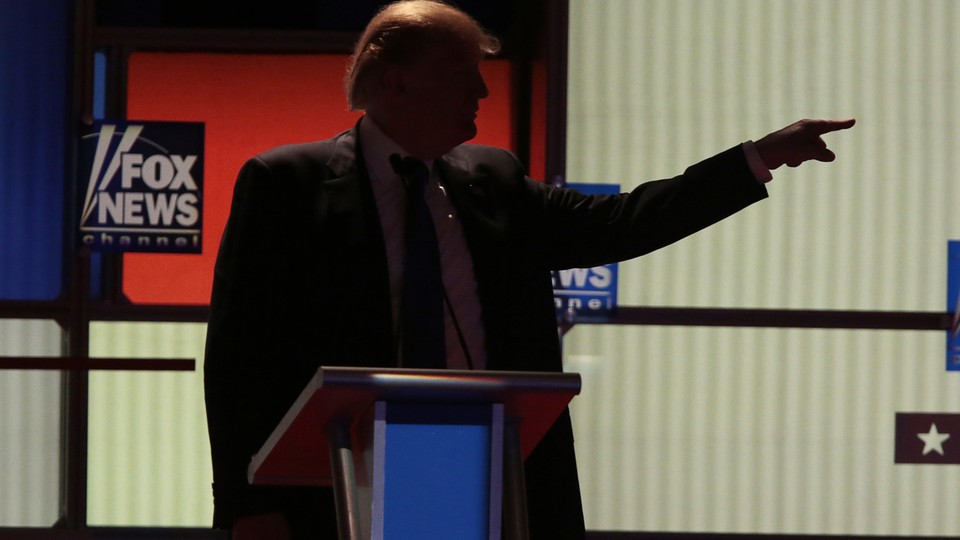 He's the cable-television president. Donald Trump starts his days with cable news, staffs his administration with talking heads, and regularly consults with Fox News hosts. But what the president may not realize is that his administration is pushing a position in federal court, in a case expected to be decided Tuesday, that risks killing the very medium he loves.
Trump's affection for cable is well-established. He's known for live-tweeting praise for his friends at Fox News, and hate-tweeting their counterparts at MSNBC and CNN. Trump's fixation with cable news has even bled into his personnel recruitment. Recently, the former CNBC host Larry Kudlow was tapped to direct Trump's National Economic Council and Heather Nauert, once of Fox and Friends, was promoted to acting undersecretary for public affairs at the State Department. Trump regularly calls Fox's Sean Hannity before bedtime, according to New York, and speaks regularly with Jeanine Pirro, Politico reported.
The Trump-Fox feedback loop is a rare constant in an otherwise mercurial presidency. "Many of the president's most vicious tweets, which often baffle observers because they seem to come out of nowhere, make more sense when you realize that they are actually his responses to Fox's programming," writes Matthew Gertz in Politico Magazine.
Trump's unabashed love of cable makes the government's position in U.S. v. AT&T more remarkable.
In November, the Department of Justice sued to block AT&T's $85.4 billion deal to acquire Time Warner, one of the world's largest media companies, whose assets include HBO, Warner Bros., and CNN. AT&T, a telecommunications giant, acquired DirecTV, one of the largest satellite TV providers, for $48.5 billion in 2015. The Justice Department claims that AT&T and Time Warner's combined assets would be anticompetitive, leading to unfair price hikes for TV consumers. But AT&T's Randall Stephenson says his company needs to scale up in order to compete with tech companies like Facebook, Apple, Google, Amazon, and streaming leader Netflix.
Many describe the lawsuit as unprecedented, especially for a conservative administration, with one Barclays analyst writing that "it goes against almost 40 years of judicial commentary and action." D.C. federal Judge Richard Leon is weighing the merits of the case, and his ruling is expected on Tuesday. But if the government prevails, it could wreck the entire foundation on which cable TV is built.
---
Cable and satellite TV providers have been hemorrhaging subscribers for the better part of the last decade. According to industry analysts at SNL Kagan, the pay-TV industry lost 3.5 million subscribers in 2017, a nearly 4 percent decline. And 2018 began with the industry's worst first quarter ever, with the top traditional pay-TV providers losing over 700,000 subscribers since January, according to Leichtman Research.
Cord-cutting, the act of ditching cable for internet-based services like Netflix, Hulu, or Amazon Prime Video, has become a more affordable option for TV viewers who don't mind trading live TV for expansive on-demand libraries, optimized for binge-watching. For those who want some live TV on the internet, virtual skinny bundles like YouTube TV, DirecTV Now, and Sling TV provide reasonably priced alternatives.
Some 90 million Americans still pay for cable or satellite, but that is down from over 100 million in 2010. In 2010, close to 90 percent of American households subscribed to pay-TV, but that has since declined to less than 80 percent. Sharp year-to-year subscriber losses have not leveled off.
Netflix, on the other hand, has 55 million U.S. subscribers. Last summer brought a major milestone, with more Americans paying for Netflix than cable TV. Additionally, Hulu has 20 million U.S. subscribers, and Amazon, which bundles its streaming service with its larger retail bundle, Prime, has 100 million members worldwide.
At their core, the pay-TV providers, like AT&T's DirecTV, Comcast's Xfinity, and Verizon Fios, are—and should be—terrified of the tech giants known ominously as FAANG: Facebook, Amazon, Apple, Netflix, and Google.
These tech giants have unfathomably deep pockets. In 2018 alone, Netflix and Amazon will spend a whopping $8 billion and $5 billion respectively on original programming. Apple and Facebook will each spend $1 billion, while Google is spending "hundreds of millions" on programming for its YouTube Premium offerings.
So what does live TV have to offer anymore? Sports and news. But, mainly sports. As PricewaterhouseCoopers reports, 82 percent of sports fans "would end or trim their Pay TV subscription if they no longer needed it to access live sports." Prices for sports-rights deals are astronomical and perhaps unsustainable; however, networks use sports to secure key advertiser segments and to obtain reliable lead-ins to other programming. NBC, for example, used this year's Super Bowl to lead into their critical hit This Is Us.
The TV industry battle is about who has must-see programming. And companies in the traditional TV space need to invest or acquire to stay competitive.
---
The Trump administration has brought a surge in mergers and acquisitions, driven in part by sizable tax cuts for corporations.
But in media, it's been an all-out merger frenzy. Aside from the AT&T-Time Warner deal, Sinclair Broadcast Group is buying Tribune Media for $3.9 billion, Discovery Communications acquired Scripps Networks for $12 billion, CBS and Viacom are looking to reunite, and, crucially, Walt Disney is set to purchase 21st Century Fox's entertainment assets for $52.4 billion.
The Disney deal is a horizontal merger, which have usually raised more concerns about their potential anticompetitive effects than vertical mergers like the AT&T deal. Horizontal mergers consolidate companies in the same part of the supply chain—with Disney and Fox, it's production—while vertical deals combine different parts of the supply chain—with AT&T and Time Warner, it's distribution and production respectively. But, oddly enough, the vertical deal is the one facing trouble from the Trump administration, not the horizontal one.
The vertical AT&T merger is not unprecedented. In fact, a similar deal was approved by the Obama administration in 2011.Obama's FCC and DOJ approved Comcast's acquisition of a majority stake in NBCUniversal for $30 billion in 2011. In 2013, General Electric sold its remaining 49 percent stake to Comcast for an additional $16.7 billion.
But this time, the Department of Justice intervened to block the merger. In May, they argued to Leon that "the bulk of the anticompetitive effects flow from the proposed combination of Turner with DirecTV."  As a result, the government's lawyers said, AT&T should be forced to divest itself from control of either DirecTV or Turner's networks, including TBS, TNT, and CNN.
The main differences between the AT&T and Comcast deals are their size and reach. The AT&T deal is more than twice as big as what regulators approved for Comcast in 2011, and DirecTV's reach is nationwide as opposed to Comcast's cable presence, which has notable coverage holes.
The Department of Justice's shift may reflect concern about the scale of the new entity. In recent years, a growing chorus of critics on both the left and the right have pushed for tighter antitrust enforcement, arguing that scale itself can be problematic. In a series of speeches and public statements, Makan Delrahim, the department's antitrust chief, has laid out a more aggressive posture on some antitrust questions than those who have held his role in recent GOP administrations. Alternatively, it could reflect regret within the department over the Comcast decision, based on its subsequent results. Or it could show a preference for structural remedies, like divestment, over behavioral ones, which require ongoing government oversight.
But hovering over the case is something else: Trump's hatred of CNN.
According to The New York Times, which has tracked Trump's insults since he declared his candidacy, Trump has insulted CNN, its properties, and its panelists nearly 150 times. He's called it "Fake News!," or the "Clinton News Network," and said CNN is "boring," "failing," and "ratings starved."
The DOJ's decision to sue AT&T may have nothing to do with Trump's influence, but the department, AT&T, and the public all have a firm understanding of where the president stands. So when Trump's personal lawyer Rudy Giuliani recently said, "The president denied the merger," before backtracking, it renewed questions as to whether his personal animus was behind the government's intervention.
But, curiously, AT&T is not litigating the suit on the grounds of selective enforcement, a claim that the government is unfairly targeting a private company for political purposes. That argument was essentially eliminated when Leon blocked AT&T's request for request for records of communications between the White House, the attorney general, and the Justice Department's antitrust division in February.
AT&T is instead fighting an old-fashioned antitrust suit on old-fashioned antitrust grounds. The president, though relevant, is not front-and-center in this court case.
Trump's battle to destroy CNN, his ratings symbiote, will be decided on U.S. antitrust law.
---
Stephenson says AT&T needs greater scale to compete. He might be right.
Tech companies, notably those that comprise FAANG, have made massive investments in (often high-quality) TV programming, have built sophisticated distribution platforms with enormous user bases, and possess much deeper pockets than the TV incumbents.
Moreover, Wall Street judges the stars of Silicon Valley on much looser valuation standards than media or telecommunications companies. Netflix actually loses money, and had accumulated around $20 billion in debt as of last July. Nevertheless, Netflix's stock surpassed Disney's last week for the first time, making it the most valuable media company in the world.
There are serious arguments against media-industry consolidation, including that it decreases diversity in programming and stifles healthy competition.
"Big mergers like this inevitably mean higher prices for real people, to pay down the money borrowed to finance these deals and their golden parachutes," writes Matt Wood of Free Press, an advocacy group that opposes media consolidation. "And just as AT&T's recent purchase of DirecTV was quickly followed by price hikes, there's every reason to expect this potential tie-up would cost internet users and TV viewers dearly too."
But the variable is how you define the media industry. Two different industries are competing to provide entertainment to viewers, but being judged by different financial standards, despite making the same products. If Trump's Justice Department prevails, it would plunge the pay-TV industry into a new era of regulation and scrutiny, an even steeper uphill battle for those already competing with the profoundly unregulated tech sector. That could bring even steeper declines in pay-TV subscriptions, even as Netflix and Disney sign up more subscribers. The result might not be greater competition delivering better deals to consumers, but the demise of an industry and its replacement by even larger, more powerful firms.
The death of cable is not a sure thing—it's been in decline for some time with no lethal plunge off a cliff. The same companies that serve as TV incumbents also control the broadband pipeline and may be able to bolster their TV business through their internet services. But unless the stalwarts of TV can bulk up, or tech is sized down, it's hard to imagine cable's final act will be a fair fight.
If the government is successful, Trump could help destroy his constant obsession, the voices that talk to him at the crack of dawn and the late hours of the night: Trump could actually kill cable TV. And what would the "cable-news president" be without cable?