Melania Trump Derangement Syndrome
The first lady—and her extended withdrawal from public view—has been weaponized. To what end?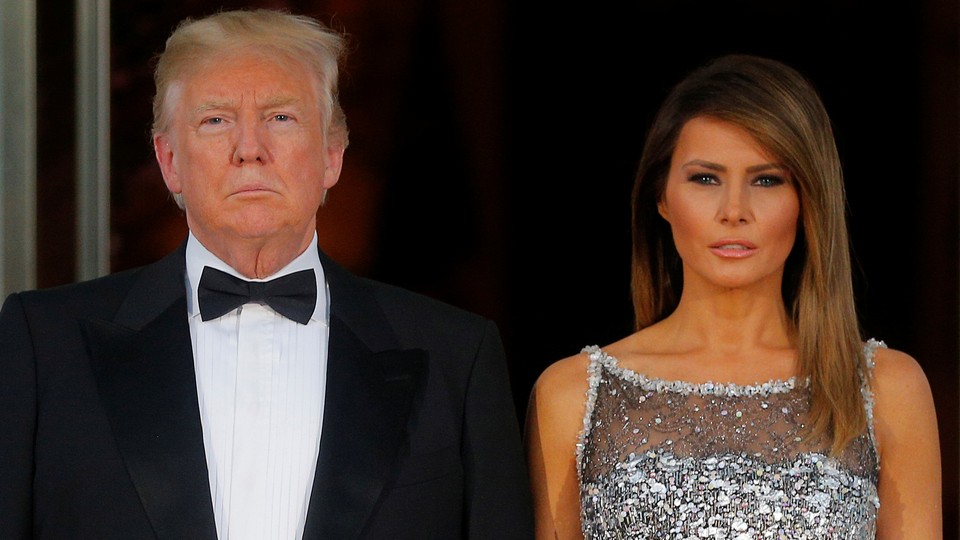 Like Lewis Carroll's White Rabbit, she has darted in and out through the looking glass of our twisted American Wonderland since Inauguration Day. Her profile was always low, her arrival in Washington delayed, her appearances sporadic. But the extended and unexplained disappearance of the first lady of the United States—25 days, until her off-camera appearance at the White House on Monday—has been cause for both questioning and speculation, a dual exercise in news gathering and Democratic catharsis.
Journalists have reasonably asked for more details regarding Trump's extended hospitalization for what is—normally—an outpatient procedure. Given the fact that the president has not been forthcoming with his own (actual) health records, this seems a futile, if legitimate, line of inquiry.
But for some detractors of her husband and his party, Melania Trump's disappearance has provided fuel for all manner of wild conspiracy theories: She was physically abused by the president. She has given up on their marriage and moved back to New York. She is holed up with the Obamas. Though the curiosity may be genuine, the theorizing also reflects Melania's role as a magnet for the fever dreams of tumult and chaos among her huband's opponents.
Among at least half of the electorate, Donald Trump's presidency has been a betrayal of ideals, a shattering of institutions, and an attack on basic civility. Yet the president himself has proved immune to criticism, willfully unencumbered by the cosmic pain he is causing some significant part of the country: His poll numbers have ticked upward, and his party remains unpunished for its support. The speculation about what sins may be behind his wife's absence, therefore, is equal parts pessimism and optimism: If it's bad enough for her, it might just be bad enough for him. The first lady, and her presumed plight, has been weaponized.
"The left is looking for any opportunity to show distance between the first lady and the president," NBC's Jonathan Allen told me. "Like the idea that she doesn't agree with him on issues, the idea that she is angry at him for alleged sexual indiscretions, the idea that she doesn't want to be physically near him. You see it over and over again with the memes of the hand-holding."
The now-infamous Hand Slap videos—officially part of our American chronicle—were the closest that downtrodden spectators could get to a Trump scolding, the first lady's fingers acting as metaphorical rebuke on behalf of the politically disenfranchised.
Likewise, when Mrs. Trump wore a wide-brimmed white hat during French President Emmanuel Macron's first state visit to the White House, to some observers, it was not merely a fashion statement: It was sartorial protest, a sign from the White House wilderness that the first lady was actually a gladiator for good—in the mold of Scandal's Olivia Pope.
The Washington Post's Robin Givhan speculated:
It was a diva crown. A grand gesture of independence. A church hat. The Lord is my shepherd. Deliver us from evil. Amen.
So it was earlier, for the white pantsuit worn to President Trump's first State of the Union: It was not an ensemble, it was a political statement. The New York Times reported that Mrs. Trump's clothing was
exactly the kind of outfit that became a symbol of her husband's rival, Hillary Clinton, during the last election, and has since become widely accepted as sartorial shorthand for both the suffragists and contemporary women's empowerment and something of an anti-Trump uniform, and also what the women gathered behind Kesha wore to display their sisterhood at Sunday's Grammy Awards—[and it] seemed to be about as subtle a slap in the face as could be contained in a garment.
I see you, this pantsuit seemed to whisper to those on the outside—and with that, perhaps, the voice of the woman wearing it: I am one of you.
Bereft of actual, self-designated gladiators, progressives are searching for someone to end this hallucinatory episode of American politics. At the outset of the administration, Democrats may have believed that warrior to be Ivanka Trump, who willfully cultivated the image of a change agent, weighing in on issues including women's empowerment and climate change, anathemas to her father's administration.
"Ivanka wanted power," said one well-sourced White House reporter I spoke with, speaking on the condition of anonymity. "She suggested she and Jared would be change agents, and they knew they never would be. But Melania has done none of that."
Regarding the myriad theories about Melania's plight, this reporter said, Democrats "want Melania to be the crippling agent, but she's not going to do that. Her main priority is her child, not vengeance on Donald Trump that saves the Republic. There is Trump Derangement Syndrome—and it's real."
Gone is talk of anyone inside the administration itself—whether H. R. McMaster or Rex Tillerson or James Mattis or John Kelly—being a mitigating force. The president has already revealed his strategy to discredit the work of Special Counsel Robert Mueller and, as of Monday morning, pardon himself. And so critics have perhaps wanted Melania Trump to be the surprise ending to this Trump saga, the witness who flipped. Their speculation has gotten increasingly wild as the options for a bailout trend more toward fantasy. What if a white hat is just an unconventional piece of White House head wear, and a pantsuit simply a modern ensemble for a big-ticket event? What if Melania Trump likes the wardrobe budget and just wants to be left alone?
I asked Anita McBride, a chief of staff to First Lady Barbara Bush, about the extraordinary analysis regarding the first lady's White House life. "What I keep going back to," McBride said, "is what she described and intended to live out as she entered her new role, back in November of 2016. She said, 'I'm gonna do this on my own time, pick a staff according to my own timing, and we will move down to D.C. when we are ready.' All along, she has established doing this her own way. As we say, the Office of the First Lady gets redefined with each person. And she is most definitely carrying out duties as she sees fit, when she sees fit."
But what, I asked, did she make of Mrs. Trump's extended, 25-day absence from the public arena—uncommon for any first lady in the modern era? McBride was unperturbed. "I think this is an extension of how they lived their lives before the White House," she said, conjuring images of a palatial spread in Trump Tower, and of the many marriages where husbands and wives live separate lives. "It doesn't strike me that either one of them thinks this is an issue. It's just that now we're seeing it publicly. I'm not really sure there's a problem."