Was Comey's Letter to Congress Driven By Fear He'd Be Impeached?
Officials told investigators that the former FBI director worried failing to tell Congress the Clinton email inquiry had been reopened would not be "survivable."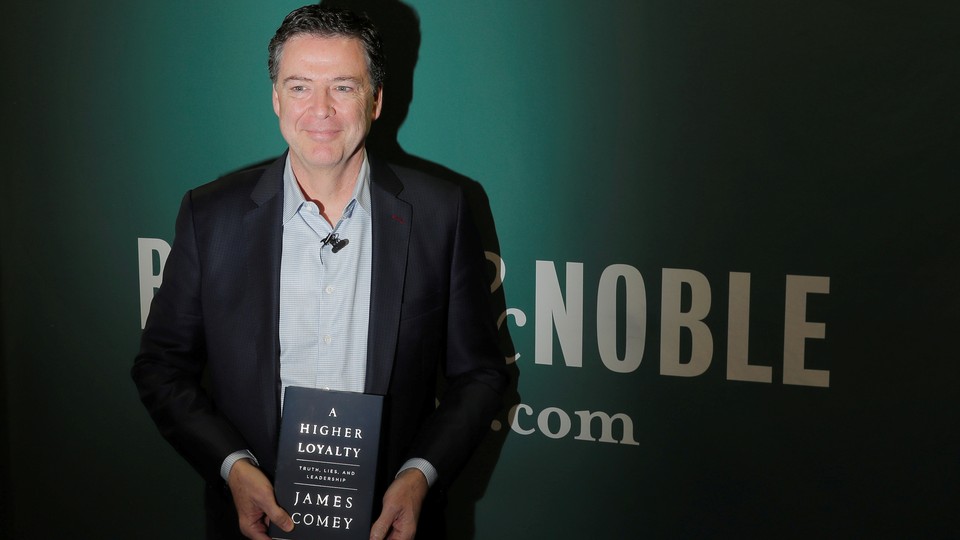 In his accounts of his decision to notify Congress that the FBI investigation into Hillary Clinton's emails had been reopened in the waning days of the 2016 election, former FBI Director James Comey has always said he was trying to protect the FBI, despite the personal sacrifice that might entail.
"I knew this would be disastrous for me personally, but I thought this is the best way to protect these institutions that we care so much about," Comey testified before Congress in May 2017. In his memoir, A Higher Loyalty, Comey wrote that he and the leadership at the FBI "kept coming down to the same place: the credibility of the institutions of justice was at stake." In an op-ed written Thursday for The New York Times, Comey declared that "My team believed the damage of concealing the reopening of our investigation would have been catastrophic to the institution."
But an internal Justice Department inquiry suggests Comey was also thinking of something else: keeping his job.
The Department of Justice inspector general's report on the FBI's handling of the Clinton email investigation, released Thursday, includes multiple interviews that suggest Comey feared that failing to inform Congress that the FBI had potentially discovered messages relevant to the investigation was not "survivable," that he might be "impeached," should Congress discover after the fact that the investigation had been reopened during the election. That account is starkly at odds with the image that Comey himself has tried to cultivate, as a selfless public servant who was acting solely in the interest of the institutions he served. But in the recollections of top officials at the FBI and Justice Department, Comey wasn't just worried about the damage to the Bureau, but also concerned about his ability to remain FBI director.
Matthew Axelrod, a former high-ranking Justice Department aide, told the IG that former FBI Chief of Staff James Rybicki told him: "The Director believes that Congress has, now has a misimpression and so it's the Director's you know, butt on the line. And he needs to do this. And you know, and if he doesn't, you know, the concern [is] it's not survivable for him." Asked what he thought that meant, Axelrod said, "Afterwards when it comes out that [the] Bureau had this information but kept it quiet that there would be calls for his resignation that he wouldn't be able to survive."
Rybicki told the IG "that he did not 'remember using that language,'" and current FBI Deputy Director James Bowdich similarly said that "he did not recall Comey making that comment," telling investigators that "I remember him pointing and saying I am going to suffer personally from this as well. But he felt it was the right decision to make."
Comey, for his part, told the IG "that he did not remember expressing his concerns in terms of survivability, but added, 'I'm sure I said something like, if I chose conceal over speak, I ought to be fired, I ought to be hung out, I would be run out of town because of the damage it will have brought to this. I'm sure I said things like that.'" A request for comment was not immediately returned.
However, former Attorney General Loretta Lynch told investigators that she recalled Axelrod contemporaneously informing her that Comey "was concerned that if, if in fact he did not provide this information to Congress, and either it was leaked or later on we discussed it in some Department-approved way, that it was not survivable. And that was the phrase that was given to us." Lynch's deputy Sally Yates also told investigators that "she remembered 'being told that FBI doesn't think it's survivable for the Director for him not to' notify Congress. Yates stated that one of the reasons that the FBI 'gave for why they felt like [Comey] had to go to Congress is that they felt confident that the New York Field Office would leak it and that it would come out regardless of whether he advised Congress or not.'"
These accounts suggest a divide in recollections. Department of Justice officials seem to recall fairly clearly being informed that Comey was concerned about his own "survivability" should Congress discover that the FBI reopened the Clinton investigation without disclosing that they had done so. FBI officials close to Comey told the IG that they didn't remember Comey saying that.
But the account offered by James Baker, the former FBI chief counsel and a close adviser to Comey, breaks that pattern. Baker told investigators that  "I think [Comey] may have said like I could be impeached" or "something along those lines." Asked to elaborate, Baker said that at some point during the discussions over how the handle the Clinton email inquiry "he raised, I don't remember the context exactly. He raised the issue of, you know, potentially he could get impeached for this if he doesn't tell them this." Congress has the power to remove officials by means of impeachment and trial; some members of the Republican majorities were quite vocal, during the 2016 campaign, in their criticisms of Comey's handling of the Clinton probe.
This suggests, as I have previously written, that the FBI's concerns about right-wing criticism, and a corresponding lack of fear of criticism from Democrats, strongly impacted Comey's decision-making regarding the Clinton investigation. Comey "assigned paramount significance to avoiding the reputational risk of staying silent: that he and the FBI would be unfairly accused of hiding the emails to protect candidate Clinton," the IG report states. "But he appears to have placed no comparable value on the corresponding risk from making the public statement: that he and the FBI would not only be accused of violating long-standing Department and FBI policy and practice, but that he also would be unfairly accused of hyping the emails in a manner that hurt candidate Clinton. We believe that Comey's unequal assessment of these risks was the product of his belief that Clinton was going to win the election."
Department of Justice officials opposed Comey's decision to inform Congress. Yet Lynch said she didn't tell Comey to stand down because "she 'thought at that point … it could lead to greater damage,' meaning that Comey would disobey and send the letter anyway."
Political analysts have argued that Comey's late-October decision to inform Congress that the Clinton investigation had been reopened likely cost her the election. At the time, the FBI was months into investigating whether the Trump campaign had aided a Russian government effort to sway the 2016 election in Trump's favor. That investigation was kept quiet, in accordance with Justice Department guidelines against making politically sensitive disclosures close to an election. The new emails turned out to include no new information, and the Clinton investigation was closed again shortly before Election Day. The Russia inquiry is ongoing.
Comey's decision to publicly disclose the reopening of the Clinton investigation however, ran afoul of those guidelines against political disclosures, the IG report concluded. It was, instead, based on his belief that Clinton would win: "Ironically, in his effort to avoid the FBI or himself being seen as political, Comey based his decision, in part, on his assessment of the likely outcome of the political process." The report concludes that Comey was not influenced by "political preferences." That may be true in the sense of mere partisanship; but Comey's decision was undoubtedly shaped by his political judgment regarding  the likely outcome of the 2016 election—not only who would be in the White House, but who would control Congress.
"Comey's description of his choice as being between 'two doors,' one labeled 'speak' and one labeled 'conceal,' was a false dichotomy. The two doors were actually labeled 'follow policy/practice' and 'depart from policy/practice,'" the report said. "Although we acknowledge that Comey faced a difficult situation with unattractive choices, in proceeding as he did, we concluded that Comey made a serious error of judgment."
If the recollections of Justice Department officials and the then-FBI general counsel are accurate, and Comey weighed the damage to his own career and reputation in making his decision, he twice faced the choice—before Congress, and in his memoir—whether to speak or conceal. He chose conceal.