The Defense That Failed White Nationalists
Marchers from last year's Unite the Right rally in Charlottesville who attacked a black counter-protester made a claim that has often worked for police officers: They acted in self-defense.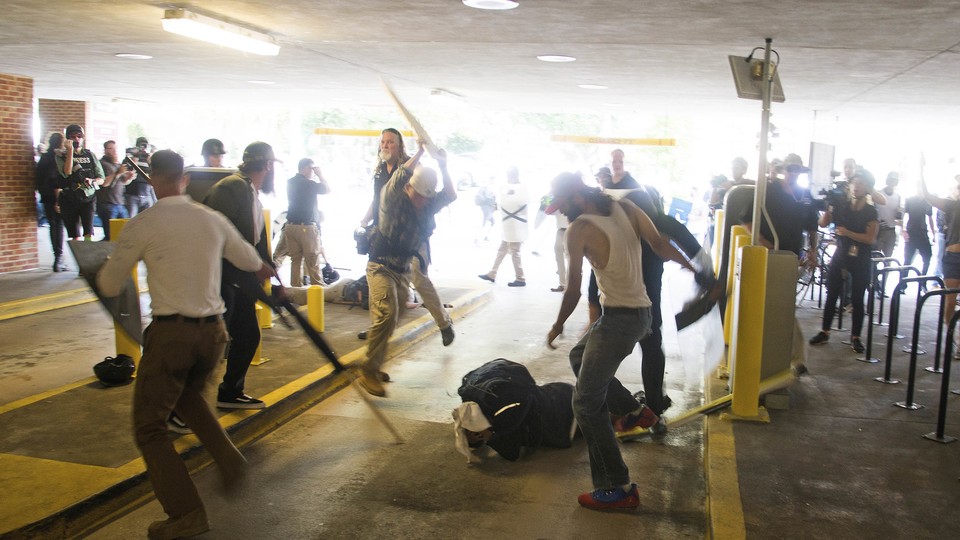 The photographs of the beating show DeAndre Harris curled up in a ball on the floor of a parking lot trying to protect his face and body as the men around him, some armed with boards or pipes, strike him repeatedly. The men beating Harris were there to attend the white-nationalist rally in Charlottesville last August, where one counter-protester, Heather Heyer, was killed when a car drove into the crowd. Harris, who survived the beating with eight staples in his skull, might have been the second.
To an uninformed observer, the picture may look like an image of mob violence. But to many of the men beating Harris and their attorneys, it shows something else: Men acting in self defense.
"To be honest, I was terrified," Jacob Scott Goodwin, one of the men arrested for beating Harris told the jury during his trial. "I'd probably perish or be sent to the hospital and be terribly hurt."
If a claim of self defense as justification for brutally attacking an unarmed man sounds familiar, Harris's attorney, S. Lee Merritt, thinks it should.
"It works for cops, that's what I thought when I heard it. It sounds very familiar from police brutality cases," Merritt told me. "Unfortunately, in our culture, black men are often seen as threatening even when they're the victims, as Mr. Harris clearly was."
The jury didn't buy it. Goodwin was convicted last week in a Charlottesville court of malicious wounding, which could carry up to 20 years in prison. But others arrested in connection with the rally are likely to try a similar defense. The attorney for Daniel Borden, a 19-year-old who prosecutors say struck Harris with a board three times, said he would argue for "third-person self-defense" because the attack started after Harris used his maglight to strike a flagpole that a participant in the march was using as a weapon.
Harris was charged with assault but  acquitted, and the judge determined that Harris "did not intend to harm" the man with the flag. In April, Matthew Engle, an attorney for Tyler Davis Watkins, said that Harris was attacked "through his own conduct," and that his client "was responding to what he perceived to be a threat." Watkins reacted "reasonably and proportionately" by striking Harris while he was getting up, Engle argued, not while Harris was lying on the ground. In a separate case, Richard Wilson Preston, who pleaded guilty Tuesday to a firearms charge after he fired his gun at a black counter-protester at the rally, also initially tried to argue he acted in self-defense.
Only Alex Michael Ramos, who bragged on Facebook after the beating that "We stomped some ass … getting some was fucking fun," did not attempt to argue that he had acted in self defense. Instead, his attorney, Jake Joyce, argued that Ramos was guilty of the lesser charge of assault and battery. The jury convicted him of the more serious charge of malicious wounding.
For police, the fear defense has been effective—but not merely because police officers occasionally find themselves in quickly escalating, life-threatening situations. The Supreme Court has held that police can use lethal force if they have a "reasonable" belief that a suspect might hurt them or others, and through the warped prism of America, any fear of a black male can seem "reasonable" to a jury, especially if that jury is all-white. Grand juries consistently fail to indict cops who kill unarmed black people, even when those killed are children, like Tamir Rice. And those officers that do go to trial often prevail on the grounds that they were simply scared, like when the Chicago police officer Dante Servin was acquitted after he fired five shots into an alleyway at four people who had their backs turned to him, killing Rekia Boyd. Servin said he feared for his life. The first attempt to prosecute Michael Slager, the South Carolina officer who was recorded on video shooting Walter Scott in the back, ended in a mistrial. In perhaps the most famous example, the Los Angeles officers shown beating Rodney King senseless on video in 1991 were acquitted.
No wonder that the men caught on video attacking Harris believed that a jury might side with them if they insisted that they were afraid. In the racist imagination, black men are capable of superhuman feats of strength and stamina; it would only take one juror who shared that perception to produce a mistrial.
Virginia state laws only contain hate-crime enhancements for lesser charges, which means that in pursuing the more serious malicious wounding charge, prosecutors had to avoid discussing Goodwin and Ramos's ideological leanings—that is, their motive for showing up at a racist rally in the first place. "We charged the most serious offense that we could under state law with the highest maximum penalty," Joseph Platania, the Commonwealth's attorney for the city of Charlottesville, told me after Goodwin was convicted. "We are appreciative of the careful attention the jury paid to the facts and are satisfied with the result."
The prosecution didn't raise Goodwin's ideology at trial, but that didn't stop Goodwin's attorney, Elmer Woodard, from raising the issue to garner sympathy from the jury. "They want you to convict this man because he's white, and DeAndre is a black man," Woodard told the jury in his closing arguments. That appeal echoes what Goodwin has told his comrades on the outside—in one letter from Goodwin featured in an NBC documentary on Goodwin's family, he declares, "my crime is being unapologetically white." (Reached by phone, Woodard said he wouldn't comment on the trial).
In a bygone Virginia, that appeal might have worked. In July 1898, John Henry James was dragged from a train station in Charlottesville by a mob and hung from a tree while he professed his innocence, after being accused of assaulting a white woman. Onlookers "emptied their revolvers into his body" and left it there for two hours, as "hundreds" of passersby gathered souvenirs from his corpse, according to one black Richmond paper. A local editor for a different newspaper noted that while he "feared mobs with the most upright intentions," in the case of James, "the provocation was very great." The local sheriff briefly threatened to charge the mob responsible for murdering James, which the editor described as the sheriff being "temporarily unbalanced" by the incident. Threatening to charge white people for mob violence against a black man was, in his view, a kind of temporary insanity.
Police killings of black men still exist in a kind of legal nether-region, where almost no set of circumstances can lead to prosecution or conviction. All over America, but particularly in the South, and in Virginia, that exception once applied not just to police, but to any white man who sought to bloody his hands against his black neighbors. The men who outnumbered and brutally attacked Harris, and have portrayed their celebratory beating of a black man at a white-supremacist rally as a kind of heroism, are seeking a return to that era, to that peculiar form of "justice." For them, that was when America was truly great.