It's Time for Trump Voters to Face the Bitter Truth
Republicans elected a president who promised to take on D.C.—instead, Trump has presided over an extraordinary auction of access and influence.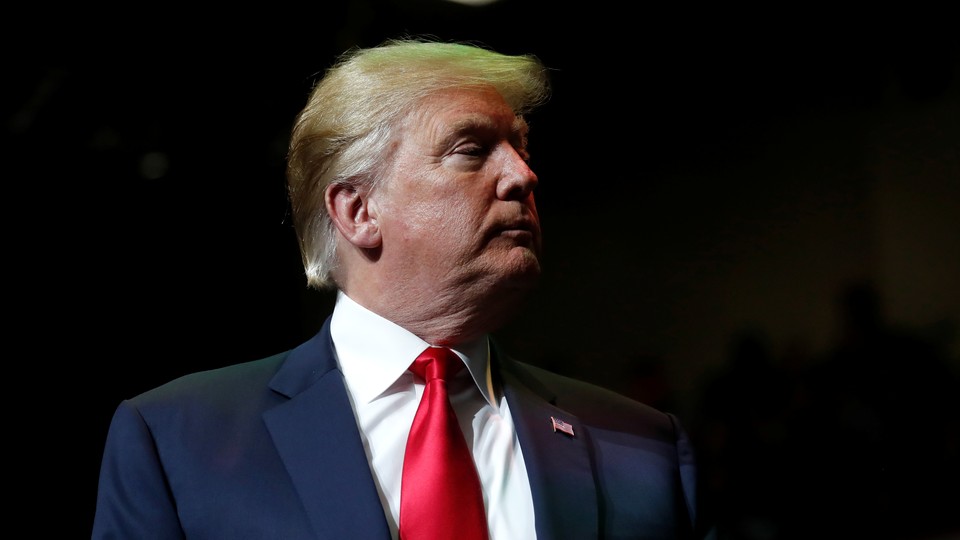 Donald Trump promised to "drain the swamp" while running for office. Voters gave him the opportunity to follow through when they propelled him to the White House. Instead, he surrounded himself with people who saw his victory as an opportunity to enrich themselves by selling the promise of access or influence.
This betrayal of the American public warrants more attention. Trump voters who wanted to rid Washington of sellouts should be most upset, but no one wants to admit that the person they voted for was misrepresenting his intentions. And those who rely on commentators like Sean Hannity, Laura Ingraham, Rush Limbaugh, and Tucker Carlson for information lack many relevant facts.
Here's what Trump voters should know. Michael Cohen was the president's personal attorney. He stepped up when someone was needed to pay hush money to Stormy Daniels on the eve of the election, even using a shell corporation created under a pseudonym to hide the matter.
But that corporation wasn't just for paying off the pornography actress. He also used it to receive huge sums of money from folks with powerful interests in influencing the U.S. government. "A Korean defense company competing for a U.S. contract said it paid him $150,000 to advise it on accounting practices," The Washington Post reported earlier this week. "A global pharmaceutical company said it paid him $1.2 million to provide insight into health-care policy—money it said it was required to keep paying even after concluding that Cohen had little to offer. A telecommunication company said it turned to him simply to better understand the Trump administration."
A powerful law firm paid him $500,000.
And there were $4.4 million that flowed to Cohen from a New York investment firm "whose biggest client is a company controlled by Viktor Vekselberg, the Russian oligarch." What were these people were paying so much money to buy?
Then there's Corey Lewandowski, the pugnacious, righteously indignant man who presided for a time over Trump's presidential campaign. What did he do after its Make America Great Again, "drain the swamp" message won the day?
Even before Inauguration Day, he set up a lobbying firm in Washington. "A firm co-founded by Donald Trump's original campaign manager Corey Lewandowski appears to have been pitching clients around the world by offering not only policy and political advice, but also face time with President Trump, Vice President Mike Pence, and senior members of their administration," Politico reported last year. For a price, he would help foreigners get better insights into Trump than were available to most Americans.
What a sellout! But he was hardly unique.
Back in 2016, "established K Street firms were grabbing any Trump people they could find," Nick Confessore reported in "How to Get Rich in Trump's Washington," a feature for The New York Times Magazine. "Jim Murphy, Trump's former political director, joined the lobbying giant BakerHostetler, while another firm, Fidelis Government Relations, struck up a partnership with Bill Smith, Mike Pence's former chief of staff. All told, close to 20 ex-aides of Trump, friends, and hangers-on had made their way into Washington's influence business."
Brian Ballard, a longtime Trump acquaintance, seems to have leveraged his relationship to the president most profitably. The Turkish government is among his firm's many clients. Politico says Turkey pays $125,000 per month. Why does it find that price worthwhile?
George David Banks was a top energy aide to Donald Trump who came from the world of lobbying. But he quit his job in the White House when he couldn't get a security clearance. Here's what he told E&E News, an energy trade publication: "Going back to be a full-time swamp creature is certainly an attractive option." Then he rejoined his former post at the American Council for Capital Formation, a think tank and lobbying group. I guess he wasn't joking.
Remember when Trump told you that he would release his tax returns and then never did? Remember when he said that if he won the election he would put his business interests aside? "Ever since Trump and his family arrived in Washington they have essentially hung a for-sale sign on the White House by refusing to meaningfully separate themselves from their own business interests," Bloomberg's Tim O'Brien notes. "That's certainly not lost on the companies that do business in or with Washington. They know that in Trump's swamp, you pay to play."
Much of this will surprise folks who get all of their news from Fox commentators and talk-radio hosts, with whom they are in a dysfunctional relationship.
The GOP base is drawn to media figures who support their president and quickly turn on those who criticize him as if they are guilty of a betrayal; for that reason, many populist-right pundits are reluctant to criticize the president or to delve deeply into the behavior of the swamp creatures he has enabled. Instead, they pander to the GOP base, keep them in the dark about important corruption—and so fail to keep the president and his associates accountable. That very betrayal of their audience is what creates the illusion of their loyalty.
I opposed electing Trump, but I'm always 100 percent honest with his supporters. And when I give specific examples of how he has failed to drain the swamp, some lash out at me for telling them truths that they don't want to face, or angrily change the subject by pointing out that various establishment politicians have been guilty of flagrant cronyism in the past. Well, duh.
The folks who supported those bygone politicians anyway harmed the country. Does the GOP rank and file want to be just like the folks they used to criticize or be better?
Bygone Democratic misdeeds don't change the fact that Trump's behavior is hurting America––and that he won't change until his supporters demand a higher standard.  If the GOP base persists in blinding itself to the unethical people who trade on their relationships with the current president, America will continue to be sold out by the very faction that swore it would make it great again.
Wake up, Trump supporters—your country needs you to hold the man you elected accountable to his promises rather than blindly defending him to own liberals. Demand better or your country suffers.