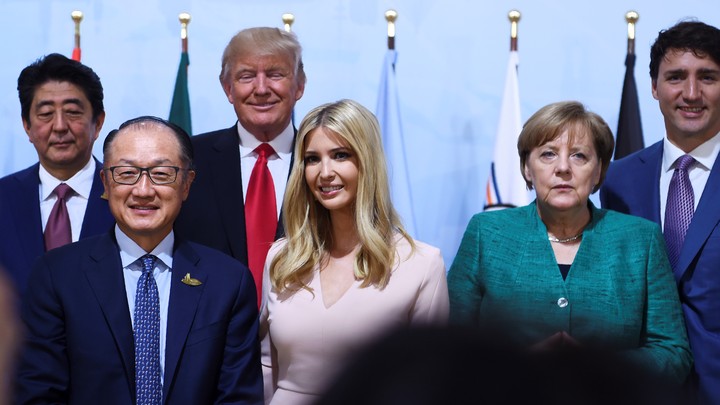 American dollars are now finding their way into the hands of female entrepreneurs in Sri Lanka, Yemen, Nigeria, and Mali, among other countries, to be used to expand their businesses, improve their lives, and aid their countries' development. This is happening with high-level international cooperation. It is happening with the instrumental help of the World Bank. It is happening on the advice of some of the world's best development experts. It is benefiting some of the world's poorest people. And it is in no small part thanks to the Trump administration.
The creation of the Women Entrepreneurs Finance Initiative—better known as We-Fi, or the "Ivanka Fund"—is one of the stranger policy achievements of President Donald Trump's first year and change in office. The president is, after all, known for his skepticism of foreign aid and his distaste for soft power and sotto-voce diplomacy. He is also well known for his aversion to poorer places, reportedly describing African nations as "shithole countries" and grumbling that Haitians have AIDS. Then, there are the numerous sexual-harassment accusations against him, and the reality of his administration's chaos-heavy, technocracy-light time in office.
Plus, the Trump Doctrine—one that extends to trade, immigration, sanctions, treaty negotiations, and foreign affairs—is zero sum and America First. It is grounded in the belief that there are winners and there are losers, and if one is not winning, one is losing. This doctrine seemingly extends to humanitarian aid and development policy, too, with experts having spent the months since Trump's election bracing for deep cuts. "Globalism and multilateralism have gone substantially too far, to the point that they are hurting U.S. and global growth," David Malpass, Trump's top financial diplomat, told Congress late last year. "President Trump articulated a vision of international affairs in which each country's government has a responsibility, first and foremost, to serve its own people."
So how did We-Fi spring into existence? The story is one of philosophical incoherence, personal brand-building, frantic favor-currying, true need, and real ideas. It shows how the world has sought to push back against the zero-sum Trump Doctrine. And it shows that, when it comes to foreign policy and international affairs, sometimes everyone can win, and the world does end up being positive-sum.
---
The policy problem We-Fi aims to fix is urgent and real. In the developing world, women own or run just 30 percent of small and medium enterprises, meaning everything from technology startups in Nigeria to roadside shops in Mexico to goat farms in Kenya to recycling businesses in Vietnam. Of those women-owned ventures, nearly three in four are shut out from the traditional credit markets or are suffering from financing shortfalls, resulting in a "nearly $300 billion annual credit deficit for formal, women-owned" small and medium-sized businesses, the World Bank has found. That disadvantages women, making them more vulnerable to deep poverty and less capable of upward economic mobility. It hurts innovation, depriving markets of the ingenuity of millions and millions of would-be entrepreneurs. It also, economists fear, slows poor countries' rates of growth and inhibits development around the world.
Ivanka Trump has made supporting female business owners one of her signature policy issues, her interest in it stemming from her own experiences as a jewelry entrepreneur and real-estate mogul. During the transition and in the early days of the administration, she held a number of conversations with global experts on women's empowerment and economic growth. The idea for We-Fi grew out of meetings that she had with Justin Trudeau, the prime minister of Canada, and Jim Yong Kim, the president of the World Bank, among others.
At a summit called Women20 held a year ago in Berlin, Trump represented the administration behind the scenes and at the public keynote. That precipitated an awkward question: What was her role in the administration, anyway? "As part of the audience, especially the German audience, is not familiar with the concept of a first daughter, I'd like to ask you your role," Miriam Meckel, a German journalist, said to Trump as she sat between Angela Merkel, the chancellor of Germany, and Christine Lagarde, the International Monetary Fund's managing director. "Whom are you representing? Your father as the president of the United States, the American people, or your business?"
"Well, certainly not the latter," Trump said. "As an entrepreneur and as an individual prior to this, in the private sector, I cared very much about empowering women in the workplace and the opportunity to have an elevated platform, to be able to sit here on this stage." She went on to describe her father as "a tremendous champion of supporting families and enabling them to thrive," prompting the audience to boo and hiss.
But the event cemented Ivanka Trump's role as a policy force, if an unusual one. She connected with a number of top government leaders to hash out the idea for We-Fi, and helped to arrange for a team of officials from the Treasury, the National Economic Council, and the National Security Council to begin working on it. At the Berlin summit, the plans spilled out into the open. "The idea is to establish a special facility to provide access to women, especially in developing countries," the German chancellor said onstage. "I think Germany must participate."
The project was soon nicknamed the "Ivanka Fund," and prompted questions about corruption, hypocrisy, and efficacy. Was it ethical for Trump to be raising money from foreign powers for a pet project? Did the administration truly have an interest in bettering the fortunes of low-income women around the world? Was We-Fi really a good way to get money into the hands of female entrepreneurs? Put another way: Who was really winning here?
Those questions—and a not inconsiderable amount of public derision—intensified when Trump accompanied her father on an overseas trip to Saudi Arabia. In Riyadh, she attended a brunch hosted by Princess Reema bint Bandar, the head of the women's section of the Saudi sports authority, at Tuwaiq Palace. Trump talked empowerment with a group of prominent, black-shrouded Saudi women as they ate dates, Arabic coffee, and pastries. Kim, of the World Bank, was the only man in attendance. "In every country, including the United States, women and girls face challenges," Trump said. "Saudi Arabia's progress, especially in recent years, is very encouraging." During the trip, the governments of Saudi Arabia and the United Arab Emirates announced that they would give a combined $100 million to We-Fi, twice what the United States itself would contribute.
There was, however, the fact of President Trump's degradation of women. "It always struck me watching the campaign and the elections and so on, how President Trump is very empowering to his daughter, yet his statements regarding women are very discriminating," Sofana Dahlan, a Saudi lawyer and an attendee at the meeting, told me. "I asked her what she thinks about the statements he makes, and I don't think I got answer." (Ivanka Trump declined to comment for this story.)
There was also the fact that President Trump had criticized Saudi Arabia for its human-rights record and castigated former Secretary of State Hillary Clinton for accepting its money. "Saudi Arabia and many of the countries that gave vast amounts of money to the Clinton Foundation want women as slaves and to kill gays," then-candidate Trump tweeted in 2016. "Hillary must return all money from such countries!"
There were the obvious pay-to-play problems as well. Were countries somehow obligated to donate to the fund, to gain access to the Trump administration? Were countries that donated to the fund getting special attention? "Ivanka Trump's promotion of female 'entrepreneurs' looked like a cynical public-relations gambit, which of course it was," wrote Anne Applebaum, a foreign-affairs columnist for The Washington Post. Such concerns persist, especially given the ongoing questions about high-ranking members of the Trump administration, including Ivanka Trump's own family, continuing to conduct business in office.
But the Bank blunted any questions of corruption by taking over the management of the project. "The World Bank Group was invited to create the facility by the U.S. government and by the German government, based on our track record, our experience, the fact that we have been working on gender equality and women's empowerment for more than 20 years," Caren Grown, the senior director for gender at the World Bank, told me. "The bank was fully responsible for creating the facility, for setting up its architecture, for putting in place the governance structure with an agreed-upon, consensual process. We are independent of any influence of any government—the U.S., or any other governments—on this."
All in all, 14 countries contributed about $350 million to We-Fi. The World Bank's governing committee solicited bids for fund money from development institutions around the world, including different parts of the Bank itself, in October. Around Valentine's Day, it examined those first proposals at a meeting in Dubai. Now, it is starting to ship out the money, just a year after the idea for the fund was first floated. "This is one of the quickest processes we've ever had in the World Bank Group," Grown said.
In the first funding round, announced at the World Bank's spring meetings, held last month, the Asian Development Bank won $12.6 million to support female entrepreneurs in Sri Lanka; the Islamic Development Bank got $32 million for its Business Resilience Assistance for Value-Adding Enterprises for Women ("BRAVE Women") program, which works in Mali, among other countries; and the World Bank Group got $75 million, with much of the money directed to private-sector interventions in fragile and conflict-ridden states. "The response from stakeholders in both emerging and advanced markets has been enthusiastic and immediate, clearly demonstrating the urgent need to scale up efforts to help women entrepreneurs," said the World Bank's Priya Basu. "We-Fi fills a critically important gap. It's the first significant fund committed to tackling the full range of barriers facing women entrepreneurs."
Policy experts said its design made sense, and predicted that it would end up being a cost-effective way of shunting money to female entrepreneurs around the world. "It's really not a bad idea," said Scott Morris of the Center for Global Development, a nonpartisan Washington-based think tank. "These trust funds can be duplicative and wasteful, but I look at this one and it's pretty good. It's the World Bank inviting other institutions to participate in a competitive way. I'm actually very pleased with the way it's gone."
---
Of course, We-Fi was never just about helping women entrepreneurs.
At the same time that the World Bank was developing We-Fi, the Trump administration was developing its broader policy toward the international financial institutions, including the World Bank, the International Monetary Fund, and other multilateral groups. And at first, it seemed likely that the policy would include deep cuts, a veto on any expansion, and significant structural reforms.
Testimony given and statements made by Malpass, Trump's Treasury under secretary for international affairs, cemented that belief. Institutions like the World Bank "spend a lot of money. They're not very efficient. They're often corrupt in their lending practices and they don't get the benefit to the actual people in the countries," he said, testifying before Congress. "They get the benefit to the people that fly in on a first-class airplane ticket to give advice to the government officials in the country." He added that countries "closely engaged with the multilateral financial institutions [were finding] themselves going downhill." (The Treasury Department did not respond to repeated requests for comment for this story.)
That belief seemed a justification for slashing the annual contribution that the United States makes to the Bank's fund for the poorest-of-the-poor countries, as many congressional Republicans have long wanted to do. In its first budget, the Trump administration asked for a 15 percent funding cut, arguing that the United States "pays more than its fair share" to the development institution. "The first Trump budget was a strong signal that they want to cut assistance—it included a series of very unrealistic and counterproductive measures that got watered down by the Congress," said Daniel F. Runde, a former George W. Bush administration official and a development-policy expert at the Center for Strategic and International Studies, a nonpartisan think tank.
Moreover, the Trump administration signaled that it intended to block a capital increase for the parts of the World Bank that provide loans to middle-income countries, like China, Brazil, and Turkey. "We want to see a significant shift in allocation of funding to support countries most in need of development finance," Treasury Secretary Steven Mnuchin argued. He suggested that the World Bank should be more aggressive in "graduating" countries out of its programs as they journeyed up the income scale. He also pushed for the Bank to "put forward a framework that can create a financially self-sustaining World Bank in which organic capital accumulation is sufficient to support future lending targets." The Trump administration, in other words, wanted to find a way to zero out contributions to the Bretton Woods institution.
Those policy positions led to a behind-the-scenes push by Republican officials, development experts, foreign officials, and the Bank itself to persuade the Trump administration of the good the Bank could do—and more than that, to persuade the Trump administration that the Bank could be a tool of American power, not just a drain on American resources. That everybody could win.
In the fraught negotiations with Treasury staffers over the capital increase, officials made the case that it would provide an opportunity for the United States to demand structural changes within the Bank—and that it would fit into the Trump administration's policies to counter China's influence. "You'd hear them say that the Bank should stop lending to China," Morris told me. "Then, two minutes later, you'd hear them say, 'China is such a threat geopolitically, what are we going to do?' I keep trying to connect those dots. If you care about being present to counter China's influence, use the World Bank."
The United States, after all, carries tremendous weight within the Bank, and that influence is rare. "Outside the government, it's easy to criticize the Bretton Woods institutions," said Heidi Crebo-Rediker, who served as the State Department's chief economist during the Obama administration, referring to the World Bank and the International Monetary Fund. "Then, you get into government and suddenly you're faced with having very few tools to work with in the foreign economic-policy arena. You come to understand that these are actually very important tools."
The administration came around, to the shock of many foreign officials. After months of indicating it wanted the bank to become self-sufficient and that it wanted it to cut back on lending to middle-income countries, the United States supported the capital increase. The bank will collect $13 billion more from its members. It will expand its lending portfolio to $80 billion in the 2019 fiscal year, up from less than $60 billion last year. In exchange, it will trim salaries and make loans more expensive for more prosperous countries. "We have more than doubled the capacity of the World Bank Group," Kim told reporters at the spring meetings. "It's a huge vote of confidence, but the expectations are enormous."
---
The World Bank won, it seems, as did the United States and Ivanka Trump and We-Fi.
But the Trump administration has made deep cuts to other aid and development organizations. Trump's trade officials have supported pulling out of agreements that help lower-income countries grow, and his trade war threatens development in a huge swath of nations. His now-ousted secretary of state gutted the department before he left. The United States Agency for International Development faces a major budget squeeze. Those cuts will likely disproportionately hurt poor women, development experts argue. "The World Bank's Ivanka Trump-backed fund for women entrepreneurs won't even come close to making up for the damage done," the antipoverty nonprofit Oxfam said in a press release. Moreover, Trump's reimposition of the global gag rule—which requires that overseas non-governmental organizations receiving American funds not mention abortion to patients or provide abortion services, even with their own funding—poses a grave threat to women's health. For its part, the Treasury has taken aim at a number of small programs aiding the world's poorest.
Nor has the Trump administration pushed for the World Bank to do more to support women's entrepreneurship outside of We-Fi. "If I were advising them, I'd tell them to do the capital increase—but to negotiate a much more aggressive strategy on key priorities such as gender through the Bank's main lending arms," said Sara Aviel, a former member of the Bank board. She suggested that the Trump administration could have required the Bank to produce more data on gender and lending, and to grant a certain share of its loans to women. "I applaud the We-Fi goals, and to be fair, their approach—of setting up a separate trust fund to address their agenda—follows the norm of past administrations and other shareholders," she told me. "But ultimately $300 million is small ball compared to the tens of billions on their balance sheet."
But the We-Fi story may be a model for how organizations like the World Bank can work with the Trump administration. The White House's view of international relations might be zero-sum, but the key players' view of their own reputations, initiatives, and incentives is often more complicated. The Trump administration is run as a family business, and it might make sense to approach it that way: Organizations used to justifying their budgets and plans with dense strategic memos and thick policy briefing books may need to learn how to attach themselves to what the Trump clan already is doing, and then build on those relationships to win support for both existing and new initiatives.
It's not the cleanest way for the rest of the world. But it's better than the alternative.
We want to hear what you think about this article. Submit a letter to the editor or write to letters@theatlantic.com.
Annie Lowrey
is a staff writer at
The Atlantic
, where she covers economic policy.