'Without Personal Honor There Is No Leadership'
Former Secretary of State Rex Tillerson emphasized the importance of truth in a commencement address at Virginia Military Institute that many interpreted as a rebuke to President Trump.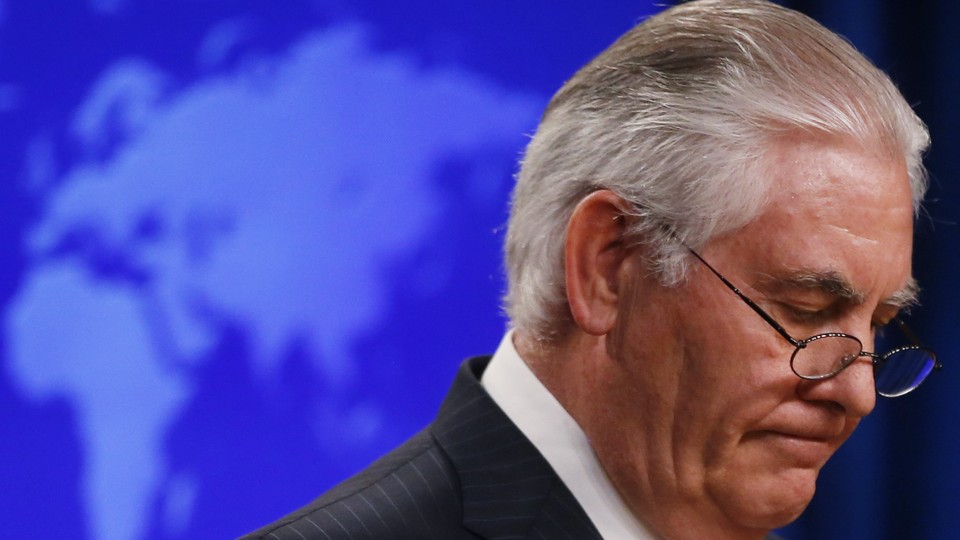 Rex Tillerson spent 10 years as CEO of ExxonMobil before Donald Trump tapped him to be secretary of state, only to fire him from the position 14 months later. On Wednesday, he delivered a commencement address at the Virginia Military Institute, where he warned graduates that their democracy is in peril.
"I observe a growing crisis of ethics and integrity," he lamented, twice invoking the biblical quote, "You shall know the truth, and the truth shall make you free."
That set up the core of his message:
An essential tenet of a free society, a free people, is access to the truth. A government structure and a societal understanding that freedom to seek the truth is the very essence of freedom itself. "You shall know the truth and the truth shall make you free." It is only by fierce defense of the truth and a common set of facts that we create the conditions for a democratic, free society, comprised of richly diverse peoples, that those free peoples can explore and find solutions to the very challenges confronting the complex society of free people.

If our leaders seek to conceal the truth or we as people become accepting of alternative realities that are no longer grounded in facts, then we as American citizens are on a pathway to relinquishing our freedom. This is the life of nondemocratic societies, comprised of people who are not free to seek the truth.
Many observers saw the passage as a direct rebuke of President Trump, because Trump is a serial liar who has shamelessly told an unprecedented number of brazen falsehoods to the public to enrich, aggrandize, and empower himself. Yet rather than deem Trump unfit to lead on that basis, tens of millions voted to make him president and still support him, even with no election imposing a binary choice, and even though doing so teaches children a deeply corrosive moral lesson.
Tillerson did not mention Trump by name. But he did urge Americans to redouble their commitment to truth as a patriotic obligation, and asserted an ongoing crisis of ethics and integrity that extends far beyond the White House:
A responsibility of every American citizen to each other is to preserve and protect our freedom by recognizing what the truth is and is not, what a fact is and is not, and begin by holding ourselves accountable to truthfulness, and demand our pursuit of America's future be fact-based, not based on wishful thinking; not hopeful outcomes made in shallow promises; but with a clear-eyed view of the facts as they are and guided by the truth that will set us free to seek solutions to our most daunting challenges. It is also that foundational commitment to truth and facts that binds us to other like-minded democratic nations, that we Americans will always deal with them from the same set of truths and facts. And it is truth that says to our adversaries, we say what we mean, and we mean what we say.

When we as people, a free people, go wobbly on the truth, even on what may seem the most trivial of matters, we go wobbly on America. If we do not as Americans confront the crisis of ethics and integrity in our society, and among our leaders in both the public and private sector, and regrettably at times even the nonprofit sector, then American democracy as we know it is entering its twilight years.
The speech vested hope for the future in bottom-up change, consistent with Tillerson's apparent belief that America lacks the capacity to solve this problem from the top-down. "Without personal honor," he said, "there is no leadership."