Fly On, My Sleek Electric Bird
A hard-boiled plea to prevent the killing of an enterprise that could ease traffic––maybe enough for Angelenos to move about as fast as they did in Raymond Chandler's day.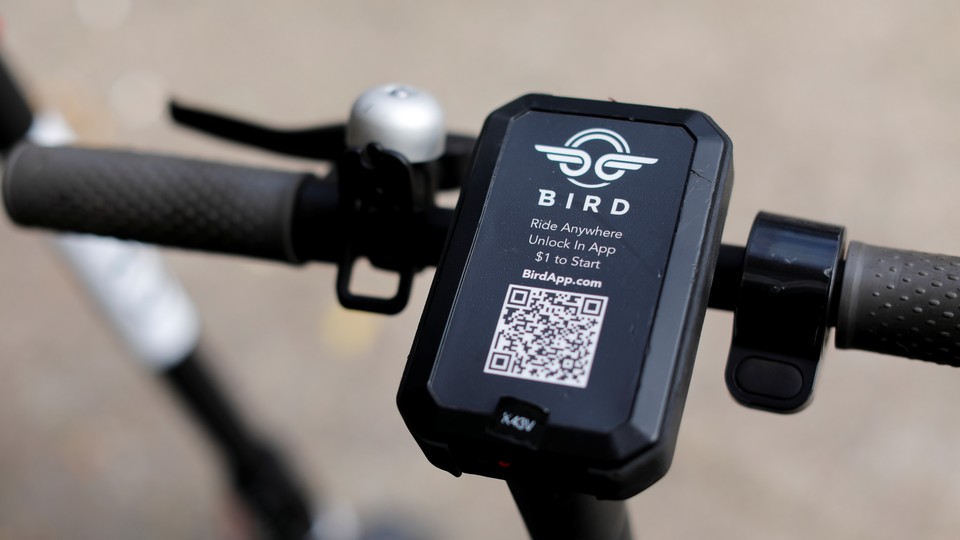 It was a pleasant evening in mid-March, warm enough to saunter down to the strand at dusk in linen pants and clear enough to see Catalina Island against the horizon. The sun was low in the sky over Philip Marlowe's old haunts when I broke the first rule of living in Venice Beach: I agreed to venture east of the 405 at rush hour.
A brunette was calling.
She was prepossessing, persuasive, and proposing that we rendezvous at a municipal pool. I succumbed to the swimsuit she'd be wearing. She was my wife.
The 5.3 mile trip to Culver City would take 50 minutes driving but she had our motorcar. An Uber with surging rates could run as much as $35 with tip. I pondered walking home to get my old Schwinn, putting air in the tires, pedaling over Mar Vista Hill, finding a rack to lock it up, and then, if it wasn't stolen while we swam laps, riding home, alone, after dark, without a head lamp.
I needed an airship. I needed a motorcycle. I needed Elon Musk to bore an eastbound tunnel with an exit ramp at the Culver City Municipal Plunge. What I had was a waterproof sack, a beach towel, goggles, and an iPhone. Yet all it wound up costing to kiss her hello 30 minutes later was a $5.50 credit card charge.
The profit wound up in the pocket of Santa Monica's most controversial businessman. That particular evening, his polarizing service was my best option.
---
Travis VanderZanden made his name in Silicon Valley in a simpler time. Until 2014 he was an operations executive at an outfit called Lyft. Its app connected folks who needed a ride with freelance drivers eager to sell one. Back then, with big, pink mustaches on the front bumpers of participating cars, a Lyft driver stuck out like a scruffy-faced hipster sipping on a strawberry malt sans straw.
Lyft's biggest competitor was Uber, a bigger company that had preceded it in the business of shaking up the taxi cartels that milked monopoly status in most municipalities. Its approach was to slip into new cities, start earning, and defer dealing with city hall heavies rather than asking permission to operate in advance. VanderZanden joined Uber in late 2014. His former employer sued him, alleging that he took Lyft secrets to its arch-rival. He stayed at Uber until late 2016.
Now he is one of its competitors.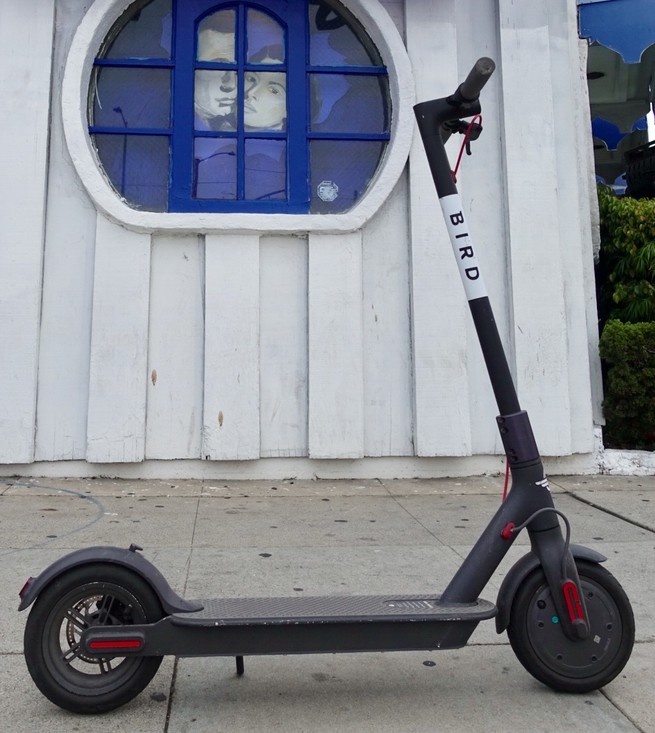 A Bird scooter is a zippy little electric number that whooshes down the street as quietly as a hummingbird. Would-be riders find one at rest by using a smart phone app. It prompts first-timers for a driver's license as inflexibly as a bouncer tipped off that the vice cops are running a sting. A credit card is required too. The fare is $1 per ride plus a dime and nickel for every minute in transit. There's no need to find a docking station at the end of a trip—a convenience compared to bike share programs in these parts, but one that has its critics. They say that thoughtlessly parked Birds block sidewalks and "litter" the streetscape. While the former charge sticks, the latter is a frame-up.
Venice Beach is not the cleanest part of town.
And I've never known anyone to pay a buck to pick up litter off the street here, never mind riding it away. Every Jaguar and jalopy in L.A. is left parked at its destination, usually taking up more public real estate than would 10 electric scooters in a row. If there's a solid case against the scooters it must deal with them in motion.
In theory, Birds are banned from sidewalks and riders are required to wear a helmet. In theory, motorists travel no faster than the posted speed, cyclists come to a complete halt at stop signs, and pedestrians cross exclusively at corners and crosswalks. But I was working a column job for a big-time broadsheet downtown. I wouldn't get paid until I figured out how the scooters work in practice.
For my virgin ride, I invited a friend out for libations on Pico Boulevard. We'd meet thirsty at The Daily Pint. If that was too crowded we could always saunter over to a nearby Charles Bukowski tribute bar where they drink soju and play bumper pool for kicks. It was just the sort of outing to make without a car to trouble over: parking meters line the strip and there's enough good beer and booze on offer that driving home beats Waze for the fastest route to central booking.
At first, riding the Bird was easy. Maybe too easy––a beginner on a bike or a skateboard can't sustain 15 miles per hour, but on a Bird, anyone can cruise along at top speed before they're attuned to what can easily go wrong. I'd pedaled enough in life to possess the appropriate sense of tragic possibility, so my only trouble was that Birds struggle climbing even the mildest of hills, something I hadn't factored into my route. Neither did I think to check the battery level late in the day when the Bird was on the cusp of being spirited off for charging.
I ran out of juice maybe a mile-and-a-half from my destination. The delay almost made me late, but I happened upon a new Bird, so I didn't keep anyone waiting.
Then I was retreating to a dark corner with a blonde: tall, cool to the touch, slightly bitter on the lips, the sort that would tempt a Trappist monk to ask for seconds. It was 6.5 percent alcohol. After two imperial pints I was mightily tempted to get back on the Bird for a ride home with the wind in my hair and the world's expansive possibilities unfurling in my brain, but I haven't yet risked a DUI in this life, and being the first man to get one while riding an electric scooter seemed among the less dignified ways to spend my 15 minutes of fame.
I mulled what I would write on the long walk home, past Lincoln Boulevard's shuttered auto-repair shops, storefronts where homeless men slept in doorways, and parked cars where the glow of screens gave away nighttime inhabitants.
A few days later I sent the L.A. Times my impressions.
"Figuring out where Birds fit next to cars, bikes and people, if they fit at all, is bound to involve trial and error, as well as an unknown number of injuries," I wrote. "Cyclists, who fought long and hard for a tiny strip on the margins of our roads, can be forgiven for not wanting to share their paths. But the Westside's streets are gridlocked for hours twice a day, everyday; cycling is often lethal; and excepting main commercial strips and touristy stretches, most of the area's sidewalks are utterly empty. That status quo isn't worth preserving, is it?"
In a different town, I would have laid low for a few days after that ran under my byline. In San Francisco, where it is widely supposed that conservatives are full of excrement, many locals remain oblivious to their town's hyper-conservative streak even as folks protesting scooters adopt the inelegant tactic of defecating on them.
Even in liberal Texas many felt messed with by their sudden arrival.
"The appearance of rentable scooters across the city briefly threw Austin's political leaders into a frenzy as city government officials rushed to roll out a plan to regulate the businesses, which had started operating before a city-led pilot program could begin," the Texas Tribune reported. "The council worked until after 2 a.m. Friday to change city code and prohibit leaving dockless scooters or bicycles on city sidewalks and streets until a permitting process begins."
They're sure keeping Austin orderly.
There are city hall heavies and citizen malcontents here in Southern California, too. Santa Monica, a municipality of such dedicated control freaks that it won't let non-resident pooches in its dog parks, fingered Bird for failing to get proper permits when it launched. The company would pay a $300,000 fine—a cost of business en route to raising more than $100 million in venture bucks.
Still, Santa Monica's civic brass saw Bird's value as a transportation experiment. And L.A. city hall cares comparatively little about what happens in Venice.
That's left me free to fly. Including that trip to the pool I've rented scooters 25 times, affording a Bird's-eye view of enough main thoroughfares and back alleys to more fully grasp the minor perils and major promise in these sleek electric machines. I've seen newbies take a line perilously close to the driver's side of parked cars, lacking the hard-won insight that not every door that opens is an opportunity. I've seen couples riding two-to-a-Bird on the oceanfront promenade, positioned like Leo and Kate and staring out to sea almost as often. I've seen women on Birds wearing dresses that would've made traveling by bike-share impossible. And I've seen the shortcomings of the official rules.
Take the one about staying on the street.
By all means, avoid sidewalks on strips with lots of foot traffic. But certain L.A. thoroughfares take Angelenos between the scattered oases where people eat, drink, shop, and do pilates. Traffic speeds east and west three or four lanes wide beside the narrowest of shoulders, while on abutting sidewalks, pedestrians are encountered as rarely as dromedaries trudging across empty stretches of Sahara.
Should Birds keep off those sidewalks?
On the other hand, there's a stretch in Venice on Third Avenue between Rose and Sunset where a Bird rider en route to Gjusta, a fancy bakery and delicatessen, had better ride down the very crown of the street. The sidewalks there are crowded with the tents of a homeless bivouac that generates enough discarded needles and broken glass to render anything near the curbs reliably perilous.
Wherever Birds go, folks on other means of conveyance must sometimes make way, as with any other method of getting from here to there. What the most annoyed fail to appreciate is how many additional cars might be absent from the road if tourists and locals alike often opted for a scooter in lieu of a two-mile car trip or summoning an Uber to ferry them to a destination down gridlocked streets. Yes, Bird riders may take on more risk to their body and brain, even with a helmet, than if they'd put themselves beside the steel frame of an auto-bus or a fancy sedan's side-airbag. But Bird trips pose far less risk to everyone else.
And it doesn't take a shamus to see that every day of electric scooter trips that scattered Angelenos take generates the sort of data that could help improve the future of transportation in this city and beyond. What routes are underserved by mass transit? What types of streets do Bird riders gravitate towards and avoid? What destinations and times of day make a Bird rental faster than getting around by car? How long are people willing to ride an electric scooter?
At 38, I've got stamina enough to outlast a full battery. My longest trip was 10.7 miles through Venice to the bike path that winds around Marina Del Rey and reconnects to the beach path. I glided south on an afternoon so overcast that sky and sea were the same dull gray. The air tasted of salt, Beach Boys deep cuts streamed on my headphones, and an hour later, as I got off the Bird in Manhattan Beach, my right thumb was a bit tired from leaning on the throttle.  But I arrived at dinner without having worried about dirtying my pant leg on a bike chain or sweating from exertion. A 30-minute daily commute by Bird would be a breeze. I'd brave it in a three-piece suit donned atop shiny new loafers.
A few kindred spirits are out there urging would-be Bird-killers that this experiment in free-range scooters could yield golden eggs for the working poor, too, especially if the technology could be made accessible even to the quarter of Americans without credit cards, but at least for the three quarters who have one.
As Johana Bhuiyan mused at Recode:
...in cities around the country, reliable and conveniently located public transit is not a given. And in lower-income communities, that lack of access can in turn cause a significant obstacle for access to economic opportunity. Not everyone can afford Uber or Lyft—which have often pitched their services as the answer to a lack of reliable transit—or their own cars.

In those places, a cheap, convenient way to get to the closest train or bus or into city centers is often sorely needed. Shared dockless e-scooters and e-bikes can be part of a suite of more affordable solutions for cities, making it easier for users to access city centers or other places where there are more jobs. If done correctly, that could also funnel more riders to public transit systems, which could add to city revenue and help with the growth and maintenance of those systems.
And I've seen enough of the homeless in Santa Monica plucking discarded La Croix cans from alley recycling bins to imagine a future where the down-on-their-luck could reliably make far more than nickels taking dock-less bikes, scooters, and conveyances as yet unimagined from wherever they pile up to where rides are in demand.
---
If Bird comes to your city, its detractors will cry foul.
They'll lash out as if every Silicon Beach scheme to make some scratch is zero sum, call the code-enforcement coppers on anything without a business license, insist on "a comprehensive regulatory scheme" as if mere scooters require one, and remain so beholden to status-quo bias that they'll hold Birds to standards they've never applied to Firebirds, Skylarks, Falcons, Cygnets, or Roadrunners.
Before throwing in with the skeptics, at least take a ride.
For down our crowded streets must go men and women who are not devoted to the crowd's customs if those streets are ever again to escape overcrowding. They must transgress against settled norms neither so extravagantly as to be stopped by the law, nor so inconsequentially as to escape its notice. Electric scooters that can be parked here or there allow new ways for individuals of modest means to spontaneously traverse their streets—and through their uncoordinated pursuit of happiness, to create a new order that improves on the old better than any alternative that's ever sprung fully formed from a city planner's brain.
So fly on, my sleek electric Birds.