California's Water-Saving Policies Could Start a Mini Dust Bowl
Conserving groundwater could lead to dirtier air in some of the state's most vulnerable communities.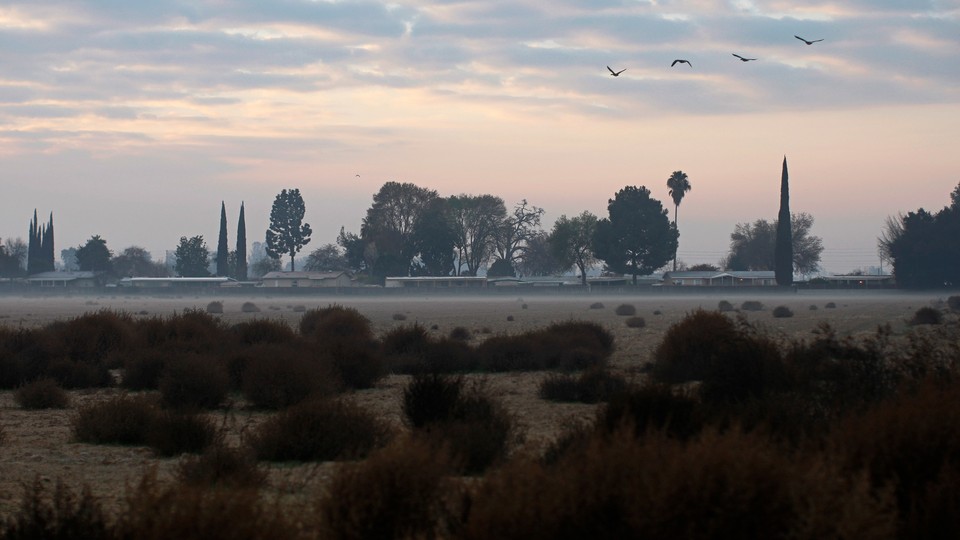 This article was originally published in High Country News.
For a century, California's San Joaquin Valley has been called "the food basket of the world." The 27,000-square-mile region produces roughly $35 billion worth of food a year, a productivity made possible only by its large-scale irrigation projects and groundwater pumping. In 2014, however, California passed the Sustainable Groundwater Management Act (SGMA), making it the last Western state to regulate its groundwater—and bringing the San Joaquin Valley into compliance with the law will require retiring at least 500,000 acres of its farmland in the next 20 years.
Although SGMA's regulations are for the greater good—achieving sustainable water use in a progressively unpredictable climate—they are likely to have negative effects on the ground. According to "Land Transitions and Dust in the San Joaquin Valley," a July report by the nonprofit, nonpartisan think tank Public Policy Institute of California, fallowing those 500,000 acres is likely to create significant amounts of dust in a region that already has some of the country's worst air quality. If the land is simply taken out of production and left unused, SGMA's climate-adaptation goals could worsen existing environmental injustices in the area's frontline communities.
The San Joaquin Valley, which is home to 4.3 million people, already has some of the highest ozone levels in the country. The American Lung Association ranks three of its metro areas—Bakersfield, Visalia, and Fresno-Madera-Hanford—as the U.S. cities with the highest levels of particulate matter. Catherine Garoupa White, the executive director of the Central Valley Air Quality Coalition, says that the pollution is caused by a combination of industrial agriculture, pesticides, freight traffic, and oil extraction. The valley's geography exacerbates the problem by trapping the polluted air and holding it close to ground level.
The increased dust will only add to the problems facing communities that have long suffered disproportionately from environmental injustices, such as exposure to pesticides and oil and gas wells. "We are one of the poorest and most unequal regions in the United States," Garoupa White says. "Neighborhoods where [pollutant] sources are concentrated are mainly communities of color, with lower incomes and other social vulnerabilities."
Andrew Ayres, the lead author of the land-transitions report, says that the prospect of increased particulate matter is especially worrisome because it threatens recent improvements in air quality. During the past 20 years, significant progress had been made in cleaning the valley's air, mostly by addressing the dust from active agricultural operations: More than $13 million, for instance, was spent on replacing outdated nut harvesters, which blew dirt and debris off nuts in large air plumes. Now, if retired agricultural lands aren't proactively managed to control dust, Ayres says, "those air-quality gains could be undone."
To understand the impacts of taking land out of production, Ayres and the report's other authors used new, satellite-based measurements to study the relationship between land cover and air particulates. As a general rule, he says, fallowing land increases dust, though a lot depends on the variety of the crops and the time of year. "We don't know a lot about rural dust. We don't measure it well," he says, adding that there are only two dust monitors between the cities of Bakersfield and Fresno, which are more than 100 miles apart.
The respiratory and other health effects of poorer air quality will be felt most acutely by the San Joaquin Valley's frontline communities, both urban and rural—particularly by farmworkers, incarcerated individuals, and low-income communities of color. Kamryn Kubose of Central Valley Young Environmental Advocates says that the possibility of increased dust is very troubling, given the region's existing air-quality issues and the fact that the communities most affected often lack the resources needed to address the problem. The valley also suffers from a shortage of doctors, nurses, and nurse practitioners: There are only 47 primary-care physicians per 100,000 people, compared with the national average of 92.
To make matters worse, Central Valley dust can carry the fungal spores that cause a respiratory condition known as Valley fever, which disproportionately affects Black, Hispanic, and Filipino communities and is especially dangerous to the elderly and to people with weakened immune systems. Because incarcerated Californians are disproportionately Black, Valley fever has already created a public-health crisis in the area's many prisons.
Increasing dust is not just caused by SGMA regulations. "Everything is going to be affected by climate change going forward," Ayres says. "Mechanically, as the valley gets hotter and drier, soils will dry, and dust problems will only get worse." He adds that wildfire smoke and "unpredictable" fallowing due to drought are also affecting the valley's air. (About 530,000 acres across the state have already been taken out of production because of drought.)
Central Valley residents and farmers are starting to explore new land-use options for retired farmland. Currently, fallowed land is oftentimes tilled to prevent weed growth, a practice that further increases dust. Ayres says that the simplest, most cost-effective way to control dust is to maintain some vegetative cover—as long as it doesn't require too much water. "We need to focus on crops that are less water-intensive and promote agroecology," Kubose says, emphasizing that the solutions will be different across the valley. "It's not a one-size-fits-all."
Other options include covering the ground with something too heavy to be picked up by the wind, such as gravel or almond hulls (a waste product from local agriculture).
Although the new SGMA regulations make these questions particularly urgent in the Central Valley, Jaymin Kwon, one of Ayres's co-authors, says that the entire Western U.S. faces similar problems owing to water shortages. "When open pumping gets reined in in Arizona," Kwon says, "they're going to start to ask these questions."