All the Sad, Lonely Pandemic Puppies
How are dogs that have never been apart from their owners going to deal with post-pandemic life?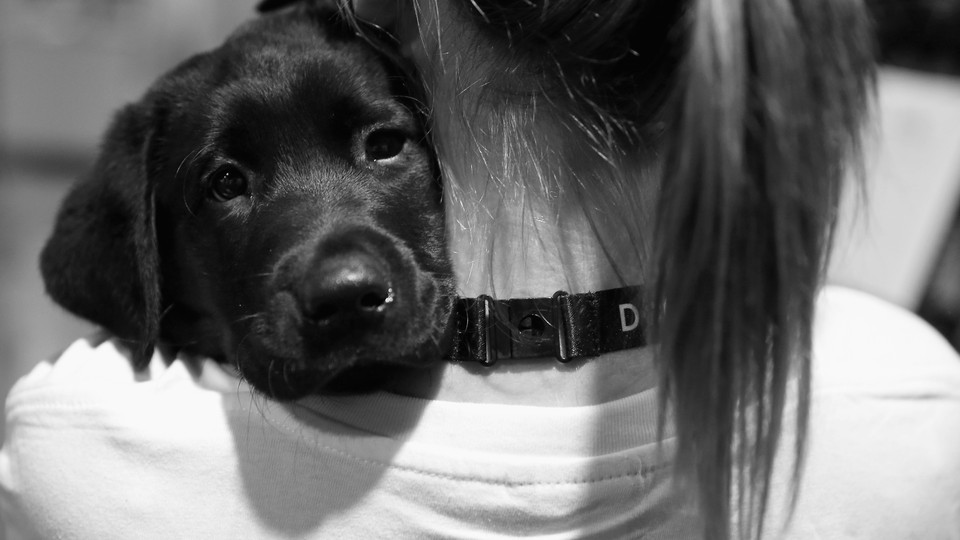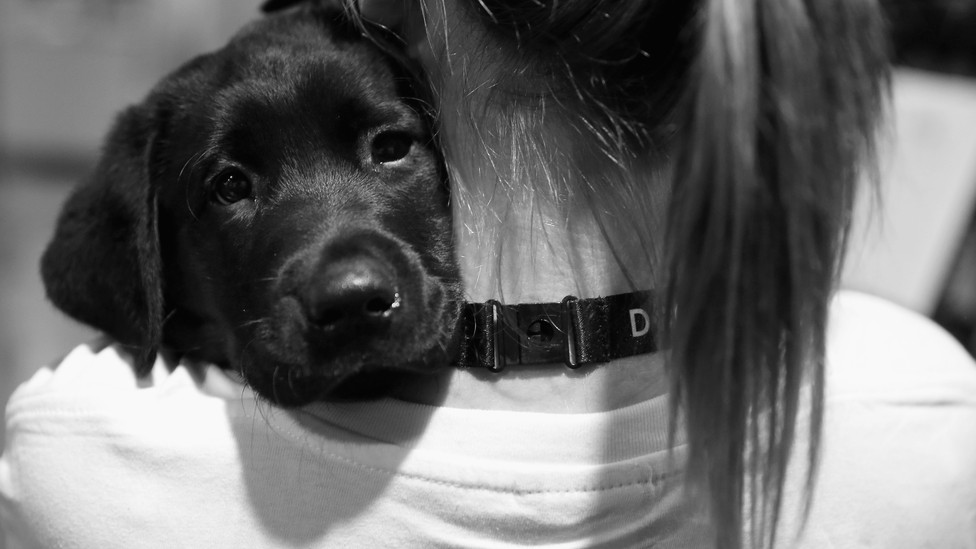 Bowen the goldendoodle is never home alone. When he first came home as a puppy, last June, his parents were working remotely because of the pandemic. If they try to leave their Boston apartment for even a few minutes now, he makes his unhappiness audible. "He's whining and barking, and we just don't want to upset the neighbors," Jon Canario told me. So they don't. Wherever they go, he goes. Wherever he can't go, they don't go. When Canario and his partner, Scott Greenspan, celebrated a recent birthday, they ordered takeout instead of dining at the restaurant. They ate in a park—with Bowen, of course.
Unfortunately for everyone in this scenario, Bowen's parents will have to go back to the office later this year. They don't know exactly when or exactly how many days a week, but they know it's coming, and they need to figure out what to do. A dog walker? Bowen would still need to get comfortable being alone for several hours a day. Doggy day care? Incredibly expensive. Alternate days working from home so someone is always there with Bowen? If it's possible.
If the pandemic was the perfect time for being at home with a new puppy, the end of the pandemic is proving to be a rude awakening for those very same puppies. The humans they got used to having around all the time—truly all the time in some cases—will soon have places to be. "I've never in my life spoken to a client, until the last few months, where they've literally never left the dog alone," says Elisha Stynchula, a dog trainer in Los Angeles. Not to get groceries, not to get mail, not even to take out the trash. Now these very attached pandemic puppies will have to deal with being alone—and not just alone-in-the-other-room alone or alone-for-five-minutes alone. Some of them are having a rough time of it.
"We have been seeing a tremendous increase in inquiries for help," says Malena DeMartini, a dog trainer who specializes in separation anxiety. "They're like, 'I have been able to not really leave for my job, because of the pandemic. But that can't last forever.'" DeMartini says the dogs she hears about can be divided into two camps. The first are the pandemic puppies that cry when their humans leave but just need time and perhaps a bit of training to adjust to a new routine. The second group has genuine separation anxiety—to the point where the dogs are tearing up the blinds, biting at the door trim, or barking nonstop. They're not just upset about being alone. "They are terrified," DeMartini said. "These phobias are really irrational-sounding to us, but the dog him- or herself perceives it in a very real way."
Most dogs will, fortunately, fall into the first camp, but they and their owners will still need to stumble through a transition period. Going straight from home all day to eight hours at the office will be rough—on dogs and their humans both.
But many dog owners are having trouble making plans, because their employers still have not said when they will have to go back to the office or how often. "We don't know exactly what this world is going to look like for us and our dogs even six months from now," says Jane Yates, whose rescue dog, Jasper, has serious separation anxiety. Yates and her husband, who live in Oregon, adopted Jasper in October and quickly realized that he wasn't like other dogs they'd had. "I finally realized I needed to call in the professionals when I had gone out for a walk," she told me. "I could hear him from about a block away, howling and barking." They've been working with a trainer on DeMartini's team to slowly—very, very slowly—get Jasper comfortable with two hours alone. At first, Yates was simply picking up and putting down her coat and keys, then leaving for seconds, and then minutes at a time. She doesn't think Jasper will ever be comfortable with a whole workday alone.
Gillian Cooper, who got her Yorkipoo, Teddy, last June, told me that she's been in touch with multiple dog walkers and doggy day cares—to make sure she has multiple options once she is out of the house full-time for her attorney job again. "I'm worried because there's so many people with dogs. I'm worried these places are going to book up," she said. She's been doing some separation training at home with Teddy in his crate. When she leaves, she also turns on (1) a cheap security camera, (2) a white-noise machine to mask outside noises that might startle him, and (3) the radio or the TV, especially The Office, a show that she often has on in the background when she's at home. "I feel like it might be familiar to him now. I have no idea," Cooper said, laughing a bit at the idea. Whatever it takes, right?
Teddy does whine a little when she leaves, but he eventually settles down. Because the security camera has sound detection, Cooper gets a notification on her phone whenever he cries. When that ping comes, she said, "it's hard to not want to go home."
This theme came up over and over again in my conversations: It's not just dogs that have gotten used to being with their humans all the time; humans have gotten used to being with their dogs all the time. Carlos Dinkel, who most days works two feet away from his dalmatian, Apollo, told me that he recently spent a weekend away, leaving Apollo with a trusted friend. "I'm always used to looking back, because he follows me around the apartment," Dinkel said. "And I caught myself doing that a lot." When Julie VanSciver had to return to the office two days a week and leave her puppy, Penelope, she was more worried about herself. Penelope had helped VanSciver enormously with her anxiety during the pandemic, and seeing her dog sad when she left in the morning was really hard. Normally, VanSciver told me, "she's pretty much glued to my side. All day." Penelope, it should be said, is doing just fine.
The past year has upended the social lives of dogs and humans alike. Trainers told me of situations that would not have been possible if not for the pandemic: dogs that had never had guests in their home, dogs that had never had a stranger walk within six feet of them, and dogs that didn't go outside during shutdowns and learned to pee in the shower. These dogs will have to adjust to post-pandemic life. But so will humans.