The Era of Mass Vaccinations Is Ending
To reach the remaining holdouts, America's approach to vaccine distribution is going hyperlocal.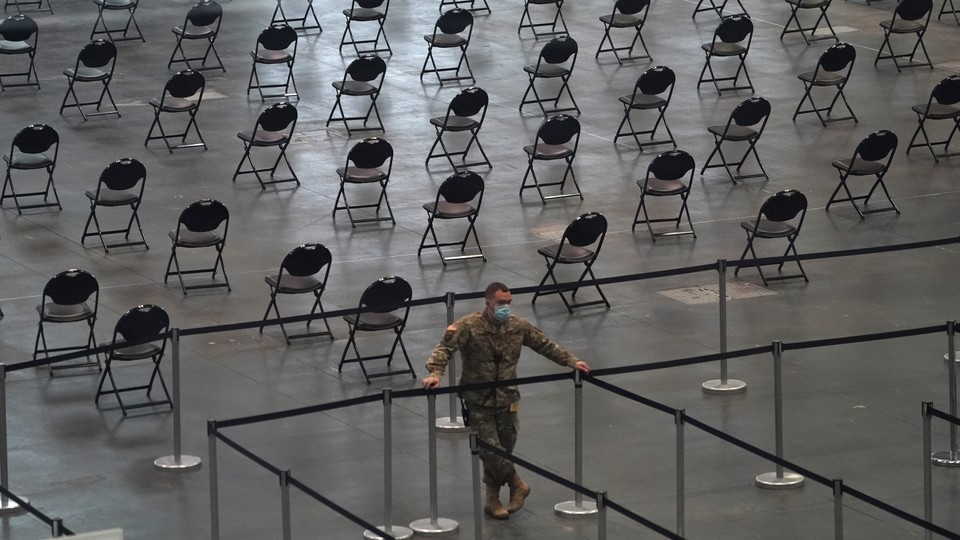 At its peak, in late March, the mass-vaccination site at Nashville's Music City Center was giving out 2,100 doses a day. It was all hands on deck: Local nurses, volunteers, FEMA employees, and even U.S. Forest Service EMTs were redeployed to help give COVID-19 shots. But last week, the number of daily doses dropped to less than 1,300—about 1,100 second doses and only 190 first doses. Imagine three weeks from now, when only 190 people are due back for dose two, says Brian Todd, a spokesperson for the local public-health department. At that point, the number "is going to be very low," he told me. The Music City Center site will close for good on May 28.
The era of mass vaccinations is ending: Although these big sites were key to speeding up vaccinations after a rocky start in the winter, many are beginning to find themselves idle as the country's daily vaccination rate falls from its mid-April peak. "We are running out of eager, enthusiastic people who will chase down the vaccine wherever we put it," says Kelly Moore, the deputy director of the nonprofit Immunization Action Coalition.
But with more than half of Americans still unvaccinated, the COVID-19 immunization campaign is far from over. It is now entering a new phase. Instead of in convention centers and arenas, shots will be distributed across a larger number of smaller sites: pharmacies, doctors' offices, churches, mosques, factory parking lots, barbershops, bars, breweries, even individual homes. This more tailored phase of the vaccination campaign introduces a new set of challenges, but by making vaccination as easy as possible, public-health officials hope to reach those who are hesitant, busy, or simply indifferent. To inch closer to the goal of vaccinating the whole population, the vaccines will have to go to the people, rather than requiring the people to go to the vaccines.
Mass-vaccination sites are shutting down partly because you no longer need to visit one to get a shot. Pharmacies in particular have stepped up their vaccine campaigns. "You can't go into a grocery store here in town and not see signs up," Todd told me. And the neighborhood pharmacy is a lot more convenient than a mass-vaccination site halfway across town.
Vaccine supply is no longer a bottleneck in many places. Mecklenburg County, in North Carolina, originally had a vaccine waiting list 6,000 people long. Recently, Gibbie Harris, the director of the county's health department, was discussing whether to keep the list when she realized, "No, there's nobody on it." Everyone eager enough to get on a waiting list had already found a vaccine. The county will also wind down its mass-vaccination site at Bojangles Coliseum, in Charlotte, at the end of May. Instead, it will divert staff and resources to taking the vaccine on the road with mobile vaccine clinics at events including a motorcycle rally and a food-truck festival. "We're looking at anywhere and everywhere we can go," she says. To reach people who physically cannot come to a clinic, the department also has a homebound program.
Demand for mass-vaccination sites is falling faster in some parts of the country than others, though. In Orange County, California, appointments were full until just this past week; now they're still 80 percent full, says Regina Chinsio-Kwong, a deputy health officer for the county. But she expects mass-vaccination sites to be phased out by the fall. By then, she told me, "we'll have just more mobile or travel teams going out." The county's mobile teams will focus on vaccine equity; they are already working with groups such as the Multi-ethnic Collaborative of Community Agencies (MECCA) and Latino Health Access to get vaccines to underserved neighborhoods. Pharmacies, doctors' offices, and clinics will help fill in the gap.
This next phase will be slower and more laborious simply because it requires reaching people who are harder to reach. Instead of thousands of shots at once, it's going to be a hundred doses here, a few dozen doses there. "We just have to adjust our expectations," says Kirsten Johnson, the commissioner of the Milwaukee Health Department, which recently also announced the closing of the city's mass-vaccination site. "Twenty vaccines in arms at a site is still a win."
The role of primary-care doctors has so far been limited in the vaccination process, but they will play an important part in what comes next. For months now, vaccine experts have been telling me that the established trust between patient and doctor is key to persuading people on the fence about vaccines to get one. "This is where the conversation happens," says Saria Saccocio, a co-chair of the COVID-19-vaccine task force for Prisma Health, a large health-care system in South Carolina. Prisma is currently ramping down its mass-vaccination clinics to focus on giving vaccines through its primary-care doctors.
But the COVID-19 vaccines have specific logistical requirements that make them uniquely hard to administer in doctors' offices and other small settings. For example, Pfizer's vaccine needs to be kept in ultracold freezers if stored for longer than two weeks, which small sites may not have. All three vaccines in the U.S. are packaged in multidose vials, and once punctured, the vials have to be used within six to 12 hours, depending on the manufacturer. Pfizer's vials contain five to six doses, Johnson & Johnson's five; and Moderna's originally had 10, recently changed to 15. "If you would have asked me two months ago, I would have said, 'That's fantastic,'" says Johnson, the Milwaukee health commissioner, about the change to 15 doses. But now, the increase actually complicates vaccination in small settings.
A small physician's office simply might not have 15 patients who want vaccines in a given day, and last-minute leftover doses are only going to get harder to give away as more people are vaccinated. Several providers told me they are planning vaccine days at their office, so they can get patients vaccinated at the same time rather than opening one vial one day and another the next. But that still requires patients to make a special trip for the vaccine, instead of coming at their own convenience.
Rural areas have already been facing the challenges of vaccinating on a smaller scale. Heather Preuss, a family physician in Hot Springs, South Dakota, told me that there is only one place for the general public to get COVID-19 vaccines in her town, and it's giving them out only once a week, on Wednesdays. Her own clinic has not gotten any vaccines, but she has had many patients ask about them while in for another appointment. "They were very disappointed that I could not give that to them while in the clinic," she said. She worries that her patients who are elderly or unable to afford gas money for long trips won't get vaccinated. Meanwhile, Susan Osborne, a family physician in Floyd, Virginia, who has been administering COVID-19 vaccines in her small town, says she sometimes can't find enough takers after opening a vial. "People want to come on their own time right now," she told me. "We really need to get a single-dose vial."
This is going to happen more and more as the U.S. moves toward smaller-scale vaccination. Should a vaccine provider open a new vial for two people at the end of the day, knowing that most of the doses will probably be spoiled? "We need guidance about how to balance vaccine waste and missed opportunities as we shift gears into a distributed system," says Moore, of the Immunization Action Coalition, who is looking to the CDC for future guidelines. The dilemma is unlikely to go away soon. Even as the U.S. moves to smaller vaccination sites where single-dose vials would be helpful, vaccines are in short supply globally and still need to be made as efficiently as possible. Manufacturing single-dose vials would require five to 15 times as much glass and "fill and finish" capacity for bottling the vaccines, which the world currently can't spare.
If mass vaccination was the first, emergency phase of the COVID-19 vaccine campaign, Moore says, this current second phase is the awkward transition period before vaccines are given like any other routine shot. In that third and final phase, you will be able to get one by walking into any pharmacy or doctor's office. Vaccines will come in single-dose vials or, better yet, prefilled syringes. The quicker we get there, the quicker we get out of this pandemic. By then, mass-vaccination sites will be a distant memory. Nashville's Music City Center will be back to hosting country-music festivals and orthopedic conventions.