Restaurants Have a New Problem, and It Has Red Eyes and Is Super Loud
Cicadas could turn outdoor dining into a total nightmare.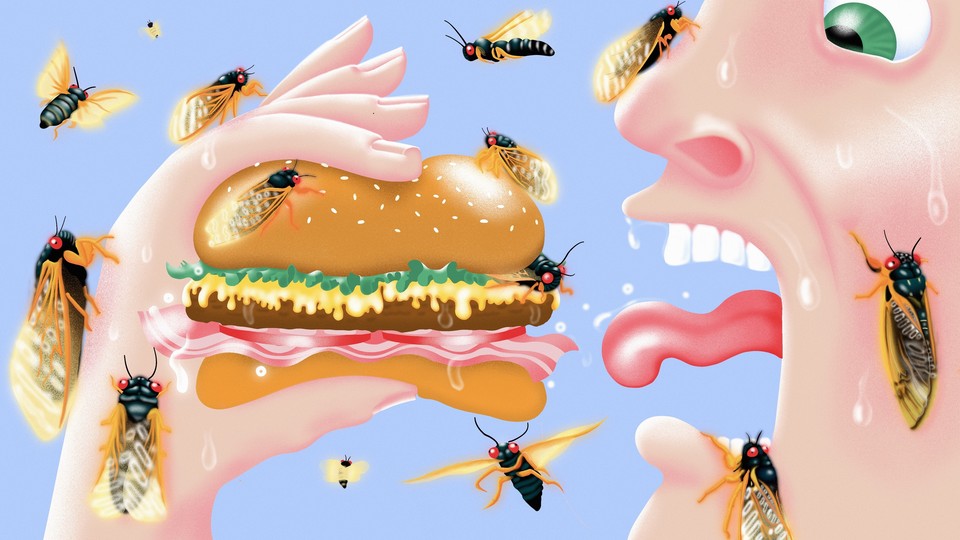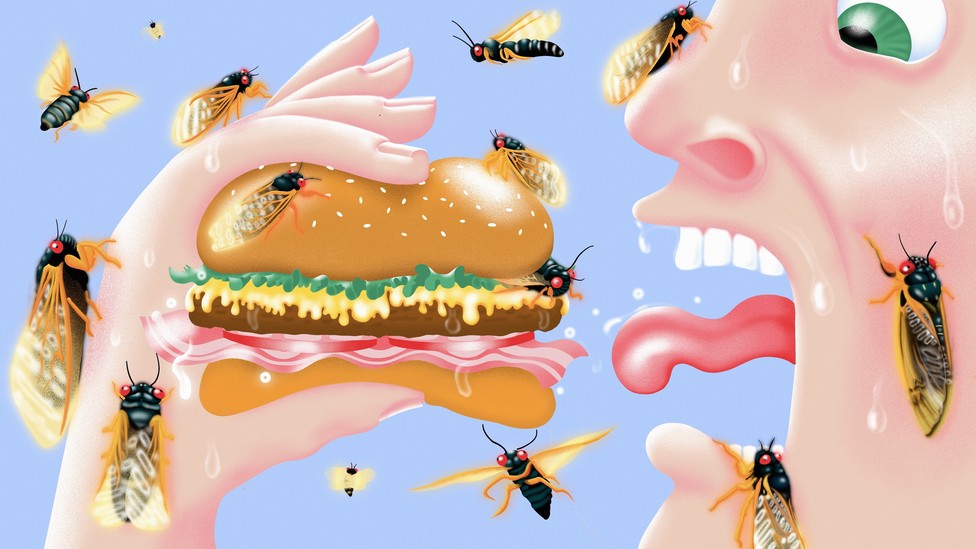 Restaurants are back, baby! Head over to that reopened neighborhood joint, and snag a table with some friends you haven't seen in a year. Overpriced cocktails have never sounded so good. Sit on the patio, and take in late May for all it's worth. Oh, the waiter's coming over; have you decided on drinks yet? Sorry, what's that? I can't hear you. Can you shout a little louder? Uh ... did something just fly into your face?
The cicadas are back, baby! From Illinois to Washington, D.C., trillions of horny, red-eyed critters are just about to burst out of their 17-year slumber to blast mating calls as loud as rock concerts. And if that's not annoying enough, Brood X will envelop everything in its path—lawn-mower operators, beware—before the bugs' remnants turn your afternoon stroll into crunchapalooza.
For a few excruciating weeks, all of this could make outdoor dining in some areas feel like a Hitchcockian hellscape. Some restaurants squarely in the path of the cicada-nado are already anticipating fewer customers at their rooftop bars and umbrella-shaded tables: Last week, Little Pearl, a wine bar in Washington, made the call to halt all service for a month, in part to spare diners the pesky cicada screeches.
Lots of industries have had it tough during the pandemic, but the past 14 months have been what-in-holy-hell-is-happening bad for restaurants. Nearly half of workers in the business lost their jobs when cities first shut down in March and April of last year. By the end of 2020, more than 110,000 restaurants had closed for good. The survivors are lucky to merely be in the red. Now that more and more Americans are getting vaxxed up and are eager to eat out, restaurants, at long last, have their big chance to get back on track. The problem is that angsty teen insects might have something else in mind.
If any establishment in America knows what cicada season does to a diner's inclination to eat outside, it's Arnold's. The Cincinnati bar and restaurant opened in 1861 and has withstood nine Brood X cicada swarms. Ronda Breeden, the former owner, told me that in 1987, "the cicadas were terrible in our courtyard, on the sidewalks, everywhere. There were definitely fewer people eating on the courtyard then. People just couldn't deal." (Another Cincinnati restaurant had a weirder problem that summer: Two men armed with nothing but a single cicada used the bug to spook a cashier before running off with $25.)
There are three things to keep in mind for outdoor dining in the middle of cicada season, says Gene Kritsky, a cicada expert at Mount St. Joseph University: trees, trees, and trees. "That's the ideal habitat they want," he told me. During the last Brood X assault, in 2004, he ate outside in a wooded patch of northern Kentucky, and the cicada noise was so all-consuming that it took the fun out of outdoor dining. Restaurants in tree-starved city centers might be spared the absolute worst, but those in even slightly less concrete-laden places could be in for that frustrating buzzing din.
Every summer, Baltimore's Blue Pit BBQ fills up with customers who come to chill out on the tree-lined patio, often with their dogs in tow. But this summer, Cara Bruce, a co-owner, is nervously eyeing the cicada holes in her neighborhood. "I'm worried about them falling into people's food," she told me. "I'm worried about them being so loud that people can't hear each other. I'm worried about cicada rain flying in people's faces." Daniel Souder, a co-owner of Pleasantry in Cincinnati, told me that the restaurant and wine bar had reopened full-service dining last week. Rebounding from the pandemic, he said, hinges on making use of every table he has this summer—including some on the patio and a handful along the street. "Cicadas are definitely another punch," he said.
What is so perversely devastating about cicada season this year is that the darn insects are poised to make outdoor dining a nuisance right after restaurants spent so much time and money perfecting their outdoor-dining game. Baltimore's La Cuchara installed a tricked-out 60-foot tent, and even tried adding a 10-foot-by-10-foot fan, until it blew customers out of their chairs. A survey by OpenTable found that from March 2020 to March 2021, the percentage of total dining that happened outside four walls jumped by a factor of 12, buoyed by relaxed rules that let restaurants make use of city sidewalks and parking spaces.
Those "streeteries" will continue to be a substantial part of restaurants' revenue equation this summer, according to David Henkes, a restaurant-industry analyst at Technomic. A chunk of outdoor-or-bust Americans still aren't quite comfortable eating inside after a year in which that was among the riskiest things you could do. And even if indoor dining rooms fill up, a few tables outside will help restaurants avoid turning away would-be customers. "Summers are always important for restaurants, but doubly so this summer after the past 15 months," Henkes told me.
Naturally, restaurants are doing everything they can to prepare for the coming bug tsunami. Ben and Amy Lefenfeld, who co-own La Cuchara, have considered renting out a forklift to cicada-proof their giant tent with nets. "Certainly we can replace anyone's food if a cicada flies into it," Amy told me. Bruce, of Blue Pit BBQ, has resigned herself to firing up a leaf blower and de-cicadaing her patio at the end of each day. Other restaurateurs were, dare I say, excited. I heard about plans for "Brewed X" beer, cicada dust that "tastes like asparagus," and "cicada lemonada," made with gin, raspberries, basil, and, thankfully, no actual cicadas. Tobias Padovano, a chef at Cocina on Market in Leesburg, Virginia, hopes diners on his rooftop will get a glance at some live cicadas as they're munching on his foraged-cicada tacos, served with radishes and an avocado salsa verde.
Whatever havoc the cicadas wreak, your favorite brasseries and neighborhood cafés likely have bigger problems right now. Barry Lowenthal, the general manager of the Brass Tap in Baltimore, can't find enough craft beer to fill up the taps in his bar. Bruce posted a job listing for Blue Pit BBQ and expected as many as 100 applicants; she got two. "Why couldn't the cicadas just have come last year?" she said. After everything the industry has been through, a mass invasion of prehistoric-looking banshees just as things are looking up is not exactly the chef's kiss that restaurants were hoping for.