For One Glorious Summer, Americans Will Vacation Like the French
Workers are on the verge of going bonkers with their PTO.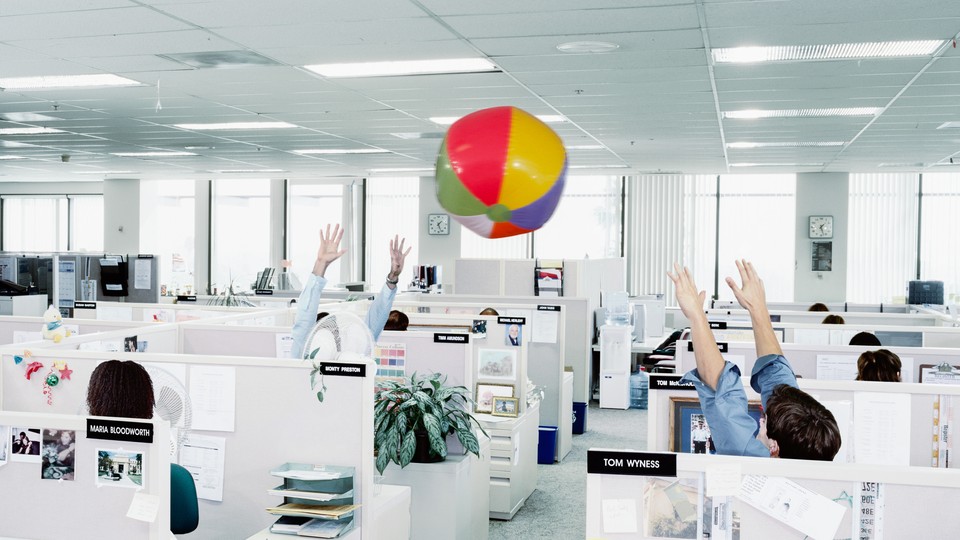 Here's a cool trick for blowing any American's mind. Tell us that in France, so many boulangeries shut down for vacation every summer that it can be tough to snag a baguette. Bakers aren't the only ones who get time off. In August, up to half of the country's salaried employees have been known to take at least a full week off from work. Half!
Americans are good at lots of different things, but going on vacation is not one of them. Every year in parts of Europe, summer turns into a mini-sabbatical. In Norway, during the tradition of fellesferie, the nation simply shuts down for a few weeks of July fun. In Italy, so many people take the last two weeks of August off that Rome's transit system runs on a reduced "festivi" schedule. Meanwhile, guess which industrialized country is the only one that doesn't guarantee time off to its workers? Guess which country left 768 million vacation days on the table in 2018? Guess which country … arghhhhhhhh.
The pandemic has not been great for America's vacation malaise. When there are few new places to go and few new things to do, what's the point of asking for time off? Yes, many Americans who have made it through without losing their jobs have taken a break to discover nature or their apartment balconies, but largely, we do not seem to be PTO-ing our way through this god-awful year. In February, time-off requests on the HR platform Zenefits were down 26 percent from the year before, a spokesperson told me, in line with what the company has seen since July.
But something weird is about to happen. This summer, the stars seem to be aligning for vaxxed-up Americans to go PTO wild. After a year in which everyone was cooped up indoors, domestic-travel bookings are going bonkers as people put in their day-off requests and get pumped for some sort of normalcy. It might have taken a global pandemic, but Americans for once seem poised to summer like the Europeans do—that is, if our bosses will let us.
The roots of what may bloom this summer have been growing all throughout the pandemic. "The pent-up demand is a fire hose that is trying to burst through," Glenn Fogel, the CEO of Booking.com, told me when I asked about his expectations for post-pandemic travel. On the flight-finding site Kayak, which Booking.com owns, searches for summer travel have been rising as much as 27 percent every week since early March, a spokesperson told me, even as business flyers remain grounded at home and many international destinations remain out-of-bounds for Americans. We can still fly to Mexico, and on Priceline.com, reservations for trips there are up 230 percent from 2019, according to the company.
The same vacation boom—sorry, I mean the vacci-cation boom—has struck lodging. "Some hotels, airlines, and travel agencies are telling me that they are seeing double-digit growth on a day-over-day basis," Henry Harteveldt, a travel-industry analyst, told me. January broke the record for most new short-term rental bookings, according to AirDNA, an independent analytics firm that tracks Airbnb and its competitor Vrbo. February broke it again. Jamie Lane, AirDNA's vice president of research, told me that demand for Airbnbs has been so strong that he expects some areas in the United States to be totally booked up for the summer by April or May. Travel trends might continue to creep up, now that the CDC has okayed travel for the vaccinated. (Because the pandemic is very much not over, the CDC still recommends that the unvaccinated avoid all nonessential travel.)
All that vacation is possible only because people, intentionally or not, have been hoarding time off for the past year. Generally, Americans don't have that many days off to begin with—just 10 on average for new workers, compared with a minimum of 20 days in the European Union—and many businesses make those days "use it or lose it," meaning they expire at the end of the year. But when the pandemic hit, a third of companies made a fateful decision: letting their workers carry more days over than usual. By sitting on so much time off, workers have functionally jerry-rigged their own version of all those late-summer weeks that many Europeans automatically get off. "We're in for a summer surge of PTO," Howard Metzger, the president of MBL Benefits Consulting, told me. "People want out."
In fact, so many people might soon request PTO that some offices could just go full Europe and close for a week, John Dooney, an HR adviser at the Society for Human Resource Management, told me. Other offices might need to engage in a bit of black-belt scheduling jiu-jitsu to make room for the rush of Zoomed-out employees aching for hikes in Shenandoah and tasting menus in San Francisco. American cities are not about to shut down, European-style, to let employees do their thing for weeks on end, but a summer of a million shorter, weeklong trips and four-day holidays still might feel different. If you're stuck working in an office, you might send an email blast only to be met with an avalanche of "OOO" auto-replies. Your boss might wrangle you back to the cubicle life only to realize in horror that the rest of the office is still empty, because so many people have gone on vacation. Across the U.S., vacation bliss maybe, just maybe, will settle in for a few months—a shared sense of relief in merely having to worry about awkward tan lines again.
But let's not get ahead of ourselves. The coming PTO crunch will almost certainly be tempered by managers seeking to stop it from happening. Even bosses in more flexible jobs might not want to deal with the logistical headache of keeping the office running with a hollowed-out staff, summer be damned. And the allure of normalcy won't entirely rid Americans of one of the reasons we don't take time off in the first place: fear. "The fear of asking for time off from your boss, the fear that taking time off will impact you economically—that is all very palpable," says Jamie McCallum, a Middlebury College sociologist and the author of Worked Over: How Round-the-Clock-Work Is Killing the American Dream. If your boss wants you back at your desk rather than in Delray Beach, not even your primal urge for a little post-pandemic junket will get in the way.
PTO has always been unequal—and as with everything else in this pandemic, the working class is about to have it a whole lot worse. Low-wage workers have disproportionately gotten sick with COVID-19 and have disproportionately lost their jobs. Now they are disproportionately in a position where they won't be able to take advantage of the summer vacci-cation boom, whenever it finally hits. Less than 40 percent of low-wage workers in the private sector get any paid time off, and although they work fewer hours than C-suite suits, they work more total weeks, complicating the possibility of taking an extended break.
At the same time, some sectors are about to get welcomely busier than before the pandemic. All the activities that the professional class is aching to do again will need workers to make them happen—a rush that can't come soon enough for some line cooks and hostesses. "You're going to have a situation where some people are going to say, Thank God I can go on vacation, and others will say, Thank God I can go back to work," McCallum told me.
For the chunk of Americans who will get a work rumspringa, big questions are waiting for them on the other side of vacation nirvana, about whether they want to return to the norms of yore. If workers can take PTO this summer, why not again in the fall? And next summer? And whenever else they please? The pandemic has already made all sorts of impossible things possible. Maybe actual, sustained time off from work will be next. It's not the craziest idea ever: A year in which a third of Americans lost someone to the coronavirus, and everyone was hit with deprivation, might be the thing that brings about a mass reckoning over how work has consumed our lives.
Or, uh, maybe not. A more disturbing possibility is that the pandemic has made Americans even more addicted to our jobs. Now that WFH-ers have emulsified work and leisure into one, a remote-friendly future might fully sever the link between travel and time off. Of all the summer spikes playing out on Priceline, the biggest is a 165 percent bump in bundled flight-and hotel-bookings compared with summer 2019, a trend that the company's CEO, Brett Keller, says is likely driven by workers hunting for the best deals on extended stays during which they can vacation and work. Many Americans can now log on from anywhere, but they still can't escape logging on.
"There is no separation anymore," Howard Metzger told me. When we spoke, he reminisced about the summer trips he would take as a kid in the '80s, during which his parents would totally unplug from work. Metzger took my call from Copper Mountain, a ski resort in Colorado. He was supposed to be on vacation.