The Most Reliable Pandemic Number Keeps Getting Worse
America reported a record number of COVID-19 hospitalizations in the first week of 2021.
In the first week of 2021, the United States reported more cases of COVID-19 than at any other point in the pandemic so far, and the second-highest number of deaths. Holiday data-reporting slowdowns from Christmas and New Year's are likely still affecting most metrics—most notably reported tests, which are still well below pre-holiday levels. Hospitalizations, our most stable metric through the holidays, continue to march upward.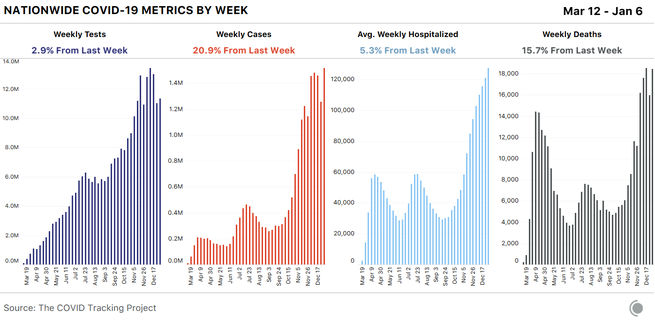 Even as the holidays disrupted the reporting of case and death data, the numbers we saw from nursing homes and other long-term-care facilities were grim. By our most recent long-term-care-data compilation, on New Year's Eve, U.S. states had reported more than 1 million COVID-19 cases in LTC facilities. Although long-term-care residents and staff account for only 5 percent of the nation's COVID-19 cases, they made up 38 percent of the nation's COVID-19 deaths on the last day of 2020. U.S. states reported 5,963 COVID-19 deaths among LTC residents and staff in the final week of December—the deadliest month in long-term-care facilities since we began tracking the data in May.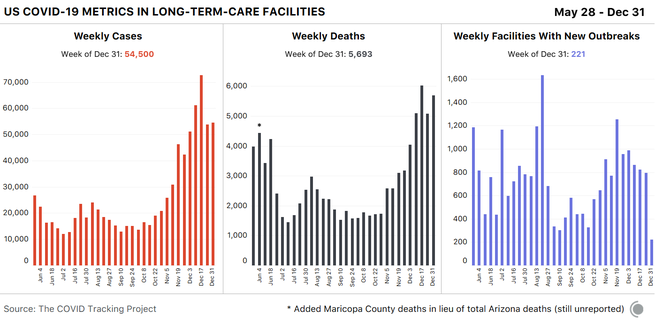 There are now more than 132,000 people hospitalized with COVID-19 in the United States—more than were hospitalized at the peak of the spring and summer surges combined. These record hospitalization levels are not evenly distributed: As hospitalizations in the Midwest and Mountain West have continued to fall, they have risen in California and across the entire South.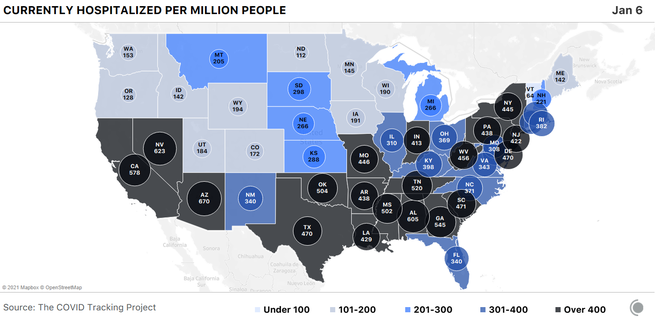 With case numbers still wobbly after the recent holidays, hospitalizations are our best indicator of the movement of the pandemic, and they suggest a major resurgence of the virus in the South. Every single southern state has seen hospitalizations rise significantly since the middle of last month, and 13 states in the South set new records for COVID-19 hospitalizations in the past seven days.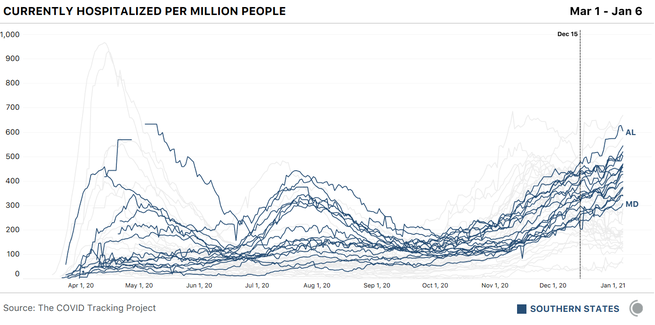 In Alabama, December's case spikes have translated into a higher per capita hospitalization rate than any U.S. state saw during the summer surge. Alabama now has the third-highest per capita hospitalizations in the country, trailing only Arizona and Nevada. Staffing shortages in Alabama hospitals, coupled with very low availability of ICU beds, have public-health officials in the state bracing for a coming crisis, as holiday exposures send more COVID-19 patients to the hospital. In Tennessee, one of the first southern states to see a major case spike in the current surge, hospitalizations are still rising, and one in every 1,000 Tennesseans has died due to COVID-19 since the beginning of the pandemic. The Tennessee Tribune has chronicled ongoing failures to reduce test turnaround times in the state, with one-third of labs still taking longer than two days to provide test results.
As the national media converged on Georgia before the state's Senate runoffs on Tuesday, COVID-19 hospitalizations there continued to rise sharply and are now the fifth worst in the country, adjusted for population. According to Vox, more than 40 hospitals in the state are no longer able to accept new patients into ICUs or emergency rooms for any reason.
In the West, Arizona, California, and Nevada are all reporting alarming COVID-19 hospitalization numbers. In Arizona, where residents experienced a severe outbreak over the summer, case rates are soaring. According to our data, there are 670 people hospitalized with COVID-19 per million in Arizona—more than in any other state, and far more than the state's worst hospitalization numbers over the summer. Hospitals in the state are preparing to ration care. In Nevada, the state reporting the second-highest per capita COVID-19 hospitalizations this week, tens of thousands of people descended on the Las Vegas Strip for high-risk New Year's Eve celebrations.
In Southern California, the virus rages on, with Los Angeles County alone reporting a death due to COVID-19 every 10 minutes on average, and a new infection every six seconds. Oxygen shortages and ICU overcrowding have forced paramedics to begin rationing care, with Los Angeles County ambulances directed not to "transport patients with little chance of survival to hospitals, and to conserve the use of oxygen." One in 16 people in Los Angeles County has tested positive for COVID-19 since the beginning of the pandemic, according to the Los Angeles Times. Per capita new-case rates in neighboring San Bernardino and Riverside Counties have now surpassed Los Angeles County's, leading to crisis levels of hospitalizations.
Latino people in California are about 2.7 times more likely to have tested positive for COVID-19, three times more likely to be hospitalized, and 2.6 times more likely to die than their white neighbors. In Los Angeles County, one in 13 Latino people has tested positive, according to data from the public-health department, and the Los Angeles Times reports that the seven-day average for hospitalizations among Latino residents is now 80 per 100,000, compared with 26 per 100,000 for white residents.
Racial and ethnic disparities in COVID-19 hospitalizations are not limited to California. Although only 22 states currently report race and ethnicity data for hospitalizations, in every state that does, Black people are more likely than white people to have been hospitalized with COVID-19. Latino people are also more likely to be hospitalized than white people in 21 of the 22 states that report these data.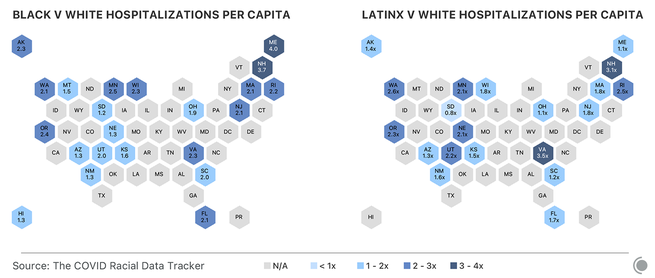 Mapping the strain on local hospital systems
Yesterday, the COVID Tracking Project launched a new, hospital-level interactive explorer powered by data from the Department of Health and Human Services and a generous donation of software from Mapbox. A brief look through the HHS hospital data for the most worrying states in the South and West reveals the local contours of each state's health-care systems as they encounter worsening outbreaks.
A snapshot of southern states shows the strain on hospitals in Dallas; San Antonio; Birmingham, Alabama; and Atlanta, where the counts of COVID-19 patients in ICUs (represented by circle size) are high and where the percentages of ICU beds occupied by COVID-19 patients (indicated by circle color) suggest substantial capacity challenges.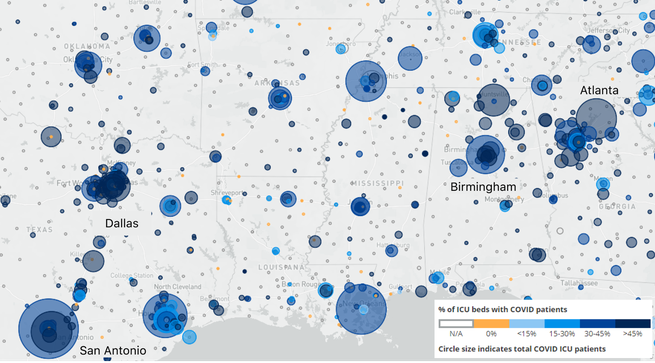 The same is true in the West, where Southern California; Las Vegas; and Phoenix, Arizona, hospitals are reporting both high patient numbers and high percentages of beds occupied by COVID-19 patients.
We'll be writing more about the hospitalizations explorer and the underlying data soon.
---
Mandy Brown, Nicki Camberg, Artis Curiskis, Alice Goldfarb, Erin Kissane, Jessica Malaty Rivera, Kara Oehler and Peter Walker contributed to this report.