The Worst Week for Deaths Since the Pandemic Began
States reported 23,259 COVID-19 deaths this week, and the number of people hospitalized with the disease is still rising.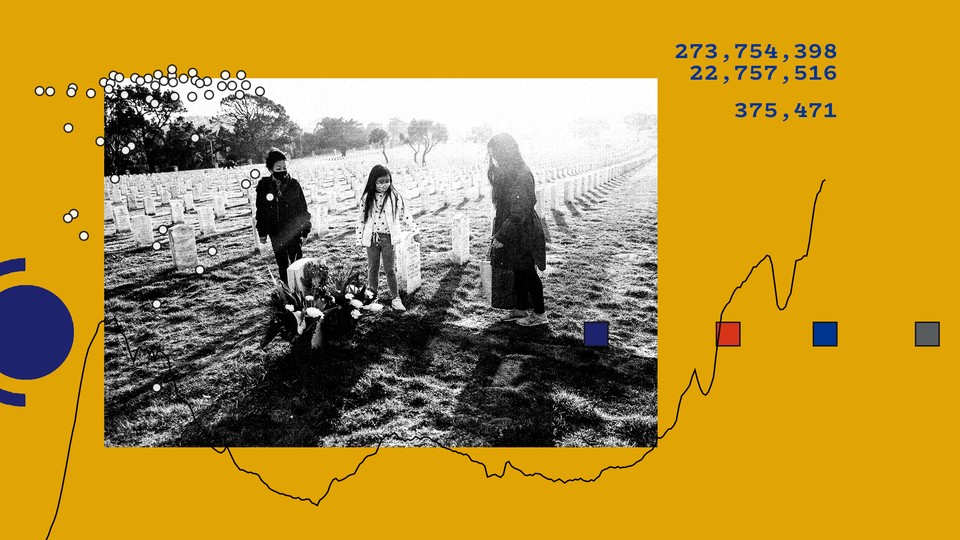 Updated at 10:00 a.m. ET on January 15, 2021.
For 16 weeks, throughout the fall and then straight through the data disruptions around Thanksgiving, Christmas, and New Year's Day, the number of people currently hospitalized with COVID-19 has risen. On October 13, there were 36,000 people with COVID-19 in U.S. hospitals. Yesterday, on January 13, there were 130,000.
This week, after two weeks of holiday-muddled death data, the inevitable consequence of these rising hospitalizations arrived. States reported 23,259 COVID-19 deaths this week, 25 percent more than in any other week since the pandemic began. For scale, the COVID-19 deaths reported this week exceed the CDC's current estimate for flu-related deaths during the entire 2019–20 season.
Cases were up this week after stabilizing relatively quickly from holiday data disruptions. That said, an unknown proportion of both cases and deaths reported this week are likely part of a holiday-related backlog. After two weeks of very low reporting, tests appear to be finally coming back online. (Case and test data travel along different public-health pipelines, so it's not especially surprising or a cause for concern to see them stabilize from holiday disruptions at different speeds.)
In the first week of 2021, nursing homes and other long-term-care facilities reported 6,423 COVID-19 deaths among staff and residents, and 67,271 new cases. This is the highest number of deaths and the second-highest weekly case number in our data set. Long-term-care facility data are reported and compiled on a different cadence from our testing and outcomes data, and these figures are for the week beginning on January 1. It's likely that backlogged data from holiday reporting disruptions are included in these figures, so we won't be able to confidently interpret them as reflections of recent changes in outbreaks for at least another week.
Hospitalization data do offer a small glimmer of hope this week: Although current hospitalizations are up week over week, a slight flattening in the numbers over the past five days suggests the possibility of a plateau—albeit a plateau at a devastatingly high number.
The national summary includes data from regions with falling hospitalizations as well as those with surging outbreaks. In the regional view, we can see that the growth in hospitalizations appears to be slowing in the Northwest, and perhaps in the West, while Midwest hospitalizations continue to decline. In the South, hospitalizations are still rising.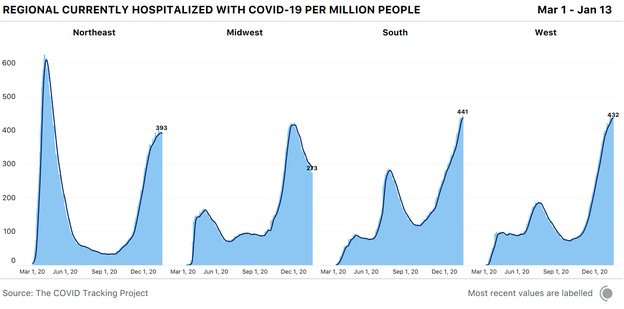 Regional and state breakdowns of the data are important not only for seeing where outbreaks have reached especially dangerous levels, but for helping us understand where public-health mitigation efforts appear to be working to slow the spread of the virus. The U.S. Census divides the United States into the four main regions we use for all our regional charts, but also into nine subregional divisions. We looked at the hospital data through this more granular view to see where hospitalizations are rising and falling within the major regions.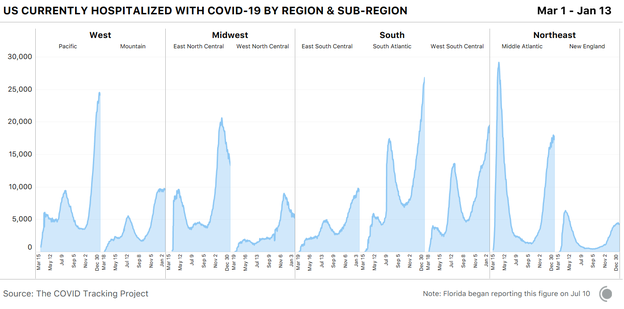 In the West, hospitalizations are sharply up in the Pacific division, reflecting Southern California's surging outbreaks, while the Mountain division has plateaued. Hospitalizations are rising throughout the South, but most sharply in the South Atlantic, reflecting rises in Florida, Georgia, North Carolina, and Virginia. In the Middle Atlantic region of the Northeast, hospitalizations are rising quickly, driven by increases in New York State, but in the New England division, they have plateaued. In the Midwest, hospitalizations in both regional divisions continue to drop, indicating ongoing easing of outbreaks across those areas.
State-level data can also obscure important differences within states and between metro areas. Our team has released an interactive map interface for the facility-level hospitalization data set from HHS to enable much more detailed explorations of hospital capacity and COVID-19 patient counts.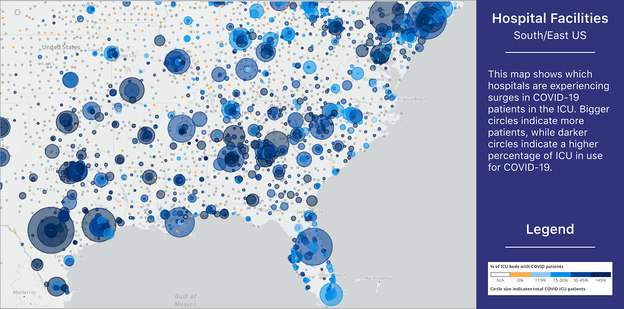 We're watching five states especially closely this week: Alabama, Arizona, California, Florida, and Georgia.
In Alabama, which already has the second-highest per capita COVID-19 hospitalizations in the country, hospitals are bracing for a major surge. According to AL.com reporting, eight counties in the state have no hospitals, and one, Coosa County, has no public-health department and no locations on the state's vaccine distribution site list.
Arizona, which suffered a massive outbreak during the summer case surge concentrated in the Sun Belt, has the worst per capita new-case numbers in the world. The state's seven-day average for new cases per million residents yesterday was 1,316, making Arizona's outbreak substantially more severe than any national outbreak in the world for which we have data. Arizona is also once again reporting the highest per capita hospitalizations in the U.S. In the Phoenix area, hospital systems are pleading for additional public-health mitigation measures and are preparing to ration care. The state currently has no mask order in place, and indoor dining is permitted up to 50 percent capacity. The Phoenix New Times reports that Governor Ducey has "deflected calls for greater state-level mitigation measures, saying that what is in place is sufficient and the issue is enforcement." Meanwhile, Arizona's biggest provider of COVID-19 tests says it's on the verge of shutting down because the state has not provided any CARES Act funding to support its efforts.
In California—and especially in Southern California—the numbers remain extremely alarming this week. Los Angeles County's Department of Health Services estimates that approximately one in three people in the county have been infected with COVID-19 since the beginning of the pandemic. As deaths in L.A. County continue to rise, following massive spikes in cases and hospitalizations, ABC News reported that mortuaries and morgues there are running out of space for bodies, and that people with life-threatening emergencies are waiting 12 to 18 hours in emergency rooms for care. On Wednesday, officials at a hospital in South Bay reported that their ICU was at 320 percent occupancy. Against the background of soaring cases in Southern California, an FDA warning about false-negative results prompted local officials to discontinue the use of the popular Curative Lab PCR tests throughout L.A. County, including at Dodger Stadium, the home base for COVID-19 testing in Los Angeles.
In the 13-county Sacramento area, hospitalizations have dropped and the region's stay-at-home order has been lifted. In the Bay Area, available ICU capacity is at less than 1 percent and dropping, and morgues in Santa Clara County are at or near capacity. California has announced broader eligibility for vaccinations, but on the ground, residents and county officials are finding the process chaotic and confusing.
Also on our watch list this week: Georgia, which is reporting the fourth-highest per capita COVID-19 hospitalizations in the country; one major hospital system in the state is warning that it is at risk of being overwhelmed. Florida's case numbers are now higher than they were during the summer surge, and although hospitalizations remain below summer levels, they are rising rapidly.
The racial and ethnic disparities in cases and deaths vary across our watch-list states. In all five, Latino people are more likely to have tested positive for COVID-19 than their white neighbors, most notably in California, where Latino people make up the largest demographic group in the state and are 2.6 times as likely to have tested positive for COVID-19 as white people. Indigenous people also continue to be disproportionately affected by the pandemic: Arizona reports that people identified as "American Indians or Alaska Natives" are nearly twice as likely to have tested positive as their white neighbors. People in the "Native Hawaiians or Pacific Islanders" group are more than 2.5 times as likely to have tested positive in Georgia.
A month after the country's first vaccinations for COVID-19, we still don't have federal data showing who is receiving the vaccine, and reporting from states is spotty, incomplete, and unstandardized. Our project has made a public call to federal agencies to publish these data while there is still time to identify and remedy disparities in the rollout. In the meantime, some U.S. communities are relying on locally trusted institutions—such as Philadelphia's Black Doctors COVID-19 Consortium—and creative measures to ensure vaccine access for all residents: Alaska is working to get specially allocated vaccines to tribal members in remote areas using small planes and snow machines.
Vaccinations are happening in nursing homes and other long-term-care facilities, which have accounted for 37 percent of all US COVID-19 deaths, but although detailed, facility-level vaccination data exist for most such facilities, only South Carolina has published the data to our knowledge. To understand where—and whether—this most vulnerable population is being vaccinated, we need complete data. Right now, the CDC is providing only top-line numbers of doses distributed and first doses administered by state. Our team is calling for greater transparency for all U.S. vaccine data, including vaccination details at the facility level for all long-term-care facilities.
---
Erin Kissane, Jessica Malaty Rivera, Peter Walker, Kara Oehler, Artis Curiskis, Alice Goldfarb, Nicki Camberg, and Mandy Brown contributed to this report.