The Pandemic Is Crashing Through the South and the West
Five states—Arizona, California, Florida, Tennessee, and Texas—account for 40 percent of all new cases reported in the past seven days.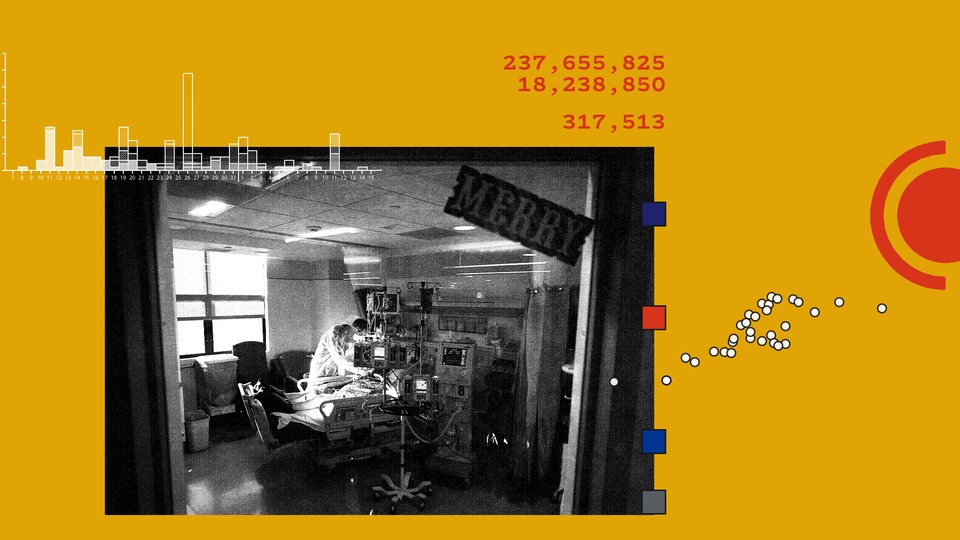 We'll begin with the good news: In every midwestern state—and in several others—COVID-19 cases and hospitalizations are declining. Elsewhere, however, the picture is mixed. In several large states, already large outbreaks appear to be rapidly worsening—and despite intense interest in how Thanksgiving gatherings affected reported cases, even public-health experts have found it difficult to interpret the numbers we've seen.
Other news this week is tragically easy to interpret: As of yesterday, December is already the deadliest month since the beginning of the pandemic in the United States. The 3,379 deaths states and territories reported yesterday pushed December's total to 57,638 COVID-19 deaths, for an average of 2,506 deaths reported per day in December. For comparison, in April, when the country was still reeling from the pandemic's initial surge, we saw an average of 1,842 deaths reported each day.
This week also includes what we expect to be the last useful data of the year for cases, tests, and deaths. We expect that Christmas and New Year's holiday reporting gaps and backlogs will obscure the realities of the country's many outbreaks. We hope to see these metrics largely recover from the holiday effects by the second week of January, but until then, we will rely largely on hospitalization data to understand what is happening in the pandemic.
At the national level, we're seeing mixed indicators: Reported COVID-19 cases in the U.S. have declined very slightly since last Wednesday, while reported tests declined a little bit more. The United States now has more than 119,000 people currently hospitalized with COVID-19, a rise of 5 percent from last week. States and territories reported 18,690 COVID-19 deaths this week—an average of 2,670 per day.
A regional breakdown reveals that the four main census regions of the country are now reporting very different experiences of the pandemic. The nation's case increases are now being driven by the South and the West, while the Midwest continues its rapid decline, and the Northeast appears to have reached a plateau.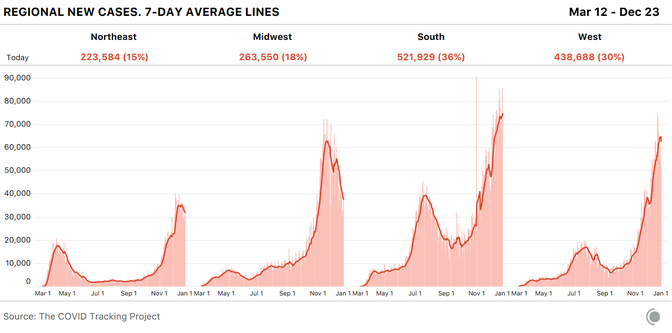 Continued hospitalization declines in the Midwest provide additional evidence that the outbreaks there have eased, while the Northeast's hospitalizations are no longer rising as consistently as they had been. The South and the West are reporting hospitalization numbers much higher than their summer-surge peaks, and are still rising sharply.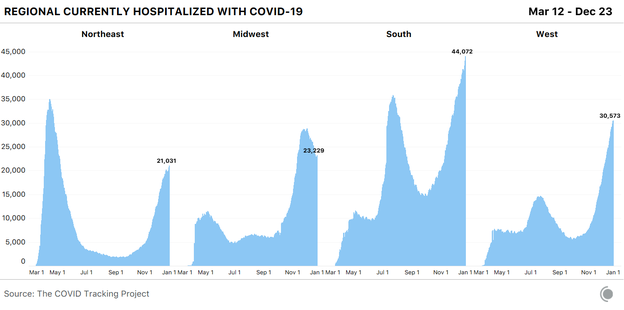 Seventeen states have seen sharp drops in the number of new cases reported since December 9, and every state in the Midwest has reported fewer cases now than two weeks ago. That this has not caused substantial drops in the national case count is due to a handful of states reporting very sharp case rises. Among these states are the nation's three most populous, California, Florida, and Texas.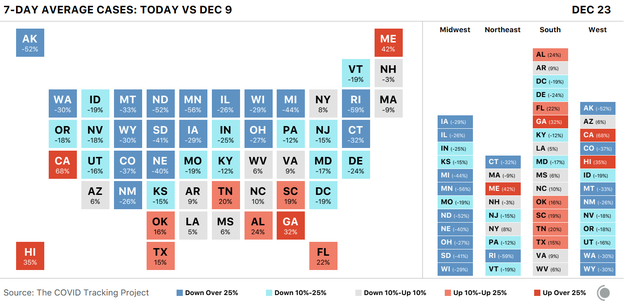 Case increases are not limited to these populous states—13 of 17 jurisdictions in the South posted case increases in the past two weeks—but taken together, Arizona, California, Florida, Tennessee, and Texas account for 40 percent of all new cases reported in the past seven days.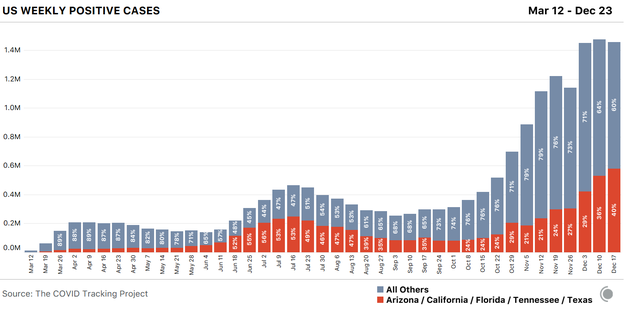 In California, cases are up an astonishing 68 percent since December 9, with the state reporting 292,995 new COVID-19 cases this week alone, while hospitalizations soar and ICU capacity wanes. COVID Tracking Project contributor Whet Moser reported on the state's wrenching situation this week in The Atlantic. We took a closer look this week at what we can learn about which communities have been most affected in the state's outbreak, using data from the COVID Racial Data Tracker.
Throughout the course of the pandemic in California, the virus has disproportionately affected Latino people. To date, 789,553 COVID-19 cases in California have been among Latino people, 56 percent of all cases for which race or ethnicity is reported.
More than one in 100 Latino people in California aged 80 or older have died of COVID-19 since the pandemic began, and Latino Californians from the ages of 35 to 50 are nearly eight times as likely to have died as white Californians in the same age range.
Young Black Californians have also suffered proportionately more deaths than did their white neighbors. Black Californians from the ages of 18 to 34 are nearly seven times as likely to have died as white Californians in the same age range.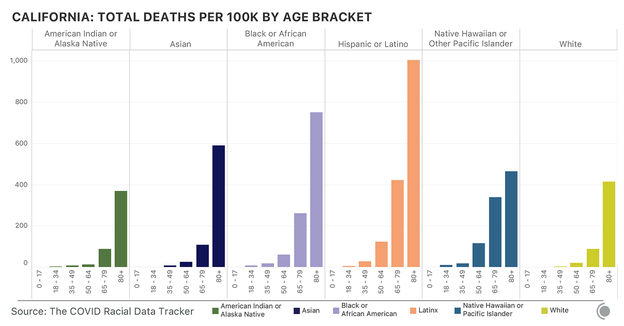 This week, too, states reported more than 6,000 deaths linked to nursing homes and other long-term-care facilities, with 13 states reporting their highest-ever number of long-term-care deaths.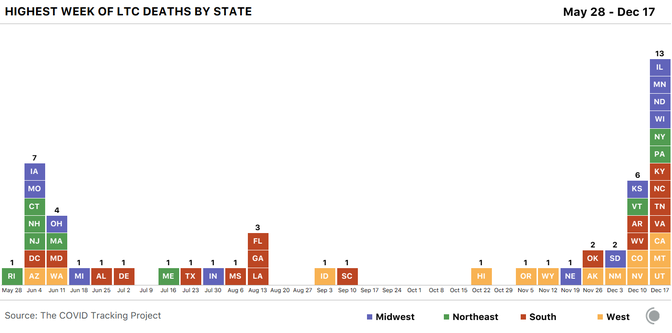 California, Illinois, and Pennsylvania accounted for 29 percent of the nation's deaths associated with long-term-care facilities. With eight days remaining this month, December has already been the deadliest month for long-term-care facilities since we started tracking these data in May.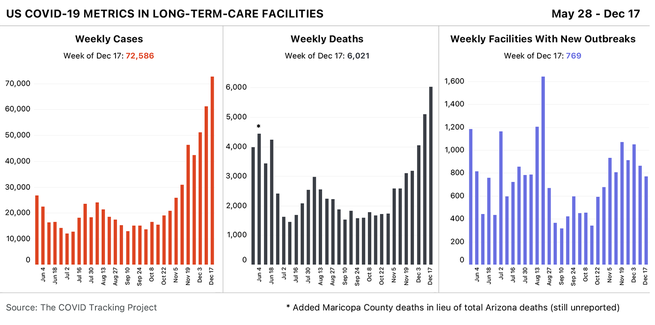 Cases are also surging: The Midwest, South, and West regions all reported increases in new cases among staff and residents, though the Northeast saw a slight decline in new cases. California reported 18 percent of the nation's new cases in long-term-care facilities. The Midwest region remains the epicenter of COVID-19 outbreaks in long-term-care facilities, making up 31 percent of the nation's new cases.
We have yet to see COVID-19 vaccine data from long-term-care facilities on any state or federal dashboards. Vaccination campaigns for these high-priority populations will be carried out by pharmacies such as Walgreens and CVS through the CDC's Pharmacy Partnership for Long-Term Care Program. This week, pharmacy team members from Walgreens and CVS Health reportedly began vaccinating long-term-care residents and staff in more than a dozen states. Dozens more states will start seeing vaccine rollouts in long-term-care facilities the week of December 28.
Although we expect the upcoming winter holidays to bring data disruptions to most of the country, we'll be here doing our regular daily updates throughout, along with a brief weekly update next Wednesday night. We wish you all a healthy and happy holiday.
---
Nicki Camberg, Artis Curiskis, Alice Goldfarb, Erin Kissane, Jessica Malaty Rivera, Kara Oehler, Sara Simon, and Peter Walker contributed to this report.