Now What?
The president's COVID-19 diagnosis raises a number of questions about when the president was infected and how many other people in the White House might be sick.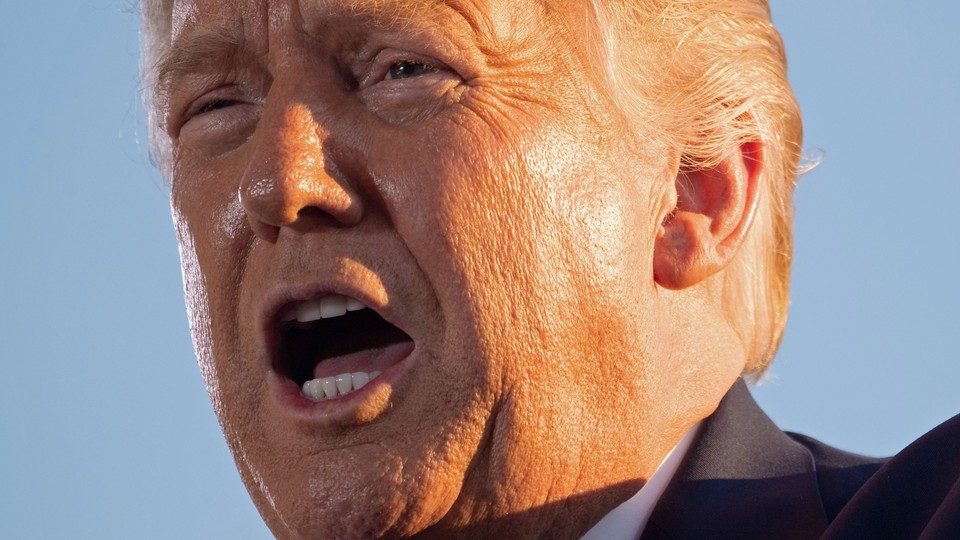 The gravest of what-ifs has become a "what now?": This morning, while many Americans were sleeping, President Donald Trump announced that he and the first lady have tested positive for the coronavirus. He disclosed his diagnosis in a tweet, sent at nearly 1 a.m. eastern time: "We will begin our quarantine and recovery process immediately. We will get through this TOGETHER!"
The White House did not immediately point to contingency plans should the president become too ill to continue working, nor did it offer an explanation of how Trump was infected—edging an already tense nation toward ever more confusion.
The president's health is a national-security issue. This is why he is surrounded by a massive security apparatus, including the Secret Service and the White House doctor; it is why people began speculating that nuclear command planes may have been dispatched shortly before the announcement of the positive test. Even during ordinary times, threats to the president's safety can move markets and awaken armaments.
But these are not normal times, and the president's diagnosis will intensify a wide-reaching and dangerous global crisis. As the coronavirus pandemic has killed more than 206,000 Americans, Trump has spent months undermining faith in the democratic process and vacillating on proven public-health policies.
The president's reported illness also raises a chain-reaction question: When, exactly, was the president infected? And how many other people in the White House—or across the federal government—might be sick? The first hint that something might have gone amiss came last night, when Bloomberg reported that Hope Hicks, a close Trump adviser, had tested positive for the virus. Hicks was apparently at the president's side on Wednesday as he traveled to Minnesota for a campaign rally. The night before, Trump had debated former Vice President Joe Biden, standing about a dozen feet from the Democratic nominee for more than 90 minutes.
Hicks came down with symptoms on Wednesday night and "quarantined" on Air Force One on the flight back to the capital, according to The Washington Post. She received a positive test yesterday morning. Yet the White House did not release the results of that test, or hint that anyone near the president might be ill, until Bloomberg's report hours later.
Trump's entourage has operated with a casual disregard for coronavirus protocol throughout the pandemic. In August, the president added Scott Atlas, a neuroradiologist with no background in infectious disease, to the Coronavirus Task Force. Atlas proceeded to downplay the virus and meddle with federal testing policy. Upon visiting the White House that month, our colleague Peter Nicholas reported that few West Wing staffers wore masks, and that visitors were not effectively screened for illness. The nation's most famous address felt "like a coronavirus breeding ground," he said, because of the lack of safety protocols.
But the president's illness still raises more questions than it answers. Although Hicks spent considerable time with the president this week, the timing of her illness and of the president's positive test result may not match up. COVID-19 has a regular course of disease, with a predictable number of days separating infection, early symptoms, and the worst illness. Even the best PCR tests, which detect the virus's genetic material, are not likely to catch infections that began within the previous two days. In other words, it typically takes four or more days for the virus to multiply and reach detectable levels inside the body.
Someone can test positive for the virus without experiencing symptoms. The Centers for Disease Control and Prevention says that symptoms of COVID-19 are most likely to begin four to five days after exposure, but they have been observed to start anywhere from two to 14 days after exposure. At the same time, current evidence suggests that people who have COVID-19 are most infectious at the very moment their symptoms begin.
It's possible, in other words, that Hicks infected the president and the first lady on Tuesday, and he tested positive yesterday. But other possibilities seem just as likely: Perhaps Hicks was sick for longer than she knew, and she infected the president earlier this week. (If so, was she infectious when she attended the presidential debate on Tuesday?) Or perhaps some other person infected the president, the first lady, and Hicks—a scenario that would indicate a very serious outbreak in the White House. It would not be surprising if, in coming days, we learn that more members of Trump's retinue and Cabinet have contracted the virus. Nor would it be shocking to learn that the president was contagious when he shared a debate stage with Biden.
It's also possible that the Trump White House has not been or will not be forthcoming about the president's condition. Many presidential physicians have covered for their boss, and in a memo sent out to reporters, Sean Conley, the White House doctor, gave cheery reassurances that seemed unmatched to the weight of the moment. "Rest assured I expect the President to continue carrying out his duties without disruption while recovering," Conley wrote.
But as millions of people around the world have discovered, the path that COVID-19 takes through the body is not predictable or kind, especially for older people. Trump is the third major world leader to contract the virus. In April, Prime Minister Boris Johnson of the United Kingdom was infected with COVID-19 during his country's first wave of infection. Johnson, who is 56, was hospitalized in an intensive-care unit 10 days after he tested positive. He later thanked hospital workers for saving his life, saying his illness "could have gone either way."
In July, President Jair Bolsonaro of Brazil contracted the virus. The 65-year-old spent nearly 20 days in partial isolation after experiencing fatigue, muscle pain, and fever.
Donald Trump is 74 years old, which puts him right on the cusp of the CDC's riskiest age brackets for COVID-19 outcomes. According to the agency, adults who are 65 to 74 years old are at a higher risk of serious illness, hospitalization, and death than younger people. But adults who are 75 to 84 years old are at much higher risk. The fatality rate for people in Trump's age cohort, based on the CDC's most recent age-stratified data, is roughly 8 percent. But for people who are 75 to 84 years old, that rate soars to nearly 18 percent. The president, in other words, is unlikely to die from COVID-19. But the possibility must be acknowledged.
Trump's mishandling of the coronavirus defines his presidency. He downplayed the severity of the disease, misled the country repeatedly about it, tried to pin the blame on local governments, did not "take responsibility at all" for the anemic American response, held massive rallies against scientific advice, hammered on states to reopen before it was safe, rejected easy safety measures, and undermined trust in our public-health institutions. Trump was never going to protect the country from the virus. But ultimately he could not even protect himself.