Curfews and Arrests Will Inflame the Pandemic
Limiting the time and space available to protesters—and the rest of the public—puts everyone in more danger.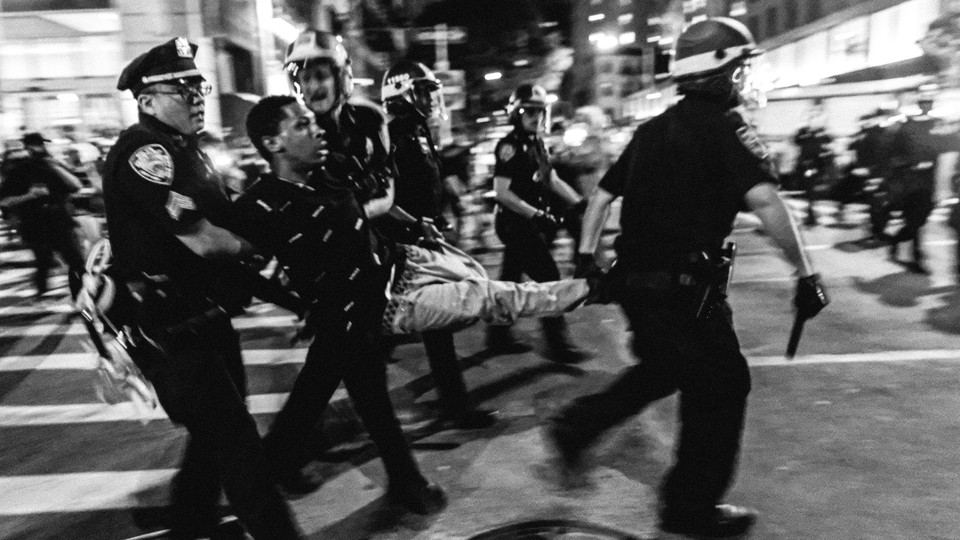 Exactly how the ongoing protests over the killings of George Floyd, Breonna Taylor, and other black Americans will affect the trajectory of the pandemic is a complex question. For months, the public-health directives in much of the world have been clear: Avoid groups and stay home as much as possible. Leaving the house for any reason carries some risk of viral transmission. But in a historic moment of civil unrest, many deem public demonstration to be as essential as going to the grocery store or picking up a prescription, if not more so. Indeed, no function of life may be more fundamental to the health of a democracy.
Across the globe, governments seem to have decided that protest is more dangerous than confinement. The Australian Supreme Court banned a Black Lives Matter demonstration planned in Sydney on the grounds that it could spread the coronavirus. In London, Mayor Sadiq Khan stopped short of a ban on mass gatherings, but implored protesters to keep six feet apart. Variations on Khan's approach are playing out in cities across the U.S., where public officials are walking a careful line between suppressing political dissent and contradicting their own prior social-distancing directives to help save lives during a catastrophic pandemic.
The inescapable fact is that the demonstrations protesting the police killing of George Floyd will lead to spikes in coronavirus deaths. There is no denying this. The question is how to minimize them. The science of how to conduct a perfectly safe mass demonstration in a pandemic is still imperfect, but one thing is clear: The answer is not to clamp down on peaceful gatherings, incarcerate more people, and give everyone less time and space to social distance with draconian curfews. Policing triggered these protests, and the policing, not the protesting, may turn out to be the primary driver of viral transmission during them.
"There are obvious measures that individuals can take during demonstrations, like wearing masks and trying to stay physically distant," says Sten Vermund, dean of the Yale School of Public Health (where I'm a lecturer on health policy). "Of course that's not always possible in a crowd." And even when crowds are allowed adequate space to spread out, some images from protests show these measures being ignored. Some amount of transmission will likely result. As of now, Vermund told me, "we can't be sure how much."
The most hopeful element of the protests from a viral-transmission perspective is "the safety of the great outdoors," Vermund said. The virus is known to spread mainly in confined indoor spaces where air is recirculated, among people who have prolonged close contact. During a rally or march, people are typically outside and, ideally, moving around—not long in proximity with any particular person who may be contagious.
Prolonged, close contact with other people becomes more of a concern when protests are confined to certain hours and certain areas of town. On Tuesday, for example, police blocked a large group of protesters from exiting the Manhattan Bridge, trapping them in a dense, stagnant crowd. Such density is also inevitable when people are arrested and detained. Yesterday, the U.S. marked 10,000 people arrested during the recent protests. Some have been loaded onto buses to be transported, and then held in crowded group cells. In addition to the usual constitutional dilemmas of arresting peaceful protesters, these measures carry especially ominous significance during a pandemic, when giving people space is of the utmost importance.
Public-health officials across the country have emphasized the unique danger that a deadly respiratory virus poses to crowded prisons. Many local leaders have released some prisoners early in an attempt to thin out the density of incarcerated people in response to the COVID-19 pandemic. As President Donald Trump and some mayors threaten to forcibly contain more protesters, they contradict and undermine the very measures put in places that have only just begun to lower the infection rate in the United States. The more that people are forced into confined spaces, the more opportunity the virus will have to spread. Yet peaceful protesters have been arrested en masse for curfew violations in places including New York, the world's hardest-hit city, where the death toll from COVID-19 is approaching 17,000.
Even those who are not involved in demonstrations are put at risk by citywide curfews. People in New York, Atlanta, Cleveland, and other cities can't leave home after 8 p.m. This leaves a narrow window for everyone to do their evening walks and errands, forcing more people into streets and stores at the same time. To limit the time in which people can be out is a high-risk proposition.
Ultimately, the safest approach to protesting will involve harm reduction: using state resources to make sure that essential activities—including civic engagement—are done as safely as possible. The goal of social-distancing measures is not to shut everything down, but to space people out. Sometimes that happens by closing places like restaurants, which involve prolonged close contact indoors. But social distancing can also be accomplished by opening up streets and expanding the hours the public can occupy them in order to create temporal distance. Whether people are protesting, biking, or out chatting (six feet apart), shared space is vital to repairing the national social fabric.
"These curfews, these zero-tolerance policing postures, are about politicians trying to avoid responsibility for fixing" the American system of policing, Alex Vitale, a sociology professor at Brooklyn College who studies criminal justice, told me. We spoke on today's episode of The Atlantic's Social Distance podcast. At their core, the protests spurred by the killing of George Floyd are about the policing approach in this country—trying to solve problems of poverty, homelessness, mental health, and much else via incarceration and forcibly revoking Americans' rights and freedoms. Effectively reforming American law enforcement, Vitale said, will require "shifting the discourse from one about police accountability to political accountability." Protesting the police who enforce curfews, he said, will be less effective than protesting the mayors who ordered them.
The turn toward politics is beginning to happen. After dozens of people were arrested for curfew violations in San Francisco, demonstrators protested the curfew outside city hall, and on Wednesday Mayor London Breed withdrew the order. Meanwhile, across the bay in Oakland, police declined to enforce an imposed curfew. The night ended with protesters dancing in the streets. (Some were closer than would be medically advisable, but dancing outdoors is safer than going to jail. Especially if the crowd sticks to middle-school rules.)
Lifting curfews and taking police off the streets may not feel like an obvious solution for elected officials, who stand to take the blame for any crime that might follow. But nothing is riskier, as a public-health measure, than continued escalation and confinement. People cannot avoid touching their face when they have tear gas in their eyes. People cannot wash their hands in handcuffs. People cannot be expected to listen to crucial health directives now, or the next time a public-health crisis arrives, from leaders who themselves refuse to listen.
---
Related Podcast
Listen to James Hamblin discuss this story on an episode of Social Distance, The Atlantic's podcast about life in a pandemic:
Subscribe to Social Distance on Apple Podcasts or Spotify (How to Listen)