Small Towns Won't Know They're Infected Until It's Too Late
The demise of local news is a pandemic emergency.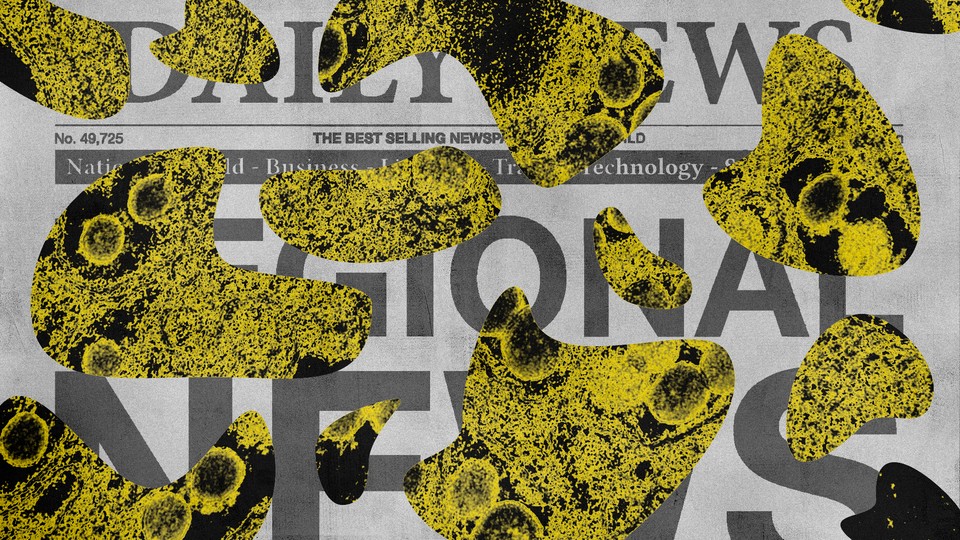 Here in the plague, we are living a story that is global and yet intensely local. While all of us get reams of reporting about national and international COVID-19 trends, most of us get little or no reporting about what's happening in the communities where we actually live.
Local news has largely disappeared—the phenomenon of news deserts is by now well known. And yet never has the need for local information been greater. The big news can be completely at odds with the small news—and for individuals, it's the small news that matters most. The crucial virus data is hyper-local. In my neighborhood, hidden within a larger geographic picture whose trends give cause for hope, the disease is spiking dramatically, even scarily. And almost nobody knows.
I live in Kennett Square, Pennsylvania, a borough of about 6,000 souls southwest of Philadelphia. It is part of Chester County, an outer-ring suburb. With a few exceptions, the county is characterized by rolling green hills, pastures, and farms—mostly horse farms. The county was made famous by the paintings of Andrew Wyeth. It is mostly white and relatively affluent.
---
Kennett Square Borough is anomalous. It encompasses a densely populated area of just over one square mile. About half its residents are Latino, many of them families who immigrated here from Mexico and Guatemala to work in the county's thriving mushroom industry, which produces about half the mushrooms consumed in the United States. Each fall we celebrate with a weekend Mushroom Festival, where hundreds of thousands of people jam State Street, the borough's main thoroughfare. Kennett Square has also become a vibrant center for craft beer, fine restaurants, and live music, which has made the community a draw for the well-heeled—young and old—looking for a walkable, fun, and affordable place to live. All of these attractions have, of course, gone dark.
Philadelphia itself has been hard hit by the virus, with more than 17,000 infections and 1,217 deaths. Chester County has so far gotten off easiest in the metropolitan area, with just under 2,500 infections and 241 deaths, mostly in the townships closest to the city. Kennett Township, the rural area that surrounds my borough, has had just 27 cases and one death.
I read The Philadelphia Inquirer every day, which links to maps and charts that record the progress of the disease. For me, COVID-19 stats have replaced my morning immersion in the sports pages. A color-coded map online shows where the virus has appeared throughout the county. There are bar charts showing the number of tests, negative and positive, each day, and for those wanting a closer look at the numbers, there are totals for each of the county's 73 municipalities. I have been keeping an eye on the numbers for Kennett Square because these are the most important ones for me and my family. It indicates our immediate risk level. It's the kind of thing a local reporter would write about, if there were any local reporters.
If you look only at the regional data, the picture at the moment is almost cheerful. In the past week, new infections in Chester County have declined from a daily average of close to 40, two weeks ago, to an average of about 10 for the past few days. Last Saturday there were just four new cases in the entire county. The weather is turning warm, flowers are in bloom, and more and more people here are venturing out. In my little corner of the borough, within earshot, there were several fairly large Memorial Day gatherings last weekend.
---
Until about two weeks ago, the picture of Kennett Square painted by the county health department's maps was astonishingly good. As the county numbers climbed, our borough consistently reported only two infections and no deaths. This didn't make sense to me, given the density of our population and the number of residents who work close together in the local mushroom houses. Last week, the numbers jumped shockingly, to the 30s, then the 40s, then the 50s. At the very moment when Pennsylvania Governor Tom Wolf began easing some restrictions in our region, the number of infections in the borough has jumped, as of yesterday, to 65—more than 30 times what it was at the beginning of May.
I was startled enough to start calling around. "It's really alarming," said Whitney Hoffman, the vice chair of the local board of supervisors, who has been posting COVID-19 data on a community website that attracts a tiny fraction of the audience a good local-news operation would, whether in print or online. "We aren't sure what's really causing it, but I'm concerned that one reason might be that people are relaxing their social distancing. I walk in Nixon Park and I see all kinds of people without masks, some of them eating at picnic tables that are roped off because we are unable to disinfect them regularly. Bad idea."
We all know that these numbers are imprecise. Most people have not been tested. Some of those who have been tested were tested for active infections and others for antibodies that signal old infections—numbers that have been combined, for no good reason. Some of the jump might simply be because more tests are being administered. La Comunidad Hispana, a health center serving the Latino community, received a grant last week to bring mobile testing units to area mushroom farms. The results were predictable.
"Right now we're at a peak," said Mariana Izraelson, the organization's CEO, in a video message she posted on its website this weekend. "It has taken until now for us to see a surge. And we strongly recommend to everyone who is not an essential employee to stay at home … If you can stay at home, please stay at home."
So while the masks are coming off and the backyard barbecues are firing up, we're in something of a silent emergency here. There is not a word drawing attention to this local spike on the county health department's website, which is tracking a much larger area. It hasn't been noted by the Inquirer, which is tracking the larger regional story hard. None of the paltry local-news outfits appears to have even noticed.
So far no one has died of the infection in Kennett Square. That we know of.