Don't Close Parks. Open Up Streets.
Give people the public space they need right now.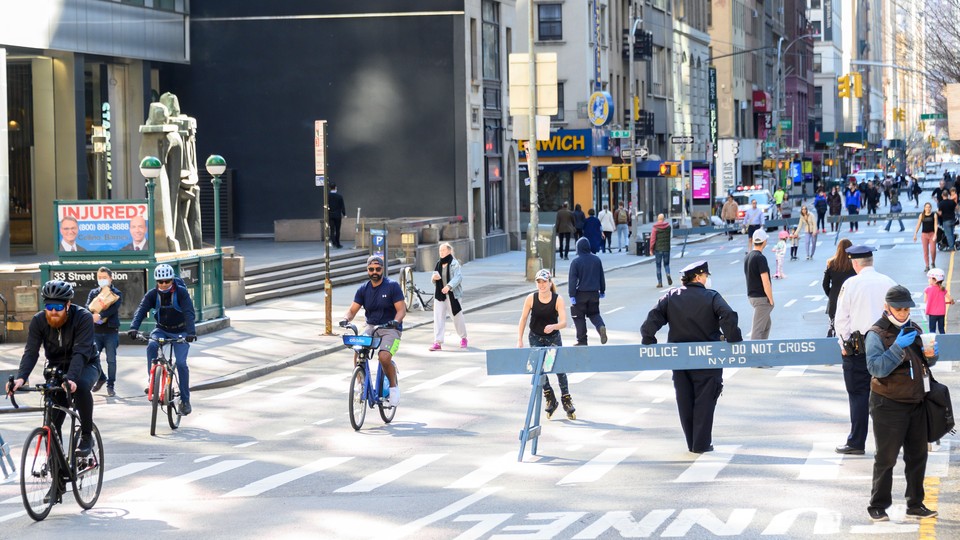 New York's cemeteries have overflowed before.
In the 1850s, the people filling the cemetery were not all dead. Throughout the hot days of summer, New Yorkers flocked to Brooklyn's sprawling Green-Wood Cemetery in order to breathe and move. The city's population had increased fivefold in five decades, and people needed a place to escape from their tiny homes.
Despite warnings to disperse, people continued picnicking among the mausoleums. But instead of punishing the cemetery-goers, city officials took a different approach. To accommodate the demand, they built a park a few blocks away. It would come to be one of the most effective public-health measures in the city's history.
For the past 150 years, Prospect Park has occupied more than 500 acres in the heart of Brooklyn. Just within the perimeter stretches a wide road that's closed to traffic, divided in half for bikes and pedestrians. It's more than three miles around. In the center of America's largest and densest city, you can run as far as you like, surrounded by trees, without crossing a single street or seeing a single car.
I've run the loop at least a thousand times. I've run it at all hours of the day and times of the year. I've run in freezing rain and torrid heat. There are always people. It's always felt like an escape. But now, for the first time ever, that feeling is gone.
The difference is the police. They idle in cars every few hundred yards to enforce social distancing, empowered to fine and arrest runners for getting too close to others. The arrests happen mostly in other, poorer parks and neighborhoods—and some have gotten violent. This week, while breaking up a group on a stoop in Brooklyn, a police officer punched a man in the face. Nearby, police forcibly arrested three black men in an encounter that allegedly left one unconscious. Instead of changing course, on Friday New York City Mayor Bill de Blasio announced that he would deploy police to further limit access to the outdoors—including the strips of public space that line the Hudson River. The justification is that we don't have enough space for everyone to be out, or to linger long.
But we do have the space. The vast avenues that span the length of Manhattan are echoing in silence. New York City is home to more than 6,000 miles of streets. Much of that is barely used by cars on a typical summer weekend, when many people travel. The streets will surely be only more barren this summer. And it is possible to close them to cars and give people room to walk, run, and bike. Especially during a pandemic, simply preserving public space is a profoundly high-yield investment in physical and mental health.
Like many others in New York City, I live in an apartment that's about 250 square feet. It's a lot harder for me to abide by the same orders as people in sprawling suburban McMansions. Our sole escape is the public spaces that typically fill beyond any ability to socially distance on warm days. When people are stuck at home, and so many other establishments are closed—our libraries, museums, gyms, pools, restaurants—the parks are already more crowded than usual. Even the Green-Wood Cemetery has threatened to close because of overcrowding by people in search of spaces to walk. The situation stands to create a viral tinderbox that will ignite New York in the heat of the summer. To propose that the solution is to limit the use of these already precious public spaces is the inverse of a solution.
The need to move around is a basic physiologic imperative. Our health deteriorates just like that of most animals when isolated and confined to tiny spaces. Even those who identify as introverts have some need to be in the presence of people, if quietly. During the coronavirus pandemic, we must do these things in the safest possible ways. We can expect to be generally safer outdoors, where air disperses our properly distanced breath. With gyms closed and basic daily physical activity ground to a halt, deliberately undertaking exercise is more important than ever—for the body and mind.
Of course, heart disease, diabetes, and depression have not ceased to exist. If anything, they should be expected to worsen with sedentary isolation and confinement—not to mention economic depression and the realities of the loss of life and community all around us.
Earlier this month, the city breathlessly announced that during the weekend it will close to traffic just seven of the 6,000 miles of city streets. It aims to get up to 100 miles by summer—barely 1 percent of the area available. De Blasio has argued that the city doesn't have enough "personnel"to open more, as each newly pedestrian intersection would require police supervision. But apparently there is enough personnel to police the parks.
The decision to crack down on parks rather than make more space available is of tremendous consequence—and not just to New Yorkers. It is a microcosm of America's  default to punitive rather than restorative justice. We assume the worst in people. When we see photos of people crowded into a park, we assume they are simply dangerous, reckless people. We call to punish them.
People are not brazenly seeking out crowded parks during a pandemic. Just as no one wants to sleep in a subway car or live under a bridge, people are going outside because they have no other place to go. If given the option, people would not be crowded together—and that option exists.
Open the streets. Open at least half of them. If we do not have enough police to enforce temporary closure to traffic, then open them semipermanently with concrete barriers. Open other streets permanently. Dynamite the asphalt, sod the land, plant trees and flowers, and do not look back.
The virus is going to be with us for a long time, and more viruses will come. We need to be prepared. Open the streets. Do it now.