Listen: Where the Curve Has Flattened
Staff writer Russell Berman joins the podcast to describe how San Francisco has fared better than other cities in its pandemic response.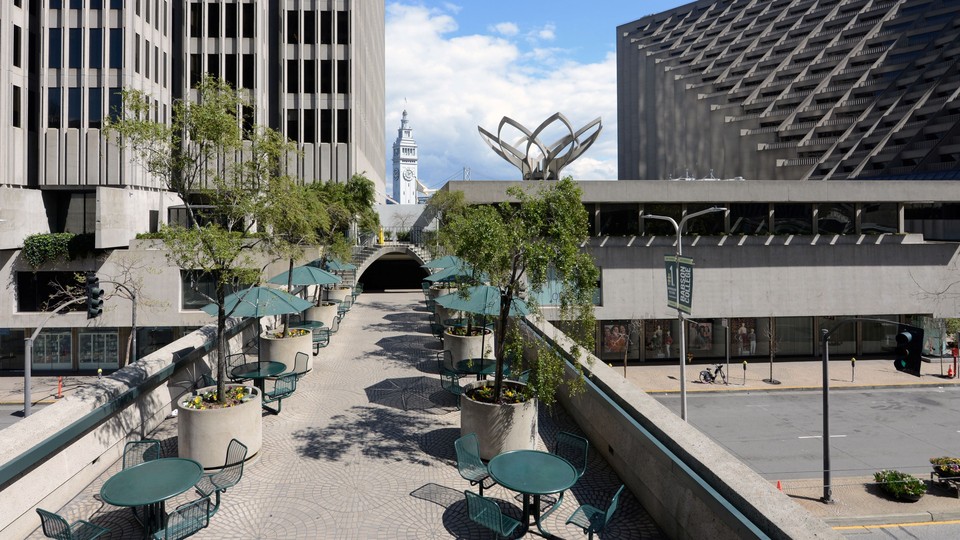 On March 17, San Francisco Mayor London Breed issued a citywide shelter-in-place order. The Bay Area city had fewer than 50 confirmed coronavirus cases. By contrast, New York City didn't take similar action for several days, and when it did shut down on March 22, the city's five boroughs totaled more than 10,000 reported cases.
Staff writer Russell Berman recently wrote about Breed, under whose leadership San Francisco has apparently succeeded at "flattening the curve." Berman joins James Hamblin and Katherine Wells on the podcast Social Distance to discuss the parts of the country where responses seem to have worked, and what has made the difference.
Listen to their full conversation here:
Subscribe to Social Distance on Apple Podcasts, Spotify, or another podcast platform to receive new episodes as soon as they're published.
---
What follows is an edited and condensed transcript of their conversation.
James Hamblin: Russell, you wrote about San Francisco's coronavirus response, which was uplifting to see. They're actually flattening the curve.
Russell Berman: I wrote about London Breed, the mayor of San Francisco. She activated the city's emergency-operations center in late January, only a short while after public-health officials in the United States even acknowledged that there was human-to-human transmission of the coronavirus. In late February, she became the first big-city mayor to declare a state of emergency, in San Francisco. She did so before there was even a single confirmed case in her city. Also, leaders in the surrounding Bay Area counties acted in unison to enact social-distancing measures. Their lockdowns went into effect on March 17, and that was when they only had a few dozen cases in San Francisco.
In New York at that time, they had hundreds of cases, quickly getting into the thousands. Governor Cuomo and Mayor Bill de Blasio of New York acted several days after that. On the calendar, San Francisco and its surrounding counties acted only a few days before they did in New York, but on the coronavirus scale, they acted much earlier. San Francisco is now reaping the benefits. Yes, it has nearly a thousand cases, but people have died at a much lower scale than in New York and other cities of similar size, like Detroit and Washington, D.C., and New Orleans. One caveat to that is that California has struggled much more than New York in testing.
Katherine Wells: How much do we know if those numbers really are useful? Is it possible that they're just not testing as much, so it doesn't seem like they have as many cases?
Berman: They're not testing enough anywhere. There certainly are more cases in San Francisco than there are confirmed positive tests. But that is true everywhere, and the evidence is in the hospitals. Their hospitals are not being overrun, as one epidemiologist told me for this story. Deaths are hard to hide.
Hamblin: There's about a two-week period where it can be unclear whether you have a lot of cases and you're just not detecting them. But after a certain time frame, you would know because your morgues would be filling up.
Berman: It's also important to mention, of course, that they're not out of the woods. They don't want to relapse. There is this fear that good news will beget bad news because people will say, "Okay, San Francisco is doing all right. We can cut corners; we don't need to be quite as fastidious about social distancing." Then you're going to be in trouble. A couple of days after I talked to Mayor Breed, there was a large outbreak at a homeless shelter, which is a big concern in San Francisco. Seventy people in one of the largest shelters were infected. It's possible that San Francisco could have a worse situation. We'll have to just continue to monitor it.
Hamblin: It sounds like you attribute most of this apparent success to shutting down early and social distancing early.
Berman: That's what the epidemiologists I talked to attributed it to, but there are potentially other factors, like San Francisco's proximity to Asia. The Trump administration restricted travel from China relatively early on, at least compared to when they restricted travel from Europe. That helped the West Coast in terms of limiting what was coming in from China and other Asian countries. People travel to New York from everywhere, including Asia and China, but there's a lot more travel directly from Europe, and they did not restrict travel from Europe until the middle of March. It's clear that it was already well into New York, probably for a month or longer by then.
Wells: Why do you choose to focus on San Francisco?
Berman: There's a lot of focus on the political leaders on the East Coast. You have a ton of focus on Andrew Cuomo in New York. He's been drawing a lot of praise for the way that he's conducted the public messaging around social distancing. This was an effort to say, Let's look at the cities that are doing this well and spotlight a leader who is not getting the attention that the leaders in New York arguably are getting without maybe earning it as much. Even though Cuomo is doing a good job in front of the cameras, he didn't act early enough. Mayor de Blasio didn't act early enough. But it appears that London Breed in San Francisco did act early enough to prevent a wholesale outbreak on the scale of New York that would overwhelm their health system.
Wells: Cuomo is interesting to me. For several weeks, there were kind of these dueling press conferences. Trump was inflammatory, and Cuomo had all these PowerPoints that people were kind of fawning over. He seemed competent, from at least a performative standpoint. Can you tell me what to make of Cuomo becoming sort of a corona-lebrity?
Berman: A big part of public leadership is the public part of it. Everybody is stuck inside. Everybody is watching TV. Everybody is scared and anxious. They have no other choice but to look to their leaders for crucial information and a sense of where we are and where we are going. Cuomo has been successful in that. He's met that need. He's clearly striking a balance where it doesn't seem overly rosy, but he's also saying "We can do this. We will get through this." People want to hear that from their leaders. People do not want to despair 24 hours a day.
Wells: Public communication and the performance of competence is part of any leader's staff. But it also seems like maybe there are leaders that are not putting on entertaining press conferences, and so I haven't heard anything about the great competence of their response.
Berman: That is a big part of it, and part of it is just simply the media environment. The national media is centered in New York, and New York has always gotten disproportionate attention from the media nationally.
Wells: What's the lesson of all of this?
Berman: Leaders need to do two things. They need to make the right decisions at the right time to the best [ability] they can, and then they need to communicate those decisions and communicate about the situation in a competent, accessible way. Governor Cuomo certainly has gotten the second half of that right over the last month or so. But the question is, did he get the first part right? Did he make those correct decisions at the right time?
Part of the story in comparison with people like Mayor Breed and Jay Inslee in Washington State and Governor Gavin Newsom in California and others, is that, whether or not they've been communicating well, they made better decisions earlier and probably saved more lives than Andrew Cuomo or Bill de Blasio.
Hamblin: The question on everybody's mind right now is about opening up society or "returning to normal." I dispute the premise, but still. President Trump tweeted that the president gets to make the call as to when to open up the government. That's not right. In most ways, it's going to come down to state governors to open things back up, just the way it came down to state governors to close things down.
Berman: That's right. Although, we've seen that Trump has a lot of influence with Republican leaders in this country. If he wants to open up, you can expect, for example, Ron DeSantis, the Republican governor of Florida, or Brian Kemp, the Republican governor of Georgia, to follow the president's lead in a way that Andrew Cuomo or Gavin Newsom would not. So it is a concern. But he can't just turn the light switch back on.
The federal government has not ordered anything. The shutdown, to the extent there is nationwide, is actually just guidance from the CDC. It's the governors and the mayors that are actually making orders. The reopening part is probably going to be done in a fairly haphazard way, but that is probably going to lead to more outbreaks in certain areas. Governor Cuomo and the governors of Connecticut, New Jersey, and Delaware, and Pennsylvania are working together to develop a regional approach to have some coherence in the Northeast region so that you don't have Connecticut reopening, but not New York, because there's so much travel commuting back and forth.
Wells: It's not that Trump's bully pulpit has no power, but if the decision is ultimately with state and local governments, their decisions are the ones that we should be scrutinizing.
Berman: That's right. They are making sort of the decisions about when to open and when to close, more so than the federal government is. But the president could undermine decisions by state governments to keep the economy closed down. You could see a situation where the president says, from the White House, that the nation should be open. But Andrew Cuomo would say that New York, which is such a huge portion of the nation's economy, is still shut down. How is that going to work? We're in uncharted territory, and we just don't know what that's going to look like.