Don't Get Your Pet Groomed, Groomers Say
Workers who clip dogs' nails and trim their fur say they still have to show up to their jobs, and they're terrified for their health.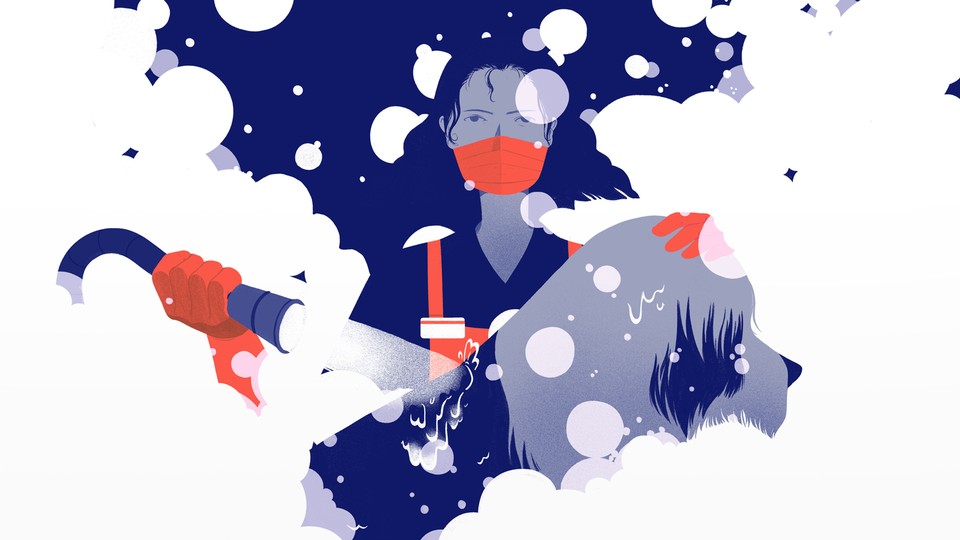 Pets can be welcome stress-relievers in these trying times. Pet adoptions are soaring nationally as people look for the company of furry friends, in the absence of human ones. One Virginia animal-rescue group told my colleague Gillian White that it now fields as many as 150 adoption applications in the first 24 hours after each virtual meet-and-greet with a new group of puppies.
In addition to being mild anxiolytics, "companion animals" such as dogs and cats show no evidence of being able to spread the coronavirus to people. That might make pet owners think that anything they do with their dogs and cats is safe, including getting them groomed. Going to the groomer right now might even seem like a nice, relaxing activity when almost everything else is forbidden.
But getting a pet groomed inevitably brings people closer together, and raises the risk of coronavirus transmission for both the pet owner and the groomer. Despite nationwide lockdowns, people are having their pets groomed, and pet groomers wish they would stop.
Petco groomers in several states told me the company was keeping its grooming salons open, and those that have closed because of shutdown orders did so only recently—weeks after most states demanded people stay at home other than for essential work and errands. Through the company's online system, I successfully made an appointment for a haircut for a fake dog, "Bobo," for today at a Petco near my home. Interviews with half a dozen Petco groomers reveal that some are terrified they're risking their health by coming in to work, but they worry that they have few other options. The persistence of pet grooming shows that even in the face of a pandemic that's killed more than 20,000 people in the United States, Americans are continuing to do anything they're not expressly banned from doing, no matter the infection risks. The situation also reveals an American corporate culture that, workers say, prioritizes profits above employees' safety. If businesses are open, it seems, the customers will come.
The groomers are not part of an organized movement—I found them through social media and word of mouth—but they have tried to raise these issues with managers, and even Petco's CEO. According to interviews and messages reviewed by The Atlantic, the higher-ups have largely dismissed their concerns.
Groomers' primary job involves washing, brushing, and trimming a pet's hair, so they mainly interact with dogs and cats. But the grooming process also involves getting close to the "pet parent"—the animal's owner—and asking what service needs to be done and what injuries, if any, the animal has. Leashes and collars change hands and could be a vector for the virus. Since the outbreak began, Petco has reduced grooming hours, limited appointment times, and designated pick-up times for pets. But because of the hands-on nature of the interaction and the size of the check-in area, groomers say, maintaining a six-foot distance is nearly impossible. One groomer told me that up to 20 people a day might come in to get their pets groomed. "It was stressful for me, just because I have someone at my house that's immunocompromised," said Ashley, a Petco groomer in Arizona who stopped going to work before her grooming salon officially closed on April 4. (She asked me not to reveal her full name and location because she feared retribution.) "Our check-in area is probably seven feet by five feet, so checking in a dog, it's very hard to stay six feet away from somebody."
Though groomers say pet owners are coming to the salons because they feel their pet "really needs" a trim, all the groomers I spoke with said pets can go a few months between grooming sessions as long as they are properly cared for at home. (Salons for people, after all, are currently closed.) "If you're actually doing what you're supposed to be doing at home, you don't need a dog groomer," said one Petco groomer in New York State, who asked to remain anonymous because she feared losing her job. In the rare case that an animal does have a medical reason for getting a haircut, groomers said a veterinarian could do the job. Though veterinarians are still considered essential workers, some cities and states have gone as far as to explicitly deem pet groomers nonessential. Linda Easton, the president of the International Professional Groomers association, agreed via email that pet grooming should be considered a nonessential service.
In an email, the Petco spokesperson Lisa Stark denied that grooming is nonessential. "We wholeheartedly believe that providing grooming services is essential to the health and wellness of pets. Without proper and routine grooming care and hygiene—which includes everything from bathing to nail clipping, gland expression, teeth brushing, ear cleaning and more—pets can be at risk for a number of negative health impacts, including skin and coat issues and infections, injuries from overgrown nails, and dental health issues, to name a few," Stark wrote. "Many pet parents are not capable nor properly equipped to groom their pets at home and the grooming services we provide in stores are not at all equivalent to human haircuts or 'salon' services. Grooming can be provided while maintaining proper social distancing, and we are mandating that our groomers follow these protocols."
Petco isn't alone in considering pet grooming "essential." After closing its grooming salons on March 21, PetSmart, Petco's main competitor, reopened some of them on April 6. I visited a PetSmart in Northern Virginia on April 11 and found the grooming center open, with a small dog inside being sheared of its fluffy black fur. (PetSmart declined to comment.)
This is just the latest instance of retail and shipping workers not receiving the protections they feel they need to get through the coronavirus pandemic. For example, Amazon has promised employees two weeks' pay for time they spend in quarantine due to COVID-19, but many employees have said their payments were delayed by weeks, or indefinitely. (Amazon did not comment on this for my story last month.) Many retail workers feel they're being treated as expendable and interchangeable—an impression that's magnified at companies such as PetSmart and Petco, where workers are risking their human lives on behalf of animals.
Keeping the grooming salons open isn't the only way Petco employees say the company is falling short on safety precautions. They told me that unlike retail workers at some other companies, including Amazon, they won't receive hazard pay for the duration of the outbreak. They said they were offered five extra days of paid time off, but that it's not enough to get them through a months-long crisis. Workers say animals are still being shipped to some Petco stores to be sold as pets—something workers don't see as essential. (Stark denied this, saying, "We stopped restocking live animals in mid-March to avoid unnecessary traffic in our stores. We are only restocking live animals that are commonly purchased as food for other pets, or where our suppliers have overcapacity in their facilities, putting animal lives at risk.")
What's more, Petco employees said masks weren't provided to them until very recently. An April 9 Petco corporate slide deck provided to me by another Petco employee reads, "We ask all Partners to order or create and wear masks"—appearing to put the onus on employees to find or make their own masks.
Some groomers said they were given the option of working on the store's floor as a sales associate, rather than a groomer. But because they make most of their money on grooming commissions, they said working the floor would represent a significant pay cut and might still be just as dangerous to their health. Some who agreed to work the floor then saw their hours cut further. ("We're proud of the way we've provided our employees with choices and opportunities to continue working and earning income during these uncertain times," Stark said. "The majority of our groomers have expressed appreciation for our flexibility.")
Working on the sales floor, "I still interacted with people," said Mariah Martinez, a Petco groomer in Las Cruces, New Mexico. "Someone sneezed right next to me." Martinez, who has asthma, has stopped going to work and plans to use her vacation time until it runs out. Rather than keep stores open to customers, employees argue, the company should tell customers to order ahead and wait for employees to deliver their orders to their cars. (Stark said that while "we are driving as much business as possible to Petco.com" for the curbside pickup option, "many customers, especially our elderly guests, prefer shopping in stores and we want to ensure their pets are taken care of.")
Martinez tried to push for better protections, but she said the company's response made her feel unimportant. In a message to Petco's CEO, Ron Coughlin, Martinez wrote, "I have fellow groomers who are fighting for fairness through this time."
"Sorry, missing the 'fair' point," Coughlin wrote back, according to screenshots provided to The Atlantic. "Millions have been laid off. Our grooming business is down significantly and we haven't laid anyone off and we are offering center store option and we added the COVID [paid time off]. We have been waiting on the federal government."
But several Petco groomers said they'd rather have been laid off than put to work on a store's sales floor. It's safer, they feel, to stay at home and draw part of their salary as unemployment.
"To me, it's not worth it to go make $12 an hour during a pandemic," said one Texas Petco groomer, who asked to remain anonymous because he feared losing his job. Though the company initially approved his unpaid leave of absence, he said he was then told he risks being fired if he does not return to work—on the floor, at the lower salary. (In response to this, Stark said, "We fully support the decision of any Petco employee, including groomers, to stay home if they feel sick or do not feel comfortable coming into work.")
Others feel they don't have a choice but to return to their salons. Priscilla Perez, a Petco groomer in El Paso, said customers brought in masks and gloves for her to use. She is the only income-earner in her household, and she worries that if she stopped coming in to groom pets, her family wouldn't get by. "They're saying they're not forcing us to work, but we need the money," she told me, "and they're not giving us better options."