Amazon Is Struggling to Pay Workers in Quarantine
Big retailers have rolled out sick leave during the pandemic, but some workers describe a confusing process for getting paid.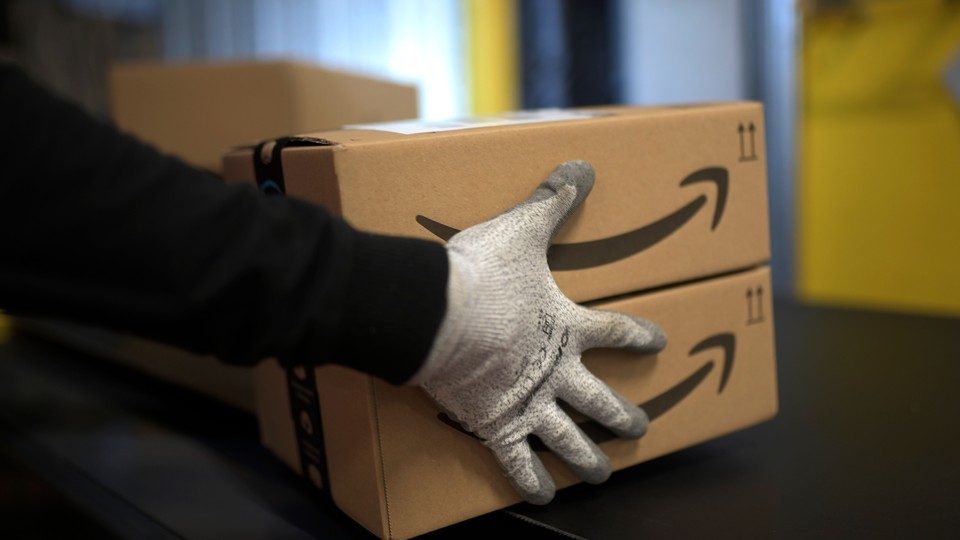 Loress Burke, a worker at an Amazon warehouse in New York, was coughing throughout our interview when we spoke recently. She tried to get tested for COVID-19, but her doctors instead told her to stay home for two weeks. In line with Amazon's new policy, the company said it would pay her for the length of her quarantine. But there is a catch: She was told she won't be paid until after she returns to work. That's a problem, she said, because she cares for her disabled sister and needs the money now. "I got the idea that they weren't sure how this is working, because this is as new to them as it is to us," Burke told me.
Burke's ordeal highlights the struggle some workers are facing in getting paid for their sick days, even as their companies roll out new policies offering paid leave because of the coronavirus pandemic. Many employees are no doubt fortunate to be working at companies whose services are still in demand. Nevertheless, large companies such as Walmart and Amazon have struggled to adapt and explain their sick-leave policies amid a fast-moving pandemic.
Where retail workers once might have received a set number of hours off, the crisis has raised complicated new questions about employee absences. What should happen to workers who are immunocompromised, for example? Or to those who feel sick but aren't able to get a coronavirus test? Unlike white-collar workers, many of whom enjoy liberal sick-leave policies, blue-collar workers can't always be confident they'll be paid for their time away. While an asthmatic office worker can easily work from home, many retail and delivery workers with underlying health conditions make agonizing calculations about whether to risk their health or their income.
This doesn't appear to be an issue of intentional malpractice by companies, but rather a failure to catch up with the severity and frequency of COVID-19 cases, and to reconcile company policies with fast-changing state and federal guidance that affect the lives of workers and their families.
Still, even unintentional delays hit workers hard. Interviews with Amazon, Walmart, and Whole Foods employees painted a picture of confusion about the new policies and who is eligible. (The Atlantic reached out to these companies for comment and has yet to hear back on most of our queries.)
Workers might, for example, fall ill before a new policy goes into effect. Or they might embark on a lengthy process of attempting to prove they're really sick and wait for weeks to get paid—longer than many of them can afford to go without money.
Walking out of O'Hare Airport on March 18 after a trip to Spain, Christian Zamarron, an Amazon warehouse employee in Chicago, was stopped by an official who told him that because he had recently visited a country with a large coronavirus outbreak, he should stay home from work for 14 days. Zamarron said he thought it wouldn't be a problem, because Amazon had recently granted two weeks of paid sick leave to workers who test positive for COVID-19, or who are placed into quarantine. But several Amazon employees, including Zamarron, told me the process to get paid for their time in quarantine has been byzantine and, in certain cases, unsuccessful entirely.
As soon as he realized he'd be missing work, Zamarron said, he called Amazon's employee resource center, the company's HR equivalent, to make sure he'd get paid. After an hour on the phone, he finally got through to someone and explained his predicament. The person told him he was eligible for an unpaid leave of absence.
He asked whether he could receive paid leave instead, according to Amazon's policy, and was told a case manager would reach out to him within a few days. But he didn't hear from anyone for more than a week, and he wasn't paid. When a case manager finally got in touch, it was to provide him with unpaid leave-of-absence forms. Zamarron, who had traveled to Spain with another Amazon co-worker, grappled with what to do. "Either we take the hit, and we don't get a check for two weeks," he told me, "or we go to work and infect our co-workers."
Hours after I emailed Amazon about his case, Zamarron got a call from a human resources representative who said Zamarron and his co-worker would be retroactively paid for their time away from work. (Amazon denied that my email prompted the payment.)
Another Amazon employee, who leads an informal workers' union, told me he does know of cases in which the paid-leave policy was implemented correctly. But those workers either tested positive for COVID-19, or Amazon itself ordered them quarantined.
Amazon workers who can't prove they have COVID-19, meanwhile, find themselves in a more difficult situation. Nicole Jackson, who works at the Chicago facility with Zamarron, hasn't been back to her job since March 9, when she came down with a fever and a cough, and began to experience shortness of breath—telltale symptoms of the coronavirus. She told me her doctor wouldn't test her for COVID-19, because the tests are in short supply. But he did tell Jackson to stay home, so she emailed Amazon's employee resource center to try to get quarantine pay. She was unsuccessful and missed weeks of pay. The day after I emailed Amazon, she heard from a caseworker who began to work on processing her paycheck again.
Like many other companies, Amazon is allowing warehouse workers to take unlimited unpaid time off through the end of March. But workers say they can't afford to go without their paychecks, even as they fear returning to work. Tonya Fondren, who is also employed in Amazon's Chicago warehouse, has been absent from work for two weeks because she has lupus. She's afraid to return to work, because her weakened immune system makes her more susceptible to the coronavirus. But Fondren told me she will soon be returning anyway, simply because she's out of money. Though Chicago has a local paid sick-leave ordinance, she says Amazon's system shows she has accumulated only 22 minutes of paid sick time.
Some workers at Whole Foods, which is owned by Amazon, reported similar problems getting sick pay. One employee in the New York area, who asked to remain anonymous to avoid potential retaliation, told me he started having flu-like symptoms on March 14. A doctor told him he could not be tested for COVID-19, because tests were being rationed, but that he should stay home from work until 48 hours after his symptoms had abated. His regional HR office told him he did not qualify for the company's two weeks of quarantine pay, because he did not have a positive COVID-19 test or a county quarantine order.
Much of the focus in recent weeks has, rightly, been on the safety of health-care workers and other first responders. But the people who allow Americans on lockdown to get groceries and deliveries are, in many ways, also vulnerable and indispensable. And they're growing frustrated that they're not treated as such.
"We're one of the few essential businesses that doesn't have valorization in the culture as first-responder heroes," said another Whole Foods worker in Chicago, who requested anonymity because he feared he would be fired. He's an asthmatic whose sick-pay situation is still unclear. "We've always been treated as disposable, and now we have to go to work."
For some workers, it's already too late. William Elmore, a Walmart employee in the Spokane area, came down with what he thought might be COVID-19 on February 20. He told me he got in touch with his company's personnel manager and requested a leave of absence, which was approved, so he stayed home from work for the next two days. Once he was back at work on February 23, he said, his boss told him he had too many attendance "points," and he would be let go. A few weeks later, Walmart announced it would be offering paid sick leave to employees with COVID-19. Elmore said he won't be eligible to be rehired until August, when his points reset.