What You Need to Know About the Coronavirus
The Atlantic's guide to navigating a global pandemic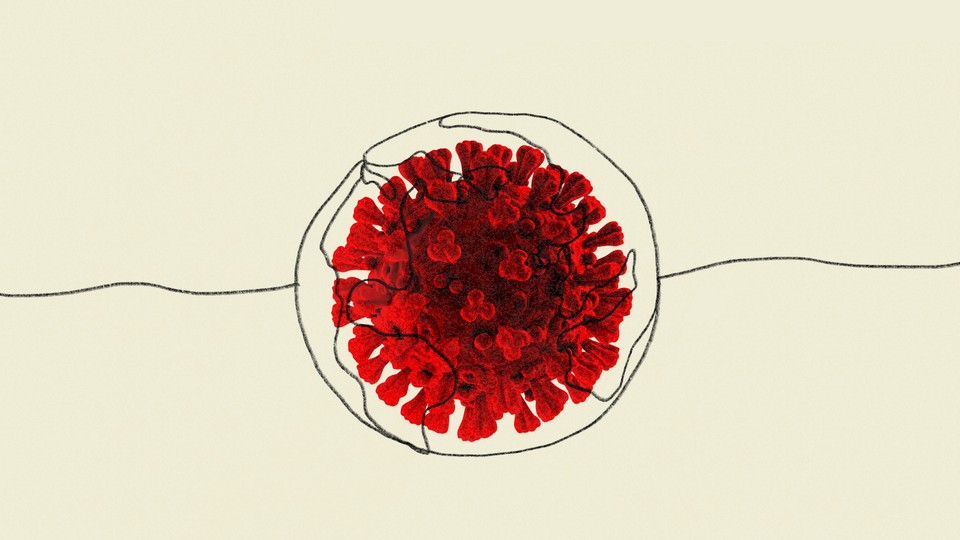 Updated at 2:47 p.m. ET on May 28, 2020.
By all estimates, the novel coronavirus is quickly becoming the most disruptive pandemic in more than a century. New developments and warnings are being issued every day. The uncertainty of this moment has also led to abundant misinformation, some coming from the president himself. As you sort through the onslaught, here are some stories to help you make sense of life during a pandemic. The Atlantic is choosing to make these freely available to all readers, even those who don't subscribe. This list will be updated with our continuing coverage.
Face masks can serve two purposes: protecting the wearer by preventing infectious particles from coming in, and protecting those around the wearer by preventing particles from coming out. Homemade masks (think sewing up a cotton bandanna) are not nearly as effective as medical-grade masks at keeping the wearer safe, but they can still keep nearly 99 percent of particles from escaping the mask. That's why the CDC recommends that Americans wear them outside the home: If just 80 percent of the population protects those around them, the rate at which the coronavirus spreads could be halved.
One of the most frightening aspects of the coronavirus is the seemingly random and erratic trajectories it takes. While some people fall ill and slowly recover, others start to feel better before their health takes a nosedive. Even some of the symptoms vary, all without clear patterns or variables. In many cases, steep declines during a COVID-19 infection seem to be caused by an overactive and self-destructive immune response to the illness, specifically an immune event called a cytokine storm. These so-called storms require a careful and difficult balancing act to treat. Understanding why they're triggered in some people and not others could help make treatment more effective, but depends on research and health-care resources that aren't available to Americans right now.
The United States has failed to conduct enough testing to determine exactly how widespread the novel coronavirus is within its borders, but a different statistic, called the "test-positivity rate," could provide clues to exactly how dire our situation is. New data from The Atlantic's COVID Tracking Project show that one in five COVID-19 tests conducted in the U.S. have come back positive—a rate one infectious-disease professor called "very high." To experts, a test-positivity rate this high suggests one important thing: A lot of people have caught the virus and not been tested.
There's no way to get food without interacting with someone else, and many families are struggling to reconcile the danger they may pose to grocery and food-service workers while meeting their own needs. Our writer Joe Pinkser's guide to ethical consumption addresses the specific fears you might have when going to the grocery store, ordering takeout, or dropping food off for a family member. Among his important findings: One food-science professor reassured Joe that no evidence shows the virus being transmitted via food. Ultimately, there's no wrong way to stock up, as long as you're careful, smart, and flexible about it.
In March, Ed Yong asked how the pandemic would end. In April, he asked how it will continue through the strange summer that awaits us. Scientists will spend the months ahead processing new insights about the path the virus took through the country and making careful decisions about how to keep it from exploding again. The most crucial thing they need to understand is what proportion of the U.S. population has actually been infected.
Scientists homing in on potential therapies for COVID-19 are focused on the virus's 29 proteins. Proteins are the mechanisms of action in all cells—in viral cells, they're the warriors that take over a healthy human body. Proteins in the coronavirus form spikes that latch on to a common receptor in the body, force human cells to replicate viral RNA, and more. Researchers are currently working on drugs to interfere with those processes, but it's a tricky problem.
Novel "test and trace" systems are emerging in countries such as China and South Korea, where social-distancing measures ,are beginning to ease up. Using information from sources as varied as  cellphone GPS and credit-card purchases, these systems can track citizens' movements and interactions, identifying and alerting those who have recently come into contact with someone who has tested positive for COVID-19. Such systems—some of which even publicly broadcast the information of infected individuals—run headfirst into issues of privacy, government surveillance, and complicated stigmas surrounding health. But they could be the best way to preserve other democratic values in the face of widespread illness.
The White House, the CDC, the WHO, and world governments have been flashing infection charts for weeks. But these models aren't meant to be crystal balls: They represent possibilities, rather than predictions. When you see any projected death toll, pay careful attention to the parameters that come along with it. Is that number indicative of a worst-case scenario—if, say, American hospitals were to all close tomorrow? Or is it a goal we are to work toward, requiring careful action to be taken by all in order to make it a reality?
Staying at home is the number-one recommendation to minimize the spread of COVID-19. If you must leave your home, health organizations such as the CDC recommend keeping at least a six-foot distance from other people. But some experts have suggested that coronavirus particles can travel farther than six feet and linger in the air for longer than previously thought. How the virus behaves in air is still a mystery—as is whether masks can protect people.
Private companies such as Quest Diagnostics and Labcorp are now leading the country in COVID-19 testing. Tests might be more widely available now, but that hasn't been matched by increased processing speed. In California alone, more than 57,400 people are currently awaiting the release of their test results, primarily from Quest—and state testing numbers don't reflect them.
Many American hospitals still lack the ventilators, protective equipment, and personnel to provide adequate care to the number of sick patients they're expecting in the coming days and weeks. In New York, the health-care workforce is so thin that medical students are graduating early and retirees are returning to emergency rooms. Meanwhile, hospitals are scrambling to institute guidelines on how to ration resources when there's not enough of them to go around.
In late March, doctors began to treat COVID-19 patients with infusions of blood plasma from survivors of the disease. The technique, known as convalescent-plasma therapy, has varying success—and requires a constant stream of willing, healthy donors. If the treatment proves to be effective, it could become an important weapon against the coronavirus as more and more people recover from weeks spent sick. But that would require quite a bit of scaling up.
Early reports that COVID-19 caused only mild symptoms in healthy young people left many Millenials and members of Gen Z worried less about their own health than about the risk the coronavirus posed to their grandparents. Kerry Kennedy Meltzer, a young internal-medicine resident in New York City, insists that those in their 20s and 30s are wrong to feel such a strong sense of personal safety. On one recent overnight shift, Meltzer writes, five out of six patients she saw with COVID-19 symptoms were close to her age or younger—and their cases weren't all mild.
Mere months ago, the United States ranked higher than every other industrialized nation in pandemic preparedness. Today, it's on track to lose 2.2 million lives to COVID-19 by the fall, in part due to a White House that, our science reporter Ed Yong writes, is "a ghost town of scientific expertise." Depending on how the next few months play out, America faces multiple possible futures—each bringing integral changes to public life and politics that will last far longer than the pandemic itself.
As more and more people have fallen ill in the United States, experts' fears that the coronavirus's reach was enabled by asymptomatic carriers have been confirmed. "Every six days that the country did not test, every six days that it did not act, the number of infected Americans doubled," our reporters write. Many of the COVID-19 cases appearing and worsening now are in people who moved around freely in February and early March, when the CDC's reported numbers of confirmed cases were low and lagging. Now the country is stuck trying to stop a machine already in motion.
You can find your state's count of coronavirus tests, cases, and deaths—along with The Atlantic's assessment of how reliable those data are—in our interactive COVID-19 Tracking Project.
A fever is part of the body's retaliation against infection. So while some doctors recommend making yourself comfortable by taking Ibuprofen if you do have a fever, there's also evidence that reducing fevers with medication can prolong some illnesses. Doctors still don't know enough about COVID-19 to say definitively whether this is the case. While authorities including the French health minister have urged the public to avoid pain medications including ibuprofen if they suspect they have the coronavirus, others are torn on whether the potential risk is worse than suffering through a fever sans relief.
COVID-19 is unlikely to kill most people who aren't in high-risk groups (including the elderly and the immunocompromised). Still, you're not likely to evade it. The new coronavirus drew early comparisons to 2003's deadly SARS outbreak, but critical differences soon emerged. COVID-19's relatively low death rate (which hovers somewhere between 2 and 3.4 percent) means that healthy-seeming people can act as unknowing carriers of the disease, allowing it to spread quickly. And it's already too late for a vaccine to turn the tide, according to Richard Hatchett, the CEO of the Coalition for Epidemic Preparedness.