Exclusive: Amazon Confirms First Known Coronavirus Case in an American Warehouse
Workers at the Queens, New York, facility say employees were expected to come in for their night shift after the case was identified. Amazon denies this.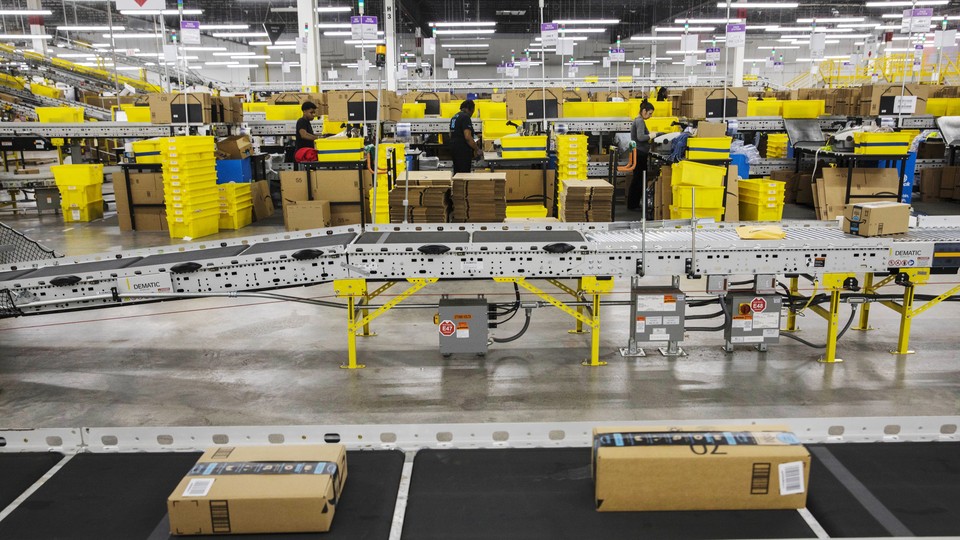 Workers at an Amazon warehouse in Queens, New York, received a text Wednesday evening that they long feared might come: "We're writing to let you know that a positive case of the coronavirus (COVID-19) was found at our facility today."
This is the realization of a major threat to Amazon's operations. Millions of people across the nation are cloistered inside their homes, many of them relying on the company to provide basic goods. Amazon is already struggling to meet demand, and some employees feel they're being unfairly endangered by working in warehouses filled with other workers. It's unclear how deliveries could continue if the workers who sort, pack, and ship Americans' goods start getting sick in droves.
Though two office workers at Amazon's Seattle headquarters have been diagnosed with COVID-19, this is the first confirmed case of the disease among the company's hourly warehouse employees in the United States. These workers make up the majority of Amazon's 600,000-strong workforce.
According to the text, which was sent by a member of a workers' group called Amazonians United, management sent day-shift workers home in order to disinfect the sorting facility, known as DBK1. Jonathan Bailey, an employee who sorts packages at the Queens facility, told me that workers were not notified of the positive case by Amazon management; he learned of it from other employees. He said workers believed that they were still expected to report for their night shift. In an email to The Atlantic, Amazon denied this, saying that it notified all associates about the positive test, and that workers were not expected to come in for their night shift.
Rena Lunak, an Amazon spokesperson, confirmed to The Atlantic that there was a positive case at the facility, but did not reveal the person's identity. "We are supporting the individual who is now in quarantine," she said. "In addition to our enhanced daily deep cleaning, we've temporarily closed the Queens delivery station for additional sanitation and have sent associates home with full pay."
The incident rattled some of the warehouse workers, who already feel they are being underpaid for a risky job: continuing to work in close proximity to others during a dangerous pandemic. "This clearly shows a disregard for our health and safety," said Bailey, who is also a member of Amazonians United.
On March 11, Amazon announced that all employees diagnosed with COVID-19 or placed in quarantine would receive two weeks of sick pay. In addition, Amazon gave hourly workers unlimited unpaid time off through the end of March.
But some Amazon workers—including those in New York City, where positive cases have spiked sharply in the past 48 hours—have expressed concern that these measures have been insufficient to protect them from the coronavirus. As of this writing, there are 1,871 known cases of the coronavirus in the city, and officials expect that number to rise dramatically. What's more, research suggests that the virus can live on cardboard for 24 hours, so there's a possibility that packages sick employees send may be contagious.
Earlier this week, Amazonians United NYC released a petition, signed by more than 1,500 workers, in which they demanded that the company provide paid sick leave to all its employees, even those who do not have a positive COVID-19 diagnosis, given the scarcity of coronavirus tests. They also requested child-care funds for workers with children, increased hazard pay, an end to penalties for working too slowly, and an immediate closure of any facility where a worker tests positive. (Amazon did not respond to a question about how long DBK1 was or will be closed.)
The coronavirus outbreak will be especially challenging for Amazon, which is facing a surge of orders as Americans socially distance by remaining at home, and as traditional brick-and-mortar shops close their doors. On Monday, Amazon announced plans to hire 100,000 more warehouse workers to meet the growing demand, and the company added $2 to American warehouse workers' hourly pay.
Workers in several of the company's European warehouses have contracted the virus, and Amazon opted to keep those facilities open, prompting outcry from workers. In both Spain and Italy, which have high rates of the coronavirus, the company has nevertheless kept facilities open.
The outbreak sets up an uncomfortable tension for the shipping giant: between maintaining worker safety and delivering packages on time. Dale Rogers, a professor of supply-chain management at Arizona State University, said that although Amazon could mitigate some warehouse-employee absences through automation, if Amazon logistics employees, who drive the packages from the distribution centers to homes, start getting sick en masse, "that could be catastrophic." Meanwhile, other experts have speculated that shutting down several distribution facilities at once would greatly hamper Amazon's ability to make deliveries, especially since customers now expect them in a couple of days or less.
Late tonight, Bailey and other workers arrived at the Queens warehouse and refused to work their shift, effectively shutting down the facility, he said. One worker told me that she wished she could just stay at home with pay, like so many white-collar Americans are doing now.
"We should be home with our families in quarantine like most everyone else is," said the worker at the DBK1 warehouse, who requested anonymity because she feared retaliation for speaking out. She said she was planning on staying home from work tonight after hearing of the positive result. "We're putting our lives in danger."