The Fitness Trend That Is a Mirror
Making you sweat is just the beginning.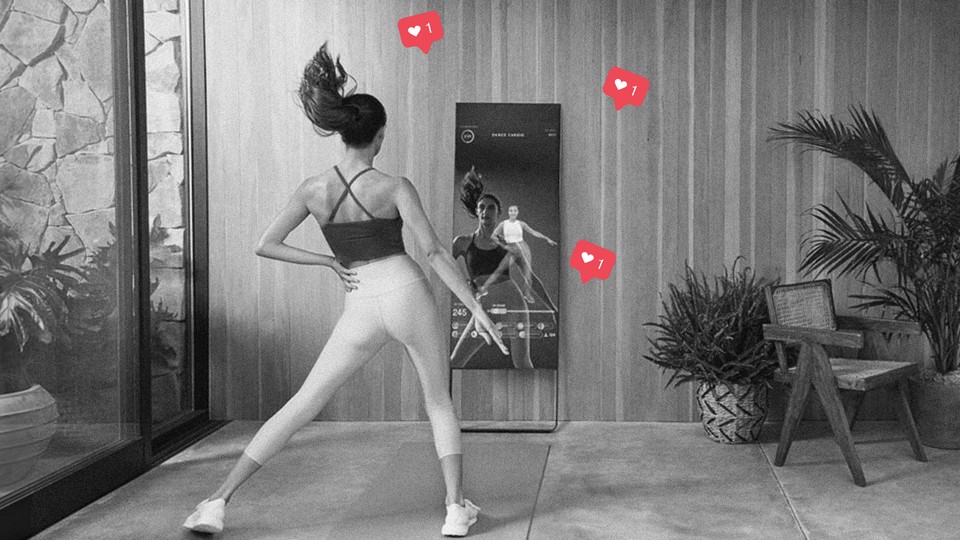 I'm standing in the center of a store on Fifth Avenue, in Manhattan, looking into a full-length mirror. The store is called Mirror. It sells only mirrors. Actually, only this one type of mirror.
Mirror looks just like any other mirror, until it powers on. Suddenly, my reflection is not alone. It's joined by an enthusiastic woman in yellow leggings and a yellow sports bra, superimposed on the mirror like a Snapchat filter. She immediately starts telling me to do jumping jacks.
This is supposed to happen; people pay for this to happen. The woman is a real fitness instructor leading a cardio class. The point is to mirror her movements while keeping an eye on my form. I follow along for a few moves to see what it's like. Before I know it, I'm aware of my heartbeat and trying not to look too challenged in front of a nearby sales associate.
A Mirror costs $1,495, plus a subscription of $39 a month, which gives users access to multiple daily live-onscreen group fitness classes as well as a back catalog of thousands. You get most any exercise class that could be done at a gym—boxing, yoga, barre, dance, cardio, interval strength training—on demand, broadcast directly into the mirror that hangs inconspicuously on your wall at home.
Within months of Mirror hitting the market in September 2018, celebrities were swooning. Mirror has appeared in the social-media feeds of Jennifer Aniston, Courteney Cox, Kate Hudson, Allison Williams, Gwyneth Paltrow, Lady Gaga, and Olivia Wilde. The company told me that these have not been paid endorsements. On Christmas morning 2018, Alicia Keys posted a video on Instagram in which she appeared to be having a seizure, or some sort of ecstatic religious revelation. In fact, she was receiving a Mirror as a gift.
Overall, using a Mirror is much like using the popular Peloton exercise bike—though it apparently makes a better present. You can't ride a Mirror, but it does take up less floor space than a stationary bike, or anything that takes up floor space, does. The experience feels eerily social—far more so than watching Richard Simmons on YouTube or simply staring into the void of an empty mirror alone in your apartment. Everyone in the class can see the names and locations of the other people in the class, displayed as bubbles that pop up on the screen when they join.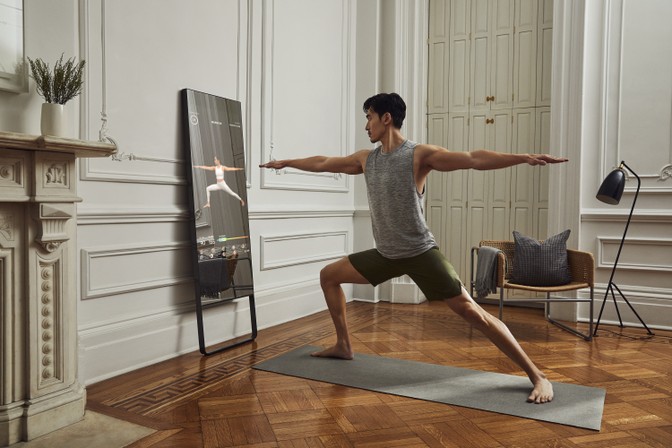 Some participants even opt to share their heart rate, posture, and other biometrics. Instructors can't see the participants in group classes, and the device comes with a lens cap to doubly ensure this. But people can pay more for interactive private training sessions.
The appeal of Mirror seems to be its way of distilling and combing the basic elements of what people want out of start-ups in this moment: on-demand, in-home services; expensive self-improvement trends; and controlled, semi-social experiences with like-minded strangers on the internet. Perhaps it's no surprise, then, that the company sees itself as more than the future of fitness. Mirror wants to be the future of ... everything.
In fact, it's not even a fitness company at all.
---
The No. 1 reason people don't work out is that they don't want to. This is also reasons No. 2 through 6. Reason No. 7 is that gyms are expensive, and going takes time, and the music is bad, and everyone there looks at you.
These later issues are both urgent and solvable, contends Brynn Putnam, Mirror's CEO. She came up with the idea for the device as one that would let her go to a workout class without all the hassle of going to a workout class—like a gym, but quiet and private and you can switch it off at any point. She has convinced investors that this product needed to exist, to the tune of $72 million. The idea seems to resonate with fitness enthusiasts, too. Though Mirror does not share subscription numbers, Putnam told me that the company has sold "tens of thousands of Mirrors" and finished 2019 well above its sales targets.
The overall impact so far seems trifling to her, though. Putnam is a Harvard-educated, former New York City Ballet dancer. She is a fitness enthusiast and mother of a 3-year-old who now finds herself CEO of a thriving company selling a product of her own invention. She smiles briefly about the celebrity buzz, which has far exceeded what most start-ups dream of, but she has much greater ambitions.
The yellow-clad instructor I was mirroring at the company's store had actually been recorded just a few blocks away, in Midtown, at Mirror's headquarters, where I went next. There, Putnam sits alongside her employees at a long, continuous desk in the open office. She has not made herself or her 70 colleagues at home here in the way of a clichéd tech start-up. There are no gourmet chefs, massage tables, sleep pods, or chocolate-fondue fountains. The place is all about work—and working out.
Every Mirror class is streamed and recorded there, in a studio space where the company's cadre of fitness instructors comes to lead their classes in the camera. The room is entirely black, which allows the trainer to be projected onto a person's Mirror in a perfect outline—nothing more or less than the decontextualized human image, so the trainer appears to be right there with you.
Kailee Combs, the vice president of fitness at Mirror, indulged me as I pretended to lead a class. I stood in the middle of the black floor before the black backdrop and talked to the cameras. As a real instructor, I would have been able to see where users in my class were from, and I would have been able to cheer for them if their heart rate indicated that they were working hard, or correct them if their posture was lacking. I could have seen if they listed any specific limitations or injuries I should be aware of. For example, Combs, who like Putnam is a former ballerina, told me that she has an old knee injury. Instead of announcing it to the whole class (as people are often asked to do at a real-life gym), no words need to be said.
Working out in a Mirror exists somewhere in that liminal space of virtual reality and watching yourself through your phone's camera—mostly real, but somehow not quite. It's immediately absorbing. Mirroring another person's movements takes some concentration. So does monitoring your own form and attending to any anxieties about disappointing your mirror image by failing to keep up. The overall effect was a sort of "mindfulness." I was focused on the task at hand—unlike being on a treadmill or alone in some boring room lifting boring weights, wondering if this is how I should be spending my life.
---
While Mirror has good reason to appeal to people who can't or don't want to go to gyms, the cost still keeps the experience prohibitive. Issues of exclusivity are not helped by Mirror's self-maintained exclusionary image. Its marketing materials suffer the Peloton problem of elitism, mostly depicting users as chiseled 20-somethings with extravagant, impeccably decorated homes. Until you stand in front of a Mirror, it is hard to see yourself in it.
Putnam said this is about to change. In her vision, the boutique-workout fad is barely even the beginning. She is scaling beyond celebrities and the extravagantly wealthy—and launching something far grander than an exercise machine. The real training that's been happening for Mirror subscribers has not been cardio or Pilates, but training people to trust, interact with, and rely on their Mirrors. "We view ourselves as the next iPhone," Putnam said. "We view ourselves as the third screen in people's homes."
In November, Mirror launched a national marketing campaign meant to reach a mainstream audience that may be blissfully unaware of the celebrity-fitness-trend scene. I subsequently saw a man in a cowboy hat watching a Mirror commercial in a dive bar in Moab, Utah. This push to a bigger consumer base was facilitated by an influx of investors who see the potential for Mirror in its next phase: as a media company.
That is, as a subscription-based publisher of content of all sorts. (Just like, say, The Atlantic.) This is what Mirror has always been, Putnam said. It simply started with fitness content. But she has long plotted an elaborate genre-transitioning growth strategy. It's not unlike how Amazon started out as an online bookstore and now has brick-and-mortar grocery stores and credit cards and talking devices that know everything.
"First, we had to validate that people … are willing to put the Mirror in their homes," Putnam said. They did. Then, in October, the company launched personal training sessions (which cost an additional $40 per half hour). Uptake of that product, she continued, "validated the use of the two-way, camera-microphone interaction as something people liked and were willing to trust."
Now the pitch to investors is that Mirror can reach huge audiences by offering two-way communication with teachers, gurus, and experts of all sorts—from fashion to life coaching to medicine. This is gradually becoming the pitch to the public as well. In December, the company launched "Family Fun" workout classes, meant to be done alongside kids. This month it will launch meditation classes. "It may be fitness and personal training today, but tomorrow it could be a meeting with a therapist or it could be a session with a stylist," Putnam said. "Or it could be a group, a kids' class to learn how to rap."
As she sees it, parents who want their kids to have private lessons in ballet or piano or sousaphone could—instead of spending afternoons as an underpaid chauffeur—have world-renowned instructors in their living room. This does not always have to be transactional. Putnam described watching her 3-year-old son videochatting with his grandma and grandpa on an iPhone. Lamenting that the experience was less than immersive, she said, "Imagine a world in which he would just stand in front of the Mirror."
---
Putnam is right that the effect of using a Mirror could be much more realistic than FaceTime on a little computer—much closer to actually being in the other person's presence. For something like telemedicine, this could make appointments feel much more like being in a doctor's office, and could even help doctors by doing more to share elements of body language that can do a lot to convey meaning in difficult conversations.
Even so, it's easy to feel a little unsettled by the Mirror, if not outright view it as dystopian. There's something sinister about the idea of looking too long in a mirror, an act associated with vanity and self-obsession. The New York Times called the Mirror "the most narcissistic exercise equipment ever."
Of course, the current, mirrorless phones and tablets deliver social media that are blamed for encouraging the same vice. It used to be that everyone who took selfies was an irredeemable narcissist; now it's just what we do. Maybe we're getting more comfortable seeing ourselves as part of the media on our screens. Maybe seeing ourselves there even more often would actually help ground us in reality. Think of the days and months (years?) of your life spent mindlessly clicking and scrolling. Would you have done the same if you were also looking in the mirror? Would you have said everything you wrote?