Cheer Is Built on a Pyramid of Broken Bodies
Netflix's new docuseries doesn't flinch at the danger that cheerleaders regularly subject themselves to.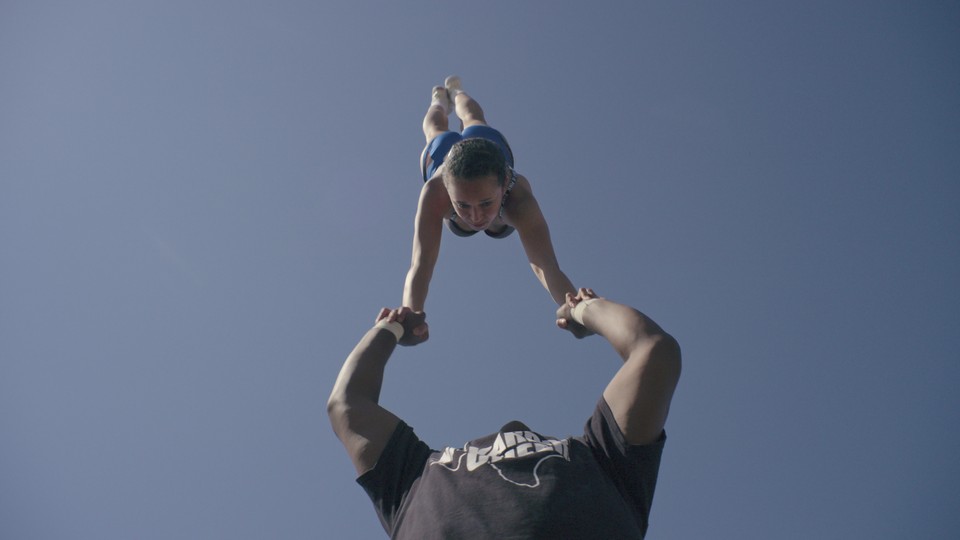 Days after finishing Cheer, Netflix's popular new docuseries about a cheerleading team's pursuit of its 14th national championship in 19 years, two scenes keep replaying in my head. In one, an athlete named TT arrives to practice with a back injury sustained at an event with a club cheerleading team, and Navarro College's head cheerleading coach, Monica Aldama, forces him to practice, punishing him for failing to put her team first. As practice wears on, TT's injury is exacerbated while catching female cheerleaders as they plunge to the ground. By the end of the scene, he's sobbing.
In the second, an athlete named Morgan clutches her ribs and writhes in pain on the floor. She was injured on the opposite end of competitive cheerleading's basic tandem: repeatedly falling from great heights with only the arms of her teammates to cushion her. She's ignored by the coaches and, afraid to tell Aldama that she's injured, confides in a teammate that she might sneak off to the hospital for treatment in between practices. At the ER, Morgan refuses treatment because the muscle relaxers she's prescribed would keep her from participating in that afternoon's practice. She leaves, against medical advice and with a warning that more stress on her ribs could damage her organs or kill her, and returns to the gym. When told that Morgan had been to the ER, Aldama appears annoyed. Morgan practices.
Those two scenes are notable in the explicit indifference Aldama shows to the safety of the athletes in her charge, but they're not exceptional in the context of Cheer's brutality or the limited protection and medical support Navarro's injured athletes appear to receive. While watching the show, I felt as if I had been pranked; I had given it a try after watching Twitter explode with effusive praise for Navarro's athletes and the team's take-no-prisoners female leader. The actor Reese Witherspoon found Aldama so inspirational that she cried. An opinion piece at NBC News hailed her as the kind of decision maker America needs. The Cut interviewed her about her daily routine.
Fans got one thing right: Cheer's hardworking, eager-to-please athletes are indeed transcendent. But Cheer doesn't let their victories shine. Instead, the series tells one of the oldest, darkest stories in American sports—of athletes with no pay and little support breaking their bodies again and again, all for the greater glory of an authority figure they dare not question.
---
Although Cheer portrays the Navarro College cheerleading squad as a Goliath, it quickly becomes clear that the team is a David doing incredible things with spare resources. Navarro is a two-year junior college in Corsicana, Texas, a small town south of Dallas, which is precisely the kind of school that has budget problems everywhere in America. Aldama has no full-time assistants, and the college's athletic department lists only one full-time medical trainer, who oversees all of its teams with only a handful of student helpers. The team practices in a bare-bones gym, and if the cheerleaders are given the strength-and-conditioning or nutritional guidance that athletes at larger, richer schools receive, it's never shown or alluded to.
Navarro's limited resources make Aldama's run of championships even more impressive, but these shortfalls also make her demands more dangerous. Medical and training staff are not just a competitive advantage—they can provide a check against a coach's power, and their expertise can help keep athletes safe when they're asked to push past the normal capabilities of the human body. Cheerleaders are particularly desperate for that extra oversight. According to a study by the American Academy of Pediatrics, cheerleading caused 65 percent of the "catastrophic" injuries suffered by female athletes in America from 1982 to 2009—including head and spine injuries, which can lead to paralysis or death. In high schools, many local athletic leagues restrict the kinds of stunts that cheerleading squads are permitted to perform, recognizing that the limited safety and training resources of most schools prevent their cheerleaders from safely completing the most dangerous moves. In most college sports, the National Collegiate Athletic Association standardizes safety measures and regulates risks, but it doesn't recognize cheerleading as a varsity sport; cheer's separate governing body, the National Cheerleaders Association, doesn't have quite so many safety rules.
As Navarro prepares to compete in the national championship, viewers see multiple concussions and other head injuries. The first concussed athlete casually mentions that this is at least her fifth, and another girl who suffers the latest in her own series of concussions does not see an outside doctor. It's unclear whether any of them ever do. Instead, she's told to keep the lights low at home and stay off her phone. Several times during the series, you can spot basic concussion tests being administered to athletes at the edge of the mat while others practice. (I reached out to Aldama and Navarro's athletic director for more details on the school's policies on athlete safety but have not yet received a response.)
Researchers are only beginning to understand the long-term impact of these types of repetitive brain injuries, but in football players, doctors have found a pattern of chronic traumatic encephalopathy, or CTE, which changes the physical makeup of the brain and can lead to Alzheimer's-like symptoms and early death—the kinds of issues that usually emerge once an athlete is no longer a coach's problem. Public knowledge of CTE has put enormous pressure on football leagues to be more protective of players' health, but because competitive cheerleading exists mostly in the shadows, controlled almost entirely by a Bain Capital–owned company called Varsity Brands, few outside the sport see its dangers up close, and many of those with intimate knowledge have a vested interest in avoiding negative attention.
In elite competition, where physical danger is omnipresent, athletes have to trust their coaches to evaluate risk and protect them when possible. But on the frequent occasion that one of Navarro's athletes is injured, Aldama rarely does more than call for the next person to take his or her place in the routine. In a case like TT's, his injury might endanger others because it compromises his ability to catch falling cheerleaders, called "flyers." When flyers aren't caught, they're often seriously hurt, as in the season's most grotesque injury: A cheerleader thrown through the air lands on the ground, dislocating her elbow by bending her arm at an unnatural angle. It was the only time in the series that viewers see Aldama explicitly request that one of her athletes visit a doctor.
As Cheer acquaints viewers with Navarro's athletes, it becomes harder to watch them be subject to Aldama's whims. Many of Navarro's cheerleaders disclose childhood abuse, mental-health struggles, legal problems, family tragedies, and their previous attempts at suicide during the course of the show, and the home they find in cheerleading demonstrates the power of teamwork and community. Sometimes, they get the care they crave in return: Aldama's coldness toward their physical safety is mixed with occasional warmth about their off-the-mat issues. She helps one cheerleader file a police report about nude photos circulating online of her then-16-year-old self, and she is protective of the squad's gay athletes, who otherwise might not feel like they belong in a small, conservative town. Many of the cheerleaders refer to Aldama as a mom, and many of them need one: Morgan, the girl terrified to disappoint Aldama by seeking treatment for her ribs, was abandoned by her parents as a child. Jerry, the show's most ebullient presence and the center of its fleeting joy, lost his mother to cancer. If Aldama understands that her motherlike role in her cheerleaders' lives encourages them to sacrifice their safety for her—or if she disapproves of their tendency to do so—she never mentions it.
Despotic coaches are an American sports tradition, but endemic abuse in the insular worlds of young gymnasts, dancers, and cheerleaders has long been kept particularly quiet. It took decades for allegations of the emotional and physical abuse inflicted on gymnasts by the legendary coaches Bela and Martha Karolyi to make it to mass media, and the sports-medicine specialist Larry Nassar sexually abused hundreds of young athletes before those in power took his victims seriously. Although Cheer ignores it, Navarro's team has had its own small-town version of such a scandal: In 2018, a former cheerleader filed a lawsuit against the school, alleging that one of Aldama's volunteer assistants had drugged and raped him and another cheerleader, in addition to repeatedly abusing the team's male members. The lawsuit claims that Aldama was notified of the assault, which she has repeatedly denied.
Much of the praise for the version of Aldama (who, it's important to note, is subject to the same whims of editing and narrative-creation as anyone else who participates in a documentary or reality show) viewers see in Cheer centers on the fact that she's a woman at the top of her field who employs the same hard-driving tactics and take-no-prisoners attitude that men have long used to get ahead. It's true that she is hardly singular in the way she interacts with her college students, but in refusing to cast a critical eye at the way this approach to power has always endangered athletes, the docuseries bows out of a crucial component of Navarro's story, and of the story of sports in America. It also leaves audiences open to celebrate Aldama as a girl-boss hero, ignoring the way that designation has frequently been used to praise leaders who abuse their underlings and eventually fail at their jobs because of it.
Maybe it shouldn't have surprised me that so many people watched Cheer and judged Aldama an inspirational American leader instead of a manipulative, reckless glory-hound. America imagines sports at every level as a conduit for spreading cultural beliefs about discipline and order, which someone must enforce. On a practical level, that means that what a therapist might call abuse is often lauded as a leader's efforts to help young people meet their potential, a "pain is weakness leaving the body" theory of personal achievement. In that context, a coach's abuse of power is reimagined as an act of charity toward his or her young charges—a deterrent from being slothful or playful or feeling too much unearned joy. In the broken values system of American sports, we should all be so lucky as to be pressed toward physical agony until we're sobbing on the floor in front of television cameras.