Peloton Doesn't Understand the People Who Love It Most
The fancy bike brand tried to depict a wellness journey. It didn't go as planned.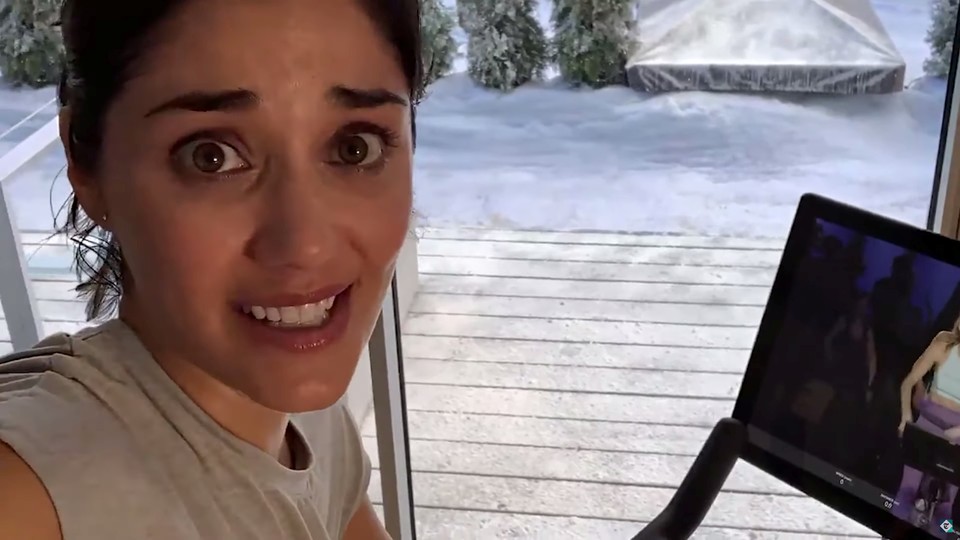 The internet has some feedback on Peloton's holiday ad campaign. The fitness-tech company, famous for its $2,400, Wi-Fi-enabled stationary bikes that let riders stream spin classes, debuted a new television commercial in mid-November, but it didn't become infamous until earlier this week, when Twitter got ahold of it.
In the ad, a young mom gains confidence in the year after her husband buys her a Peloton for Christmas—or, at least, that's what the ad seems to be aiming for. The commercial documents the woman (who is also documenting herself, via her phone's front-facing camera) while she gets up early day after day to exercise or jumps on the bike after work. At the end, she presents the video of her exercise journey to her husband. "A year ago, I didn't realize how much this would change me," she tells him. "Thank you."
Unfortunately, rather than grateful, the newly minted indoor cyclist appears terrified during the entire video. Her facial expression suggests to some viewers a desperate effort to please her spouse, and maybe, if you really want to take things to their logical extreme, that she was compelled to mount her fancy new bike against her will. The commercial has inspired days of both earnest Twitter outrage and mocking parody videos, mostly because the actor in it has what the journalist Helen Rosner aptly described as "perpetually sad eyebrows," which make her look scared even when her lines are joyful. The company's stock lost nearly a billion dollars of value in a day.
Casting and directorial decisions aside, it's not difficult to imagine that a genuinely doting husband might buy his wife an expensive exercise bike for Christmas, or that an affluent mom might ask for one, or that someone trying to get out of a personal rut might feel nervous that they'll fail. Before-and-after photos of newly thin bodies have long been an element of fitness marketing, and now Peloton wants to make the case for a before-and-after of the soul. As it turns out, that is a little tougher to telegraph.
Earlier this year, I spent six months pedaling after a question that a lot of people have about Peloton: Why would anyone become emotionally devoted to an expensive exercise bike? The answers turned out to be fairly simple: The bike was convenient. Yes, they all admitted, it was expensive (in addition to the bike, a monthly subscription to classes is $40), but fancy gym memberships easily top $100 a month, and boutique fitness classes are usually $25 to $45 each. Peloton devotees told me they felt good about being active. Online communities of Peloton riders support one another and often provide real opportunities for people to make friends. And the company's instructors generally don't use weight as a tool of shame-motivation, unlike many fitness brands.
The emotional journey clumsily depicted in the new ad isn't unlike the stories actual users told me, about how they were afraid to exercise but found themselves spurred forward by documenting and sharing their efforts. In a sedentary, lonely country where wide swaths of the population lack accessible or safe outdoor areas to exercise or much free time to devote to fitness, products that address those problems are going to find customers—even if they're expensive.
I wasn't the only person surprised by the simple reasons for Peloton's popularity. The brand, too, seems to have initially misjudged what its own appeal might be, and the controversial ad appears to be part of a larger effort to walk back some of its early messaging. The company's first ads, which have been widely mocked in their own right, featured young, confident, clearly affluent people working out their already toned bodies while gazing out the windows of their multimillion-dollar homes. After a few years, however, it became clear to the company that many of its bikes were going into the basements and guest bedrooms of middle-class American homes, used by regular people who lead regular lives.
As a result, Peloton has tried to pivot to something more wholesome than the pursuit of peak fitness. The company introduced financing plans, dropped the price of its digital-only subscription, and added bigger sizes to its line of branded merchandise. It started running ads that showed the bikes in more types of homes. Now it's trying to figure out the same thing as a million other wellness brands: how to talk about exercise and well-being without emphasizing ideals of physical perfection that feel outdated to a lot of potential customers.
In response to the ad's controversy, a spokesperson for the brand said that the ad was an attempt to give viewers a broader sense of the product's advantages. "We constantly hear from our members how their lives have been meaningfully and positively impacted after purchasing or being gifted a Peloton Bike or Tread, often in ways that surprise them," the statement read. "Our holiday spot was created to celebrate that fitness and wellness journey."
A holistic mind-body wellness journey might just be a little too conceptual to make for a good ad. For the commercial to make sense to many people, they have to already have a fairly detailed sense of why Peloton's devotees find the device worthwhile, which makes it a risky strategy for a medium that reaches millions of people. Those people all live in a culture where exercise has long been regarded as punishment for the joy of indulgence, and where women are supposed to maintain an impossible level of physical perfection well into middle age, lest they face the denigration of both the culture at large and their own romantic partners.
Viewers who have spent their lives enduring those anxieties see them lurking just out of frame in Peloton's new commercial, which reveals a larger problem with America's relationship to exercise: It can't be fixed with a good product and some slick ads.