Chicago Is Making the Case for Releasing Pregnant Inmates
Women in jail typically have limited prenatal support and return to custody soon after giving birth. One program is testing a different approach.
Inside a tier reserved for pregnant women in Chicago's Cook County Jail, a doula said to a group of six round-bellied women sitting at a metal table, "Tell me, who has had an epidural before?" A few hands darted into the air. The doula, Lanise Washington, asked what has to happen before someone can receive an epidural. "There's an IV," someone offered. "Don't move when they do it!" a second woman added. A third young woman, clearly confused, said, "It's like a spinal tap, right?" Finally, a mother in her sixth pregnancy jumped in to tackle the question. (An epidural, like a spinal tap, involves an injection into the spinal area, but it's otherwise different.) Washington and a colleague also leading the prenatal class nodded approvingly. Both have spent years working as doulas with at-risk pregnant women on Chicago's South and West Sides. Nowadays, they also serve women behind bars at Cook County Jail.
The women were here as part of Healthy Moms and Babies, a unique program that offers doula services to women in jail and tries to get them released before they deliver. Afterward, women who have been released receive home visits from a community health worker for the first five years of a child's life. The program, led by the Cook County Sheriff's Justice Institute, an advocacy wing of the sheriff's office, along with a coalition of seven nonprofits, aims to improve mothers' birth experiences—and, in turn, better the lives of their children in the critical first few years of life.
The program is part of a wave of legislation and programs across the country that advocate for providing higher-quality care for those who are behind bars and their children, whether through building prison nurseries, ending shackling during labor, or considering children during sentencing. The trend aligns with growing research demonstrating that the incarceration of mothers often has a lifelong detrimental and traumatic impact on their children.
While doula care has been shown to help mothers have a positive birth experience, it is not widespread in jails and prisons. A program like Healthy Moms and Babies, combining case advocacy, birth planning, delivery, and postnatal visits, is especially unusual, said Mark Valentine, the director of the Illinois Birth to Three Institute at the Ounce of Prevention Fund, an organization focused on early-childhood development that helps lead the initiative.
"As birth workers, we want to end the incarceration of pregnant women, but in the meantime it's critical that we go inside jails and prisons to do this work," said Erica Gerrity, the executive director of the Minnesota Prison Doula Project, which provides pregnancy and parenting support to incarcerated parents in Minnesota and Alabama prisons and jails.
The population of incarcerated men is declining nationwide, but the same is not true for women. More than 200,000 women are currently incarcerated, an increase of nearly 800 percent since 1980. Yet the correctional system hasn't adapted to their unique needs. An estimated 12,000 pregnant women are being held in U.S. jails or prisons each year, according to the American Civil Liberties Union, but there is no established federal standard of medical care for them. More than 20 states still allow the shackling of inmates during childbirth. Many women are forced to say goodbye to their newborns and return to jail after 24 hours.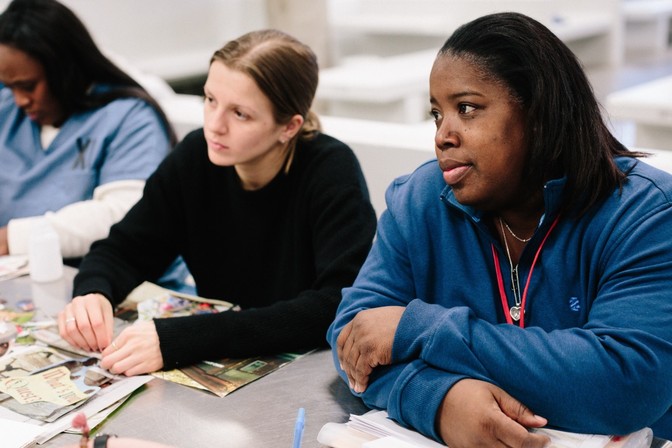 This summer, one mother, Diana Sanchez, gave birth alone, with no medical supervision or treatment, in her cell at Denver County Jail. She filed a federal lawsuit against Denver, Denver Health Medical Center, and several nurses and deputies, on behalf of herself and her infant, saying her cries for help were ignored during about five hours of labor. (The city and county referred a request for comment to the Denver Sheriff Department, which said it has changed its policies to ensure that pregnant inmates who are in any stage of labor are now transported immediately to the hospital. The Denver Health Medical Center did not reply to a request for comment.)
---
In the summer of 2017, Karen Padilla-Garcia, a Chicago mother who was seven and a half months pregnant at the time, was pulled over while driving with a broken headlight. During the stop, the Chicago Police Department arrested her on an outstanding warrant for violating probation. The judge that oversaw her case, former Cook County Judge Nicholas Ford, ordered no bond and set a court date for two months later, essentially sentencing Padilla-Garcia to give birth in custody. While awaiting her next court date, she delivered a baby girl.
Cook County Sheriff Tom Dart, spurred to action by the incident, asked his office to propose language for a state bill that he hoped would make childbirth behind bars much less common, in the hope of improving outcomes for mothers and children and lowering costs for the jail. "It makes no sense to keep someone facing a nonviolent, low-level charge in custody to give birth," he said. The bill called for pretrial pregnant detainees who don't pose a physical threat to victims or their communities, and are expected to give birth while incarcerated, to be released before giving birth. A version of that bill was signed by the Illinois governor and took effect at the beginning of 2019. (Separately, the Illinois Senate added parenthood and caregiving to the list of mitigating factors that judges should consider during sentencing.)
Cook County Jail is one of the largest single-site jails in the United States. Fifty percent of women self-report as mothers during intake, a number that is on par with national data for incarcerated women. Under the Healthy Moms and Babies program, established when the Illinois law took effect, the sheriff's staff prepares a case study for each pregnant woman in custody, including a mental- and physical-health profile, details about what was going on in her life at the time of arrest, and her criminal history. The staff then contacts the offices of the state's attorney (Illinois's equivalent to a district attorney) and public defender to find out if any woman who is being held in jail until her trial qualifies to be released under the new law. If so, they advocate for her release.
Some aspects of the jail's offerings for pregnant women and new mothers predate the Healthy Moms and Babies program. Since 2010, all pregnant women have been housed together on a dormitory-style tier with medical and nursing staff nearby, and occasional educational visits from health-care professionals. There are a few special amenities, like an extra mattress and additional food. But the Healthy Moms and Babies program introduced weekly group classes led by doulas, focused on prenatal care, pregnancy, childbirth, and parenting. Staff members also now pair each pregnant woman with a doula, who might provide extra emotional support, for example, or information about staying healthy while addicted to opioids.
If a release isn't possible, the Healthy Moms and Babies program helps women plan their birth and determine who will get custody of their newborn. For years, women held at the jail have given birth at John H. Stroger Jr. Hospital, a Cook County–run public hospital. Since February 2019, they have been allowed one support person of their choice to be present in the hospital room during labor and delivery, along with a doula. (The doulas "get out of bed at 2 a.m. and give you a back rub and some ice chips during your labor," Valentine, of the Ounce of Prevention Fund, said.) After delivery, if a woman hasn't been released from jail altogether, she is separated from her child and returns to the tier for pregnant women for a period of time determined by her physician.
Those who have been released give birth wherever they choose, and can also be accompanied by their assigned doulas. After delivery, the doulas continue to visit the mother—whether in jail or at home, depending on her circumstances. For those released from jail, a home visitor eventually takes over visits to the mom and the child. The home visits are meant to help moms bond with their children and access public services such as child care, and to help children meet developmental milestones.
Birth workers involved with the program see it as an entry point to helping pregnant women in jail have a healthier birth—and parenting—experience than if they stayed behind bars. "It just isn't an ideal place for moms to be while pregnant, so it is best to take measures to get them out of that environment and give them the information they need to take care of their child," said Laronda Castine, the Project Hope program manager at Marillac St. Vincent Family Services, one of the nonprofits providing doulas and home visitors in the Healthy Moms and Babies program.
---
"We ask the question to people in custody, 'When was your first contact with jail?' and people will say, 'I was born here,'" Hanke Gratteau, the director of the Sheriff's Justice Institute, said. For those men and women, personal experience with the criminal-justice system begins well before they are old enough to be incarcerated themselves.
Women who give birth while in prison are at a higher risk for postpartum depression and psychosis due to a higher rate of mental-health disorders and the emotional trauma of being separated from their newborns, according to a National Commission on Correctional Healthcare statement. Being born to an incarcerated mother also often leads to long-term mental-health problems, such as depression and anxiety, in children.
Today, more than 5 million children in the United States have had a parent incarcerated, a disproportionate number of them black and Latino children, whose parents are incarcerated at especially high rates. Researchers found that having a parent behind bars is as traumatic an experience as abuse, domestic violence, and divorce, in which bonds are weakened or never formed because of separation. "When you sentence a mother, you are sentencing her entire family," said Alexis Mansfield, the senior adviser for children and families at the Women's Justice Institute in Chicago. "You are not just putting the punishment on her. It has an echo effect to everyone in her life, especially her children."
Public-health officials have no hard data on how many incarcerated women nationwide are pregnant, or on the outcome of their pregnancies. In the spring of 2019, Carolyn Sufrin, an assistant professor of gynecology and obstetrics at Johns Hopkins University School of Medicine, published what is considered the first nationwide research on pregnancy in prison and jails. The project collected data on 57 percent of women in U.S. prisons and 5 percent of women in jails from 2016 to 2017, and found that about 4 percent of newly admitted women in the state prisons they tracked were pregnant. (The jail data have not yet been published.)
Sufrin hopes her data illuminate the need for medical professionals, policy makers, and criminal-justice officials to provide better maternal health care and consider alternatives to giving birth in custody. "As a society, we have systematically disregarded incarcerated women and their health needs," Sufrin said. "Women who don't count don't get counted. This perpetuates them not getting quality care while incarcerated."
---
Around lunchtime in mid-September, on the day that I visited, women on the Cook County Jail pregnancy tier were gossiping while taking turns cleaning the tier's bathroom area. Anna Rusu, a mother in her late 20s, was feeling the weight of her newborn son's absence. (Her name has been changed to protect her privacy.) Her son was just a few weeks old, with chestnut-colored hair, and she had been monitoring his growth through photos sent by her mother-in-law, who was taking care of him.
Rusu had not been released before her son's birth because she was facing extradition to Texas on fraud charges. She had delivered at Stroger Hospital, then returned to jail, without her baby, within two days. But she had been allowed to have her mother-in-law in the delivery room, not just sheriff's deputies, which had been a comfort in a difficult situation: going through labor, handing over custody of her son, and knowing she'd soon be sent by bus to Texas. "It helped me a lot," she said.
One pregnant woman I met on the tier, Brittany Lucas, told me she was sent to Cook County Jail when she was around three months pregnant, and had since been uncertain if she would be released pretrial because of the seriousness of the charge against her (attempted first-degree murder). "I just don't want to have my son in this place," she told me.
Lucas used doula care and scripture to keep her spirits up while pregnant behind bars. "We have gotten really comfortable with the women who visit us," she told me. "They offer more support, especially if we have no other option but to deliver in custody."
Still, Lucas said she often felt alone and afraid. When I visited the pregnancy tier in November, I found her still there, recovering from having given birth in October. She had never been released and eventually gave birth at Stroger Hospital. The next day, her mother arrived at the hospital and took custody of her son, an arrangement that the Sheriff's Justice Institute facilitated at Lucas's wish. It was a bittersweet meeting, Lucas recalled—a reminder that, even with the new accommodations, she was still in custody. The sheriff's deputies who were present would not let her mother come within 5 feet of the bed. "They told her she could not touch me," she said.
"No one wants to see their child locked up, even if they are getting care," Angela Warfield, Lucas's mother, told me later. "They wouldn't even let me hug my daughter." (Judith Pardonnet, a representative from the Cook County Sheriff's Office, said that an inmate's chosen support provider can touch her during birth. Since Warfield arrived the next day, however, the sheriff's office had to make a special accommodation for a visit. They left the details to the discretion of the deputies, who decided not to allow Warfield near her daughter.)
Alysan Anderson, a doula case manager and drug counselor at Catholic Charities who co-facilitates the prenatal meetings, hopes that women in the Healthy Moms and Babies program feel more empowered and resilient despite the fact that some, like Lucas, will be separated from their children due to incarceration.
Amy Campanelli, the Cook County public defender, envisions the sheriff's program ultimately expanding to bring infants into the jail to visit their mothers. "No judge who takes you from your child, or sheriff who locks you up," she said, "can break the bond of belonging between mother and child."