Marie Kondo Goes Full Goop
The tidying guru helped America clean out its closets. Now she wants to fill them back up.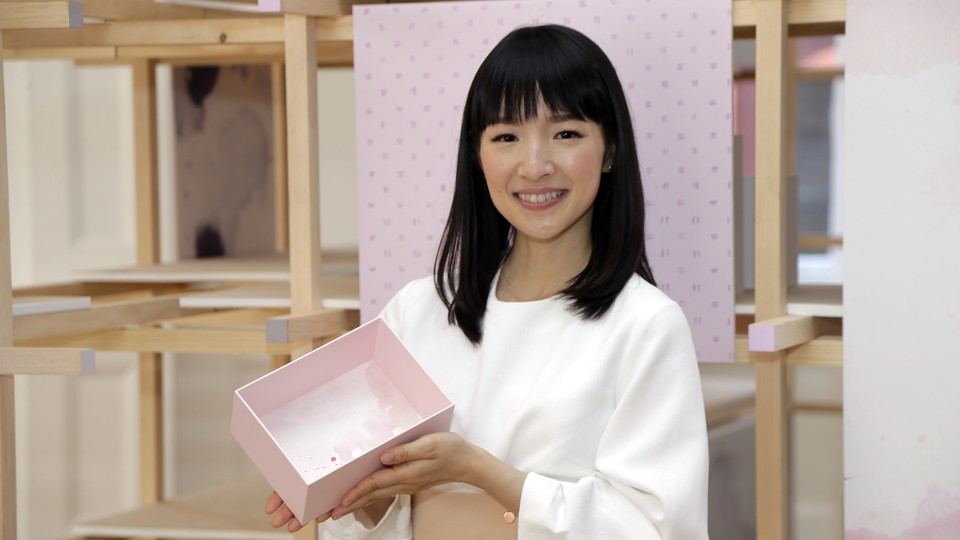 Marie Kondo has had a few bouts of American fame. Around 2015, the Japanese cleaning guru's best-selling book The Life-Changing Magic of Tidying Up inspired untold closet clean-outs and garage declutterings. In 2019, her Netflix series, Tidying Up With Marie Kondo, performed a similar trick, emptying overstuffed American homes by teaching their harried owners her joy-prioritizing "KonMari" method.
Now Kondo is back for her third act. Instead of imparting further organizational wisdom or deepening her theories of domestic joy, though, she's trying something new: selling $275 distressed-brass vases and other housewares and wellness products to fill up all that newly empty space.
Earlier this week, Kondo announced a new online shop on her KonMari website. She has been selling a line of storage boxes for her tidying methods since 2018, but this new venture is different. Much of its inventory is mundanely minimalist, such as dove-gray bath linens and food-storage containers in neutral shades. (Even KonMari obsessives have leftovers.) The store ships only to the United States, but sells many high-end Japanese tools, such as handmade matcha whisks and hand-whittled shiatsu sticks.
Like Gwyneth Paltrow's luxury-wellness emporium, Goop, KonMari also occasionally veers bizarrely pseudoscientific. Air fresheners promise to inspire motivation or romance. A rose quartz comes with a tuning fork to bonk against it, "to amplify the healing properties of crystals." Look closely, and you'll see evidence that the student might one day become the teacher. Goop sells $80 gem-containing water bottles, claiming that the crystals imbue the bottles' contents with good vibes. Kondo also sells a gem-containing bottle, and it costs $98.
It's ballsy to encourage people to throw out their possessions only to turn around and sell them replacements. Despite the profound irony, though, Kondo's pivot from decluttering Svengali to tchotchke retailer isn't particularly surprising. She has muscled her way to legitimate celebrity status in America, and in 2019 the end game of fame is always sales.
It wasn't so long ago that most celebrities had one profession. But today, if you're simply starring in movies or gracing magazine covers, you're leaving money on the table. Being rich and famous is a marketable product, sold most convincingly by people such as Paltrow, Jessica Alba, and Kim Kardashian. Alba started the Honest Company, which sells beauty and baby-care products, in 2011, eventually shepherding it to a billion-dollar valuation in 2017. Kardashian parlayed a sex-tape scandal into a long-running reality show, which has given her and her family the opportunity to market everything from makeup and hair tools to video games and an art book of Kim's own selfies.
Lifestyle products are mostly marketed to women, so mostly female celebrities have cashed in on this phenomenon so far. But men are starting to join the game. Drake and Kanye West, in particular, have found sustainable success through their own fashion brands.
While endorsements are a very old marketing tactic, brands "created" by celebrities were for a long time mostly short-lived vanity projects, with the occasional success story, such as Paul Newman's charity-focused line of organic lemonades and salad dressings and P. Diddy's Sean John clothing line. Then, in 2005, the singer Jessica Simpson started selling shoes. She and her contemporaries—people such as Paris Hilton, Lindsay Lohan, and Nicole Richie—were known as much for their paparazzi-documented lifestyles as for their talents, and Simpson was able to capitalize on the era's internet frenzy for starlet gossip, leveraging her public profile to attract customers.
Simpson and her advisers turned out to be very good at divining what young women wanted. By 2015, her shoe line had expanded to all kinds of women's apparel, and it was bringing in $1 billion of revenue a year.
Simpson and her cohort were, in essence, some of the very first internet influencers, years before the term influencer came into vogue. They landed in that position accidentally, at a time when no one yet knew what might be the internet's most profitable use. Now it's a short, well-worn path from a popular single or hit reality show to product lines and a branded e-commerce site of one's own. As the internet grew and social media flourished, digital stars demonstrated how one person's internet audience might be used for financial gain. Fashion bloggers in particular pioneered the art of the sponsored Instagram post, and many internet lifestyle gurus have gone on to oversee their own clothing, beauty, and home-decor lines.
Conventionally famous people are magnets for large social-media followings, which makes them the natural heirs to the internet-influence throne. Stars used to rely on third parties such as movie studios and record labels to connect them with their adoring publics and the cash flow they bring. Now everyone—famous or not—can find an audience in their iPhone, and anyone with an audience can be a merchant. Apparently even Marie Kondo.
Sometimes this very modern phenomenon works out fine. A supermodel's culinary skills might have been a hard sell under the old rubric of frame, but Chrissy Teigen's cookbooks are best sellers. Rihanna's Fenty Beauty makeup line quickly became the industry standard-bearer because of its enormous range of foundation shades. Dr. Dre's Beats by Dre brand made high-end headphones a Millennial status symbol practically overnight. If done carefully, these ventures help stars extend their career beyond the confines of their initial, more traditional fame, which can be quick and brutal.
Often, though, celebrity commerce is a reminder that many famous people are acutely embarrassing, and it's weird that American culture grants them so much power. Jeremy Renner's bespoke social network for his most ardent fans went down in a blaze of internet-troll glory earlier this year. Jennifer Lawrence, apparently unsatisfied by all of her starring movie roles, partnered with Amazon to monetize her wedding registry and sell travel plug-adapters and food processors. Kardashian, despite being pretty good at selling things, had to change the name of her shapewear line after an ill-advised attempt to trademark the word kimono.
Where Kondo's new store will land on the continuum of celebrity-commerce success likely depends on how well she smooths over the logical gaps between telling people to rid themselves of useless possessions and selling people home decor. "My tidying method isn't about getting rid of things—it's about heightening your sensitivity to what brings you joy," Kondo said in a statement that accompanied the KonMari store's launch. "Once you've completed your tidying, there is room to welcome meaningful objects, people and experiences into your life." (Kondo's representatives declined to provide further comment.)
This is a defensive play. Kondo found broad success in America because she sold a system of belief based on joy—one that encouraged people to reexamine their personal relationships with the stuff they already owned, rather than continuing to buy more and more. Her method was still a sales pitch, but at least it acknowledged what a lot of people have come to suspect: No matter how much stuff you order off the internet, the next purchase isn't going to be what finally makes everything better.
Now, in the press release, Kondo promises that she touched all the products in her shop to ensure that they brought her joy. Instead of focusing on reflection, fans are being asked to defer to her personal taste—the same value proposition provided by any other celebrity-backed store or product line. It seems Kondo has learned what many other famous people have already realized. Most entertainers' creativity and skill are only profitable for a little while. Even many very talented people have only a couple of ideas good enough to hold people's attention. But in America, at least, you can sell people $180 cheese knives and a $200 tea container made of hardy Japanese elm in a bid to fill up their houses in perpetuity.