The Greatest, Fakest World Record
History's best marathoner has broken a mythical time barrier. But it doesn't count as a world record.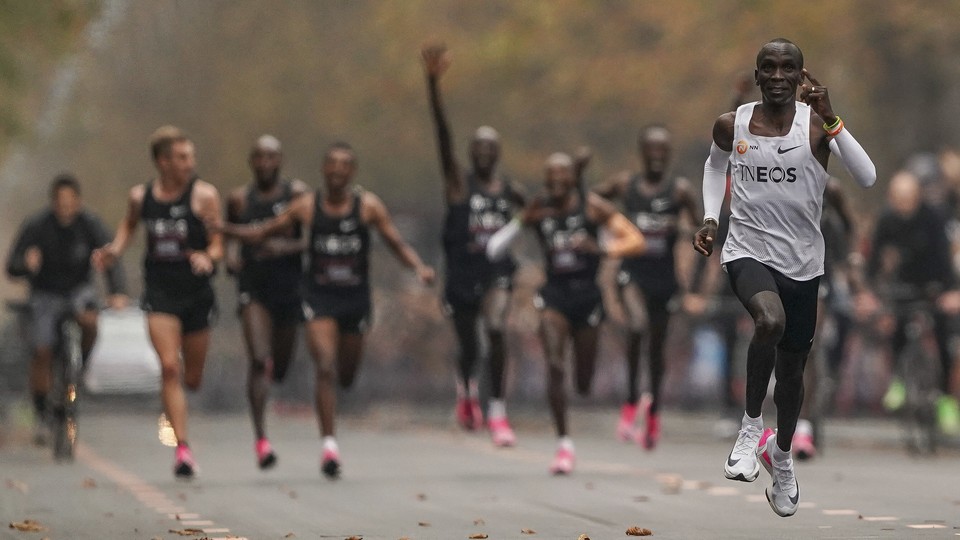 Updated at 2:15 p.m. ET on October 13, 2019.
Early yesterday morning, in a misty park in Vienna, Eliud Kipchoge ran a marathon in less than two hours. His time, 1:59:40, is the fastest any runner has ever covered 26.2 miles. Kipchoge carved two minutes off his own world record and became the first marathoner to break the two-hour barrier.
At the event, branded the INEOS 1:59 Challenge, the performance was heralded as a radical, historic leap, his "Neil Armstrong moment," as one announcer said. Indeed, Kipchoge himself—a soft-spoken 34-year-old Kenyan who dulls the pain of distance running by smiling mid-competition—has repeatedly equated his feat to reaching the moon. That comparison is audacious on the scale of human achievement, but in the galaxy of running, it might actually be an understatement. Running's original moon landing, the sub-four-minute mile, took place back in 1954. Yesterday, Kipchoge launched running to Mars.
Like the moon landing, Kipchoge's run was a technical achievement that required unprecedented planning and support. In fact, it was so heavily engineered that his new time will not count as a world record. Kipchoge ran the fastest time ever over the marathon distance, but for heated reasons that get at the heart of the sport, he did not run a marathon.
One hour and 59 minutes is fast in a way that's difficult to comprehend. Despite the formidable distance, Kipchoge ripped through each mile of his run in about four and a half minutes. This speed would feel like an all-out sprint to almost anyone who could keep up with him in the first place. To sustain this blistering pace, Kipchoge ran under conditions that had been painstakingly and exclusively arranged to push him beyond the two-hour barrier. The INEOS 1:59 Challenge was not a race by any strict definition: It was simply Kipchoge, joined by a rotating phalanx of pacesetters, rocketing along the pavement against the clock.
The planning that went into the event was a fantasy of perfectionism. The organizers scouted out a six-mile circuit along the Danube River that was flat, straight, and close to sea level. Parts of the road were marked with the fastest possible route, and a car guided the runners by projecting its own disco-like laser in front of them to show the correct pace. The pacesetters, a murderers' row of Olympians and other distance stars, ran seven-at-a-time in a wind-blocking formation devised by an expert of aerodynamics. (Imagine the Mighty Ducks' "flying V," but reversed.)
Kipchoge himself came equipped with an updated, still-unreleased version of Nike's controversial Vaporfly shoes, which, research appears to confirm, lower marathoners' times. He had unfettered access to his favorite carbohydrate-rich drink, courtesy of a cyclist who rode alongside the group. And the event's start time was scheduled within an eight-day window to ensure the best possible weather. The whole thing was as close as you can get to a mobile marathon spa treatment—if going to a spa were paired with the worst discomfort of your life.
Such an extensive level of support, combined with the fact that Kipchoge wasn't actually competing against anybody, pushed the event outside of official marathon conditions and prevented his performance from counting as a true record. The organizers were fully aware of this; the event, as Outside magazine aptly referred to it, is perhaps best understood as an "exhibition marathon." It was a time trial, albeit one that had been scienced to an almost entirely unrivaled level. The only professional marathon competition that has resembled it was 2017's Breaking2, a much-hyped Nike campaign that put Kipchoge and two other athletes on an Italian motor-racing track under similar top conditions. They all failed at breaking the two-hour barrier, but Kipchoge got close enough to convince INEOS, a U.K.-based chemical company that owns several sports franchises, that two hours could be broken with just a little more optimization.
But with great optimization comes great controversy. Looked at one way, the INEOS 1:59 Challenge is a straightforward testament to how money can buy anything, including a branded sub-two-hour marathon. INEOS, which is owned by Jim Ratcliffe, Britain's richest man, appeared to spare no expense when it came to either the groundbreaking science or the marketing blitz leading up to the event. "As much as they might like to present this as such, the first sub-2:00 marathon is not like the first sub-4:00 mile, or the first summit of Everest, much less the moon landing," the running commentator Toni Reavis wrote before the event. "All those challenges carried in the public consciousness the possibility of death. This is a second-chance marketing exhibition for a plastics manufacturer and springy shoes."
Corporate sponsorship is, of course, nothing new in sports, but when it arrives at the marathon with a monomaniacal focus on time, it rubs against the nature of the race itself. The 1:59 Challenge was less about Kipchoge exhibiting new abilities than it was about improving the marathon's running conditions. But the marathon as it is popularly run is not really designed for records in the first place, precisely because of its shifting variables. It would be hard for a race organizer to design an ideal 26.2-mile course that would still attract spectators, entertain competitors, and net enough money to justify a race's costs. (Imagine running a major marathon on an indoor track.)
By necessity, then, the marathon has resisted optimization. Different cities have different courses that are known for their unique challenges. Berlin has become the go-to race of late for official world records, but while that course is flat and fast, no one thinks it's the ideal marathon path. (In fact, Kenya's Brigid Kosgei set a jaw-dropping new women's world record this morning in Chicago.) Presciently, the journalist Ed Caesar wrote in Two Hours, a 2015 book about the future of marathoning, that the only way to pull someone under the two-hour mark would be to manufacture a marathon entirely for the purpose of speed. Kipchoge's new time suggests that part of the reason no one had broken two hours until yesterday is that marathoning simply hasn't prioritized it.
"It's meaningless," the sports scientist Yannis Pitsiladis said of the new record in an interview with The Times of London. Pitsiladis was once a vocal advocate of sub-two attempts, but according to the running website Letsrun.com, he recently tried to pull together a marathon that sped runners down a mountain, so that he could point out that two hours can be broken with relative ease under extreme enough conditions.
And yet, and yet—the most compelling counterpoint to a cynical view of the performance is Eliud Kipchoge himself. Among a pack of mostly Kenyan runners who have recently pushed marathoning into a golden age, Kipchoge stands head and shoulders above the rest. He is the distance's Michael Jordan, an era-defining and Kelly Clarkson–loving talent whose credentials—which include an Olympic gold medal and multiple big-city-marathon titles, on top of the official marathon world record—were secure well before yesterday.
If INEOS had found a way to usher any lesser runner beyond the two-hour barrier, its hyper-calculated efforts could easily be dismissed as too contrived to merit admiration. But perfect conditions and unavoidable INEOS logos can't diminish Kipchoge's magic. At the heart of the spectacle was still one of history's most extraordinary athletes, flexing his skinny legs and giving the world yet another opportunity to behold him. Kipchoge's performance was not necessarily better than some of his other great feats, but it's hard to argue that it was any worse.
Yesterday leaves marathoning with a paradox. The INEOS 1:59 Challenge was indeed a brazen defiance of the marathon's spirit. It was also a triumph of humanity. As the science of running continues to improve and new technologies creep in, that tension is only going to grow.
In a televised interview after he crossed the finish line, Kipchoge offered some characteristic platitudes: Running can make the world a more peaceful and beautiful place, and he wants to inspire people to get outside and move. But there was a glimmer in this invitation. He said he wants to inspire his competitors to move, too—to join him in what is now marathoning's most exclusive club.
He didn't really have to break 2 to motivate them, though. Two weeks ago, while Kipchoge was merely dreaming of landing on the moon, a legendary Ethiopian distance runner named Kenenisa Bekele arrived on Berlin's famously fast course and dropped a 2:01:41—two seconds away from Kipchoge's official world record.