Vaping Falls in Trump's Crosshairs
A national ban on flavored e-cigarettes is coming.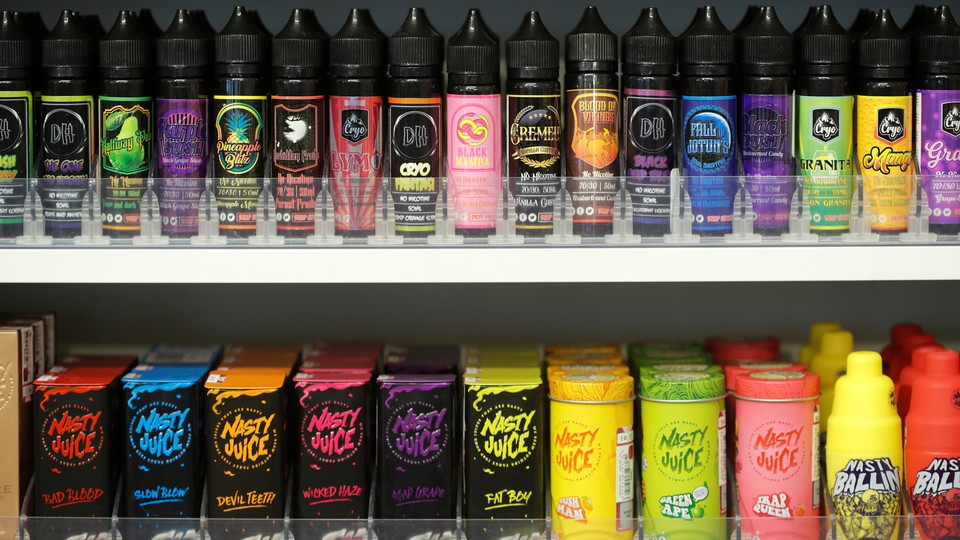 After a year of regulatory pressure from the Food and Drug Administration and weeks of alarming news about Americans hospitalized with a sometimes lethal illness linked to vaporizers, the Trump administration and FDA officials are poised to take unprecedented action on e-cigarettes. In remarks delivered in the Oval Office earlier today, Donald Trump announced that his administration is working on "very strong recommendations" for the vaping market, including a total ban on flavored e-cigarettes.
"We can't allow people to get sick, and we can't have our youth be so affected," Trump said. His concerns echo those of many public-health advocates in the United States, who say that e-cigarettes' kid-friendly flavors like mango and mint have stoked sharp increases in American adolescent vaping in the past five years. In a 2018 survey by the National Institute of Health, almost 21 percent of U.S. high-school students reported using a nicotine vape in the past 30 days, a rate nearly double that of the same period in 2017.
The popularity of vaping has helped erase the gradual decline in youth tobacco use that the country has seen in the past 20 years, worrying parents and forcing educators to take desperate measures, like removing doors from school restrooms—a popular location for surreptitious use of e-cigarettes.
Public-health advocates point to the popularity of Juul, a company whose products account for more than 70 percent of the American e-cigarette market, as the primary culprit for soaring adolescent-usage rates. In addition to its sweet flavors and small, easily concealed device, the company gained its foothold in the tobacco market with bright advertising campaigns that showed young adults vaping socially—a tactic the company has since been pressured to discontinue over complaints that it targets teenagers.
In December, Juul sold a 35 percent stake to the tobacco company Altria, which also owns the cigarette brand Marlboro, in a deal that valued the three-year-old company at $38 billion. (Juul has frequently denied accusations that its products or marketing have ever been aimed at minors, and the company's CEO, Kevin Burns, has recently warned nonsmokers not to take up vaping.)
When vapes flooded the American consumer market in the early 2010s, concerns over the products' unknown long-term health impacts were tempered by modest optimism about their ability to steer smokers away from the catastrophic dangers of cigarettes. That argument failed to consider how popular and widely available the vaping device itself would become, and how little is still known about the ingredients in vape juice and what dangers they might pose to people inhaling vapor of any kind.
In the past two weeks, more than 400 previously healthy young people have been hospitalized in 33 states because of a mysterious lung ailment the Centers for Disease Control and Preventions believes is most likely linked to cannabis vapes, both legal and non. Six people have died. At the same time, preliminary findings about the long-term health consequences of vaping are starting to pile up.
Today's announcement is the most far-reaching anti-vaping measure in a year in which officials at virtually every level of government have looked for ways to steer minors away from e-cigarettes. In November 2018, the FDA announced it would ban the sale of flavored e-cigarette cartridges at convenience stores, but that ban didn't include mint or menthol flavors, and it hasn't been enough to stymie adolescent vaping. In the absence of more stringent measures from federal authorities, states and municipalities have begun to take vaping into their own hands. Earlier this week, Michigan became the first state to ban flavored e-cigarettes, and the City of San Francisco approved an e-cigarette ban earlier this year. (Juul is lobbying to reverse San Francisco's ban through a ballot initiative that will be voted on later this year.)
"Kids are getting access to these products in spite of our best efforts at retail enforcement," Health and Human Services Commissioner Alex Azar said during the announcement earlier today. "We simply have to remove these attractive flavored products from the marketplace."
Azar said new regulations would include all nontobacco flavors, even though conventional cigarettes are still available in menthol. Manufacturers of flavored vape liquid will still be able to apply for FDA approval, a designation that brings with it a much higher level of regulatory oversight and would require the products to be dispensed by medical professionals instead of at gas stations and smoke shops. The new recommendations are expected to be announced formally in the next few weeks, and there will be a 30-day waiting period before they take effect, according to Azar, which is standard for new FDA guidance.
In an emailed statement, Nancy Brown, the CEO of the American Heart Association, praised Trump's announcement. "We don't yet know the full impact of e-cigarette use on public health, but we do know that e-cigarette companies have done real harm to a generation of children."
An outright ban on flavored e-cigarettes is a strong message to American tobacco companies that federal public-health authorities won't abide attempts to lure minors to their products, but it's also tantamount to closing the barn door after the horse has gotten out. Analysts estimate that the U.S. e-cigarette market already exceeds $10 billion, and before this announcement, it was expected to grow roughly 25 percent through 2025.
Many of those customers are people who formed nicotine habits without the aid of cigarettes, and what those newfound addictions do to adults and children won't be clear for years. For former smokers who see vaping as a lifeline to avoid lung and cardiac diseases, meanwhile, their options are about to become much slimmer.