The Rank Hypocrisy of Trump's Ebola Tweets
Five years ago, the doctor Kent Brantly was evacuated back to the U.S. after being infected with Ebola—against the wishes of the man who is now president.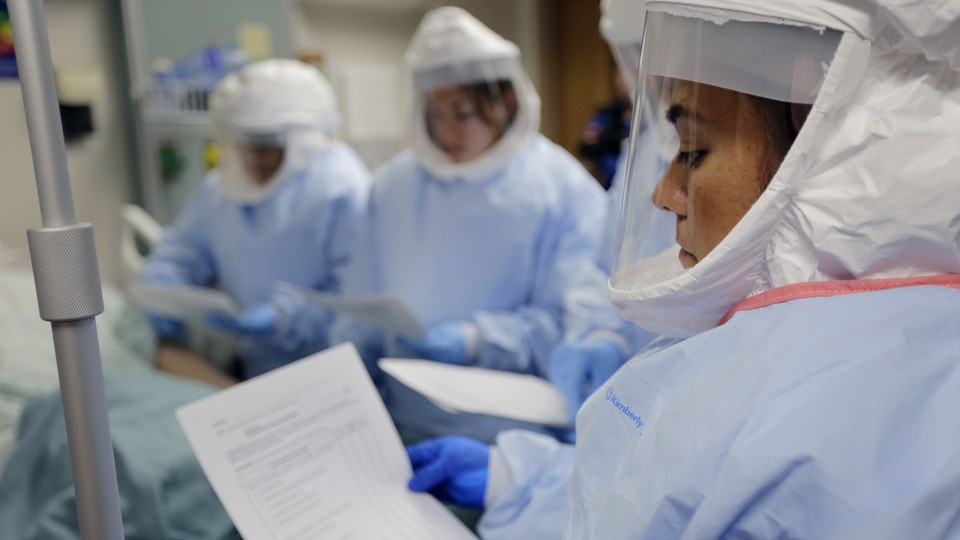 Yesterday, while attacking the "LameStream Media," praising his "pupil" Steve Bannon and North Korea's Kim Jong Un, and seemingly gloating about the robbery of Representative Elijah Cummings's house, Donald Trump—the president of the United States—also took a moment to retweet a kind note about Kent Brantly, a doctor who was evacuated back to the United States five years ago after contracting Ebola while fighting the record-breaking West African epidemic. On the surface, it was one of the more innocuous things the president did in the past 24 hours. But for those who remember the reaction to the West African outbreak, and Trump's part in it, this small act was one of gross hypocrisy.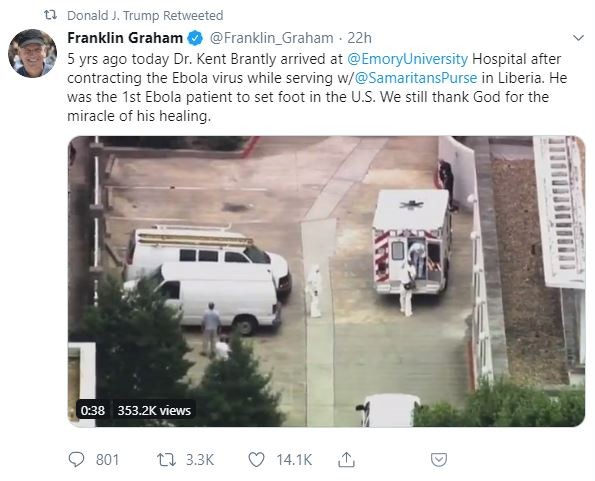 To recap, from 2014 to 2016, Guinea, Liberia, and Sierra Leone experienced the largest Ebola epidemic of all time, infecting more than 28,000 people and killing more than 11,000. Many American health workers flew to the affected countries to help. Two of them—Brantly and the nurse Nancy Writebol—became infected themselves in July 2015, and were airlifted back from Liberia to Emory University Hospital in Atlanta.
Both recovered. But their arrival sparked fear, especially among those who believed Ebola to be a super-contagious virus that would rapidly spread through the country. In reality, Ebola's symptoms are milder than the liquefying organs and extreme hemorrhaging of lore, and it only spreads with difficulty, through direct contact with the bodily fluids of infected patients. But such facts evaporated amid the flames of widespread panic. And no single person fanned those flames with more enthusiasm than Trump.
On July 31, two days before Brantly was due to be evacuated (and almost a year before Trump began his campaign by descending down a gold escalator), Trump tweeted, "Ebola patient will be brought to the U.S. in a few days—now I know for sure that our leaders are incompetent. KEEP THEM OUT OF HERE!"
A day later he added, "Stop the EBOLA patients from entering the U.S. Treat them, at the highest level, over there. THE UNITED STATES HAS ENOUGH PROBLEMS!" And later that evening, "The U.S. cannot allow EBOLA infected people back. People that go to far away places to help out are great—but must suffer the consequences!"
The next day: "The fact that we are taking the Ebola patients, while others from the area are fleeing to the United States, is absolutely CRAZY—Stupid pols." And also: "The U.S. must immediately stop all flights from EBOLA infected countries or the plague will start and spread inside our 'borders.' Act fast!"
Those tweets encapsulate many of the themes that have come to define Trump's presidency: barriers and exclusion; fear of the "other"; cruelty toward those in need; and division between "us" and "them," even when both are American citizens. And much like his later campaign rhetoric and rally speeches, these messages worked. "It was that tweet that created a level of anxiety in the country," said Amy Pope, a White House counterterrorism official, in an interview with the journalist Reid Wilson. "That was a crystallizing moment."
Needless to say, global health experts disagree with Trump's sentiments. While travel bans might seem like a rational way of dealing with outbreaks, the evidence is very clear that they don't work. Determined people always find a way to get across borders and health screenings are imperfect, especially in cases where symptoms appear only after a certain incubation period. Instead of stopping transmission, travel bans more likely force people to deliberately hide their symptoms or lie about their history. And most importantly, they stanch the flow of aid that is necessary for controlling an outbreak in a resource-poor location. Why would doctors travel to an epidemic zone if, as Trump demanded, they would be forbidden from returning if their health was in danger?
To be clear, if Trump had wielded presidential power at the time and had acted on his sentiments, Brantly and Writebol would be dead. Hence the gross hypocrisy of retweeting a celebration of Brantly's successful return and treatment when he tried to oppose it.
Trump continued to opine on Ebola for the rest of 2015. When the Liberian man Thomas Eric Duncan was diagnosed with Ebola in Dallas, Trump tweeted that "IT WILL ONLY GET WORSE." He repeatedly called for stopping all air traffic to and from the outbreak zone. He called Barack Obama a "psycho" for not enacting such a ban and "dumb" for deploying thousands of troops—a move that was important in stemming the outbreak. He spread misinformation about how contagious Ebola is and stoked fears that it could easily spread.
Last year, in a feature about whether America is ready for the next pandemic, I wrote that "perhaps the two most important things a leader can personally provide in the midst of an epidemic are reliable information and a unifying spirit." Instead, we have a man who tweets rashly, prizes his own intuition over expertise, readily buys into and spreads conspiracy theories, and repeatedly delegitimizes reliable sources of information.
In fairness to Trump, his administration's response to the current Ebola outbreak, now entering its second year in the Democratic Republic of Congo, has been more responsible than his earlier rhetoric. The United States has contributed money and personnel to the response efforts, and a potentially infected doctor was even airlifted back to the the U.S. in December for monitoring. Perhaps Trump has changed his tune since 2015.
Other signs are less promising. Last year, just as Ebola returned to the Congo, the Trump administration asked Congress to rescind $252 million that had been put aside to deal with the virus. Simultaneously, National Security Adviser John Bolton ousted the National Security Council's top biodefense expert—the hugely respected rear admiral Tim Ziemer. And the administration's budgets have repeatedly attempted to slash funding for global health programs—investments that are crucial for controlling outbreaks in the future. It will take more than thoughts and prayers, rash tweets, and turnabout retweets to make up for these shortfalls.