The Devastating Truth About National Avocado Day
Why millions of people are extremely eager to celebrate fake holidays sponsored by corporations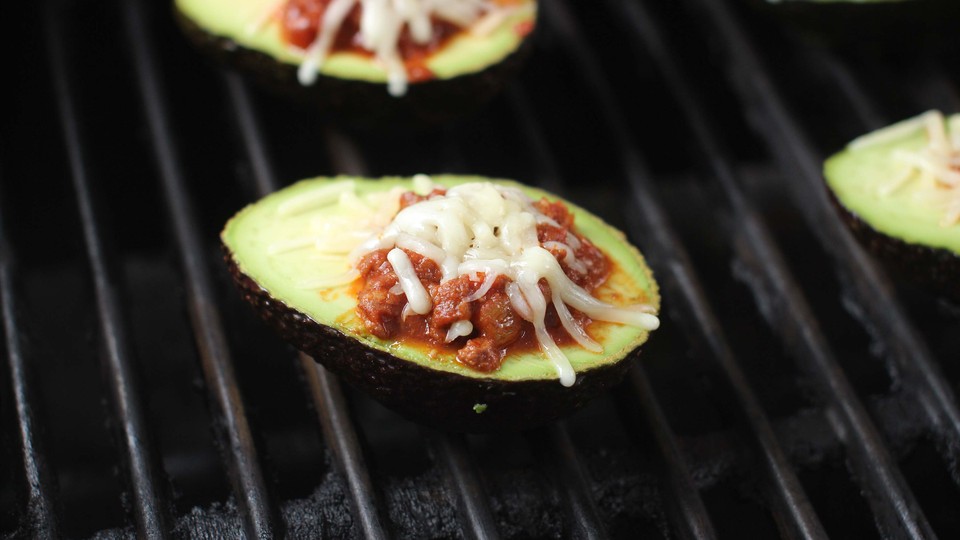 On July 31, North Korea tested a ballistic missile. Prisoners in Egypt refused food in protest of inhumane treatment. Residents of Baltimore rebuked the president of the United States for calling their district "a disgusting, rat and rodent infested mess." Yet for much of the day, the No. 1 trending topic on Twitter was avocados.
People shared recipes and photos, trivia and tales about the fruit. Not because avocados were in the news—not at the center of some controversy or scandal or massacre. It was, simply, National Avocado Day (#NationalAvocadoDay).
This might have struck people in the U.S. as odd, since 80 percent of America's avocados come from Mexico. But scrutiny for such days tends to be low, evidenced by the now almost daily phenomenon of a trending "national day" blanketing Facebook and Twitter, and even Instagram. As I write this, it's National Relaxation Day. August also now includes National Dog Day, National Matchmaker Day, and National Sisters Day.
Many of these days are new in the past few years, and a small percentage are recognized by the government. Whimsical as these days seem, the creation and maintenance of national days are a phenomenon with massive financial implications. Many such days are used—or were even specifically invented—to coax people to talk about products and services. This happens on a scale that traditional advertising almost never achieves. Even spending millions on a Super Bowl commercial cannot command so much favorable attention to a product—given freely and enthusiastically by unassuming consumers who blast it into the timelines of everyone they know.
I was especially attentive to the avocado talk because just a few days before, I'd noticed the U.S. surgeon general, Jerome Adams, tweet, "This #NationalIceCreamDay, I'll be treating myself to a scoop of [strawberry ice-cream emoji] after getting in a good workout. Like anything else, moderation is key!" I could see a surgeon general emphasizing moderation on Halloween or Thanksgiving. But when almost no one realized it was National Ice Cream Day, a tweet about it probably just made people want ice cream.
In fact, that's explicitly why the day was started. In 1984, President Ronald Reagan declared ice cream a "nutritious and wholesome food" to help the dairy industry, since he was already trying to find a way to get rid of a surplus of 500 million pounds of cheese. In the years since, sales of ice cream have spiked on this day. Dippin' Dots, Cold Stone Creamery, and Baskin-Robbins ran promotions and in-store giveaways on National Ice Cream Day 2019, as did PetSmart and Williams Sonoma. Halo Top gave out vouchers in a promotional collaboration with Bumble. Yes, some Americans are likely now using a dating app because Ronald Reagan had too much cheese.
National Avocado Day has no such history. A meal-delivery business in California started it in 2017. The government doesn't recognize the day, but it's no less of an excuse to sell products. One publicist emailed me a few weeks ago to see whether I was "planning to cover National Avocado Day" and, if so, whether I would please mention an avocado lip gloss. This year, even Chipotle ran a campaign to "celebrate" National Avocado Day by making guacamole temporarily not extra.
Similar promotions happen on National Bowling Day, National Waffle Day, and National Shapewear Day—among many, many others. Though declaring new national days traditionally required an act of Congress, businesses such as Hallmark created days such as National Friendship Day as early as 1919, without declaration, to boost card sales. Still, this often took years and large franchises to sew the day into the national fabric. Now it seems to happen as soon as the day is trending on social media. Where do these new days come from? Can any industry declare a day? Am I the only one who finds it weird that you can just tell people "it's National Milkshake Day" and they will say, "Oh, great, let's get milkshakes!" (Try it. It works on literally any day.)
In some cases, industries are simply capitalizing on a national day that already existed—hiring publicists to "raise awareness," buying promotion of hashtags on social media, and partnering with brands to launch celebratory ad campaigns. In other cases, the industries are now baldly creating the days. But they rarely do so on their own. Avocado Day was started in conjunction with a website called National Day Calendar. So, I find, were many other days, including National Bobblehead Day, National Brazilian Blowout Day, and National Water Balloon Day. Insofar as Google results indicate authority, National Day Calendar is the primary arbiter of national-day reality.
Despite what the name might imply, National Day Calendar—like the days it promotes (including National Avocado Day)—is not affiliated with any governmental agency. National Day Calendar is a privately held organization based in Mandan, the seventh-largest city in North Dakota. The company's website keeps a page for each national day it recognizes, including origin stories and suggested ways to celebrate (most often by consuming something). The design could be charitably described as glitchy and premodern. It is, at least, not the sort of entity one might expect to be capable of overwhelming the zeitgeist with phenomena like National Siblings Day. This small company seems to have found a way, despite so much heated geopolitical discourse surrounding the global rise of ethnonationalism, to get everyone talking about avocados.
The process by which a new national day is recognized is not stated on the site. There is a mailing address and phone number, but no staff listing or email contact. The site invites anyone to pitch a new "national day." So I do. An online application involves entering my name and email address, and then making a pitch. I do this earnestly, because I'm sure that some of these days mean things to people—even National Tapioca Pudding Day and National Delaware Day. I don't want to be the one to turn this into a farce.
I submit an application for what I deemed National Microbiome Day. The microbes interact with our immune systems and our metabolic processes to keep us well nourished and attuned to our environment, I suggested, at some length. This is an important subject. At the very least, National Microbiome Day seems as important as National Sponge Cake Day.
The automated response I received was instant and jarring: "Thank you for submitting your idea for a National Observance. Our committee is hard at work reviewing the over 20,000 applications they receive every year. If you are one of the 25 or so applications approved each year, someone will reach out to you about the next steps."
What? Only 25 out of 20,000 applications? I can see screening out pranks and redundancies, but that would still leave thousands of legitimate proposals rejected. National Day Calendar already recognizes "almost 1700" days, I would later learn. Is there a fear that this number could get out of hand? If the number of days has not already caused them to lose meaning, how many would that take?
I do some journalistic work and uncover a lead. At the bottom of the automated email, it is signed "Smiles, Marlo Anderson. Founder, National Day Calendar." Anderson immediately agrees to talk. He describes himself as a serial entrepreneur. He started National Day Calendar almost seven years ago, as a blog about national days. By the time a day becomes woven into calendars and memories, he noticed, no one seems to care or remember whether it is "official" or not. Or people simply forget about a national day entirely, even if it exists in a record book somewhere.
Anderson dredged all of the days up and put them on one calendar that he could print and sell. For the digital version of the calendar, the website, he sold ads. Some of these ads, he says, go to relevant industries that want to sponsor a particular day's page. But anyone can advertise.
Eventually Anderson reasoned, why not start making new days altogether? In the past few years, he estimates that the company has started 150 days. Some included in-person commemorations of the new day; others were done simply with a web page announcing the day. His favorites are National Astronaut Day and National Road Trip Day.
I was unable to independently verify all the information Anderson cited about the tremendous reach of National Day Calendar, including the 20,000 applications. He told me that National Day Calendar employs 15 people, while his colleague, Amy LaVallie, put the number at six. Anderson says the business is very busy selling and placing ads on the website, distributing a printed calendar, developing a clothing line, doing appearances at festivals, collecting licensing fees, creating a nationally syndicated radio segment, and developing an app, a TV show, and a "potential movie."
Anderson says he's not involved in the actual process of selecting and declaring new national days—that's up to a committee of four or five people. LaVallie is one. Her favorite days are Book Lovers Day, Sangria Day, Unicorn Day, and "the chocolate days." When I asked her cautiously about my application for National Microbiome Day, she, like Anderson, was deeply noncommittal. They are looking for days that are "fun, family-friendly, unique, relevant to the world," she told me. She assured me that I am in the running.
Since I can't wait four weeks to hear their verdict, I considered simply declaring the day myself. Other sites, National Today, also invite submissions for "national days." These are unaffiliated with National Day Calendar, according to LaVallie and Anderson, who both express concern over "copycatting issues." The notable difference is that the National Today calendar is overtly a marketing exercise, without any of Anderson's pretense about the primacy of celebrating things that make us happy. National Today's site reads, "Given the success of quirky holidays like Amazon Prime Day in the U.S. and Singles Day in China—which generated a whopping $17B in sales—increasing numbers of brands are looking for holidays that compel consumers to engage, share, and buy."
Anderson maintains that industry profits are simply the serendipitous result of important national days. He is indignant at the suggestion that he might accept payments from various industries—the avocado growers, for example—to make sure their application for a new day makes it to the top of the pile. "You will not believe the money we've turned away because of that exact scenario," Anderson said, chuckling, then getting serious. "We're not a pay-for-play organization. We think having a national day is special. We have to be good stewards of the calendar."
Having just one entity—federal or otherwise—oversee the calendar would at least ensure some quality control. The more national days, the less value each has. The value proposition is not enhanced by the existence of days such as National Grab Some Nuts Day, National Sneak Some Zucchini Into Your Neighbor's Porch Day, etc. (All of these are real.) As days lose value, so do the printed calendars and advertising space on the website. I asked LaVallie whether National Day Calendar looks at other companies' calendars when updating its own. "Actually, we don't. They look at ours," she said, dropping the proverbial mic. "All the copycat sites on the internet are trying to get traction, but we're the source that everybody goes to."
Whether or not that's correct, it does seem that these are boom times for national days. As I finish writing this, National Tell a Joke Day is now trending above any other topic. LaVallie thinks this is because of—not despite—the intensity and stakes of the news. People want the opportunity to talk about fun and barely consequential things. As everything happening online collapses into a single social-media feed, people feel they need a reason to talk about something other than what's clearly more important news. National days offer an excuse—an invitation, even—to transgress. "In this day and age, when everything is so serious, it's nice to have a little fun," LaVallie says, "even if it's just celebrating a cookie day." (There are many days for different types of cookies.)
Of course, it's one thing to celebrate cookies of your own volition. It's another to talk about cookies because a coalition of multinational corporations is, at any level, coaxing you into it, and using your love of cookies to get you to join a dating app. If national days are growing in number and popularity because people want a simple escape from consequential dialogue, there is sadness even in people earnestly celebrating National Ice Cream Day.