You Can Buy Prescription Drugs Without Seeing a Doctor
Sites such as Hers offer to send pills directly to women to help them feel better—and prettier.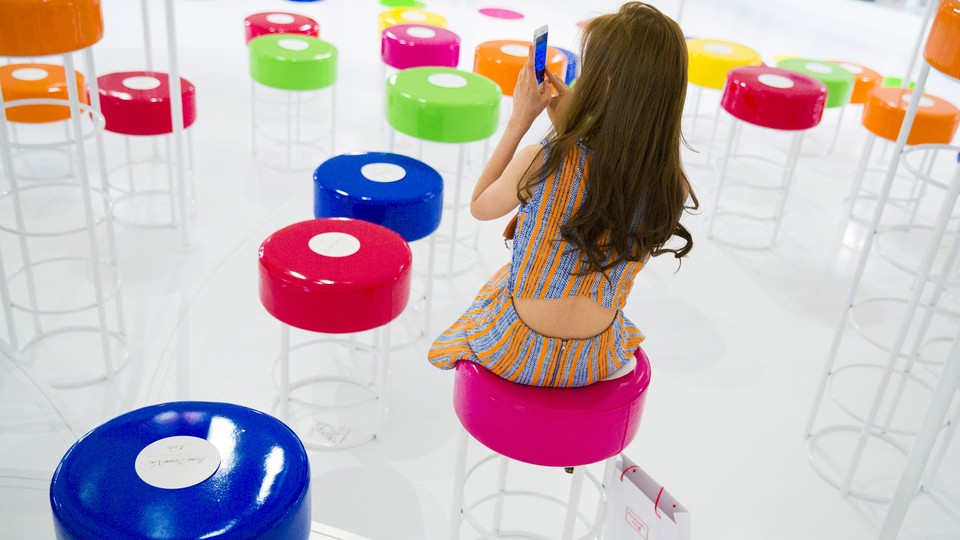 Instagram-friendly start-ups already offer to mail women the one swimsuit, suitcase, or mascara to rule them all. These sites aim to reduce decision paralysis: They may sell only a few versions of the thing, but trust them, the thing is explicitly superior—and it comes in Millennial pink. One website, Hers, has taken this a step further, cutting out doctor appointments and pharmacy visits by sending a few select prescription medications directly to the women who want them.
Alongside cosmetic treatments for skin and hair, the Hers website has "Shop sex" and "Shop well-being" tabs. It offers birth-control pills, the female libido booster Addyi, and propranolol, a high-blood-pressure medication that Hers markets to customers for the treatment of performance anxiety. Though the medications are, in some cases, far more expensive than they would be at a pharmacy counter after insurance, the Hers price includes an online consultation with a doctor to get the prescription.
Now that people can get anything they want delivered to their door, the thinking seems to be, why not get medication that makes life a little easier? Similar to those of other hip start-ups, Hers' Instagram page features woman-friendly hot topics that are tangentially tied to the company's products: quotes about abortion rights, sheet masks, and anxiety. Like the perfect water bottle or meal box, its wares feel curated and special. But even as Hers and similar companies aim to put consumers in charge of their health, experts say a lack of face-to-face contact with doctors could hurt certain patients instead.
Hers is the female-oriented companion to Hims, which markets Viagra and the antidepressant sertraline, for premature ejaculation, through a similar model. Both sites offer propranolol for performance anxiety, as well as hair-loss remedies tailored to each gender. Hers has plans to introduce treatments for yeast infections and urinary-tract infections, some of the most common afflictions among women.
Hers and Hims join a number of sites that aim to take the in-person appointment out of prescription medications, with the goal of making the process easier or less embarrassing for patients. The company Kick also offers propranolol by mail, claiming that it's good for situations such as job interviews or networking. In states where Lemonaid is authorized, the start-up offers an array of drugs, including some of the same ones Hers and Hims sell, but also hypothyroidism medications and sinus-infection treatments, all after a $25 online doctor consultation.
Women's health is an especially popular domain for these new start-ups. Nurx offers birth control and emergency contraception at the touch of a button, and even Planned Parenthood has an app that allows women to order UTI treatment or birth control. The pills from some of these sites come in discreet branded packets, a sleeker look than the orange pill bottles on your grandma's nightstand.
Hers is unique in that it combines cosmetic treatments, such as those for hair loss, with real medicines. Hilary Coles, its co-founder, told me that the company's product mix came from consumer research about the types of medications women want on demand. Hair loss has been stigmatized, she said, but it's incredibly common among women. And regarding propranolol, "public speaking and performance anxiety are among the top fears for men and women, and for some people this can dramatically affect their professional lives," Coles said.
Hers launched in the fall and has since had 50,000 "patient-doctor interactions" on its site, a spokeswoman told me. Coles said the company's research showed that women face barriers such as cost, wait times, and child care when it comes to seeing doctors. "Our mission at Hers is to provide women with an efficient, judgment-free diagnosis process," Coles said, so that women can "really be in control and be the driver of their own health-care choices." The company pointed me to research showing that about 20 million women in the United States live without access to publicly funded contraception.
This kind of socially conscious justification is common in Silicon Valley and its offshoots. But Hers does not offer the kind of free care women might receive at a publicly funded clinic. Its birth-control packs are $30, and it does not accept insurance. Propranolol, which is a generic medication, goes for $25 for a pack of five pills on Hers. According to GoodRx, meanwhile, CVS sells 60 tablets of propranolol for $14.27. Most insured women can get birth-control pills for free from their doctor because of the Affordable Care Act.
Hers is not alone in charging a premium for some of its pills. According to Bloomberg, a men's prescription website called Roman charges $2 a pill for generic Viagra, but with online discount programs, patients can get it at drugstores for as little as 41 cents a pill. At Hers, customers also pay an initial, onetime medical-consultation fee of $5 and a monthly $5 processing fee that is waived for the first month.
Coles said her customers reap some savings because some women don't have insurance and the doctor consultation is included. To get the drugs, patients complete an online questionnaire. I tried one out for propranolol, and I was asked, among other things, what situations make me anxious, whether I had ever tried medications for performance anxiety, and whether I had any other medical conditions or was taking any of a long list of prescription drugs. The site then connects patients with a doctor who is licensed in their state, and, if the doctor approves their drug choice, gives them a prescription. For patients who are seeking hair-loss treatment or help for skin conditions, the physician reviews photos the patients submit.
The company told me that the doctors are later available for refills and questions from patients, who can message the doctors 24/7. The prescribing doctor is also on the line for any medical-malpractice claims patients might bring.
Customers at Hers and similar sites are even able to procure drugs for uses beyond their original purpose. The use of the antidepressant sertraline for premature ejaculation and of propranolol for stage fright, for example, have not been approved by the Food and Drug Administration. When asked about this type of so-called off-label use, Coles said that the way certain prescription treatments are scheduled or labeled "is often indicative of whatever company was trying to bring them to market, which is often Big Pharma, which doesn't necessarily have the patient's best interests at heart."
Nevertheless, several doctors have criticized this widespread, online approach to prescribing off-label drugs. As the Stanford psychiatrist Anna Lembke put it to Stat, "[Propranolol] is a serious cardiac medication. I don't think it's something that should be prescribed lightly."
Experts I reached out to seemed less than enthusiastic about Hers. Eric Topol, a physician and the chair of innovative medicine at Scripps Research, said it's concerning that Hers promotes uses of medication that aren't "widely accepted" to patients whom doctors never physically see. Pointing to the focus on physical appearance with the skin and hair products, he said the site seems to be geared toward "pretty people."
That the pills are sometimes going to women who don't have a previous prescription gives Kristi Mitchell, a senior vice president at Avalere Health, pause. "I'm a big proponent of telemedicine," she told me, "but this makes me nervous about potential safety issues." Since the doctors write prescriptions without following a patient consistently over time, she pointed out, important health conditions could be missed, or patients could be mismanaged in other ways.
Aaron Hoffman, a primary-care physician and a faculty member at the Harvard Center for Primary Care, said that the service is "reasonable," since many physicians write prescriptions without performing a physical exam, and that the patient questionnaire is similar to what he would ask in a clinic. People might want to get Addyi through a website because they feel shy about bringing up sexual dysfunction to a doctor, he said. But he also acknowledged that prescribing medications to patients digitally is overall riskier. Indeed, because Hers uses a questionnaire, it is prohibited from shipping to some states.
According to Adrian Rawlinson, the vice president of medical affairs for Hims and Hers, the company avoids adverse drug reactions by requiring patients to list all medications and supplements they're taking in the evaluation. "These medications and potential contraindications are flagged for the treating provider," Rawlinson told me via email. "If there is a potentially interacting drug, the physician connects with the patient, and ultimately will recommend a different course of treatment if appropriate."
In response to the criticisms of Hers from the experts I interviewed, a spokeswoman told me that the doctors who work with Hers wouldn't treat a patient if they don't have the information necessary to do so, and would instead refer the patient back to her primary-care provider. The site "performs multiple validations of the prescribing doctor, the prescription request, and the patient's medication history before any prescription is filled," and works only with licensed pharmacies, she said. She added that Topol's reference to pretty people, "reflects the kind of stigma or judgment that individuals still face in seeking help with health and wellness issues that matter to them."
For people who truly need it, telemedicine—virtual visits with doctors—can be life-saving. More than half of all U.S. counties don't have a single psychiatrist, and some estimates suggest that the United States has a shortage of doctors. Time constraints are one of the reasons people postpone medical care. For some patients, long drives and wait times really do necessitate digital methods of reaching doctors. (And indeed, some brick-and-mortar primary-care doctors are already introducing virtual visits.) But with the relatively high price point, the light touch from doctors, and the limited slate of medications, some experts question whether Hers and similar sites are the telemedicine revolution that low-income Americans really need. "From the demographic perspective, the target does not seem to be for underserved communities, or for people of color," Mitchell said.
Sites such as these are attempting to patch the potholes in American health care, but they don't address the underlying problem: For too many, basic health care is still too inaccessible and too expensive. Perhaps solving that is too much to expect from a website.