What Hollywood Boycotts Would Really Do to Georgia
Production companies' threats to abandon the state in protest of a new abortion law put their own workers at risk.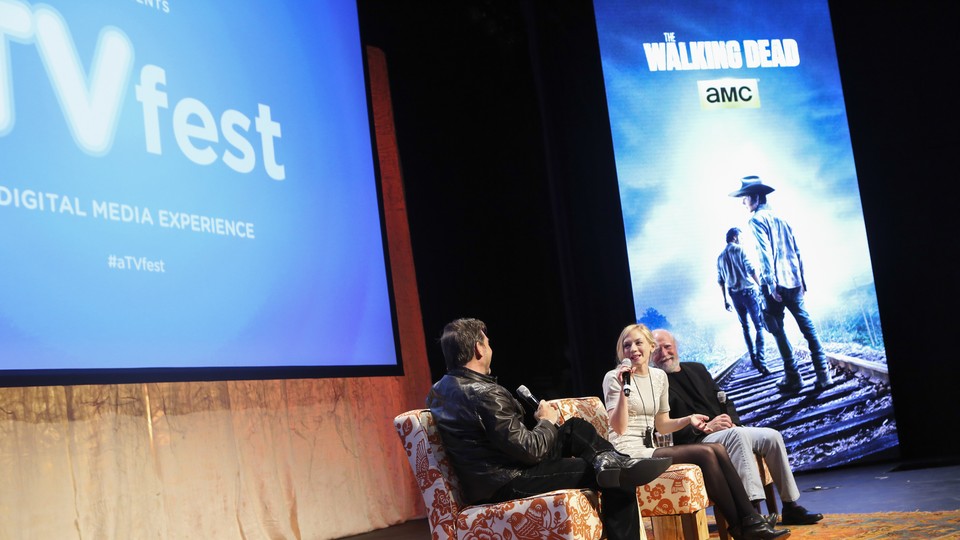 On May 28, Netflix threw down a gauntlet. If the so-called heartbeat abortion bill recently signed by Georgia Governor Brian Kemp—one of several such bills states passed this year that would effectively ban abortion—becomes the law of the land as planned in January, the company said it would withdraw all of its business from the state, including millions of dollars of film and television production.
Although stars such as Kristen Wiig and Alyssa Milano had promised personal boycotts of Georgia production facilities before last Tuesday, Netflix's threat was the first from a Hollywood studio, many of which have moved major production efforts to Georgia because of the state's lucrative entertainment tax incentives. These incentives have brought more than 92,000 jobs and nearly $4.6 billion in wages to the state since 2008, along with productions such as Black Panther and The Walking Dead, according to data from the Motion Picture Association of America. Those jobs include thousands of janitors, caterers, carpenters, and others involved in the less glamorous parts of entertainment—not the kind of people who get relocated when a studio moves.
Soon, other production companies followed suit: NBCUniversal, WarnerMedia, AMC, CBS, Showtime, Sony Pictures, and Disney, among others, all voiced concerns about the bill, promising to reevaluate their investment in the state if the law isn't defeated in court. By stepping into the fray, these entertainment companies are doing what a growing number of corporations now find central to their public-relations mission: taking public stands on social issues important to their customers. In this case, that means Hollywood power players are considering moves that would result in thousands of workers in Georgia's film industry losing their livelihood—in many cases, the same workers whose reproductive rights would be affected by the state's new abortion law. Is it really possible for companies to stand with Georgia's women by threatening to leave thousands of them jobless?
When asked how they expected proposed boycotts to affect those workers, Disney, Netflix, CBS, NBCUniversal, Showtime, AMC, Sony Pictures, and WarnerMedia all either declined to comment or did not respond to the request. In the limited public statements the companies have made so far, they make little mention of the people working on the unglamorous sides of filmmaking in the state. But several, such as CBS, did address the concerns of stars such as Wiig and Milano. "The ability to attract the best talent is the first step in producing great entertainment content and is always an important consideration in where we film any series," the network said in its statement.
Paul Hardart, a marketing professor at New York University and a veteran of the film industry, says that celebrities have forced studios' hands. "Studios also have to keep in mind that they have talent they want to keep happy," he explains. "So if Kristen Wiig doesn't want to shoot there, they're not going to shoot there." Because much of production is done on a freelance basis, shutting down studios in Georgia would cause contracts to dry up for on-set workers such as hair stylists and cleaning crews. Even for full-time employees, it's rare that anyone but the highest-value workers get corporate relocations, and most of those people at giant studios aren't based in Georgia. That's led to local organizing efforts among pro-abortion-rights, anti-boycott film workers, led by the people who have the most to lose: young women working on Georgia film crews.
In Hollywood, though, the calls for boycotts of the state continue, with seemingly little regard for the people affected by the law itself—or by potential layoffs. "That's not leadership, but it's an easy calculation," says Maurice Schweitzer, an organizational behaviorist at the Wharton School at the University of Pennsylvania. Promising future boycotts lets studios calm stars while leaving themselves some wiggle room, he says: "It means they don't have to do anything right now, and they can kick the can down the road and give themselves some time to try and figure it out."
Hollywood's response might not be just too little, but also too late to matter. Although entertainment-industry protests have previously helped derail socially conservative legislation in Georgia, studios didn't voice significant opposition to the new abortion law while it was being considered by the state legislature. Now, according to the University of Georgia political scientist Charles Bullock, it's unlikely they can meaningfully impact the law's future, which is up to the courts. "Given that this was a high-profile element of [the governor's] campaign, I think it would be impossible for him to suddenly backtrack on it 180 degrees," Bullock says. But that doesn't mean Georgia's new law will take effect in January. "The courts will hold it up," he adds. "It could be held up for years as it works its way through the federal judicial system."
Conservative Georgia lawmakers have insisted that they won't back down to boycott threats, because their actions reflect the will of their constituents. Georgia's voting base, however, is fairly supportive of abortion rights. A recent poll conducted by The Atlanta Journal-Constitution and the University of Georgia found that 57 percent of Georgians believed that abortion should be legal in all or most cases, with only 10 percent of respondents in favor of a total ban. Seventy percent of those surveyed also opposed overturning Roe v. Wade, an outcome many experts believe new abortion laws in Georgia, Alabama, and elsewhere are intended to trigger.
In Georgia, women's groups and progressive leaders, such as the former Democratic gubernatorial candidate Stacey Abrams, are urging studios and stars to remain in Georgia and join their fight. Although it might seem counterintuitive to those outside Georgia, Bullock sees the legislation's very existence as proof that views like Abrams's are gaining ground in a state that has become far more moderate in the past two decades. "Some Republicans are taking what I'd call a kamikaze approach," Bullock explains. "They see that their days of ruling Georgia are under attack, if not coming to an end, so they're going to push through all the items on their agenda."
With that context, calls to abandon Georgia's film workers as a way to spite the state's government seem especially hollow. Schweitzer calls boycotts a generally ineffective tactic for extracting political gain, in spite of a few high-profile successes such as the NCAA's boycott of North Carolina over its bathroom bill. Still, promising a boycott placates people outside the state who want corporate leaders to act on their behalf when governments won't. "We now expect CEOs to be moral leaders," Schweitzer explains. But that's often an ill-fitting role. "If you're an executive at one of these companies, you've got 100 things to do, and making political decisions isn't on the top 10 list," he says.
After the initial salvo of boycott threats, Hardart expects entertainment-industry positions to gravitate more toward the stay-and-fight route favored by Georgia progressives such as Abrams, for reasons both practical and philosophical. "They've probably done the calculus and found that they already scouted locations and already have sets, so to leave would be expensive," Hardart says. "So they say, 'Why don't we donate money to the ACLU and that will say we're doing something but not fleeing?'" Netflix has already said that it intends to support the American Civil Liberties Union in fighting the new abortion law, and the directors Ron Howard and Jordan Peele have both promised ACLU donations from projects currently in production.
The fight over Georgia's new abortion restrictions likely won't be settled for years to come. In the meantime, corporations' willingness to use people's livelihoods as pawns shouldn't be mistaken for sincere activism, even if plenty of the people who make up those companies might be sincerely concerned. When no clear win is available for a company, as seems to be the case with Georgia's production studios, businesses have a history of going back to being businesses. "You are affecting people and employees, and hurting people you don't want to hurt, but ultimately these are businesses, and businesses lay people off all the time, indiscriminately," Hardart says. "The people of Georgia are not their constituents."