Hockey's Next Head-Injury Reckoning
A new lawsuit could challenge the NHL over its alleged dismissal of the dangers of CTE.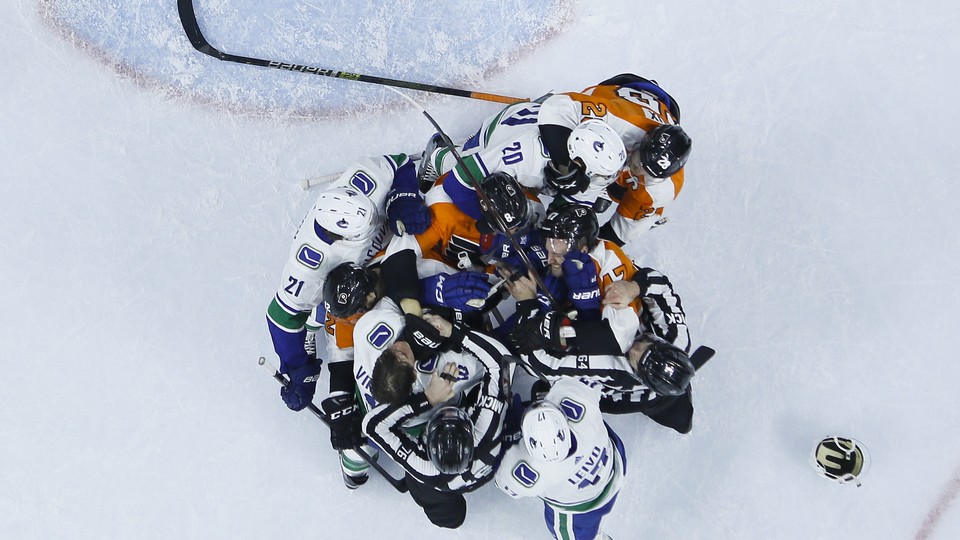 The National Hockey League is facing renewed scrutiny into the lasting consequences that violence in its sport has on players. On May 1, the league's commissioner, Gary Bettman, appeared at Canadian Parliament to address questions about head and brain injuries in hockey—a topic of growing alarm among current and former players, but one that Bettman has frequently dismissed.
Bettman maintained this stance throughout the hearing. But circumstances surrounding the meeting raise the question of how long the NHL will be able to plausibly deny the sport's potential risk.
The group questioning Bettman was part of a parliamentary subcommittee on sports-related concussion. The subcommittee came together as attention to fighting and hits to the head in hockey has increased, coinciding with rising awareness of the neurodegenerative disease chronic traumatic encephalopathy, or CTE. It is now widely believed that the disease is linked to the repetitive blows to the head that are common in sports that involve athletes crashing into each other at high speeds.
Because nuanced research into CTE is still in relatively early stages, many scientists urge greater caution in protecting athletes' brains. Players themselves have joined this call for better safety measures, especially following a string of high-profile early deaths over the past decade among former players whose brains were found to have evidence of CTE. In 2013, a group of former players, many fearing they already had or would develop the disease, launched a class-action lawsuit against the NHL for negligence toward head injury.
Bettman and the NHL, meanwhile, have argued that changes to the game should not be made until the science of head injury and CTE is more complete. The NHL defended itself in the 2013 lawsuit by employing a group of CTE skeptics as expert witnesses who cast doubt on CTE science. Bettman echoed this group's views during the subcommittee hearing. In response to a pointed question from a subcommittee member about the link between CTE and hockey, he responded, "Based on everything I've been told—and if anybody has any information to the contrary, we'd be happy to hear it—other than some anecdotal evidence, there has not been that conclusive link."
The NHL stands out in its continued denial of a link between CTE and head injuries sustained during game-play. The National Football League joined the majority camp of opinion surrounding CTE when it acknowledged such a link between football and the disease in 2016.
A brewing set of lawsuits by former players and their estates will challenge the NHL's position. A day before Bettman appeared before the subcommittee, Kelli Ewen, the widow of the late hockey enforcer Todd Ewen, filed a lawsuit against the NHL in relation to his death. Todd played 11 seasons in the NHL and fought in almost every one of his games. After retiring, he began experiencing memory issues and depression. He took his own life in 2015. I recently profiled Todd in a short video documentary:
In the months before his death, Todd confided in Kelli that he believed he had CTE. After he died, Kelli had his brain sent to Lili-Naz Hazrati, a neuropathologist at the Canadian Concussion Centre, to be analyzed for evidence of the disease. To the family's shock, Hazrati concluded that Todd didn't have the condition. Three years later, however, another neuropathologist, Ann McKee, one of the world's leading authorities on the condition, reexamined portions of Todd's brain and concluded that he in fact did have CTE.
In the three-year interim between these diagnoses, the NHL employed Hazrati in its defense of the players' ongoing head-injury class-action suit. In her report, she cited Todd's negative CTE diagnosis to refute a causal link between hockey and CTE. In a subsequent deposition, Hazrati again claimed that there was no link between CTE and head trauma. "We don't know if one causes the other," she said. When asked whether she believes that CTE is a disease, Hazrati said it was rather "a pattern seen on a slide."
Last month, in an email response to interview requests for my documentary, however, a representative provided a statement that appeared to conflict with this claim: "Dr. Hazrati does not deny that concussions can cause damage to the brain, potentially resulting in a progressive neurodegenerative disease." (Hazrati declined multiple interview requests for my documentary and did not comment on Kelli Ewen's allegations for this article.)
Kelli Ewen's new lawsuit details both Hazrati's and the NHL's failure to correct the statements they made regarding Todd since news of his positive diagnosis was released. It goes on to allege that Hazrati and the NHL had an undisclosed relationship at the time Kelli first sent Todd's brain to be examined, and that Hazrati falsely presented herself as "an independent and neutral neuropathologist who believed that CTE was a genuine disease." Kelli says that if she had known of these extenuating factors, she would not have had Todd's brain analyzed by Hazrati.
Last November, the NHL offered a settlement to the former players involved in the class-action lawsuit. It amounted to roughly $22,000 per player with up to $75,000 in medical treatment. According to a lawyer representing players in the case, most involved are expected to take the settlement.
Kelli Ewen's new lawsuit, though, could set a precedent for players who don't accept the settlement and instead pursue their own suits. The NHL used Ewen's initial negative diagnosis as a shield during one of its most public confrontations with the demons circling hockey. With that shield gone, the league might have less to defend itself with in a looming next round of court battles, when players and their families could again press Bettman and his colleagues to reflect on the possibility of hockey's danger—and to do more to guard against injury.
"Todd's death can no longer be exploited to justify the NHL's complete lack of concern over head hits and violence on the ice," Kelli's lawsuit notes. "Rather, his death and CTE diagnosis should be a motivating force for positive change in NHL gameplay, and is further evidence that repeated head hits experienced in the NHL by players lead to long-term neurocognitive deficits."
In a press scrum that followed the subcommittee hearing, Bettman said he would not retract his statements regarding Todd Ewen. The NHL has not responded to further interview requests.