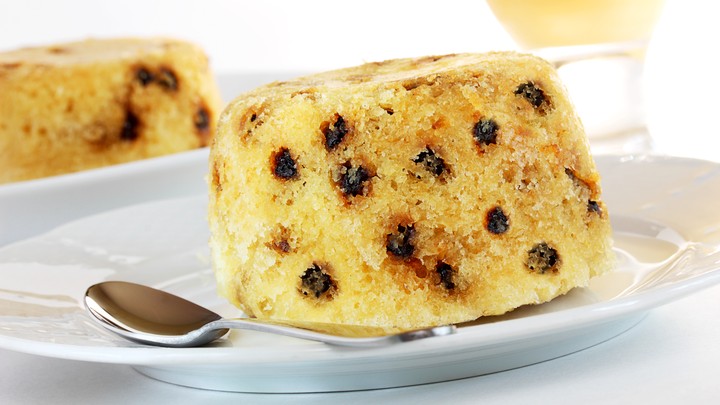 Four bakers, one evening, and one challenge: Who can steam the best spotted dick? On this week's action-packed episode, Tom Gilliford, Selasi Gbormittah, and Yan Tsou of The Great British Bake Off fame, along with the honorary Gastropod member (and Cynthia's partner) Tim Buntel, compete to see who can master this most classic of British puddings for the first-ever "Great Gastropod Pudding Off!" But what in the world is spotted dick? "It's got nostalgia, mystery, horror, and comedy—it's a perfect British dish," explains the British food designer and jellymonger Sam Bompas, who joined us to judge the competition. Listen in as Tom tries to beat his rival Selasi, Yan revives the flavor combination that robbed her of a Bake Off victory, and Tim tests out his Yankee-style pudding on the Brits. While the four bakers duke it out in the kitchen, we dive into the history and science of British pudding to find out what makes a pudding, a pudding; the secret ingredient that will give your pud a lovely light texture; and why anyone would name a dessert "spotted dick."
Read: A friendship baked in the "Great British Bake Off" tent
Today when you mention pudding, Americans will picture a rich, creamy, custardlike dessert, while British people use the word to mean any kind of dessert—but then also attach it to very traditional but deeply savory dishes such as steak-and-kidney pudding and blood pudding. Meanwhile, in 17th-century Britain, "pudding time" meant dinnertime. So what is pudding? We consulted the pudding expert Regula Ysewijn, a Belgian Anglophile whose book Pride and Pudding tells the stories behind Britain's most peculiar puddings, from spotted dick to dead man's arm. "Haggis, sausages, black pudding—that's the actual mother of pudding, the alpha pudding," said Ysewijn. Indeed, she told us that the first pudding in literature was actually a tripe-based dish, "bubbling with its blood and fat," that awaits Odysseus upon his (delayed) return from the Battle of Troy.
This episode, we trace pudding's migration from the start of a meal to the end—and its transition from meaty to meat-free. With the help of the award-winning British food writer Felicity Cloake, we discover the essential elements of a traditional British pudding—suet and steam—and the science behind the super-moist, super-fluffy result. We even solve the mystery of sticky toffee pudding, which seems as British as Oliver Twist, but turns out to likely be a 20th-century import from Canada. All that, plus plenty of juvenile spotted-dick-related puns, as pans boil dry, custard splits, and Selasi sets the kitchen on fire in this first-ever "Great Gastropod Pud Off!" Listen in now—and find out who won!
---
This post appears courtesy of  Gastropod.
We want to hear what you think about this article. Submit a letter to the editor or write to letters@theatlantic.com.
Nicola Twilley is a co-host of the podcast Gastropod and a contributor to The New Yorker.
She is at work on two books: one about refrigeration and the other about quarantine.
Cynthia Graber is a writer and audio journalist based in Somerville, Massachusetts, and
a co-host of the podcast Gastropod. H
er work has appeared in
Scientific American
and
The New Yorker
.
Gastropod
is a podcast that covers food through the lens of science and history.