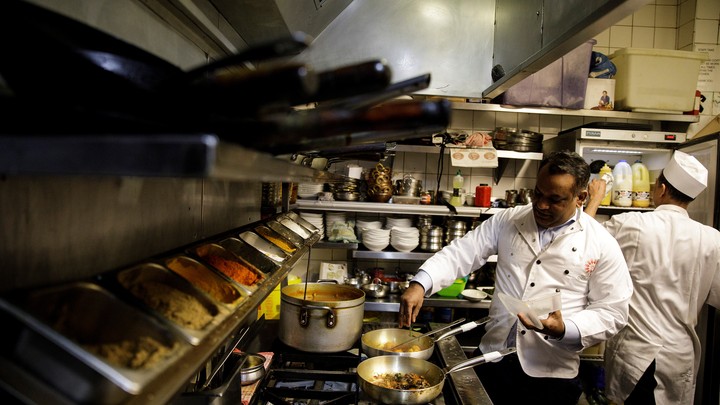 Curry is, supposedly, Indian. But there is no such word in any of the country's many official languages. So what is curry? This episode takes us to India, Britain, and Japan on a quest to understand how a variety of spicy, saucy dishes ended up being lumped together under one name—and then transformed into something completely different as they were transported around the world. From a post-pub vindaloo in Leeds to comforting kare raisu in Kyoto, we explore the stories and flavors of curry—a dish that's from nowhere and yet eaten nearly everywhere.
According to Lizzie Collingham, a food historian and the author of Curry: A Tale of Cooks and Conquerors, to trace the origins of curry, we need to go back to when the Portuguese first captured Goa, India, in the early 1500s. "And they'd say, Oooh, what are you eating?" said Collingham, "and the Indians replied using a word like khari or caril." At the time, Collingham explained, those words likely referred to a particular spice blend, as well as the finished dish it was used in; the same words are still in use, but usually refer to a type of sauce or gravy. Today, that's Raghavan Iyer's definition: He wrote a doorstop of a cookbook titled 660 Curries, and he uses curry to refer to "anything that has a sauce or gravy—it can be with or without spices."
Read: In the future, everything will be made of chickpeas
But how did India's many and varied ragouts and stews all come to be known, in some places, as curry? For that, we have to look to the British. With Collingham's help, Gastropod teases out the origins of dishes such as biryani and vindaloo, tracing their journey from complex, regional specialties to simplified, curry-house classics, thanks to a combination of colonialism, empire, and immigrant entrepreneurialism. Along the way, we pinpoint the rise of curry powder, trace curry's global diaspora, and spend some time with Mr. Bean. We even get to the bottom of why the Japanese—a nation whose cuisine is defined by its exquisite aesthetic—love their own brown, gloppy version. Listen in now to discover the world of curry.
---
This post appears courtesy of  Gastropod.
We want to hear what you think about this article. Submit a letter to the editor or write to letters@theatlantic.com.
Nicola Twilley is a co-host of the podcast Gastropod and a contributor to The New Yorker.
She is at work on two books: one about refrigeration and the other about quarantine.
Cynthia Graber is a writer and audio journalist based in Somerville, Massachusetts, and
a co-host of the podcast Gastropod. H
er work has appeared in
Scientific American
and
The New Yorker
.
Gastropod
is a podcast that covers food through the lens of science and history.